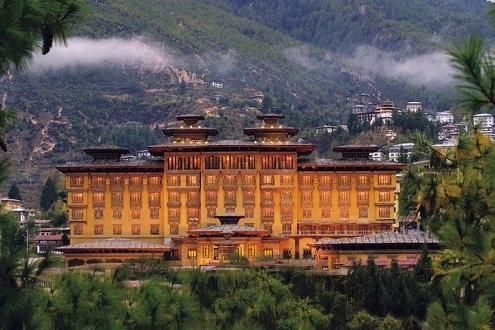 Nestled in the lush Thimphu Valley and overlooking the Wang Chu river lies the Taj Tashi. Reflecting traditional Bhutanese Dzong architecture and adorned with hand-drawn Buddhist murals, trumpets and large bells, one would not, at first glance, believe that behind this property's grand exterior was a hotel.
Relax with holistic rituals such as a Bhutanese Hot Stone Bath at the Jiva Spa, or have a swim in the pool - one of the few heated hotel pools in Bhutan. You'll even find a temple in the courtyard with a resident monk who can bless your onward travels. Guests are offered the chance to wear local dress for dinner in the evening (Gohs for the men and Kira for the women) and the hotel's Bhutanese speciality restaurant, Chig Ja Gye, is inspired by the Mahayana Buddhist culture.
The soothing calm of the hotel and peaceful ambience makes for a wonderful oasis to retreat to after exploring the bustling town of Thimphu nearby. Despite this, the property is still very close to the town, with handicraft and vegetable markets and a textile museum nearby.
The essence of Bhutanese art and architecture is prominent throughout the 66 comfortable, spacious rooms and suites. They are beautifully designed and are complete with views overlooking the mountains and township. If you like to have a living area as well the suites are your best option, while the deluxe rooms offer balconies for you to take in the pleasant scenery.
While this is a large property, which is not for everyone, the location is ideal for those wanting to be close to Thimphu town and surrounded by traditional charm.
Deluxe - This is our first really 'upmarket' category. It might be a beautiful tiny hotel with very limited facilities or a 5* resort hotel with all the trimmings; but any hotel in this category will be a well-run establishment with very comfortable rooms, a strong service ethos and excellent food.