The 'Gathering of the Elephants' in Minneriya National Park is one of the world's most spectacular wildlife phenomenon. Hundreds of Asian elephants converge around the park's main lake generally between July and October, coinciding with the dry season in Sri Lanka's North Central & Eastern provinces. The tank is an incredible place to observe elephants that come to bathe and graze on the grasses as well as the huge flocks of birds that come to fish in the shallow waters.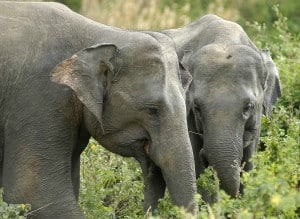 With the drought, the available water resources in the area dry up, limiting the available water for the large number of wild elephants who live here. A fully grown elephant usually would require about 100 litres of water per day so accessibility to a good source of water is vital to the elephant's survival. What makes this event so special is the fact that over 300 wild elephants from different herds congregate in the same spot (a space measuring a mere four square kilometres) at the same time every year. Asian elephants are renowned as highly social animals and the reservoir or tank meetings demonstrate their complex group dynamics in action.
The Park is located in the heart of the cultural triangle, close to the world heritage site of Sigiriya. The area has a range of excellent hotels to stay in, although nature lovers might want to consider something a bit more unusual and wild like Kurulu Uyana. Wildlife enthusiasts might want to consider tailoring their trip around this magical event, whilst for the more casual traveller, the gathering can be a very pleasant and fortuitous surprise. I will never forget the first time I witnessed the event for the first time – it's a sensational sight that will forever remain with me. Of all Sri Lanka's breathtaking natural wonders, the gathering ranks right up there at the top. Contact us to plan a trip this summer that takes in this amazing spectacle.