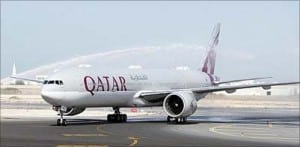 Qatar Airways has announced welcome plans to start flights from Doha to Phuket later this month. The flight will not be direct, but will touch down in Kuala Lumpur before heading onto Phuket, meaning no plane change and no need for baggage to be offloaded.
This is a welcome addition to the flights operating in and out of Thailand and makes it easier to fly to the south of Thailand from regional airports in the UK such as Manchester, Newcastle and Birmingham, all of which are serviced by Qatar flights to Doha. Qatar also fly out of both Heathrow and Gatwick, increasing options for people living in the south of the UK.
It also means people flying by Qatar will be able to fly into Bangkok and out of Phuket, without requiring an additional plane change, as is often the case. Qatar Airways are one of the most reliable carriers and we have been receiving continued positive feedback about their services from clients over the past few years, with particular mention being made to the quality of their in-flight entertainment and food.