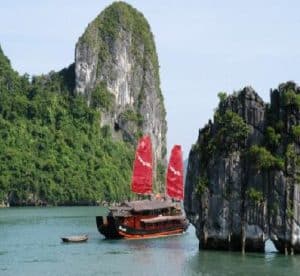 A live-aboard cruise boat carrying local and foreign tourists (not the boat pictured) took on water and sank off Vietnam's Halong Bay this morning (February 17th, 2011). Reports are still vague and information about the circumstances is still filtering through. It is clear that there has been loss of life, with up to 12 people reported drowned. Experience Travel and our partners in Vietnam had no clients involved and have never worked with the vessel that sank or the company that runs it.
This is not the first time disaster has struck the tourist industry in the bay area. As a precautionary measure, local authorities have suspended all overnight cruises from the bay for tonight and further information will be given tomorrow. Experience Travel would like to pass on their condolences to the families and friends of all those who lost their lives in the incident.
Previous experience has taught us the importance of using reputable boat companies with reliable and diligent safety procedures in place. We take this aspect of booking tours extremely seriously and will be re-checking our suppliers in Halong Bay to be extra careful.
The boom in tourist arrivals to the Halong Bay area has resulted in a steady growth of boat operators, with quality and safety not easy to immediately ascertain. Experience Travel work with a handful of the select boat owners and operators and are entirely happy with the safety of the cruises we book, as we are with all our adventure travel products in Vietnam and elsewhere. We have always warned against booking some of the cheaper cruises and talked of the importance of selecting reputable and serious service providers. We hope the findings from the investigation will be used to raise the general standards of safety and ensure that such accidents are prevented whenever possible.
UPDATE: 21/02/11
Vietnamese investigators have announced that human error was to blame for the accident. A valve which takes in water to cool the boat's engines had apparently been left open, flooding the hull quickly and forcing the boat to sink. The boat's captain and owners are now facing the wrath and severe punishment of the Vietnamese authorities. We expect stronger procedural operational practices to be enforced following the incident. Again, this was a cheap vessel, mainly frequented by back-packers and other budget travellers. It seems the owners took safety as a secondary concern. Other boat operators in the Halong area have been quick to stress the quality and consistency of their operations. Business has now returned to normal in Halong Bay – let's hope many lessons are learnt from this terrible tragedy.