1) Take an overnight flight from London to Colombo, arriving at the international airport around lunch. Drive to the Mudhouse, passing from busy Sri Lankan cities to idyllic flat plains and farming country of Anamadewa.
2) Settle in to your private Mudhouse hut, with your own 'grounds' including shower area, dining hut, hammock and outside chill area. Sip a beer whilst watching the sunset over the nearby lake and see a multitude of birds go fishing.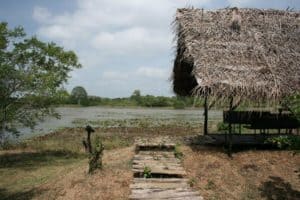 3) Have a beautiful cooked local Sri Lankan feast, including Ash Banana curry, spicy cabbage and sweet cucumber with roti and rice.
4) Wake up to the sound of the rainforest and take a morning walk with the local staff to 'the rock' where you can gain the most stunning views of the flat plains, tanks (lakes), and an obscene amount of bird life.
5) Fall asleep in your own hammock, and realise that you really are in one of the most special places in Sri Lanka, and not 36 hours before, you were probably rushing to the airport.
You have now escaped….
I have made this all sound very easy, but this is honestly my experience of my first couple of days at the Mudhouse. Having heard so much about it already my expectations were high, but once I arrived, I knew I was somewhere unlike anywhere else. Tom (cofounder of the experience travel group) really has blended an eco-resort, where you don't need electricity, to fit with its surroundings perfectly and a team of staff which will attend to your every need. This 'hotel' has real charm unlike any other place I've stayed at before, and it really should be included in any itinerary to give you that true Sri Lankan escapism, wildlife and excellent service.