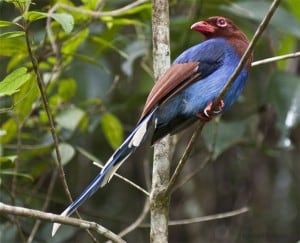 Continuing on the wildlife theme from my last blog entry, I have recently returned from an overnight stay in the Sinharaha Rainforest at Martin Wijesinghe's Lodge. Located within the Singharaja buffer zone, just a few minutes' walk from the national park boundary, Martins Lodge is a no frills accommodation option. However, due to its incredible location, fantastic hospitality and wonderful views, this place is a wildlife enthusiasts dream.
Arriving at the park gate early in the morning, I acquired a pair of leech socks from the friendly vendor and set off with my guides Luxman and Sunil, up the rough track to Martin's Lodge. About 5 minutes in, Sunil directed us off the track onto a faint path through the jungle. Climbing staircases made entirely of tree roots, using bannisters made from lianas, we trekked up and down for a while before coming to a river containing a series of rather rickety randomly placed stepping stones. I am certainly not the steadiest of feet (some may call me clumsy), but with a helping hand from Sunil, I made it to the other side, and up one more staircase to Martin's Lodge.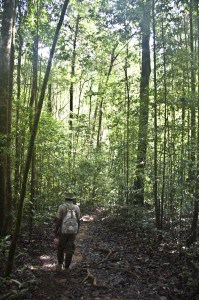 The word 'Lodge' is a rather loose term for this establishment. Originally Martin's home, it has been opened up in recent years to tourists and students wanting to get a little bit closer to nature. The accommodation consists of six twin rooms (some of which are en-suite) and a large dormitory, all sparsely decorated and furnished but containing all one wants after a day in the jungle, a bed, mosquito net, shower and a western style toilet.
A very large phobia of Leeches and inadequate footwear prevented Luxman from joining me on the day's jungle trek so shortly after our arrival at the lodge, Sunil and I set off into the mist. Sunil told me his life's story as we walked; he is a local man and has been guiding in the forest forever whilst also running home-stays and taking bird-watching tours in the area. He certainly had a very keen eye for anything that breathed, picking out tiny frogs that were so well camouflaged I was staring right at them without knowing where they ended and the leaf litter began.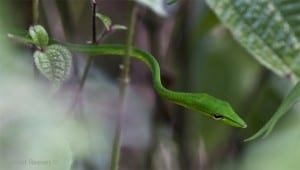 Over the course of the morning, we observed numerous species and varieties of frog, chameleons, lizards, purple-faced leaf-monkeys, toque macaques, grey langurs as well as countless birds and the biggest web-building spider you have ever seen…
As the morning mist began to dissipate, we climbed up yet more natural staircases, getting to the top of a conical hill for breathtaking views of the surrounding forest-clad hills and visiting other areas of the forest where gigantic Newada trees stand, over 2000 years old. Walking back to the lodge for lunch, I stopped to take a photo of a massive, multicoloured snail. While I was trying to entice the poor thing to wake up and pose for the camera, Sunil spotted the cause of a might rustling overhead. It was a giant squirrel. With the appearance of a possum and grey squirrel's love child, the giant squirrels in the Singharaja have a unique appearance compared to others found throughout the island, with an almost black coat punctuated by patches of a tawny brown. Having never seen anything like this before, I was incredibly excited by this animal the size of a fat tabby cat scampering about in the trees oblivious to our presence.
After a hearty lunch of rice and curry back at Martin's, we headed back onto the trail, this time sticking to larger paths in order to try and track down some of the endemic birds found here. We certainly were not disappointed when we found communal flocks of babblers, drongos, bulbuls among others, as well as the beautiful blue magpie. With sapphire blue wings, brown wingtips and head and scarlet eyes, beak and feet, the blue magpie kicks European magpie butt.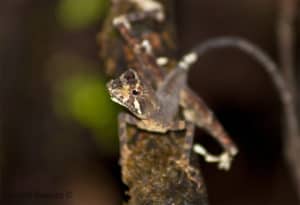 It seems we continued our homeward-bound luck as just as we were approaching the border of the national park, we almost ran straight into a bright emerald green snake which was leisurely crossing the track. Approximately 1.5 meters in length but only about 1.5centimetres diameter, the green leaf snake was totally harmless but incredibly bewitching to watch as it moved out of our way, lifting its body onto leafs and twigs and disappearing into the undergrowth. A few minutes more and Sunil had pointed out a green pit viper dozing on a branch not far from the path. Extremely dangerous, this endemic snake is one of the most beautiful snakes I have had the pleasure of witnessing. Its body is a base of grey-black with a pattern of lime green all over its body and a large powerful head. It was a breathtaking sight.
After a much needed shower, the discovery of a very fat leech in my trousers, a hearty meal and a long sleep, my adventures of Tarzan were over as Luxman and I walked back to the main gate and our car. I wish I could have stayed longer but more adventures await in the form of the Hill Country and white water rafting and canyoning….. Stay tuned…..
Contact Experience Travel for tailor made adventures and all kinds of holidays in Sri Lanka.