We have finally been given the dates and details for next year's Esala Perahera! Yay!
The festival, held in the city of Kandy, is thought to be a fusion of two Peraheras (Processions), the Esala and the Dalada. Dating back to the 3rd century BC, the original Esala Perahera is a ritual enacted to request rainfall from the Gods. The more recent Dalada Perahera began when the Sacred Tooth Relic of the Buddha was brought to Sri Lanka from India during the 4th Century AD.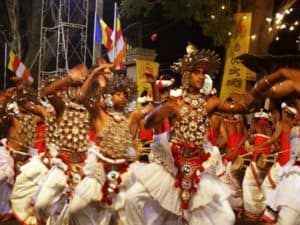 Today's Perahera festival involves a nine day festival exhibiting traditional music, dancing and drumming, not to mention the procession of the all-important Tooth Relic. The relic casket, which is a substitute for the Tooth Relic, is placed inside a dome like structure affixed to a Tusker Elephant and after 8pm on the sixth night, it is paraded around the city with whip-crackers and fireball acrobats clearing the path.
The festival is due to run from the 23rd of July through to the 1st of August, with a daytime Perahera held on the 2nd of August.
Our clients can experience the festival from the institutional Queens Hotel, where dinner and seating are all included, so not only do you get a great view of the festival, you get to watch it on a full tummy and a comfy seat!
Talk to one of our specialist travel consultants for more information on how to experience this atmospheric and exciting festival as part of your holiday in Sri Lanka.