In an effort to improve and expand our Indonesian product, particularly outside of Bali and Lombok, I am spending two weeks travelling across some of the country's 17,000 thousand islands. While it is not possible to see and cover them all, this trip to Java, Borneo, Bali, Flores and Komodo will allow us to provide a similar service and product knowledge to that currently offered in Bali, Lombok a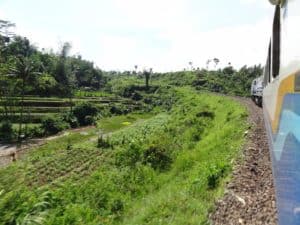 nd the other countries we specialise in across Asia.
For this trip I have managed to persuade Doruk, an old school friend in between jobs, to come along for the ride. I sold him with the idea of exotic sites, top level hotels and idyllic beaches. I failed to mention that we would be moving around so much that we would not have time to fully enjoy any of these! I will be posting a series of blogs as we travel through this fascinating country, and here follows the first:
After two nights in West Java it was time to head east towards the more traditional tourist areas on the island. A night each in Jakarta and Bandung is not enough to experience what West Java has to offer but that is the downside of a research trip! The upside is that it's a fair bit more exciting (and warmer) than being sat in the London office and of course it means you'll all have a better experience on your future holidays to Indonesia with Experience Travel!!
From the provincial capital of Bandung we are heading towards Mesastila (formerly the Losari Coffee Plantation) situated amongst the spectacular volcanoes of Central Java. It is a day's travel that starts with an early morning train eastwards from Bandung towards Yogyakarta. A train journey is a welcome change in any holiday that involves a lot of time in a car; on an island with as spectacular scenery as Java this is certainly no exception.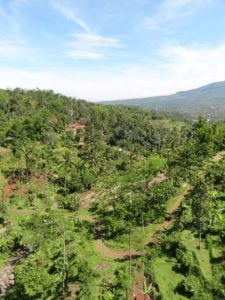 As I try to convince myself that travel agents do not experience jet lag, our guide Toni appears once again to meet us as we enter the hotel lobby at 7am. After a short drive we arrive at the intimate station and take a seat while we wait for the train to arrive. Toni has assured that the executive first class train is both comfortable and air-conditioned, and he is not wrong. As ever in Asia, the locals have taken the air-conditioning to the extreme and it is not long before Doruk and I are both reaching for our jumpers and jeans, but at 8 am the reclining seats are just what is required and it is with great difficulty that I resist the urge to push the chair back and catch up on some sleep – professional duties and all that!
As is often the case during train journeys in Asia, the first section of the journey is spent weaving through tight shanty towns, with the train generally less than an arm's length from a shack on either side. Despite increased political freedom and an ever-expanding urban elite in both Jakarta and Bandung, this is a reminder that there is still great poverty throughout this country and that its commercial hubs are no exception. It is not long however, before we are out of town and the scenery starts to match and then exceed my expectations.  It's an ever-changing vista of volcanoes and paddy fields, interspersed with valleys and small villages, and of course the obligatory locals waving as the train goes by.
Travelling at a relatively sedate pace means it is possible to escape the cold of the carriage and take a seat at one of the open doors. As the morning sun hits your face, there is something incredibly seductive about rolling past the farmers as they cultivate their fields against a dramatic backdrop of steeply rising mountains. As this is the start of the rainy season the fields are covered in water, the farmers are hard at work and the setting is a lush with an endless array of greens.
As the train picks up speed we are asked to move back inside (it seems that 'health and safety' has reached Indonesia) so we return to the cold, get a blanket from one of the attendants and sit back and enjoy the rest of the journey.  I dip in and out of my book – the views make it difficult to concentrate – until we eventually roll into Wonosobo station. We are picked up by our new driver and driven through yet more breathtaking scenery to Mesastila. While this is all well and good it does not have the same romantic quality of the train. Still, I guess I will be able to console myself as I sit here on a dramatic hillside location, having just had a complimentary spa treatment, deciding whether we play some pool by the pool or simply sit back on our veranda with my book. All things considered it is not too bad being sent on a research trip!