We can't think of a better place to spend your honeymoon in Sri Lanka (or part of it at least) than Tea Trails. It's probably the best hotel in Sri Lanka – certainly the most prestigious and whilst it is at the top end, it's great value considering the quality of the offering. It is all-inclusive too (what we like to call, classy all inclusive – none of your all you can eat inedible buffets and 'local' spirits here) so this luxury comes un-tempered by the fear of a massive bill at the end of it. Relaxing indeed!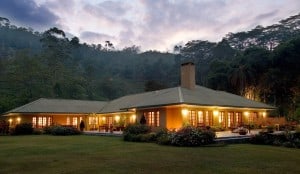 This summer (i.e. the English honeymoon season) Tea Trails are offering a superb honeymoon special which will give all honeymoon couples a free upgrade to a Garden room as well as the following benefits:
Enjoy celebratory candlelight, 5 course, gourmet dinner with a complimentary bottle of Champagne.
To dine in your private garden or summerhouse in solitude, any time you wish, to fully absorb the breathtaking views and panorama.
 Luxuriate in an aromatic bath of your choice, prepared by your butler, to truly unwind. Choose from cinnamon or green tea recipes.
Be whisked away for a romantic and picturesque visit to Warleigh Church, built by English and Scottish tea planters in 1878.
Savour high tea at either lakefront bungalow, then delight in being gently rowed over the Castlereagh lake by boat (as weather permits).
This would be valid for any tailor-made honeymoon in Sri Lanka which included a 3-night stay at Tea Trails. There are a number of itineraries on our site for which it would work. Depending on exactly when you travelled we might be able to get further discounts on that one too. Outside of the main school holidays, there are some good flight deals around.
The offer is valid from 01 May 2012 to October 31 2012 – excluding a brief period in mid-July.
Talk to us for more details!