We are extremely excited to announce the arrival of Jungle Beach to Sri Lanka's East Coast! Spectacularly set amongst some brilliant beaches and teeming jungles, this seems as though it will be the east coast's first proper boutique hotel – something we have been waiting desperately for!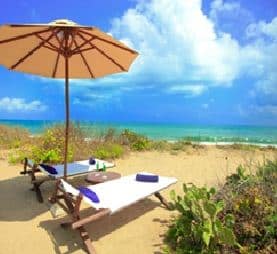 The hotel is located just a short drive north from the old naval port of Trincomalee, so is within easy reach of the various colonial relics in the area and the great diving experienced just off the coast. It is nestled in amongst a10-acre estate, with the Indian Ocean on the one side and a lagoon on the other providing a great option for those wanting to see the pristine beaches of the east coast while still enjoying some of the fantastic wildlife that Sri Lanka has to offer.
Jungle Beach will be the latest member added to the growing UGA resorts portfolio, in which Ulagalla in the Cultural Triangle belongs. It consists of 50 'modern and luxurious' cabins which have been designed with nature in mind, with the idea that over time they will seamlessly blend in with their natural surroundings. The 650 square feet cabins feature king size beds, entertainment systems (although with all this nature around who needs a TV?!) and outdoor rain showers, as well as a spa, gym and open air restaurant – you can even organize to have your evening meal out on the beach under the stars.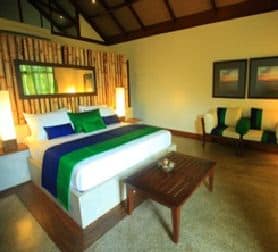 For a long while now we have been awaiting some more options along the north east coast of Sri Lanka, with less than a handful of properties currently available. Those hotels have also been enjoying the ability to charge rather high rates as there are no other options around; however we have seen the summer rates for Jungle Beach and are amazed at how great the value for money will be. It is likely that these low rates are due to the recent opening of the property and I am sure they will rise soon, so get in there quick and nab a spot before they do!
Sri Lanka's East Coast has been slowly growing in popularity since the end of the fighting in 2009, however it still remains far quieter and less affected by tourism than the more busy south west of the island. It is also a great spot to visit for a beach holiday when the popular south west is getting wet in the monsoon season, tying in nicely with visits to the Cultural Triangle and the eastern Hill Country.
I for one cannot wait to get out to Kuchaveli to experience this little beauty. If you'd like to be one of the first visitors to experience this hotel as part of your holiday in Sri Lanka, please just give me a call!