From the 01st May, all boats in Halong Bay are now painted white!
In a somewhat curious move from the authorities, all the boat operators in Halong Bay were ordered to paint their boats white. Not only the large steel ships, but also the small wooden junks. We at Experience Travel heard about this months ago but thought that it would never quite happen. It seems, however, that it just has!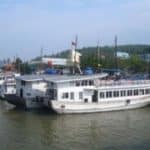 A rumour persists that a Vietnamese official was so impressed by the white yachts in Sydney harbour that he brought the idea home. We are sure they had another reason up their sleeve, as the classic wooden junk look is hardly improved by the addition of white paint.
Still, no one visits Halong for the other boats and maybe painted white they will be less noticeable, so we can concentrate more on the amazing scenery!