Wilpattu National Park is one of Sri Lanka's natural gems (of which there are many!)The largest of Sri Lanka's National Parks Wilpattu is found in the lowland dry zone of the North West of the country, spanning a whopping 425 miles ². Founded in 1938, this National Park only recently reopened it's gates in 2010, after a tumultuous history in recent years surrounding the civil war. Now fully safe, and open to the public, Wilpattu offers a different experience and excellent alternative to the bustling tracks of Yala National Park in the South East.

For those looking for a strong chance of a leopard sighting, above anything else, then Yala is your place. With the highest density of leopards in the World, Yala attracts thousands of tourists every year, all eager to see these exotic cats. Due to the sheer number of people visiting the park the leopards have grown relaxed in their attitudes towards visitors. With the almost certain chance of seeing a leopard, comes the guaranteed reality of seeing plenty of jeeps, people and camps. Hence Yala's feline sights come at a price: crowds.
Wilpattu on the other hand remains surprisingly quiet, despite its abundance of natural beauty, flora and fauna! For the twenty-four hours I was in the park, I amazingly saw only six vehicles (two of which I swear were the same!). This is where the charm of the park lies: in the sense of serene remoteness and privacy it offers to visitors…it really feels like it's just you, your driver, your tracker and Mother Nature!
Wilpattu offers an extensive array of animals including leopards, elephants, the notoriously rare sloth bear, monkeys, deer, land monitors, jackals, pelicans, wild peacocks, eagles and  crocodiles… just to name a few. Whilst Yala offers a far higher density (the exact number of leopards in Wilpattu remains unknown), and indeed a far higher chance of seeing leopards, Wilpattu offers a more natural experience. The creatures are far less used to vehicles and humans hence, though sometimes harder to find, offer a truer insight into the natural behaviour of leopards. I was incredibly lucky and spotted three throughout my stay!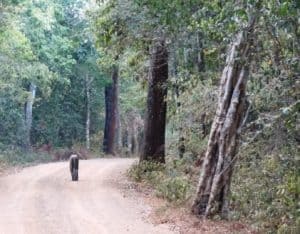 If the bird watching and leopard spotting aren't enough of a reason to visit Wilpattu, the scenery around the park would tempt anyone to explore it. With rust-red tracks, luscious green forest and crystal blue skies on offer its hard not to be overwhelmed by the vibrancy of the colours and sights the park has to offer. Over sixty natural 'Willas', or lakes, are scattered across the park in between these dense forested areas. These waterholes grow and shirk according to the season, though always remaining focal points for Wilpattu's wide range of animals.
Day trips or overnight camping safaris can be organised to visit Wilpattu, though I highly recommend the overnight option…falling asleep to the sounds of the jungle with a spectacularly starry sky above you is an unforgettable experience! Don't be put off by the word 'camping', as the canvas tents, showers and bathrooms are more than comfortable, offering great protection for the creepy-crawlies found outside and a cosy place to sleep.
To see leopards the park it is best visited in the dry season between May and September, whilst keen birdwatchers should visit between February to April. The vehicles are comfortable, with the open sides allow for great viewing and a cooling breeze. The land remains relatively flat, though you should expect the odd bump on the road occasionally.
A beautiful natural resource like Wilpattu will not remain quiet for long, so try and visit before this National Park turns into the next trendy eco-tourism destination, and loses its remote, private charm.
Give us a call or email and we'll discuss including a safari with 'Leopard Safari's' in Wilpattu into your Sri Lanka holiday.