The sun slowly setting deeper into the horizon, silhouetted by one of the largest temple complexes in the world is an iconic image of Cambodia and watching it is an unforgettable experience. I am one of the lucky ones who can riffle through fond memories in Angkor Wat, and I'm sure when you witness your first Cambodian sunset you won't want to leave. However, the popularity of this evening spectacle has led to problems of overcrowding at these marvellous ancient sites. Large numbers of sunset seekers have been gathering at the same sites and this sadly means that the temple complexes are being physically and aesthetically damaged. Cambodian authorities have come up with a very bright idea to combat this dilemma and we at Experience Travel wish to back them all the way! All it takes is for intrepid travellers to check out this resourceful website www.angkorsunsets.com.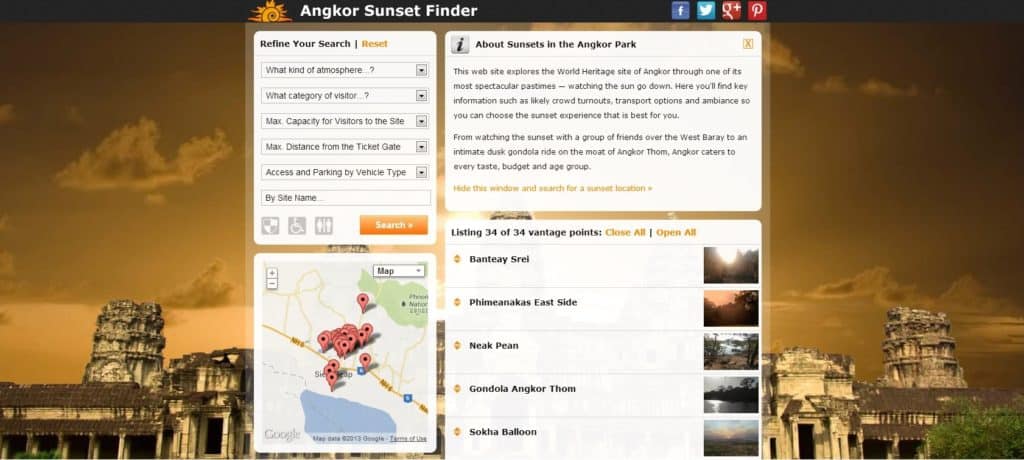 The website offers crucial information about all the different vantage points where you can watch the sun tiptoe away. On top of this, the website also provides helpful statistics about each temple, such as the capacity of visitors, transportation choices and atmosphere, so you can select the best sunset experience for you. Paying a visit to this website will also help you discover the sheer volume of sunset vantage points, which you may have never known existed, numbering up to 34. Our guides will be more than delighted to take you off the beaten tourist track to some of the less crowded and, in my opinion, more charming temple complexes. Instead of the imposing structure of Angkor Wat, you may like to speak to one of us about enjoying the sunset at the quaint temple of Chau Say Tevoda surrounded by wooded forests. Or, we can organise a boat to take you out across Tonle Sap Lake to watch the sun dip into the water. If you're feeling adventurous then feel free to speak to me about my experience hiking to the top of Phnom Bok, where the sun descends into the Cambodian countryside, sounds dreamy right?
In summary, the Angkor Sunset Finder website has primarily been made to enhance your experience and appreciation of Angkor, so go on and take a peek today.
If, for some unfathomable reason the temples at Angkor have not featured on your tick list, and you are intrigued to see more of them, you should take a look at our Cambodian section on our website. Or if you would like specific information regarding the magnificent temples themselves then have a read of our piece on Angkor Wat, Siem Reap. If you already have your mind set on going to Cambodia and are struggling with where to stay, have a quick read of one of our previous blog posts about the reopening of the Park Hyatt in Siem Reap. Alternatively, I am always in the mood for chatting about my experiences at Angkor Wat so just pick up the phone and we can have a chat about your next holiday to Cambodia.