I remember being 14 and coming home after school in floods of tears having failed my year 9 art exam. I've been to the Guggenheim Museum in New York, and have had my picture caricatured whilst on holiday in Europe. That is about the extent of my contact with art, and whilst I am able to enjoy a beautiful picture or painting, it doesn't go much further than that. So when I was asked by Sophie; art expert, fluent Vietnamese speaker and story-teller extraordinaire, if I was interested in abstract art, you can imagine that I pretty much baulked at the question.
I was, however, quite aware that art is everywhere in Vietnam. It's in every ornately carved archway in Saigon's French colonial buildings, it's in the hand-painted lacquer bowls sold from boutique shops in Hoi An, and its in the government propaganda posters that plaster large billboards on major highways across the country. For all of Vietnam's war, victory, misery, revolution and development, art has been a facilitator for the Vietnamese to express themselves and show the world how they see their country and the people in it.
When I told Sophie that I was open to the idea or abstract art, she laughed happily and said "Good! And don't worry, it's not my favourite either. I like art that has a story to it."
Does she ever! Sophie moved to Ho Chi Minh City in 2004 to work as a curator for the modern Quin Gallery in Saigon's 5-star District 1. Since she moved to Vietnam, it would appear that she has not stopped in her mission to single-handedly decipher the art history behind every painting, every sketch, every piece of street art in the city. She has interviewed former soldiers, Vietnam War Hero Mothers, local politicians and Vietnamese art collectors, and in doing so has a staggering knowledge of Vietnamese history, and history of art. Working alongside these remarkable people, Sophie has hand-crafted a fantastic itinerary for art (and history) enthusiasts in Ho Chi Minh City.
The morning starts at the Gao restaurant in the VIP room, a restaurant that was once an old colonial mansion. Over an iced coffee, Sophie begins her introduction to the tour, explaining that she will cover four "chapters" including colonial Indochina, the two Vietnam wars, South Vietnam unification art and the future of art in Vietnam. Using her iPad to pass around a number of images, she really brings to life the history of the country. Instead of reeling off endless dates and Vietnamese names, she brings every significant figure to life and gives them a personality. She paints an incredibly vivid picture of life in colonial Vietnam and of Vietnam's first fine art students at the "Ecole des Beaux-Arts d'Indochine", set up by the French government in 1925 in Hanoi.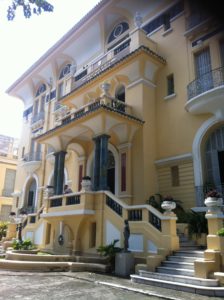 Our first stop was to a small private gallery called Duc Minh Art Gallery, where some of the Ecole des Beaux-Arts d'Indochine's student's work is displayed. You will see portraits, still life paintings, rural vignettes and stunning lacquer work, all of which are explained with fascinating detail.  Sophie's tone is relaxed and gentle and she naturally holds our attention, so much so that I found myself totally immersed in the paintings she was introducing to us. As we leave, she bids a friendly farewell to the gallery's curator, Duc Minh's son, and its clear from their interaction that they are good friends. Mr Duc is committed to continuing his fathers work, however Sophie discreetly informs us that he often drinks cognac and smokes cigars inside the gallery, the smoke from which certainly doesn't help preserve the paintings.
We are quickly picked up by our driver in a large van to be whisked off to our next stop, the Ho Chi Minh City Fine Art Gallery. En route the story continues, and Sophie starts to steer the conversation towards Ho Chi Minh and how his life and legacy affected the lives of Vietnamese artists. When we arrive, we take a good few minutes to marvel at the exterior of the gallery which is an exquisite hybrid of French colonial architecture and Chinese design features. Inside, the gallery has a fantastic selection of sketches, soldier portraits, impressionist painting of the American-Vietnam war, as well as prints, lacquer, shrines, artefacts and much more. Sophie moves with confidence from room to room, all the while giving unique insight to the war as seen through the eyes of war artists; young men sent to the front lines to document the communist victories. In particular, they painted the "war heroes" – those hundreds upon hundreds of young men that sadly lost their lives in the fighting. Sophie has interviewed many war artists and therefore is able to add her own personal input to the interpretation of their work that hangs on the walls, and you start to see the people in the pictures as quite real indeed.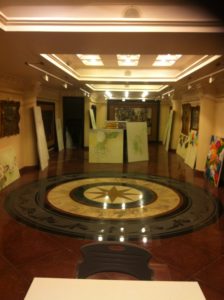 The sheer magnitude of suffering and pain in war art means that sometimes its quite hard to absorb individual pieces for what they are, which often is a very personal snap-shot of someone's experience. Sophie focuses on a small number of works in the gallery, and with grace and sensitivity explains to us the meaning behind each artist's interpretation. Another highlight of the Fine Art Museum is the government propaganda art, with strong-jawed young men and buxom young ladies basking in an ethereal glow from the Soviet flag, and firmly grasping the hammer and the sickle.
Our final stop of the day is Galerie Quynh, where Sophie first worked when she arrived in Vietnam. The gallery is a small, modern converted loft-space that shows work from young up-and-coming abstract artists, as well as offering workshops and general support for budding potential talents. The art is certainly still Vietnamese, as Sophie explains, that now more than ever local people want to show the rest of the world how the country is today. The current exhibition when we visit is by Tran Van Thao called "Immersion", and is themed around water. Whilst I would not have been able to come to this realisation alone, with a little gentle guidance I'm able to understand the basic ideas behind the paintings and, dare I say, actually quite like them.
Sophie's Art Tour hasn't turned me into an art connoisseur, however it has given me a very thorough overview of Vietnamese history that is more exciting, tragic, fascinating and above all personal than anything I have ever learnt from a text book. The art was an added bonus, and I came away feeling quite inspired by Vietnam's artists, across the generations. For art enthusiasts it is an absolute must when you are in Ho Chi Minh City. For everyone else, it is a brilliant half-day out and I would recommend it very highly; and don't forget that is coming from a person who failed her year 9 art exam!