Taking place every summer, if you're thinking of going to Sri Lanka and want to witness a cultural event, this is as spectacular as they get. We asked our Local Experience Manager, Thushni, to give her insights into the history and background of this fantastic annual event.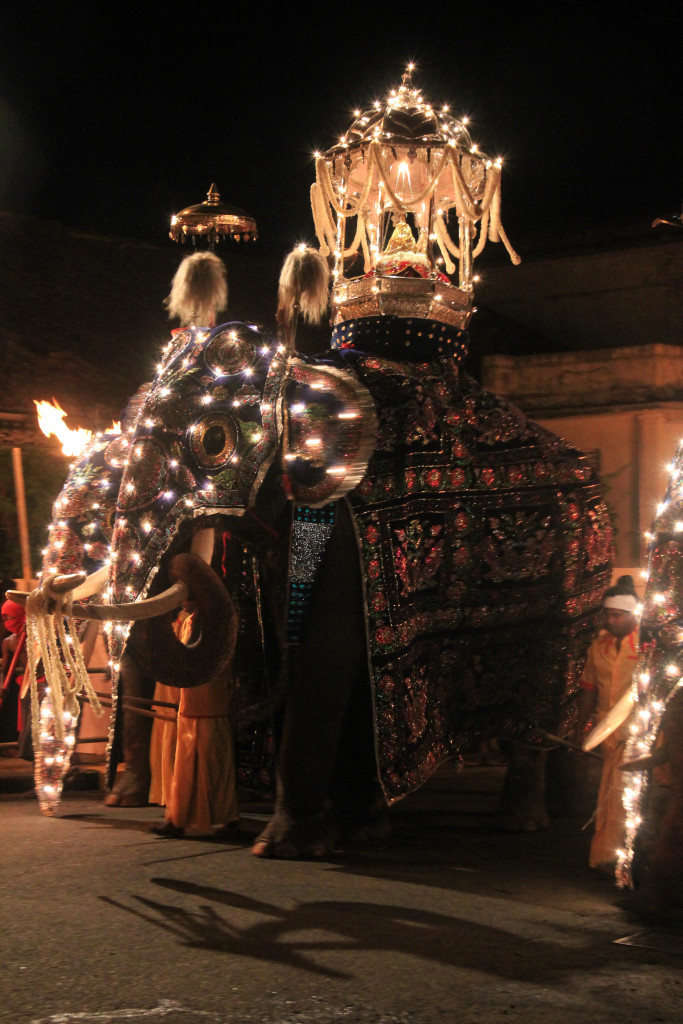 The Kandy Esala Perahera is a commemoration of the arrival of Buddha's Sacred Tooth Relic to Sri Lanka. It used to be kept in an area called Udeni (present day Odisha) in India but when a war brought upon a dark time there, the local prince and princess, Dantha and Hemamala, fled the country to get the tooth relic to safety, hiding it in the princess' hair. Arriving in 4th Century, the pair journeyed to Sri Lanka during reign of King Kithsirimevan and it was he who first organized a grand procession for the people to see the Sacred Tooth Relic. The tradition was born.
The procession itself has evolved over time. For example, it's thought that King Kithsirimevan held the Perahera (procession) in the month of March but the Dalada Perehera was merged with an annual procession that was conducted in the month of 'Esala' (July/August) wishing for rain.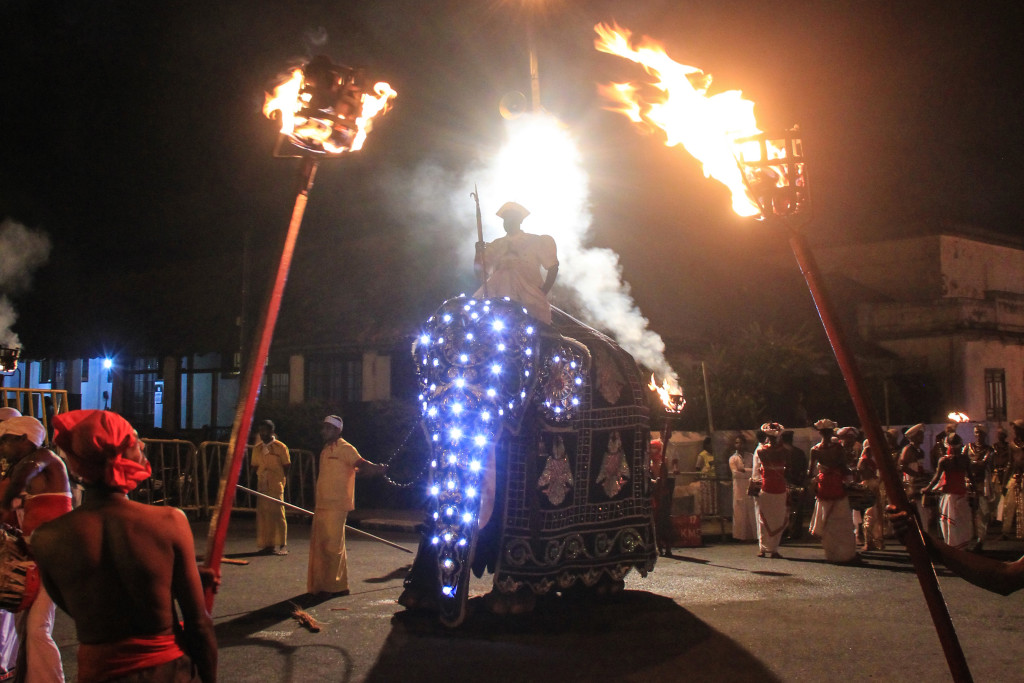 After the tradition reached the Kandyan period (around 1600 AD), a lot changed. The procession became more influenced by Hindu customs as well as Buddhist. This is because one of the Kandyan Kings married a South Indian (Naikkar) Princess who was Hindu. This particular King didn't have children so following the South Indian tradition, the right to the throne was then given to the Hindu Queen's brother. So Sri Lankan's had a Hindu South Indian King who also married a South Indian Princess and this trend continued for a time.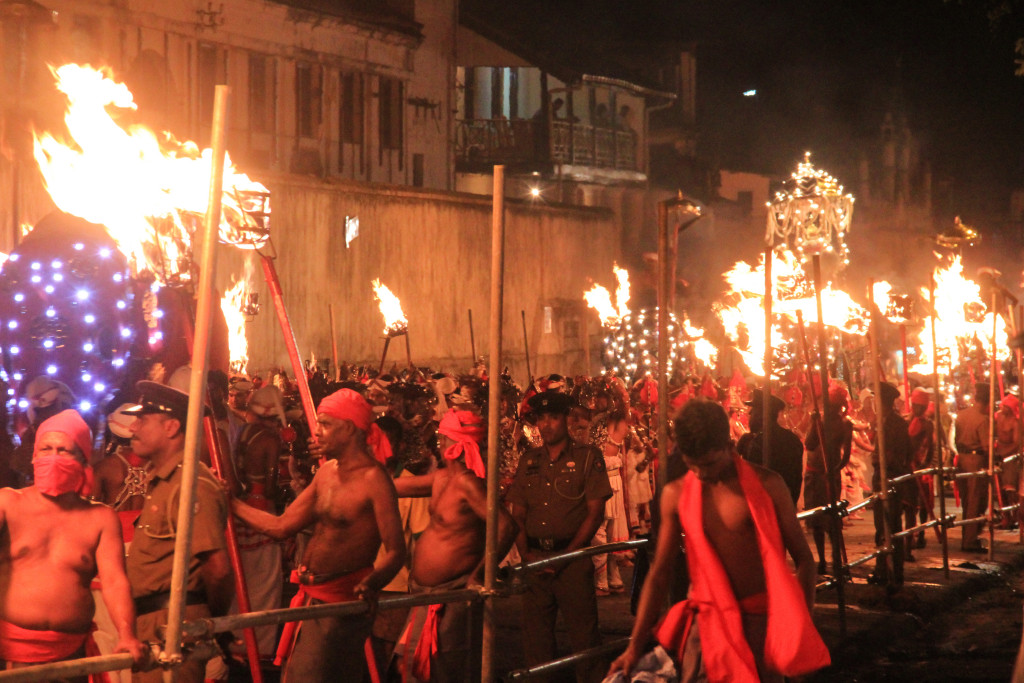 Whilst the Sacred Tooth of the Buddha and its temple were always in the forefront, there were four main Hindu Devala (shrines of worship dedicated to particular figures) that were established in close proximity to the temple and considered very important. From around 1775, during the reign of king Keerthi Sri Rajasingha, the four devala also took part in the Perahera and that is the start of the Esala Dalada Perahera in Kandy we know today.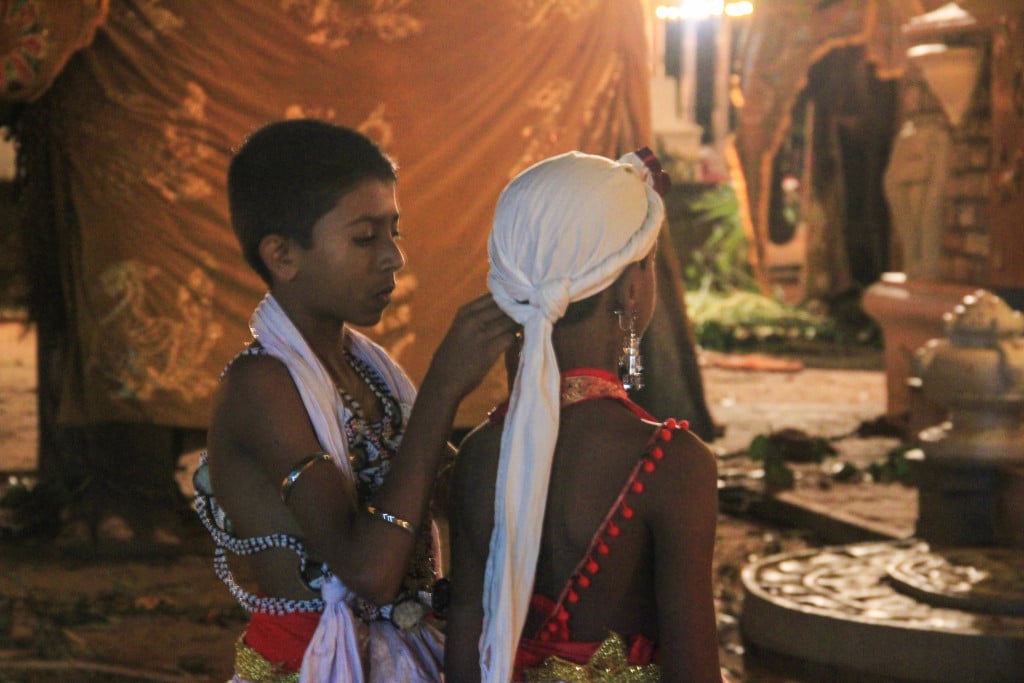 Last year, I went to the Kumbal Perahera which is considered to be the smaller procession that takes place on the first few days (this year 8th – 12th August) and people had come from all parts of the country (and also many parts of the world) to watch the Perahera, even as early as 11 am. It starts around 7pm and is about three hours long but you barely feel the time go by as you watch in awe a total of about 50 caparisoned elephants marking the intervals between  whip crackers, drummers, dancers, fire dancers, stilt walkers and performers of numerous disciplines.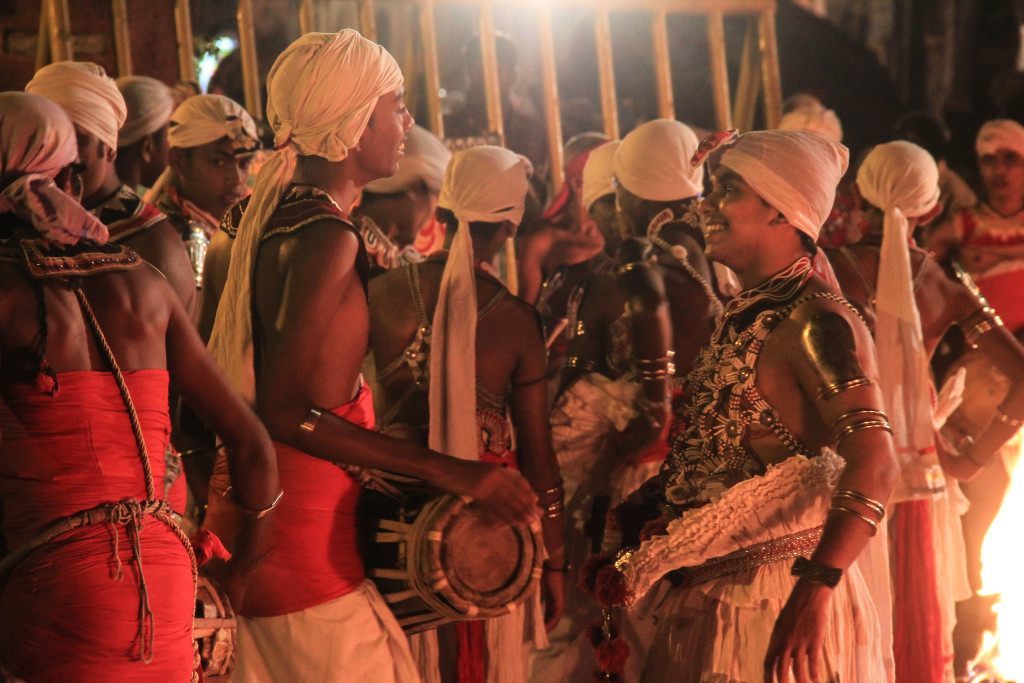 I was lucky enough to witness the preparation for the Perahera with one of my friends who's family is very closely knit with the devala. This allowed me to see it in an entirely new light from a different perspective. During the Perahera time, my friend told me, nothing else is as important, not even school and this face was generally accepted in Kandy.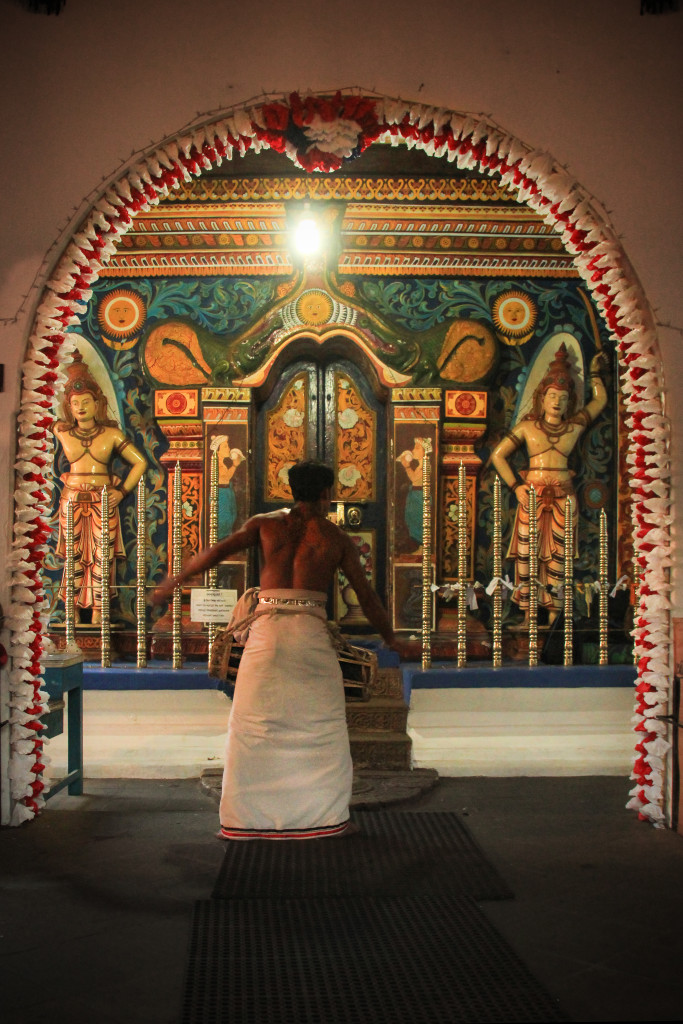 The whip crackers got dressed in one area, the drummers at another, some closer to the devale, some further and they knew this because that is how it has been done for generations. No one had to tell anyone what to do.
Small herds of elephants saunter in gnawing at tasty logs, gripped tightly with their trunks. After a nice bath, they go where they need to be too, rushing up flights of stairs and taking quick bends and turns like the most nimble of creatures. I felt like they knew their importance!
We were asked to move out of the way at one point, to which my friend's mother said,
"I can't go past that elephant, I don't even know him!"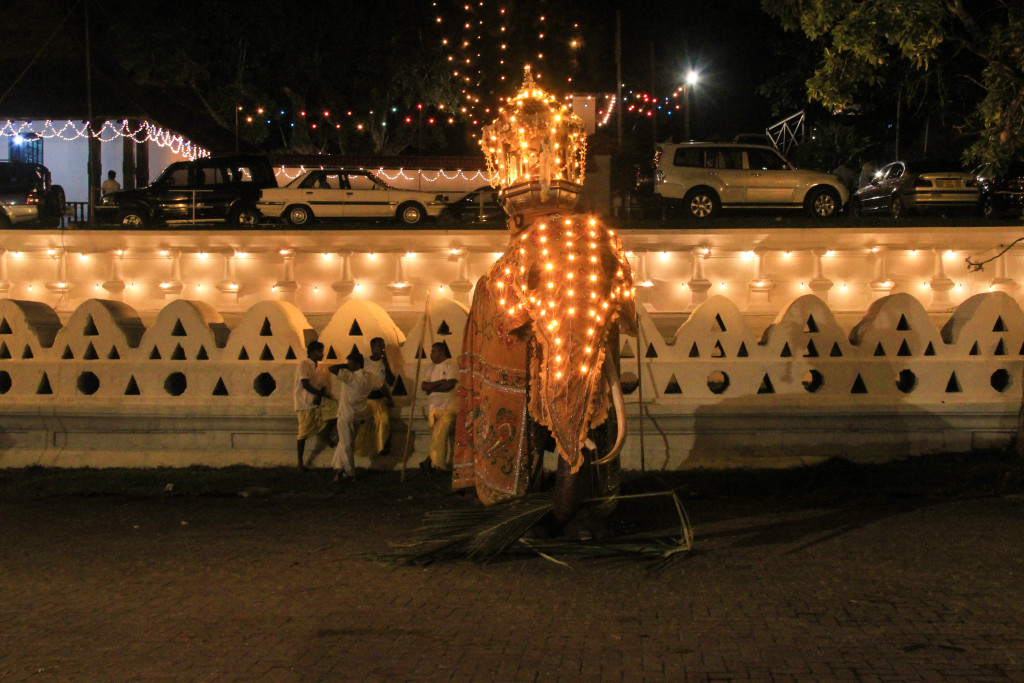 As an outsider to all of this, I found it a little funny to hear a person say they don't know the elephant well enough to trust it but soon I realized it was quite normal because I later was a part of a conversation which started with the phrase,
You know, there was this elephant I once knew…."
Elephants were well known for their varying characters and approached on a very individual basis!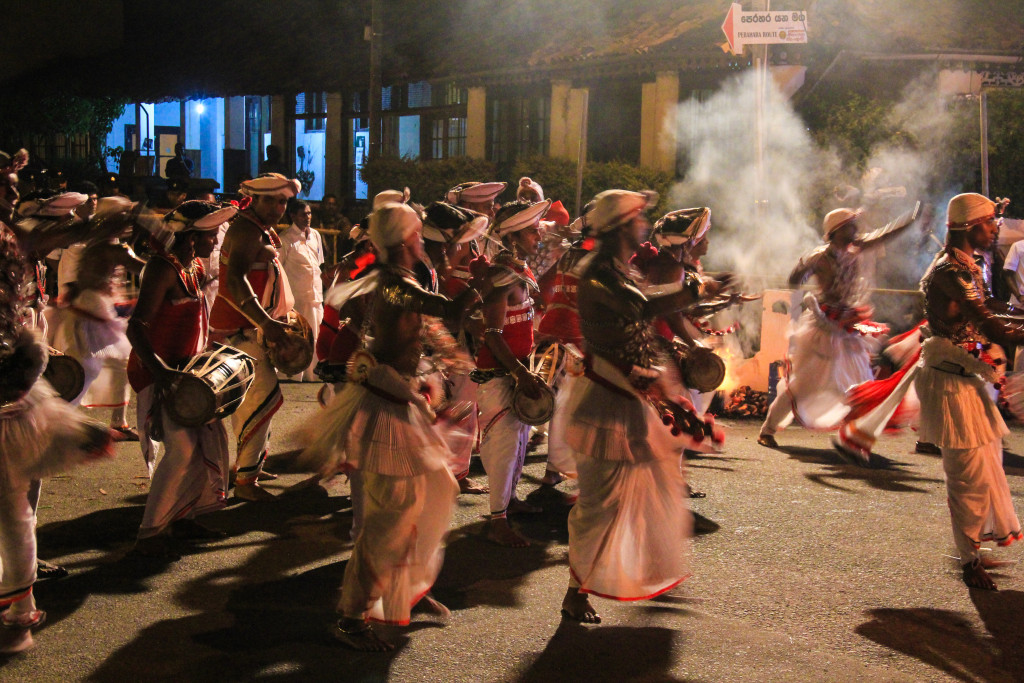 The Randoli Perahera (from the 13th – 17th August, 2016) is double the flamboyance of my own experience! Thousands of dancers, over a hundred elephants, over a thousand drummers, more fire, more excitement, almost double the time, bigger crowds. But for a Buddhist, in my opinion, nothing is as awe inspiring as seeing the tooth of the Buddha in front of you, in that golden casket atop the majestic elephant.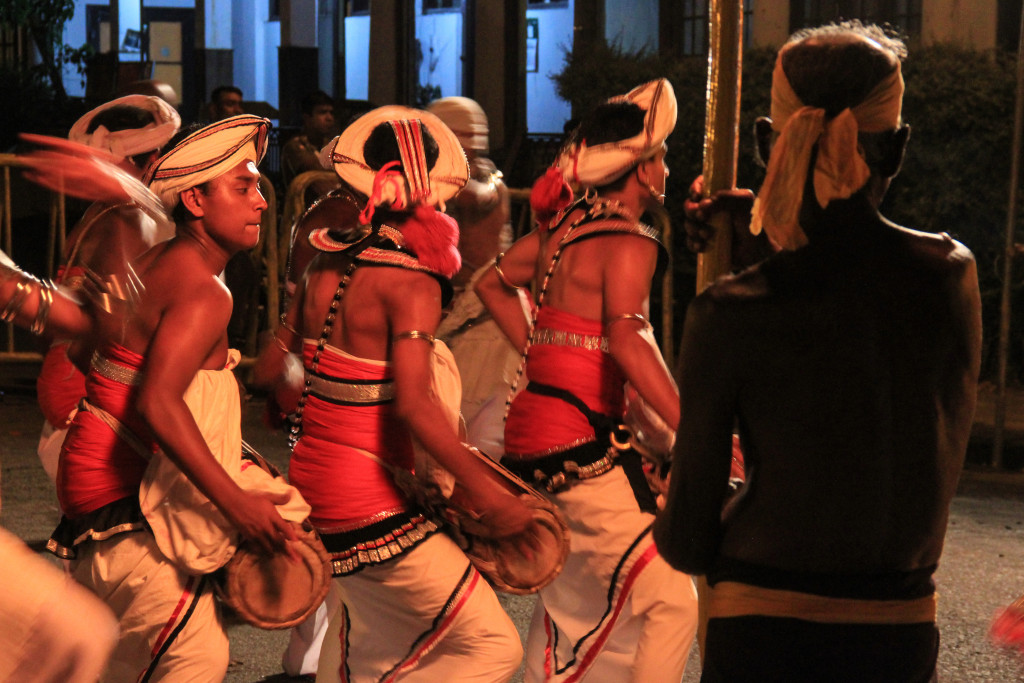 If you book in advance, you can reserve seats in the temporary viewing areas for the larger Kandy Perahera, which are erected along the main city streets. These sell out incredibly quickly so do book in advance, the earlier the better – the same goes for the hotels!
As a once in a lifetime experience, this annual event will truly set your summer holiday apart!
---
See whip-crackers, fireball acrobatics, drumming, traditional music, dancing and a procession of the famous Tooth Relic on the back of an elephant. If you wanted to see how the Kandy Esala Perahera could be tailored into your holiday, have a look at these suggested itineraries. 
Remember, these are just a starting point. All our holidays are tailormade to suit your preferences so we can tweak activities and hotels wherever you'd like. If you wanted talk to a Sri Lanka specialist about your holiday you can always phone on 020 3393 8629. If contacting via email is easier, please do so here. There are absolutely no obligations and we're here to offer advice for any stage of your holiday planning.