Debating group holidays vs tailor-made holidays, and which is right for you? Here we weigh up the pros and cons of each type, to help you make the decision for your next trip. The ultimate question is what is important to you on a holiday: the cost, security, sociability, flexibility and personalised experiences of a travel itinerary are all points we'll cover in this guide.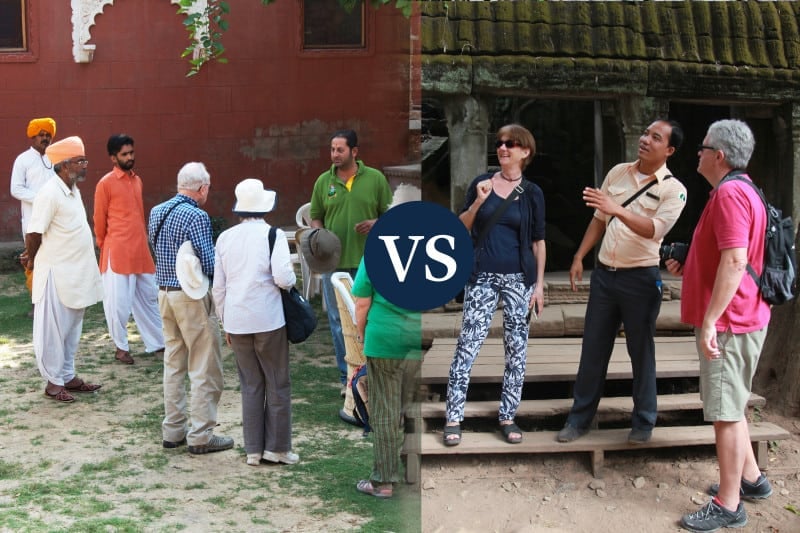 ---
1. Is there a cost difference between group holidays and Tailor-made holidays?
Group travel is, for a like-for-like itinerary, cheaper than a tailor-made tour. This is due to the economies of scale and the fact that you are sharing the costs of guides and transfers. At the same time, the price difference is not usually as significant as you might think and shouldn't be the sole reason for opting to travel in a group.
Sometimes a group tour's unique selling point is a particular tour leader who is an expert in their field; be it history, art or architecture for example. These sought-after guides can charge a premium rate which would be unaffordable to many on a private tailor-made tour but good value on a group tour where costs are shared. Not only this, but sometimes on group tours we are able to arrange special experiences, for example, a dinner in a heritage palace. This wouldn't be feasible for a private tailor-made tour unless cost was no object.
2. Is a group tour more social than a tailor-made holiday?
Travelling with other like-minded people in a small group is a brilliant way of making new friends. You're likely to have varied and interesting conversation at meal times and enjoy sharing experiences with others. The group atmosphere is usually very laidback, so those wanting an early night will have no pressure to stay up, but others wanting to chat late on into the evening will have plenty of opportunities to do so.
Tailor-made private holidays allow you to spend quality time with your travel partner(s) be it your spouse, close friends or children. You'll be able to be together without other social pressures and relax in each other's familiar company. What's also nice about travelling on an ETG trip is our preference for smaller, boutique hotels. There's usually a chance to meet the owners who are your hosts as well as interact with fellow travellers staying at the same place. So you'll meet a variety of different people as you go, which is preferable for some.
3. Security & feeling comfortable
Whilst tour operators arranging any type of holiday will take all precautions to safeguard you, some travellers simply feel more comfortable travelling in a group. Perhaps you want to get truly off-the-beaten track but would feel more relaxed about that in a small group tour.  A tailor-made private tour will always be arranged with your safety as the top priority; whether you feel more comfortable in a group is entirely down to personal preference.
---
4. Is there more flexibility in a private tailor-made holiday?
Private tailor-made tours will be more flexible than group tours. With the latter, the trick is to find a group itinerary that matches your travel pace and style. True tailor-made holidays are completely personalised to your interests and preferences while a group trip is more structured with set activities you have chosen to enrol in when booking on the tour. The freedom to change parts of your trip will be very important to some and relatively unimportant to others.
5. Which is more personalised?
If you have a particular interest in a destination, the best way to get the experience you want is to go for a privately guided tailor-made tour. For example, we had a client wanting to travel on holiday to research her book on silk making in Vietnam. We were able to arrange for her to visit silk factories and workshops which had never hosted tourists before, ensuring she got a good understanding of the process behind its manufacture. Group tours have a set itinerary and have much less scope for personalisation.
---
In summary
The choice of group holidays vs tailor-made holidays comes down to personal preference.
Some people might even decide the style of a group tour will suit them for one destination but for another they opt for a tailor-made itinerary. Before booking, consider the cost, social, security and flexibility aspects of your trip in relation to the specific destination, tour leaders and even timing of a trip.
---
If you would like to discuss your travel dilemma with an expert, do get in touch on 020 3603 4107 or drop us an email here. We have various example itineraries for privately guided tailor-made holidays. The choice is yours.
If you're unsure what a tailor-made holiday is then read the link.