Writer of 'Indonesia Etc', Elizabeth Pisani, once said Indonesia is the 'biggest invisible thing on earth', and in a way, we think she's right. Whenever a holiday to the vast country is thought of, it's most likely Bali springs to mind. Many people don't even know it's just one of 17,000 islands that make up Indonesia. There's so much on offer, so to help inspire you with some ideas, here's a list by our award-winning travel experts on things to do whilst visiting. 
---

1. Visiting Mount Bromo at sunrise or sunset
Indonesia is world-famous for its many volcanos and a trip is incomplete without experiencing one. If you have to pick, Bromo is one of the most spectacular in the country and one of the most active volcanoes in the world. It holds sacred value to the Tengger people in the region, who make annual offerings to appease their gods by tossing food and money into the crater. No matter at sunrise or sunset, Bromo never fails to impress.

2. Take a walk with a Balinese Priest
Bali's enchanting countryside is undoubtedly best explored in the company of one of the local priests that we've come to know over the years. Strolling through the dazzling green paddy fields and lush flora, the island will truly be brought to life. The priest is a central and knowledgeable figure in the community, who will introduce you to Balinese farming, religion, morality, history and more. His family is always ready to welcome visitors to their home with home-cooked local cuisine, (mainly vegetarian) such as sambal and rice. Sometimes there is delicious fish caught fresh from the local river. You can do this experience as part of any of our classic Indonesia tours.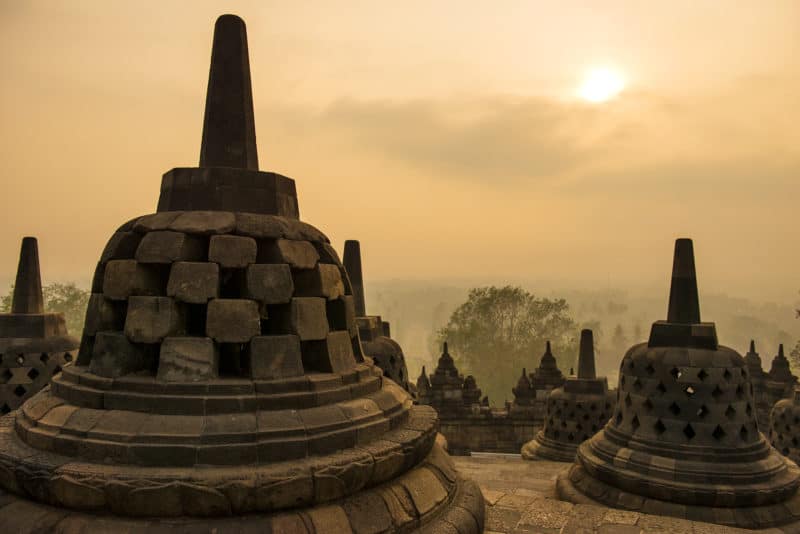 3. Explore the majestic temples of Borobudur
The temple of Borobudur has some pretty impressive credentials.  It's the largest Buddhist temple in the world, built in the 9th Century, with bell-shaped domes inscribed with ancient stories of Buddhism. As a UNESCO World Heritage site it can get busy, so we advise climbing up to the temple in the early morning darkness to watch the sun come up over Mount Merapi. Watch the stupas appear as if by magic from the early morning mist.

4. Experiencing a Toraja funeral
Witnessing a Tana Toraja funeral ritual will be one of the most bizarre, stomach-turning and fascinating experiences of your life, let alone your holiday to Indonesia. This seldom-visited region on the spider-shaped island of Sulawesi is home to the Torajan people who follow an animistic style of Christianity. Celebrating the passing of their loved ones is marked by a period of mourning that includes the construction of huge boat-shaped Tongkonan houses, buffalo slaughtering and lots of communal eating.

5. Snorkelling in North Sulawesi
There are lots of volcanos in the northern part of Sulawesi Island and over hundreds of years, mineral-rich lava has flown into the sea. This has fostered an incredibly diverse marine ecosystem that is home to turtles, sharks, moray eels, giant clams and kaleidoscopic coral. This is some of the best snorkelling and diving on earth.

6. Having a digital detox at Jeeva Beloam
This unique boutique hotel is tucked away on a remote beach within a National Park on the island of Lombok and is the best place to truly get away from it all for a few days at the end of your holiday. Robinson Crusoe-style eco-huts line the private beach where you can relax and listen to the sound of the waves lapping the ocean, or for those wanting to explore, you can take advantage of the stunning surrounding wildlife to hike nature trails, go cycling, snorkelling and surfing.

7. Take a cruise around Komodo National Park
Tiger Blue is a beautiful phinisi-style boat is a beautiful phinisi-style boat, traditional to Indonesia, that will take you on a cruise around the magical islands of Komodo National Park. Not only is this national park home to the infamous, gigantic and other-worldly Komodo dragons, but also the marine life is spectacular and the scenery is breath-taking. Be sure to stop and snorkel at the pink beach.

8. See wild Orangutans in Kalimantan
Wildlife lovers must head to Tanjung Puting in Kalimantan, the Indonesian section of Borneo island, where you can get up close and personal with orangutans in their natural environment. Sightings of these beautiful apes are very common here, and your visit will directly contribute to ethical research into orangutan preservation. Staying in a Klotok for a few nights is our favourite way to see orangutans in the wild on the island of Borneo

9. Bali's lesser-known temples
Bali is such a spiritual place and almost every block or crossroads will have an active temple where locals worship. Sure, Bali's got some pretty famous temples on offer such as the iconic Uluwatu and Ulun Danu Beratan sites that are often seen on the front of postcards. However, we'd recommend checking out some of Bali's lesser-known temples that are equally beautiful and rarely visited by tourists. This is the best way to experience Balinese Hinduism away from the rest of the tourists. Pura Lempuyang is our absolute favourite, one of the island's oldest temples with stunning volcano views.

10. Remote luxury at Nihi Sumba
The ultimate tropical island getaway – Nihi Sumba, is truly one-of-a-kind and a really extra special treat for your Indonesia holiday. Located on the rural island of Sumba that is barely touched by tourism, Nihi Sumba offers unpretentious, barefoot luxury with world-class service that allows you to relax on the pristine beaches, take on some of the worlds' best surfing and embark on a journey of cultural discovery – all under one roof. Not to be missed!
---
Interested in exploring the lesser-known parts of Indonesia?
If you wanted to include any of the mentioned activities in your holiday, do get in touch on 020 7924 7133 or via email. If you wanted to see some example itineraries for an Indonesia trip, do have a look at our portfolio of holidays. Do note they are just a starting point; all our trips are tailor-made so can be tweaked exactly to match your preferences.
---