A story by Damon Wilder
Travel photographer and friend of ETG.
YOUR TRAVEL STORY
After every great adventure, there is the story. There are the stories you tell at dinner parties, the happy accidents that always get a good laugh; there are the 'had-to-be-there' tales, the ones that you recall fondly with your family or travel partner. Then, too, there are those personal moments – the wonder at the beauty, the shock of the new, a fleeting exchange with someone you meet along the way.
We like to think that all ETG travellers are united by these stories. Wherever you choose to go and whatever you like to do, our holidays are designed to facilitate those magical moments that become memories. And, by getting to know each traveller, we hope that we can reveal the side of the destination that will resonate most deeply with you.
We'd like to invite each and every one of you in our community to share your favourite travel stories. No matter if it's big or small, any holiday, experience or encounter that reminded you why you love travel is worth telling. Get in touch by emailing [email protected].
For now, though, here is one such tale. Remember: the holiday itself is always, always over too soon. It's the stories that live on.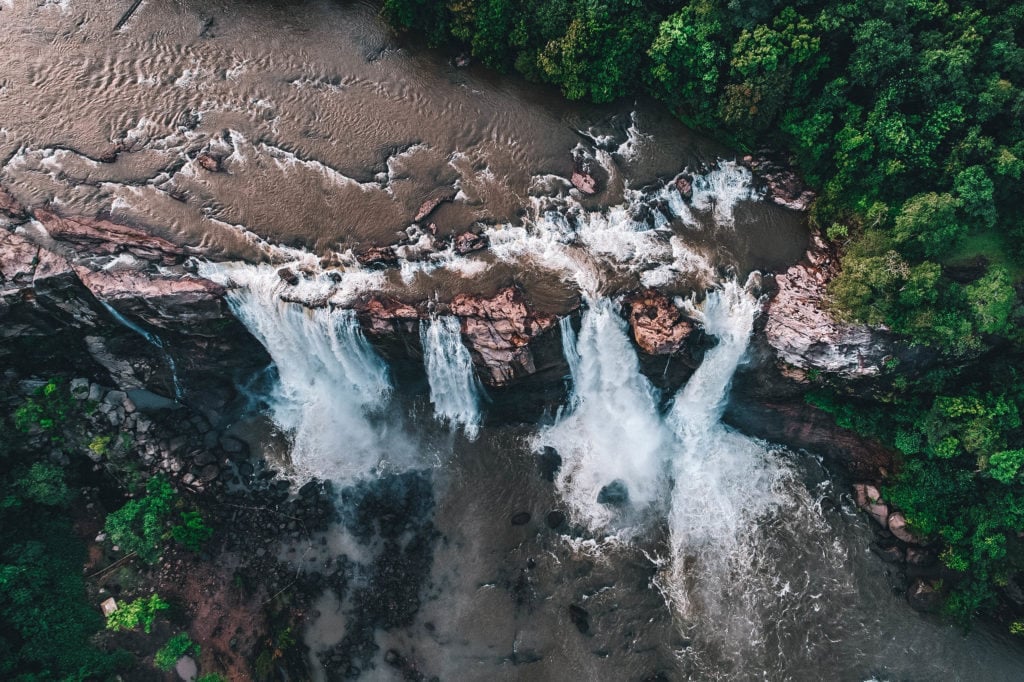 We hear so often about the mayhem of Mumbai or the throng of tourists around the Taj Mahal that it would be easy to assume that the whole of India is like that. However, if you are flirting with the idea of a trip to India, you don't have to seek out an ashram to get some tranquility. Kerala is the epitome of that peaceful, restorative side to India that many people don't know exists. When I was invited to join one of Experience Travel Group (ETG)'s founders on a short trip to this beautiful Indian state, I jumped at the opportunity.
I always love to get out into nature and experience things that are off the usual tourist radar. So Sinna, ETG's local Kerala expert, took us beyond the Keralan backwaters introducing us to a couple of truly off-the-beaten-track destinations. We saw too much to compress into a single blog, so I have decided to focus on my two personal highlights, which just happened to be the source of my favourite Indian beverage: cardamom tea.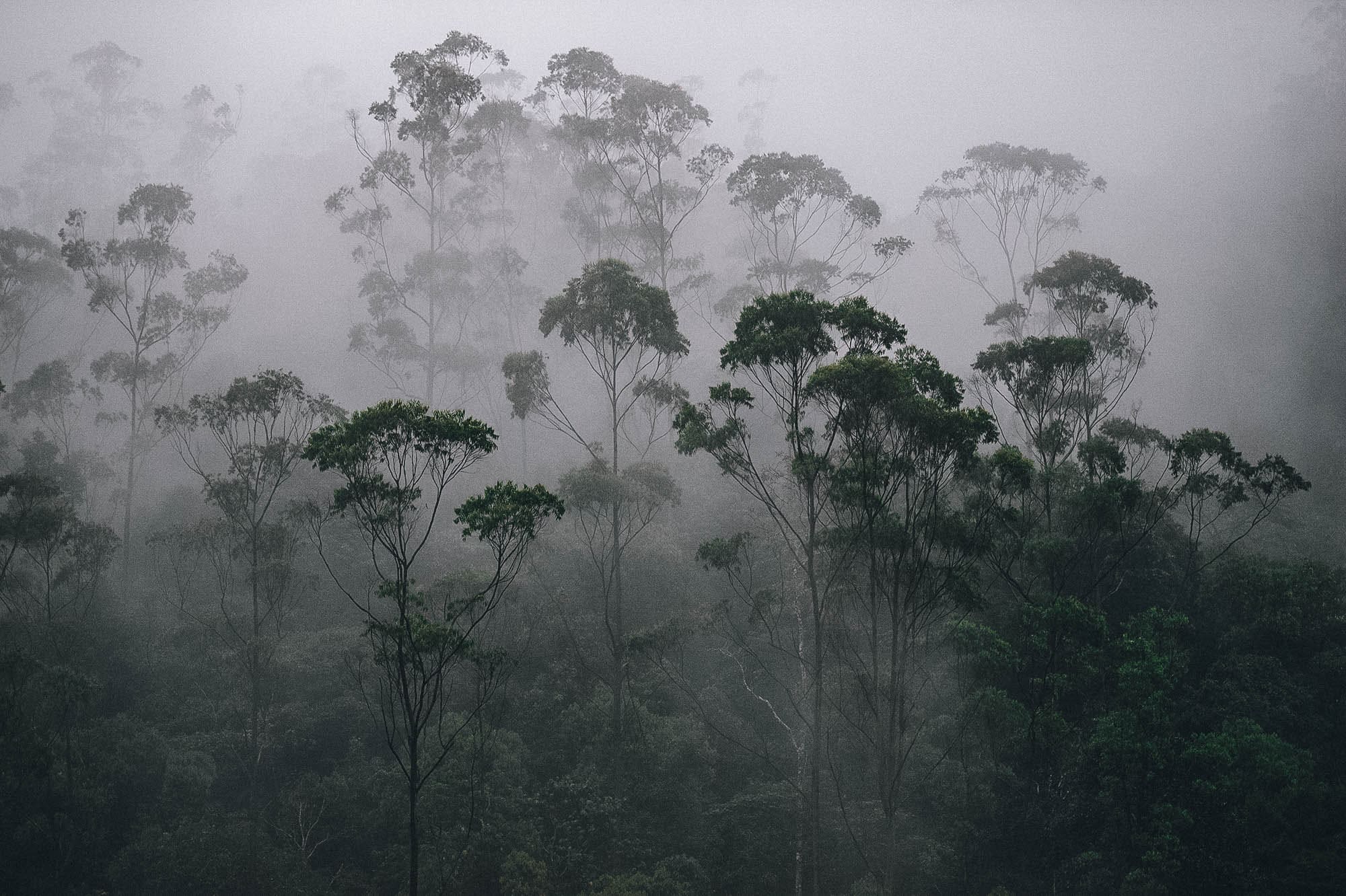 Periyar Forest Bungalow
After two days exploring the fort and island around Cochin, the real adventure began. We took to the road and quite literally headed for the hills – which, in Kerala, means the Western Ghats, a mountain range and biodiversity hotspot that runs from the southern tip of the Indian subcontinent and extends some 1600 kilometres to the North – well beyond the Keralan backwaters.
The drive through the hills is a picturesque trip past tea plantations, dense forest and more than a few precarious roads overlooking deep gullies between the green hills. After five hours on the road, give or take a few stops for curries and roti, we arrive at the edge of Periyar Tiger Reserve, just in time for an obligatory late afternoon torrential downpour. The heavy rain means there are no great wildlife sightings this time, but I am nevertheless excited to be entering the home of leopards, Asiatic elephants, sloth bears, lion tailed macaques, flying squirrels and, of course, tigers.
As we near our destination, brightly-clothed cardamom pickers come into view, hard at work under the umbrella-like crop. Periyar Forest Bungalow is part of a working cardamom estate, which has been happily nestled in the forest for close to a century. When we arrive, our hosts are waiting with a nice fresh cup of sweet milky cardamom tea.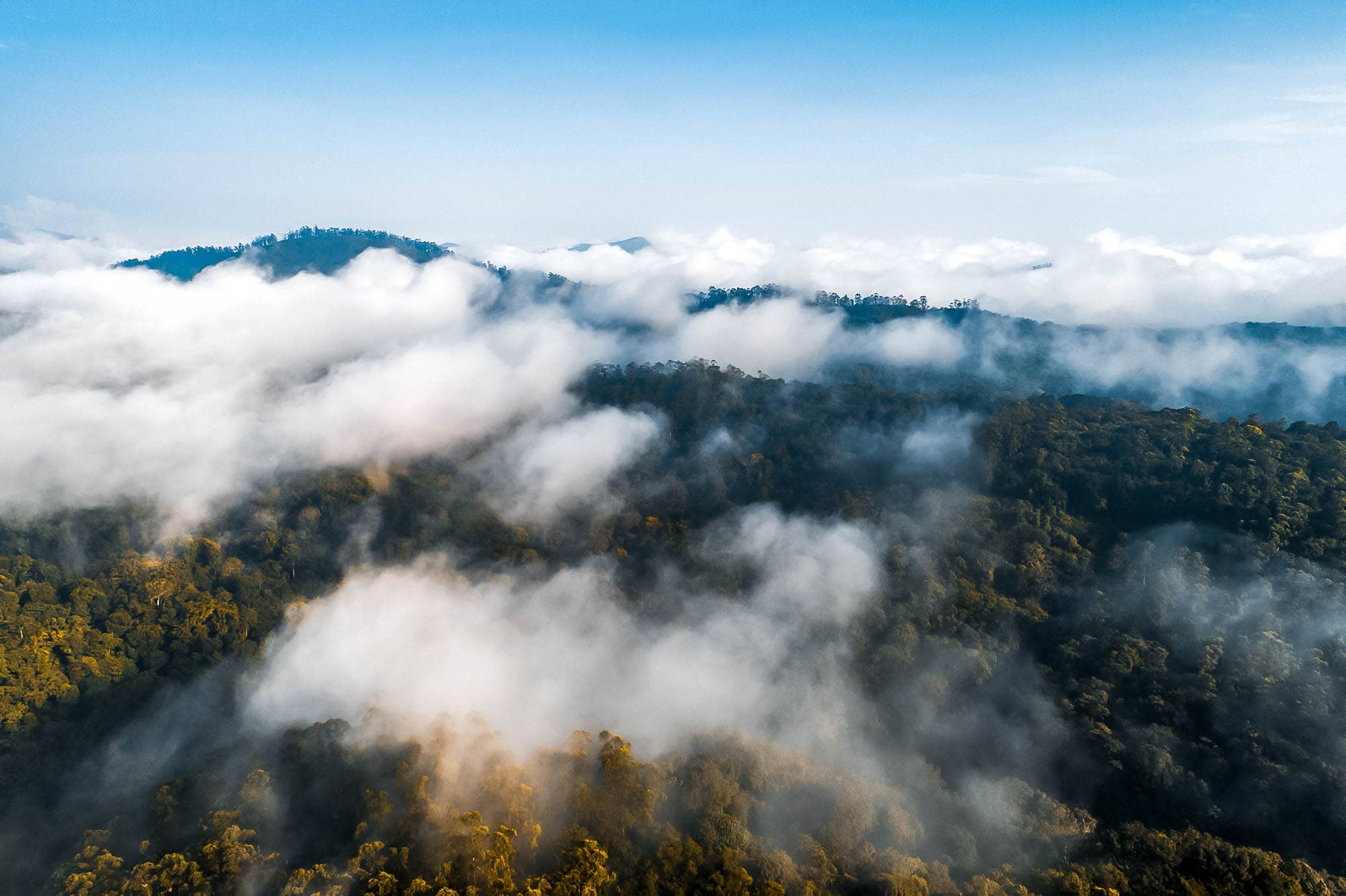 We rise early the next morning to explore the mist draped forest plantation. It is a glorious sight as shards of light stream through gaps in the misty canopy and onto the dew-covered cardamom plants below. Back at the bungalow, Sinna leads us around the back of the building and up into the drying rooms where the daily cardamom harvest is dried and cured ready to be bagged and sold. It is somewhat overwhelming for the senses in the hot space, the air thick with the potent familiar scent of the world's third most expensive spice. A refreshing swim in the stream was the perfect remedy after the steamy experience.
Dusk sets in quickly and we are soon treated to some of the best curries we have had so far in India. The bungalow is a charming and rustic affair, the ground floor built out of large river rocks with the upper floor constructed out of rich local timber. By daylight it is a perfect place to absorb the sounds of the forest and watch monkeys and all manner of birds in the surrounding trees. After dark all manner of moths and nocturnal insects are drawn to the outside lights where they are happily snapped up by the well-rounded resident gecko population. Needless to say, you want to be comfortable with getting this close to nature to enjoy this place.
Although we were only there for less than 24 hours, Periyar Forest Bungalow made a lasting impression on me and I'm eager to visit again for longer to properly explore the estate – and maybe drink another cup or seven of their cardamom tea.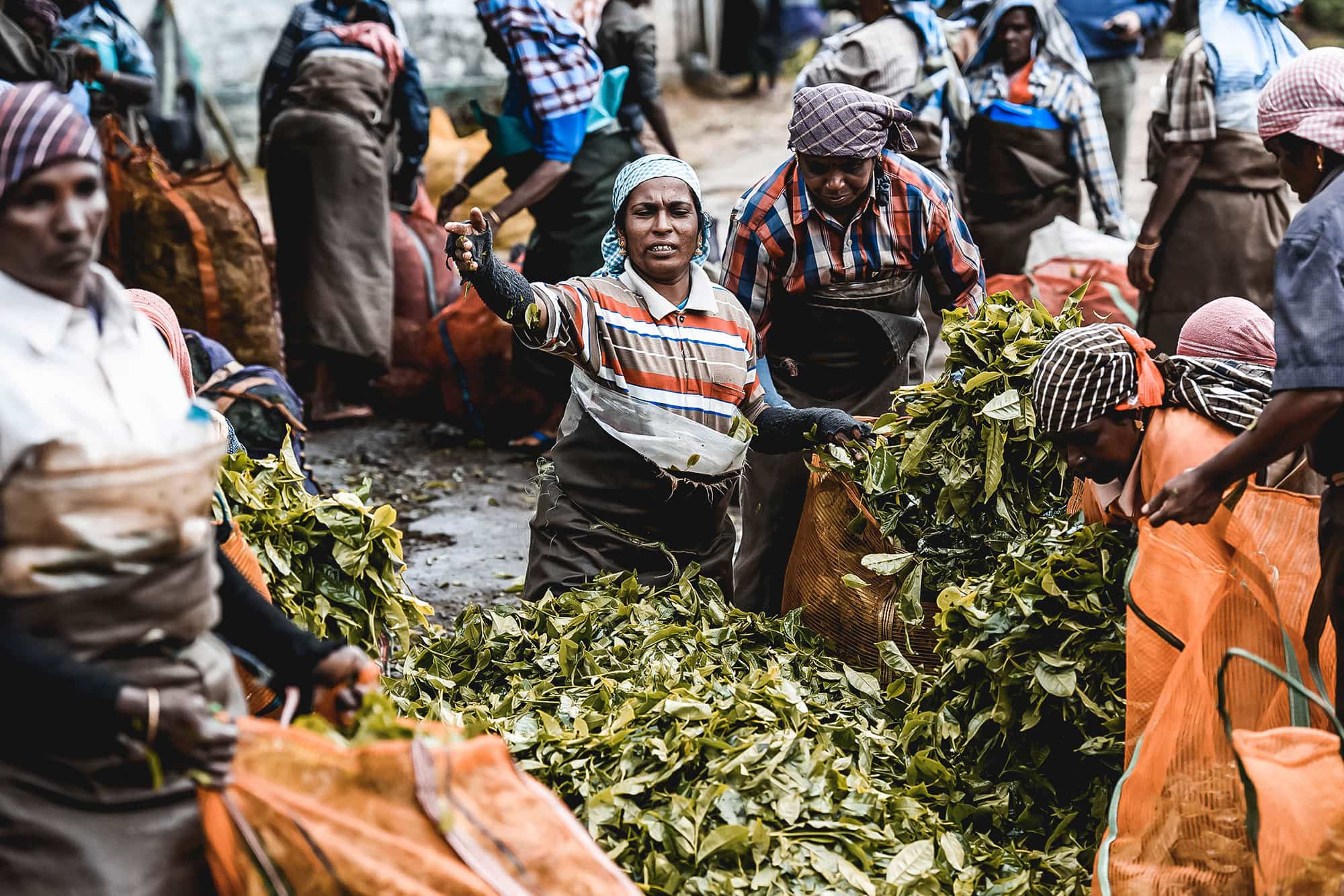 Briar Bungalows at Meghamalai Tea Estate
Our next destination, Briar Bungalows, consists of three colonial cottages in the 6,000 acre Meghamalai Tea Estate. I discover it is not actually in Kerala but rather right on the edge of the neighbouring state of Tamil Nadu. As the crow flies Periyar Forest Bungalow is less than 30 km from Meghamalai. As the jeep drives, however, it is a stunning 125 km journey that traverses the jungle of the Western Ghats before descending spectacularly to the plains of Tamil Nadu. The contrast between the two states is striking: Kerala is one of the greenest places I have visited and driving across the dry plains of Tamil Nadu is a bit of a shock to the system. It feels more like we have landed in another country altogether.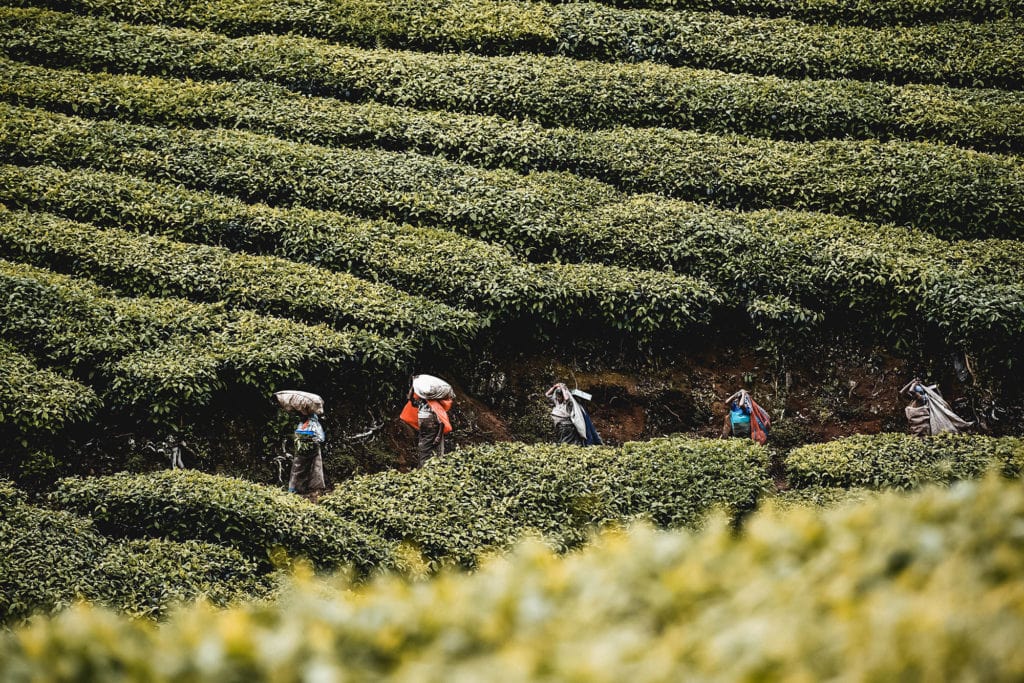 As we wind our way into the hills and the air becomes cooler and damper, we find ourselves approaching the first of the tea plantations that thrive in these higher elevations. Still 10 kilometres from our destination I shout to our driver to stop, having already spotted numerous good photo opportunities.
"Just wait, it gets better," Sinna tells me. I have heard this several times over the years from drivers impatient to get to their next destination and end up kicking myself for missing a great photo opportunity. But Sinna, of course, was right. It got better and better as we got further into the plantation. When we returned two days later, those initial spots that had me so excited barely raised a blip on my photographic radar.
Meghamalai has only very recently opened up to tourists end even now it is well off the trodden tourist trail. This isn't the kind of place where you nod half interested as you do a tea factory tour with two dozen other tourists who have just arrived in a big bus. There is no hard sell of tea and vaguely tea-related products at the end of the tour, nor are there the obligatory awkward posed photo opportunities with tea pickers. This is the real deal.
I feel far less awkward photographing the tea pickers at their daily work than I have at any of the estates I have previously visited. The workers I meet are all lovely and genuinely curious to chat with me, tourists being something of a novelty to them here. Life on the tea plantations is hard for families who have made their homes here, but Sinna tells me that the younger generation now tends to seek further education and less back-breaking work in the cities. Times are changing.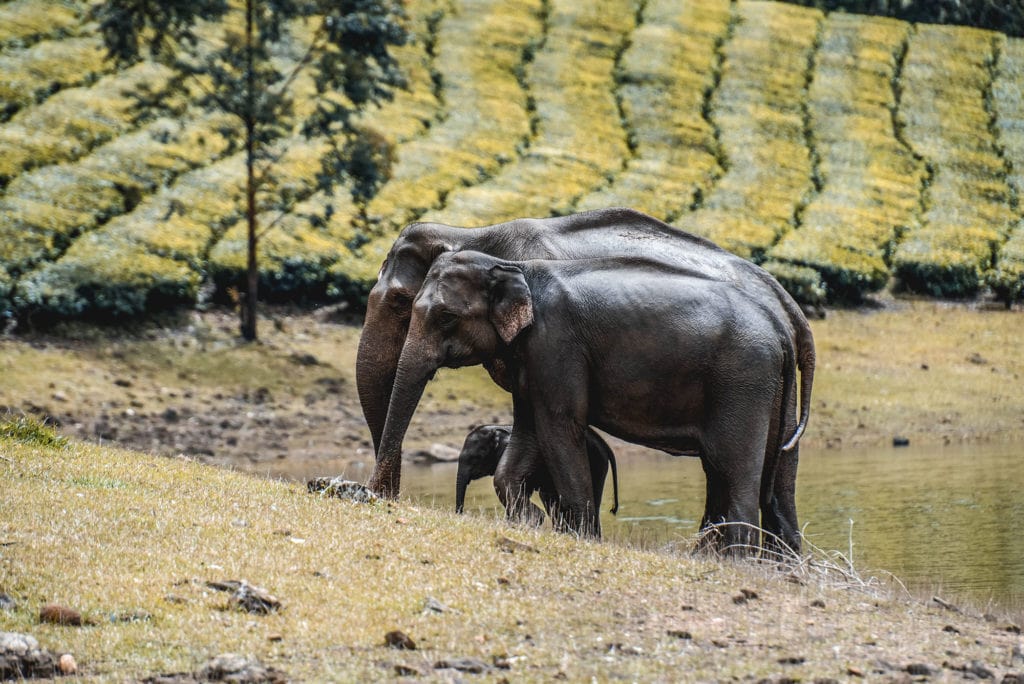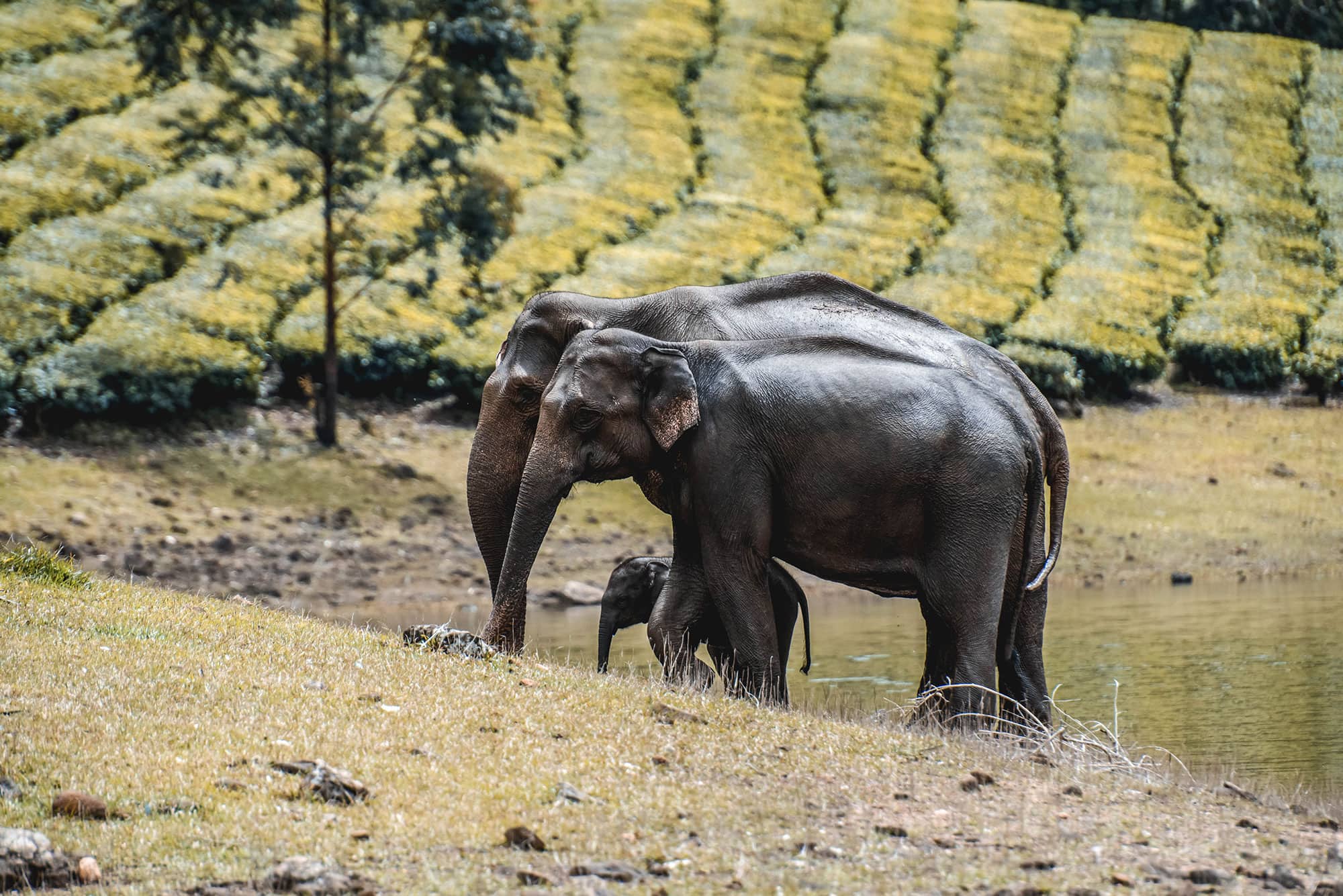 One of the highlights of our stay at Meghamalai is an unexpected encounter with a baby elephant and her mother and adult sister. We have the good fortune to watch them as they swim across the lake, doing their best Loch Ness Monster impersonations with only their trunks and the top of their heads above the surface.
I have visited many tea plantations over the years in Sri Lanka, Malaysia and Indonesia. Each had its charm, but Meghamalai is something else entirely. It really is breathtaking and the more you explore the huge estate, the more impressive it becomes.

We don't believe in standing still. Watching the world go by through a window. Hearing it through the stories of others.
You want to be in it, out there. Asking questions and finding answers. Finding yourself in worlds unknown. Finding the path less trodden. Meeting people with a different story to tell.
Just ask why, what, how, who? We'll never stop helping you find the answers.
Our travellers come home with stories to tell, memories to keep and new ways of seeing their lives around them. That's what happens when you truly connect with a destination.
FREE YOUR CURIOUS SIDE WITH EXPERIENCE TRAVEL GROUP – TRAVEL BEYOND THE KERALAN BACKWATERS

FREE YOUR CURIOUS SIDE WITH EXPERIENCE TRAVEL GROUP