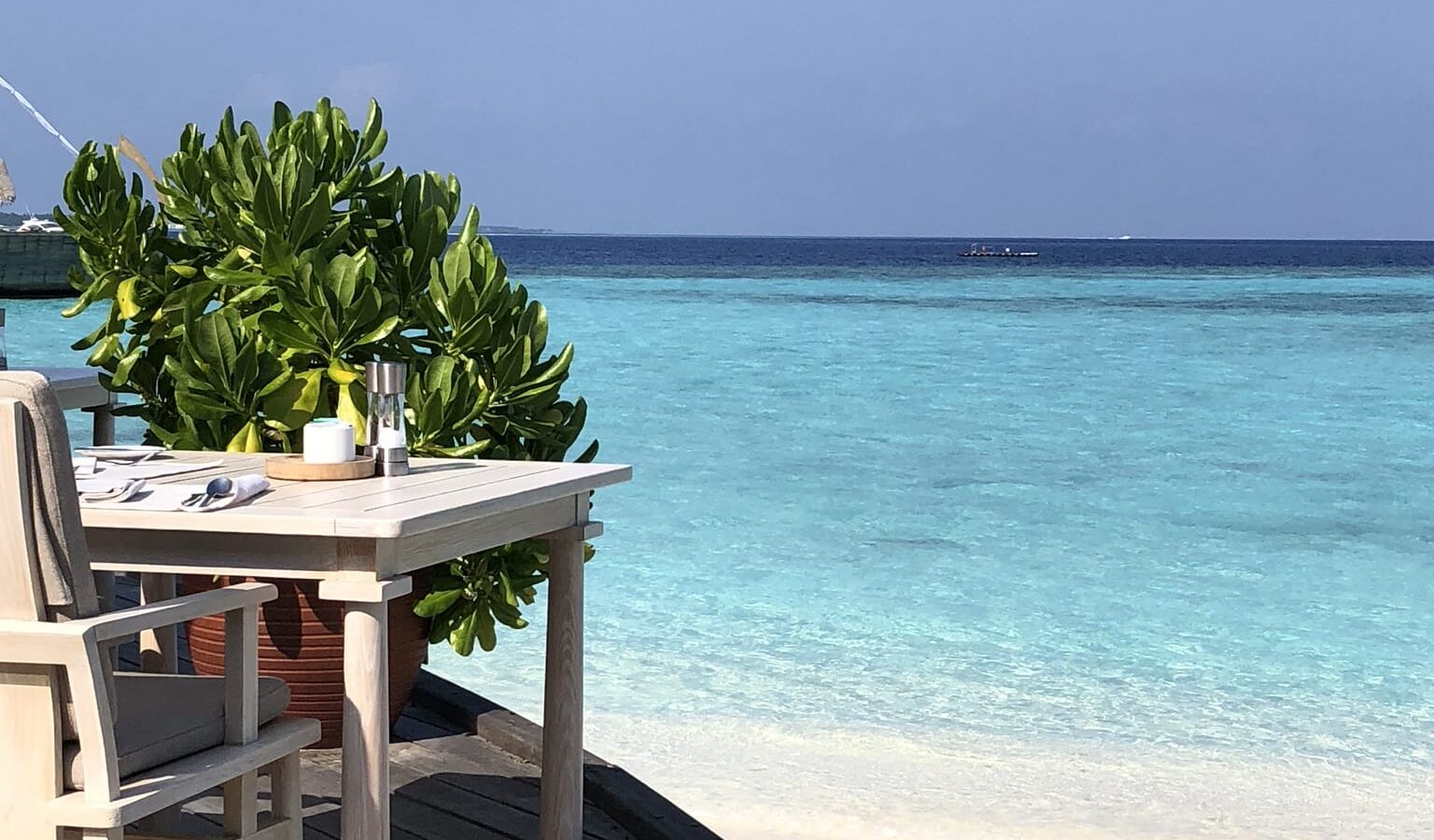 I'm still not entirely sure how I've managed to get away with this. But somehow, with less than 24 hours until the UK went into Lockdown 2.0, I made a mad dash to The Maldives. I booked my flight the week prior – when The Maldives was added to the UK's travel corridor – and received the results of my PCR test just a few hours before I was due at the airport. I'm writing this now, from my resort – not quite with a piña colada in hand, but you get the picture… And I still can't quite believe I've made 'pandemic travel' a reality.
Before you roll your eyes and tell me to go away until I'm suitably cold and miserable again (all my friends have already) – let me give you the full picture. Like most people, I found the first lockdown challenging at times, living on my own in a small flat in east London with a space that wasn't really fit for purpose. I gritted my teeth like most and just got on with it, but I think not having proper outside space, missing going back and forth to the office and not having my regular gym sessions took its toll.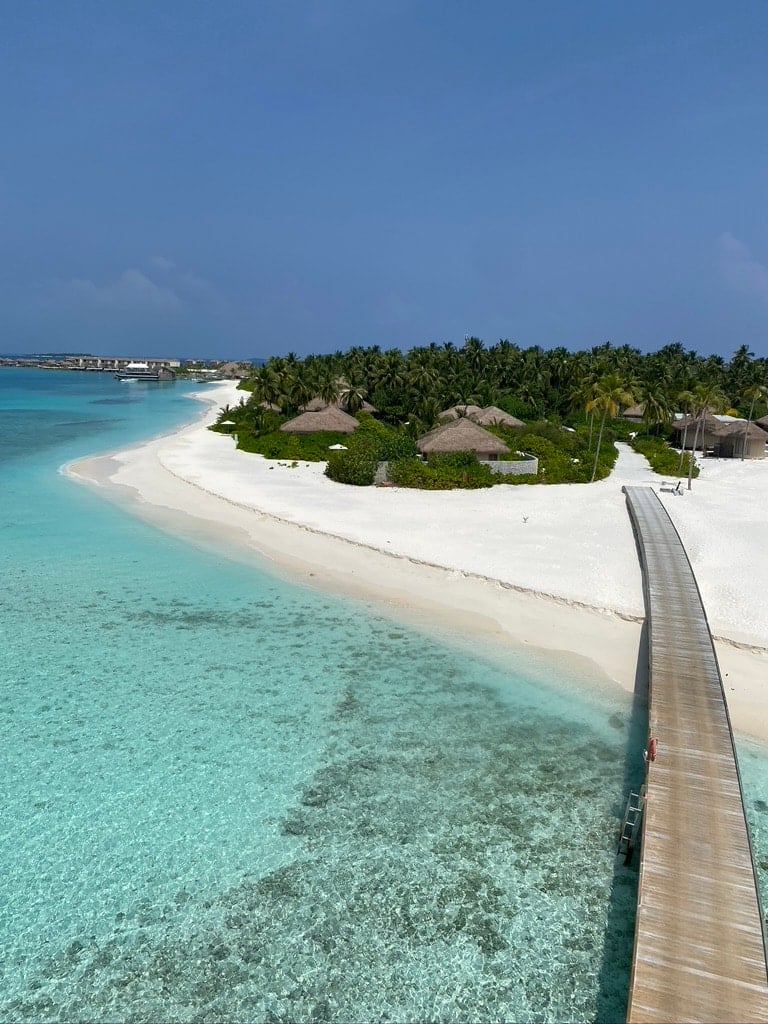 Pandemic Travel in Action
So with the prospect of another lockdown looming, I did what I think anyone in my situation would do, and decided to make a sharp exit. I'm in a fortunate position: having arranged holidays to The Maldives as part of ETG for over 9 years, I knew I could make things happen very fast. Not being able to travel has hardly been the worst outcome of the pandemic, but being homebound has been so hard for so many people. And I know that for so many of our clients, travel is a huge part of their lives. We all need something to look forward to. 
Plus, I genuinely wanted to practice what we preach at work. We are asking all our clients to book holidays and travel during these strange new times, so I wanted to show people what it's like to travel, having to face all these new hurdles – and what better way to live and breathe it myself?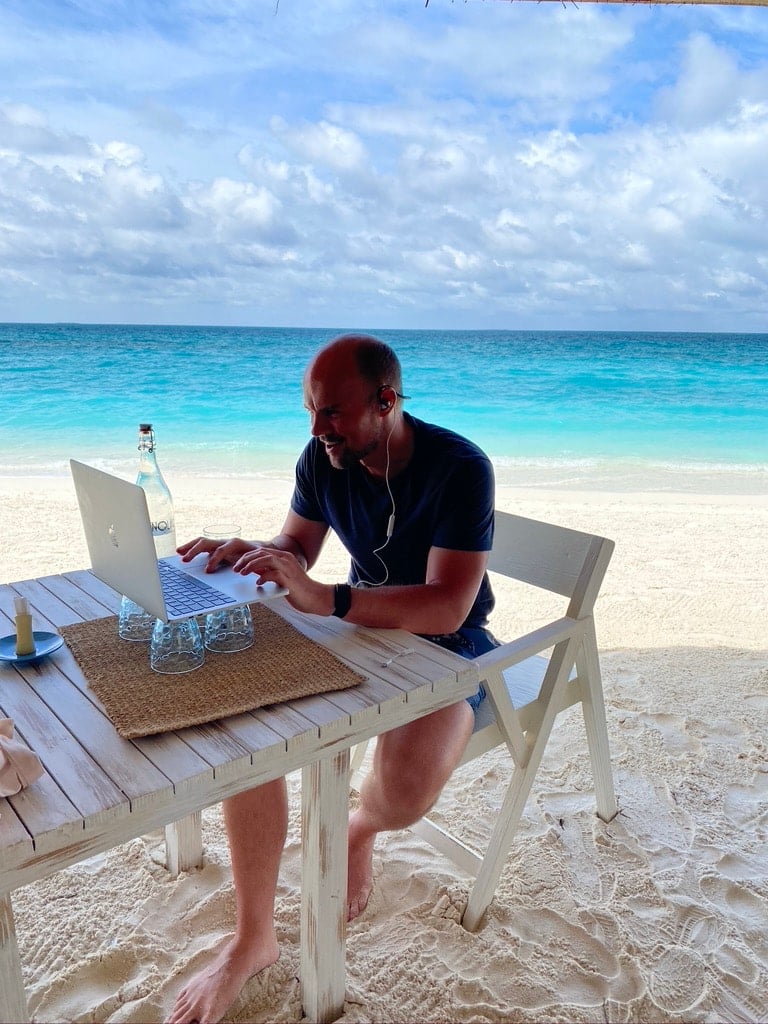 So here is what to expect when booking and taking a holiday to The Maldives – with all the 'new normal' restrictions in place.  By the way, when I arrived here The Maldives was on the UK's travel corridor list (i.e. no quarantine required when you came home) as long as you flew direct with British Airways or Sri Lankan Airlines. But since then, Qatar and U.A.E have been added to the travel corridor list, so now you can also fly with Qatar, Etihad, and Emirates as well.  This has opened up many more regional and daily (quarantine-free) flights.
Before we get stuck into the details, please feel free to get in touch with me directly on email [email protected]  I've enjoyed the delights of five resorts out here since I arrived and I have a couple more to go before I clean the sand out from between my toes, so there's not much point trying to catch me on the office number right now…!  Wherever I am though I do absolutely love talking travel, especially to The Maldives, and I'd be delighted to answer any questions you might have.
The Maldives: pandemic travel pre-departure necessities 
The PCR test
To get to The Maldives, you need to have had a negative PCR test 96 hours before departure. There are hundreds of companies now popping up with lots of different options available. I decided to have mine done in a clinic and paid for an express service with guaranteed results the next morning. It was very strange knowing that my trip was resting on a test and, I'm not going to lie, I had a pretty sleepless night! I was pleased that at 7am, my 'Fit to Fly' certificate came through and a big 'NEGATIVE' result was shown. Phew. One of the main hurdles out the way. 
Top Tip: To keep things simple, Experience Travel Group now include your test as part of the holiday package, so you can rest assured all is in hand in the days running up to your trip.
Health declaration form
24 hours before your departure flight time, you head to this website and fill out a health declaration form, and crucially you have to attach your PCR results. It's quite a straightforward form, to be honest; you'll need to attach a photo, which I just took with my smartphone. You'll also need to list where you are staying while on holiday, and other normal form bits and bobs!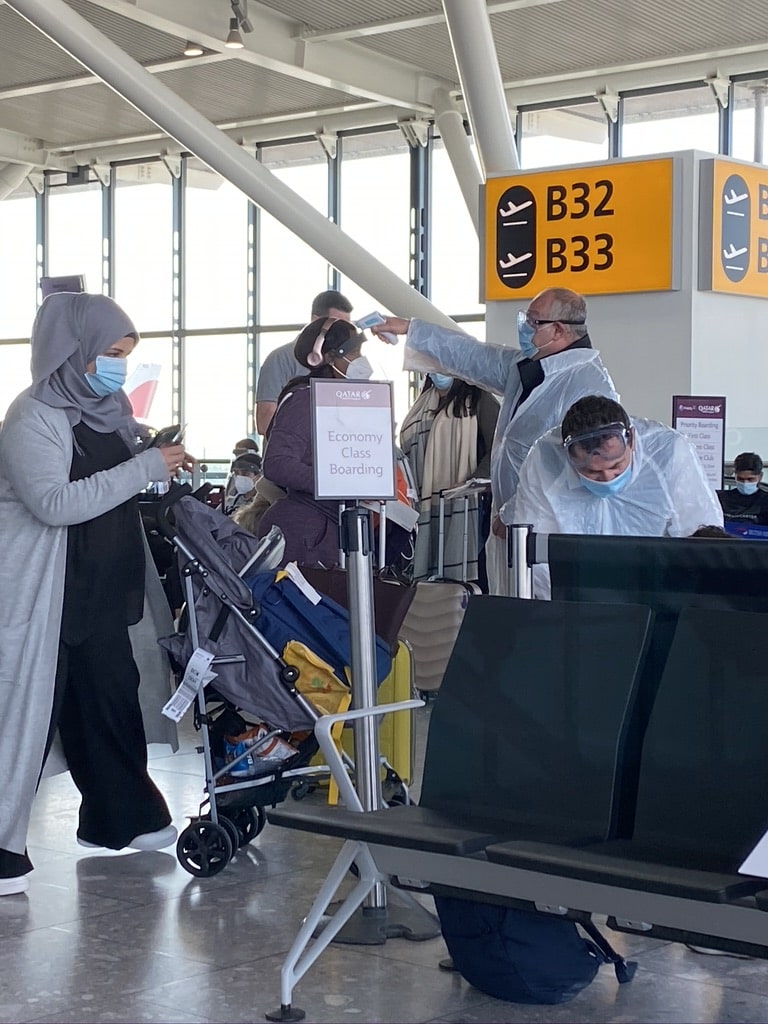 My journey to The Maldives
Departure and flying with Qatar Airways
I treated myself and took the Heathrow Express from Paddington. A really quick journey and a refreshing change from the long old slog on the Piccadilly line. 
At the airport: My top tip is to print everything. You'll have a QR code from your Maldives Health Declaration form which you'll probably be asked to show a few times before you board the flight. Have your Fit to Fly certificate, a copy of your passport page, your flight tickets, your hotel voucher and itinerary all to hand – the airlines are super strict and won't let you fly without seeing the declaration and big fat negative test result. 
Check-in was busy, partly because of the huge pandemic travel document-checking process for everyone, but also because of the mass exodus to escape lockdown, so I'd allow extra time. Going through passport check and security felt relatively normal, to be honest, and everyone was wearing their masks. All the shops were open and I grabbed a bit of food and headed to the departure gate.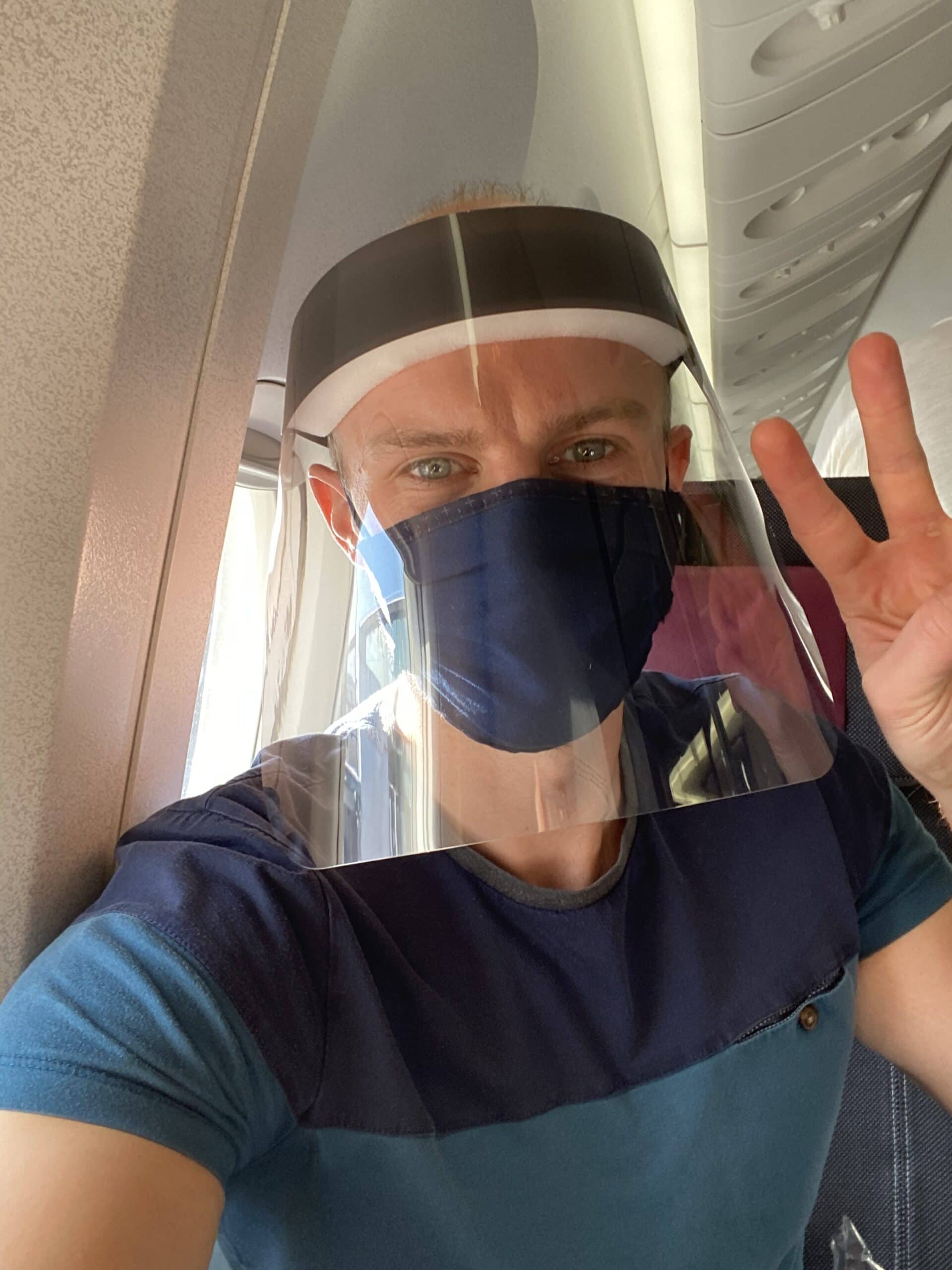 I decided to fly with Qatar for various personal reasons (one of the main ones being the option to go from London but back into Manchester), but obviously British Airways is your direct choice from London Heathrow (now along with Sri Lankan Airlines). They'll probably have different protocols, so please bear in mind that this is just my experience and it won't be the same for all airlines. 
The biggest thing with Qatar is that you have to wear both a face shield and a face mask. The shields are provided by the airline and are mandatory on both flights. Since not everyone is going on to The Maldives on the London – Doha leg, you can't guarantee everyone has a negative test, but many destinations do require it now, so chances are a lot of people on the flight were negative. The plane was completely full – the check-in lady even said that they had to change the plane last minute to a bigger one as there were so many extra bookings. I really don't think this would be everyone's experience, but just a warning if you think you'll be going on an empty flight. 
The staff wore a sort of snazzy version of PPE (if that's possible) and honestly, the flights felt completely 'normal'. I love Qatar, I have flown them so many times and they really do a good job of maintaining a really high-quality experience.
Changing at Doha was super straightforward: it was the middle of the night, everything was open, and you just have to wear a face mask, not the face shield, in the airport.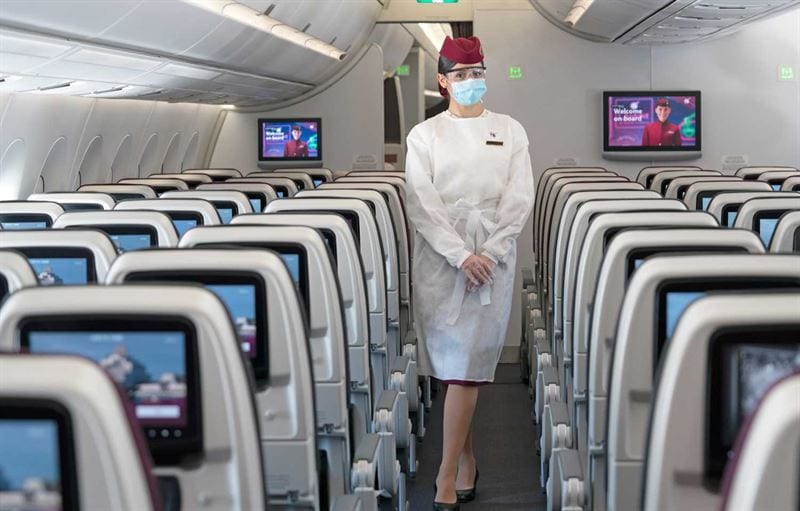 Arriving in The Maldives
I really didn't know what to expect, but because Male airport's been open since July, everything is so well set-up. We got off the plane and we were taken by bus to the terminal. The passengers on the buses were kept socially-distanced and at around half capacity (though this does mean that some people have to wait a while before boarding). Passengers are thermal-scanned as they enter the terminal and then it's off to the passport immigration queue. The health declaration was attached to my passport – the attendant wanted to see my PCR test, Fit to Fly document and that was it. I got my 30-day visa on arrival stamp and I was off to baggage collection. 
Once I was through to arrivals, I was met by our rep and taken to the check-in counter for the Seaplane. My first island stop was to be Intercontinental, which is a 35-40 min flight away. Judging from my previous visits, I'd say the domestic airport was about 50% full. I was given a little flying kit, which included hand sanitizer, gloves and a fresh mask. I was then driven to the seaplane departure terminal, about 10 minutes away, and taken to the Intercontinental lounge. It was just me and one other guest and I chilled there for about an hour. This is pretty normal as the seaplane operation is an incredible feat of organisation.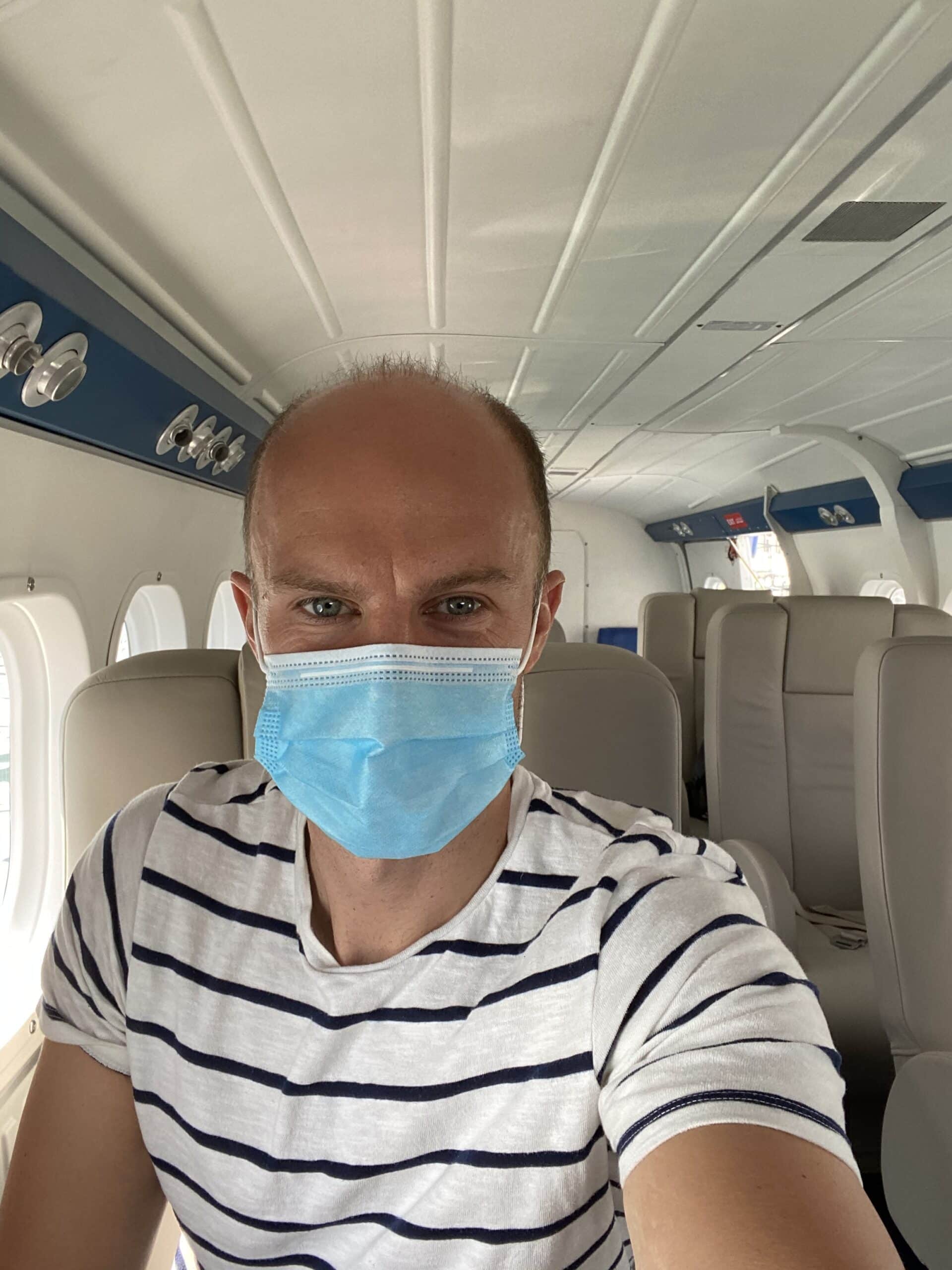 The Seaplane flight was relatively similar to my previous experiences, the only change was having to wear a mask. They are small prop planes, so there isn't much social distancing, to be honest. You know that everyone has had a negative test but, obviously, that doesn't mean it's impossible to catch the virus. If you are feeling nervous then it's best to go to a speedboat resort only, which means you you'll be travelling in the open-air and you really can keep a 1m-plus social distance.
Holidaying in the Maldives
An important thing to note here is that on this visit I have only visited resorts in The Maldives. These are all one-island-one resort.  Private islands, essentially. The staff will live on the island as well so there aren't lots of staff coming and going from local islands – they aren't allowed. I wrote a blog about why The Maldives is an ideal destination to holiday for right now, so check it out here as it will give you more of an overview of The Maldives as a holiday destination. 
Staff Pandemic Travel Measures
All the staff will be wearing masks as it's a requirement by law. It feels a little funny at first, especially as so much of The Maldives is outside and naturally socially distanced, but you get used to it quite quickly. You'll see them sanitizing their hands all the time, too.
Some resorts will be testing their staff every 5-7 days, and if they are even a little bit ill they'll be kept in quarantine in the staff accommodation which is always in a separate area of the resort. 
Admittedly, I'm staying at the higher-end hotels, but all of them have offered guests a WhatsApp service, so you can message whenever you like, e.g. to request something for your room, book a dinner, etc. I'm pretty sure all resorts are rolling out something like this.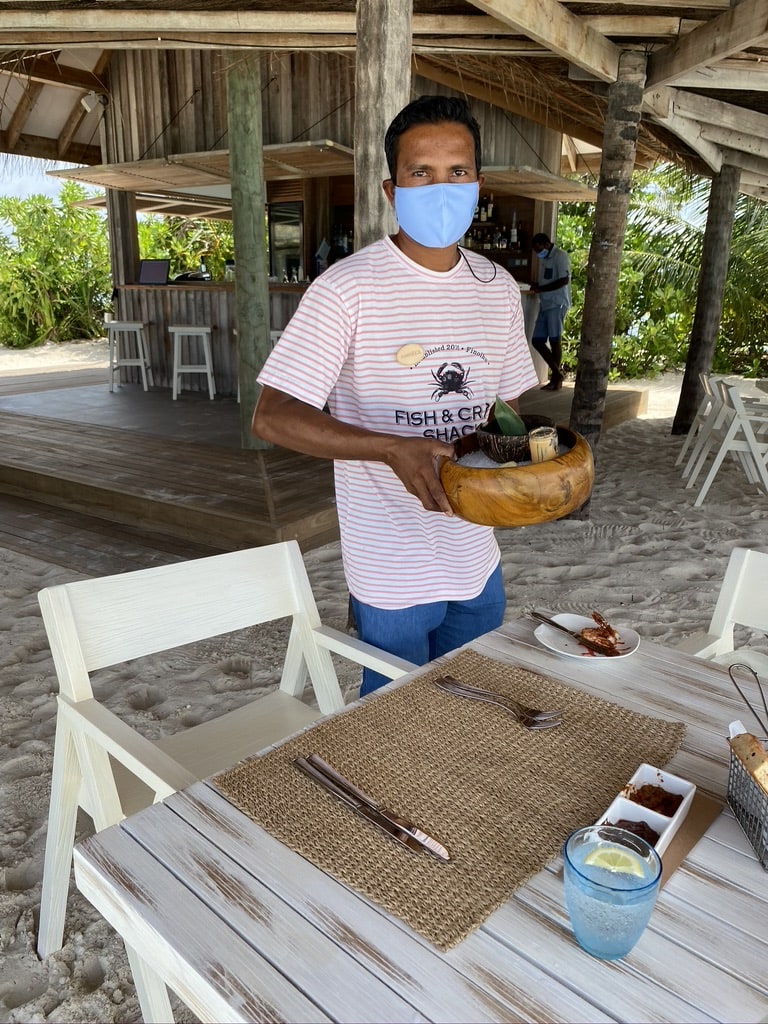 The rooms
Your room will be devoid of the usual paper-based info about the resort and instead you scan QR codes to access all you need to know. This takes a little getting used to. If you've got a tablet, I'd highly recommend bringing it as you'll have a much bigger view of the menus, schedules, room directory etc. 
All of my stays have had twice-daily housekeeping. Some of the staff wear more full-on PPE, whereas others just wear a mask – it's really up to the resort. You can request what you like.
Everything else seems to be 'as before'. Depending on the type of resort – you might see a few 'sanitized' stickers kicking around (think big international chains), but that's it. It's really refreshing to have a sense of normality.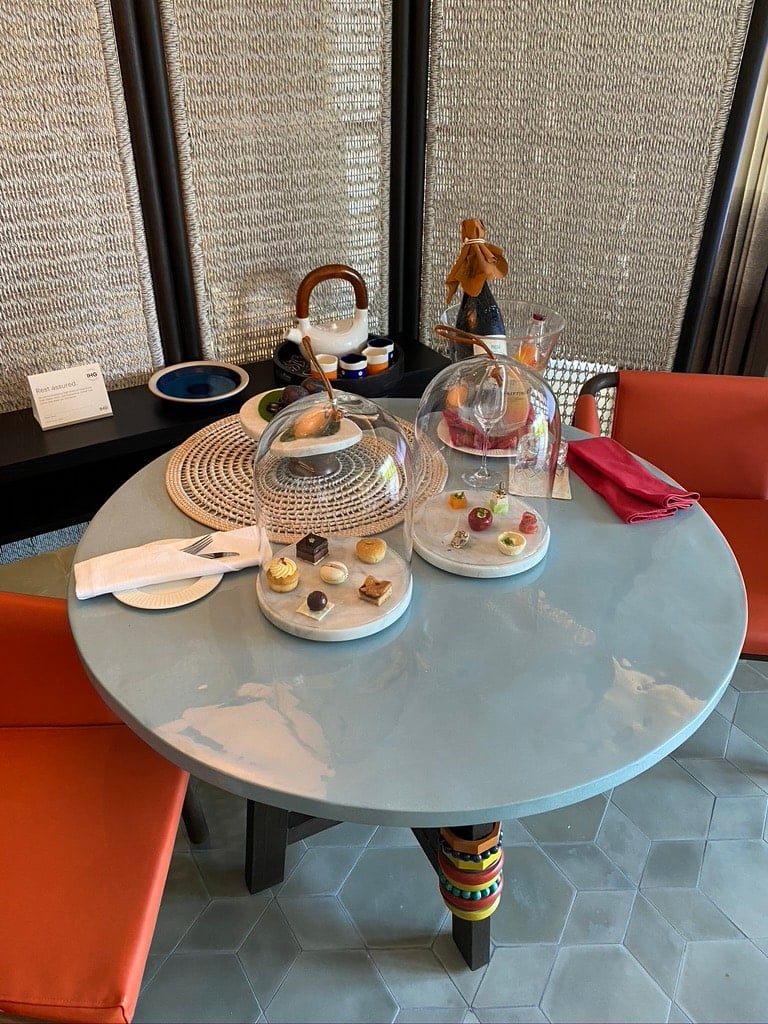 Common areas
The Maldives is all about being outdoors, with space and plenty of it as standard. I'm guessing that resorts haven't really had to change things at all. You aren't going to see plastic screens or blocked off areas. 
If you like fitness, you'll find some of the gyms have a max capacity and you need to book before you go.
With destination dining, outdoor cinemas, long stretches of beach and landscaped gardens galore, The Maldives is already well ahead of the game.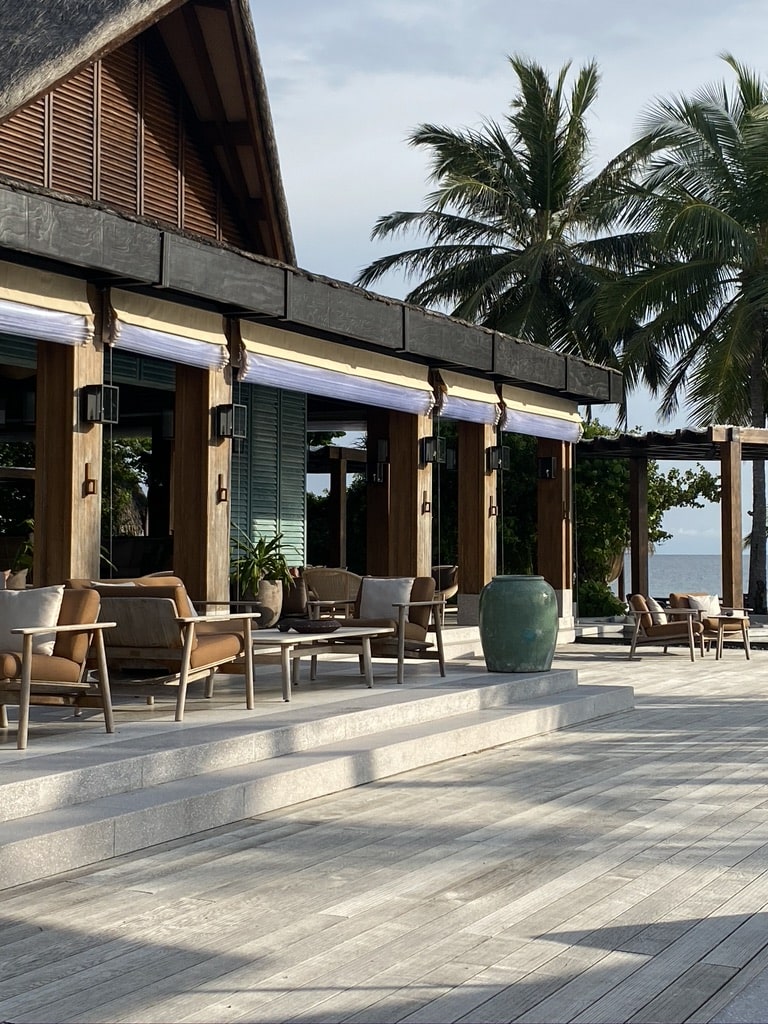 Pandemic Travel Dining
The biggest change when it comes to pandemic travel is that some resorts will make you use digital menus and the cutlery will arrive wrapped up in a napkin, or in a little packet.
There is definitely less buffet action, which has pros and cons (especially at breakfast – I do love a good breakfast buffet!) The higher-end resorts have always been a la carte, with 'semi buffets', but some of the bigger resorts will be getting to grips with having to cook everything fresh, so I'm sure they are having to adapt there.
The restaurants are so set up for open-air dining that, if it's raining, they have vast verandas or clever rain protection systems, so it still feels like you're outside. It's very rare you'll find an air-conditioned box in The Maldives, unless it's a special one-off dining experience, e.g. Japanese teppanyaki style.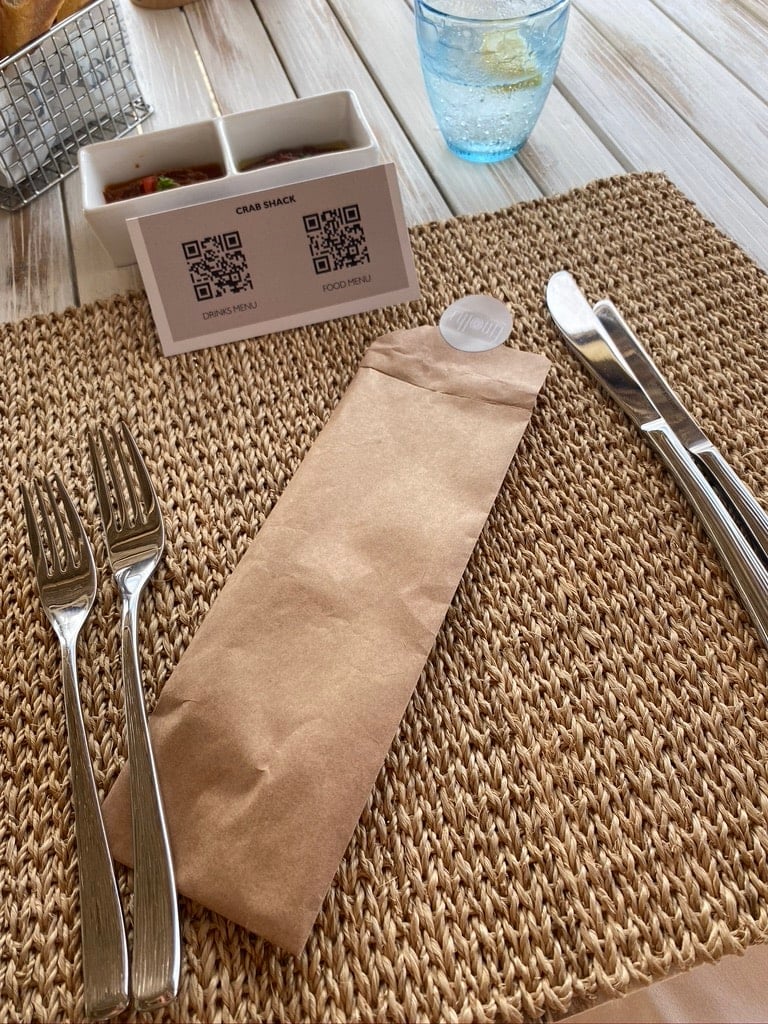 Pandemic Travel Experiences
The majority of activities in The Maldives involve the sea; I went on a dolphin cruise and they simply reduced the maximum capacity on the boat. Snorkelling and diving are naturally socially distanced. I really haven't seen any significant changes, and you really can have all these incredible experiences as part of your holiday – pretty much unchanged.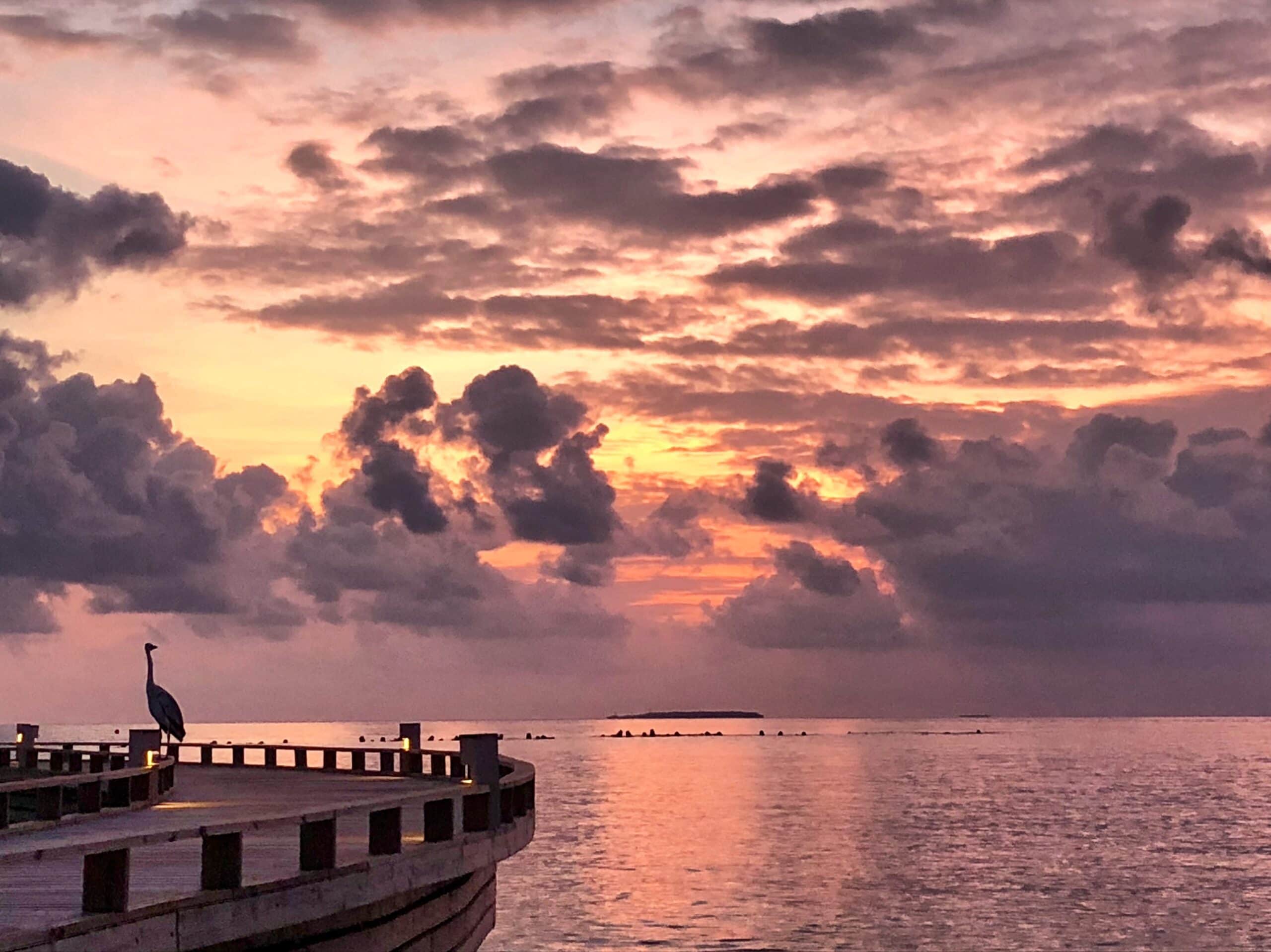 Different resorts, different experience
I think it's important here to add that although the Maldivian government has enforced tourism protocols, each of the hotels might also have their own policies and measures in place. As I've moved around on this trip, I think it's clear that the larger, international resorts have more measures in place than some of the more boutique, independent resorts. That's not to say either is right or wrong, but it's something to be aware of.
During my stay at Amilla, which is a 5* plus resort, I had to have a PCR test on arrival and wasn't allowed to leave my room until they come back with the result. In my case, I had the test at 11am and got the results the next day at 9am (thankfully it was negative). This is an interesting move, especially as many people will have had a test only a few days before, but it does mean the island feels normal, with the staff not wearing masks. It was quite strange not being allowed to leave my room, but I had a private pool and the ocean in front of me, plus all my meals delivered and a bottle of wine. In fact, who am I kidding, I loved it.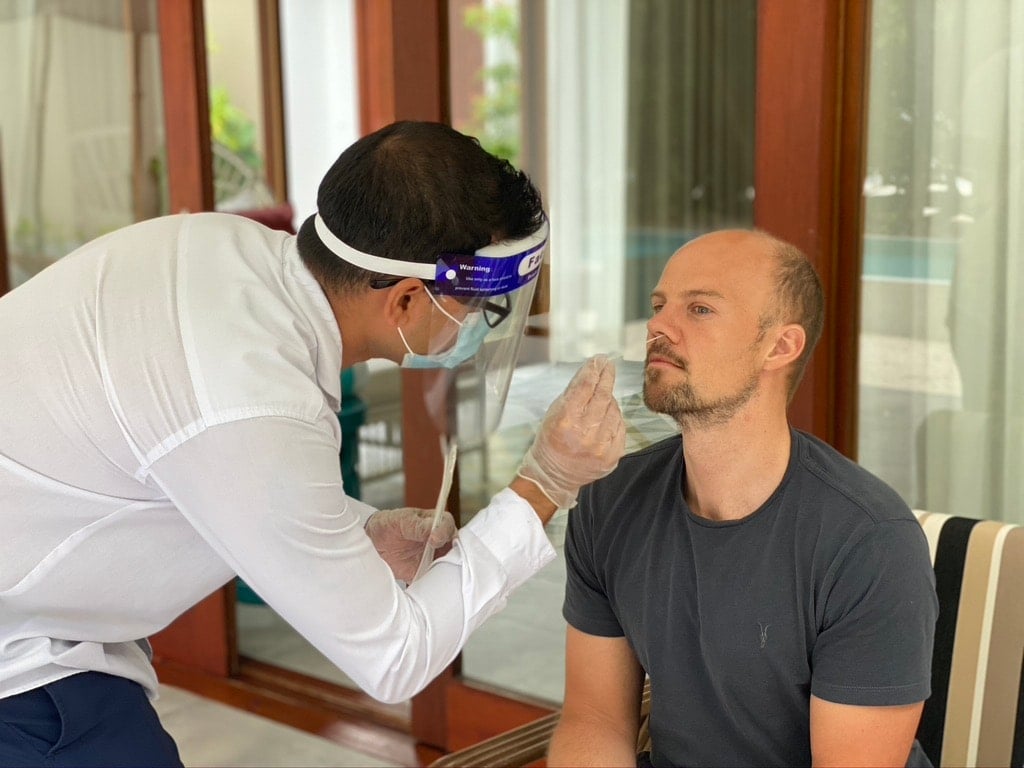 In Summary
Ultimately, you are going to be hard-pressed to find a destination that is more suited to dealing with the situation we are facing right now. Firstly, it's clear that The Maldivian government isn't taking the COVID-19 pandemic lightly: they have introduced important hygiene measures and regular testing strategies. But secondly, with natural social distance, excellent weather and the vast majority of activities taking place outside, your Maldives holiday will not be fundamentally altered as a result of the pandemic. That's not to say there aren't lots of things happening behind the scenes, but if you really want an escapist holiday right now, The Maldives is going to be hard to beat. It's a trip-of-a-lifetime destination anyway, so I say (well, I would!) bite the bullet. If you are ready to get away after the lockdown, this kind of pandemic travel is possible. A magical holiday is there for the taking.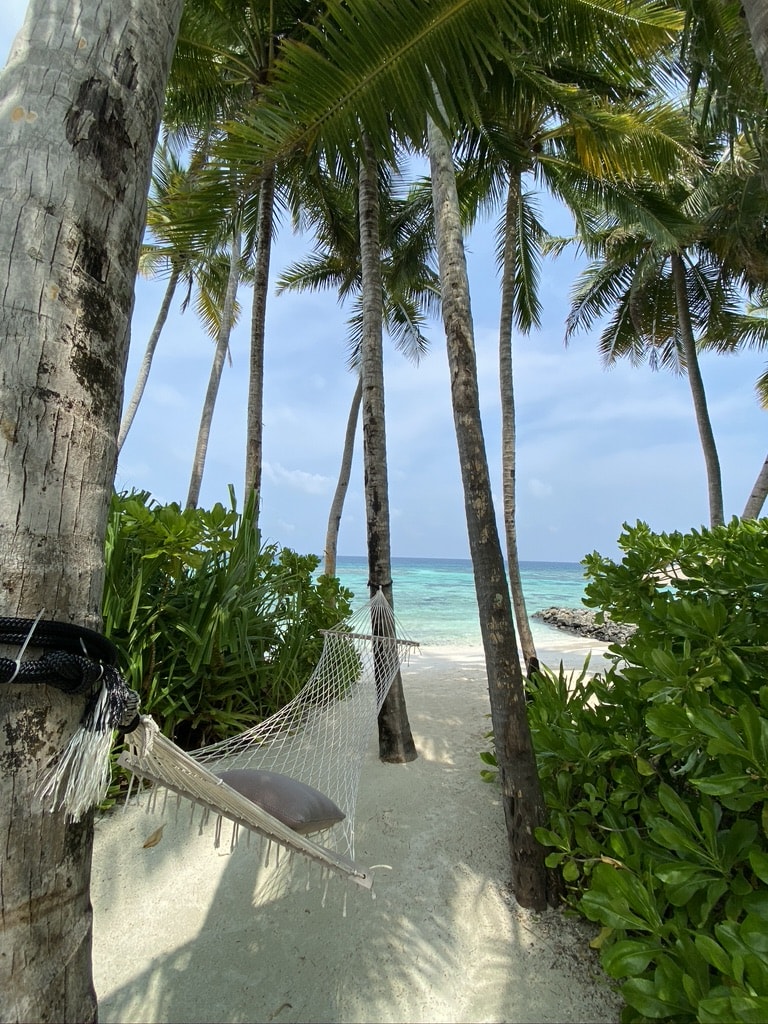 If this has tempted you into thinking that perhaps you can get away and do something special this year, let me know, and we can talk about these magical islands.
Get me here: [email protected] or 020 924 7133
I've been to an incredible range of resorts in my time, so why not pick my brains and use all that knowledge?
Four Seasons Kuda Huraa , Four Seasons Landaa Giraavaru, Taj exotica, Soneva Fushi, Soneva Jani, Gili Lankanfushi, Baros, Milaidhoo, Filitheyo, Bandos, Kuredu,  Komandoo, Dusit Thani,  Huvafen Fushi,  Park Hyatt Hadahaa, Joali, Lux North Male, Vakkaru, Cocoa Island by Como, Niyama, Amilla, Intercontinental and Finolhu.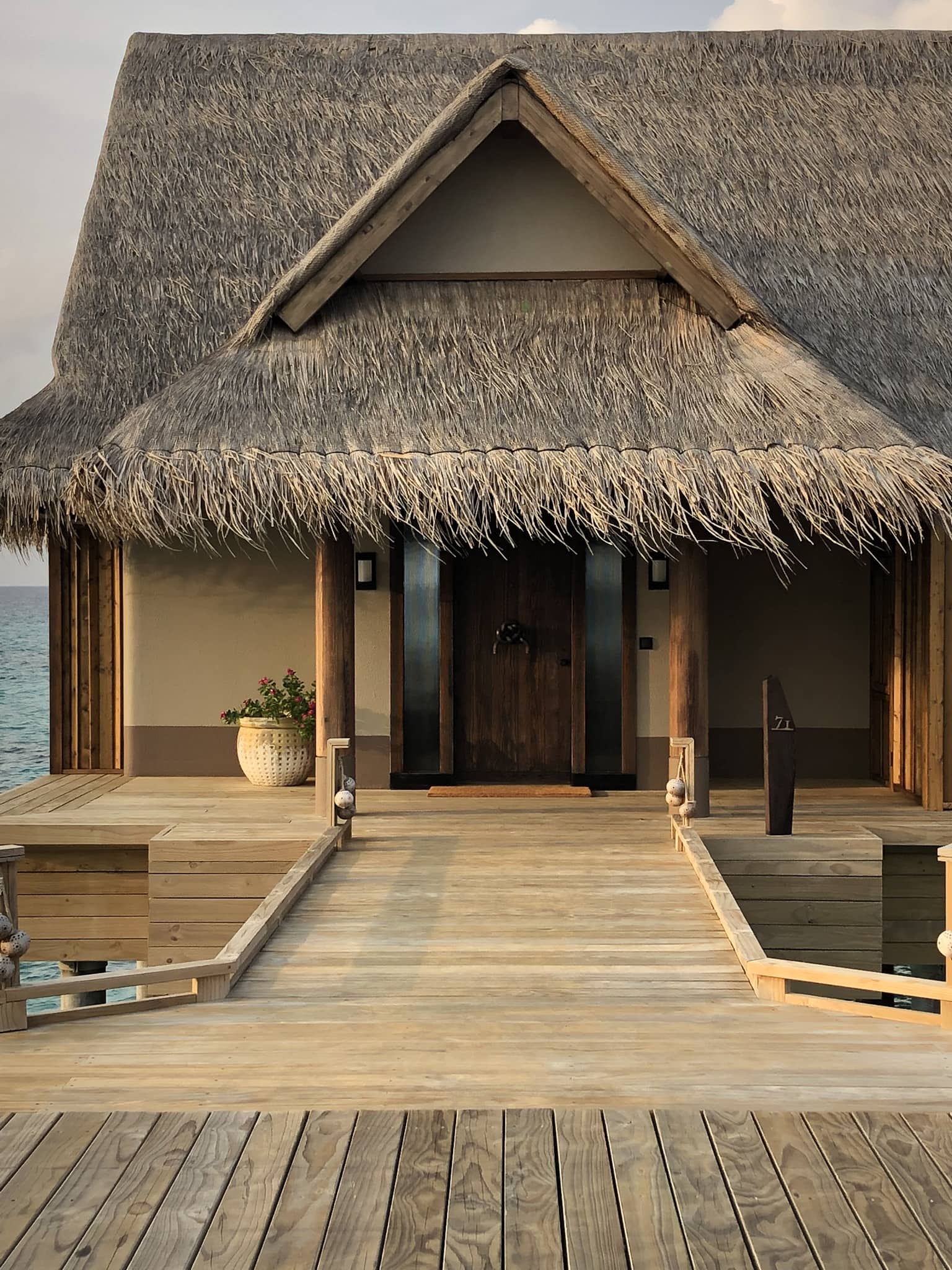 DOWNLOAD YOUR FREE MALDIVES GUIDE NOW