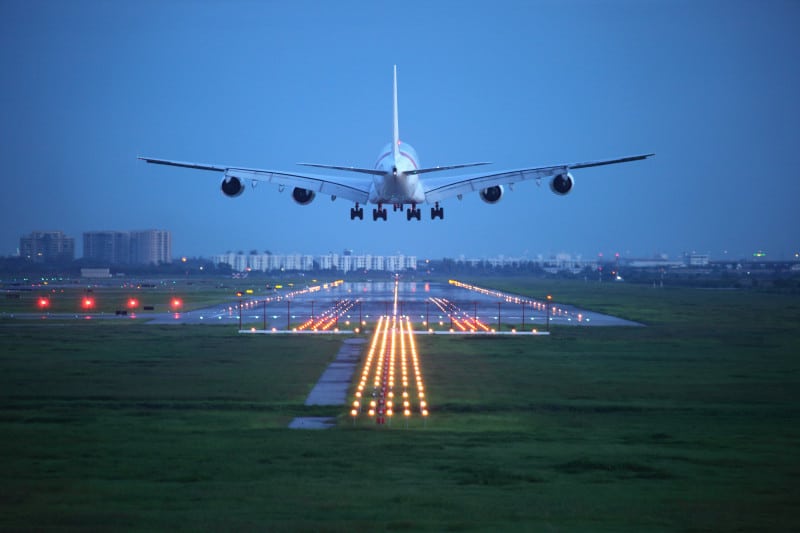 New flight routes open and change all the time across Asia.  Some can make itineraries harder (for example a direct route changing to an indirect route) but most open up new avenues and adventures that make connecting different countries and cities much easier.  We won't mention them all here as flight routes in Asia are a constantly changing beast.  However, we will detail our favourite new flight routes in Asia, those that can make a positive impact on your holiday possibilities.
The Impact of Covid 19 on flight routes in Asia – March 2021
As you can imagine lots of routes have been cancelled or at least postponed over the last year or so in Asia.  We're constantly monitoring the situation and are only quoting on routes we know will be guaranteed to fly.  It will certainly be interesting to see what routes come back into action and which ones don't once there is a bit more certainty in Asia.  Do remember that Experience Travel Group are ATOL bonded meaning your money safe and refundable if flight routes changes and we can't offer the same flights as you booked.
London to Bali Direct – February 2019
Garuda airlines launched the first-ever direct flight from London to Bali on 22nd January 2019. Previously, the carrier had only operated direct flights from London to Jakarta. However, they have recently re-routed the service as part of a restructuring strategy.
The direct flights from London Heathrow to Bali Denpasar currently run three times a week on Tuesdays, Thursdays and Saturdays at 9.55pm, landing in Bali at 9.15pm local time. Flights will take place on a Boeing 777-300 aircraft and last approximately 15 hours and 35 minutes.
However, the flight is only direct one way. Inbound passengers to London will still have to get a connecting flight via Jakarta.
Holidays to Bali have been popular among UK tourists for some time now, with the UK being Bali's fourth largest tourism market. However, the long-distance has often been prohibitive – the Indonesian island is almost 8,000 miles away from the UK – especially for those who are unable to take prolonged holidays.
In our opinion, the new flight route is a brilliant thing. Bali is fabulous, and having a direct flight will make the long-distance feel a lot more manageable. There is a huge range of things to do in Bali, from discovering the extraordinarily beautiful countryside and evocative Hindu temples to unwinding on beautiful beaches (see our guide to the best beaches in Bali).
Island-hopping holidays in Indonesia
What we're particularly excited about, however, is that the direct flight will open up multi-island holidays with Bali's lesser-visited neighbours, such as Komodo, Flores, Lombok and Sulawesi, as it will take just a two-flight combination to get there and back (via Jakarta).  The direct to Bali flight also comes on the back of the direct flight to Jakarta which opened in 2016 and provides access to more of Java and Kalimantan.
For years Bali has taken centre stage on the international tourism front. Yet few people realise that Indonesia is made up of between 13,000 and 17,000 islands (even the Indonesian government can't count them!) that offer countless incredible experiences for curious travellers. Check out the link to explore more Indonesian holiday ideas.
Sulawesi, for example, is a phenomenal island found to the east of Borneo and South of the Philippines. It is the world's 11th largest island – more than three times the size of Bali, though it receives a fraction of the number of visitors. In Sulawesi, you can spot rare wildlife, visit both dynamic markets and colourful gardens, or explore the fascinating Torajan approach to death in the verdant south.
We have a holiday suggestion called 'Contrasts of Bali and Sulawesi' . The new route makes the trip much more affordable than in previous times (you can expect to save up to £200 per person), as well as easier – especially for those with less time to play with, or those travelling with kids.
New flight routes in India – August 2018
India's domestic flights are on the increase making it quicker and easier to get between destinations than ever before. Now you can fly from secondary cities direct and avoid stopovers in Delhi and Mumbai. This recent trend is brilliant for travellers who don't want to spend too much time in the busy major cities and want to discover more off the beaten track locations.
In 2016 the government launched a pro-tourism scheme that meant a sharp rise in the number of domestic flights around the country. There is also a growing middle class in the country with a desire to travel both domestically and internationally. Demand soared by 28.1% compared with July 2015 which is a significant figure: in China, the growth was just 10.9% and in the US it was 5.9%. Excess charges for extra baggage is also going down 100rs from 300rs across domestic carriers (95rs roughly converts to £1) which is fantastic news for those who don't want to pack light.
Links from Kolkata (Calcutta) to Lucknow and Jaipur to Bangalore make it easier to combine central and east or north-south combinations in holidays. Ultimately this trend means travel between sites of interest can be direct and we can avoid layover stays in busy cities making for a much better experience.
For 2018, here are James's new favourite flight routes in Idia:
1. Hyderabad to Vidyanagar direct flight opens up the glorious boulder-strewn landscape of Hampi. You'd use this flight on a holiday like our Varied landscapes of South India.
2. Lucknow to Hyderabad direct flights – another great link from north to south that connects two fascinating but different cities.
3. Trichy to Cochin – connects Tamil Nadu to Kerala really well so you can discover both in a two-week trip.
4. Jaipur to Varanasi – connects the pink city of Jaipur and the Golden Triangle with the holy city of Varanasi.
5. Delhi to Bikaner which is the key town of the lesser-visited Shekhawati region, where the new and much-hyped Narendra Bhawan hotel has recently opened. You can discover Bikaner on the same trip as the amazing Golden Temples in Amritsar.
6.  Guwahati to Paro in Bhutan opens up Assam with a link to Bhutan.  You can also cross the border overland from Samdrup Jongkar which is 2 hours from Guwahati and drive into East Bhutan for a great adventure.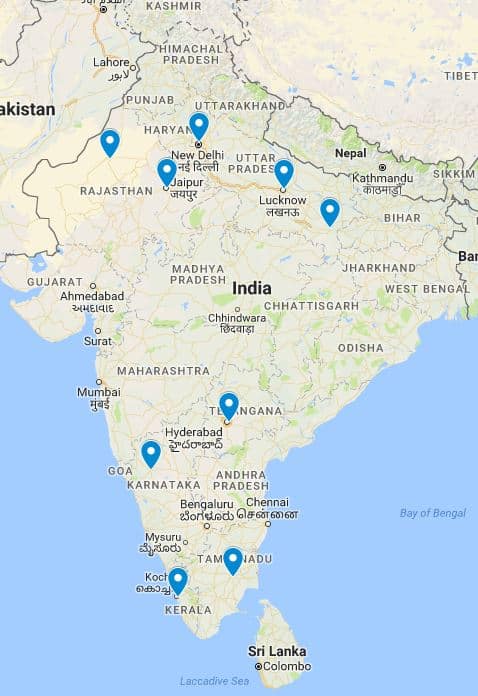 Additionally, by the end of 2018, there will be a great new flight connecting the amazing Coco Shambhala Sindudurg to Mumbai – a great, luxurious way to end a fascinating holiday. Sikkim in the Northeast will also have a fully functioning airport so you can easily reach the beautiful mountainous region from Kolkata.
International aviation companies like AirAsia are also improving connectivity to the rest of Asia making it easier to do multi-country trips. This means you can combine India with countries like Thailand, Vietnam and Cambodia. Notable routes include Bangkok to Bagdogra, Madurai to Colombo and Bhubaneshwar to Bangkok. Exciting stuff!
A final bonus: it's not just flight connections that are improving.  The highway from Agra to Lucknow has been recently developed, offering a way to see lesser-visited North India by road while still including the Taj Mahal (see a holiday like our Less Discovered Northern India for more inspiration). On the whole, roads are also getting better, but unlike in countries like China, the government are conscious of farmers rights' and make a concerted effort not to cut into their land, which slows development down.
Plus, the Tejas Express links Mumbai to Goa across the incredible Konkan Coast. This new line is exceptionally comfortable and stylish, providing free wifi and clear windows for the view (it's more comfortable than the Mandovi express that runs on the same line). Solar-powered trains are now in action across the country, too.
All in all, you'll find a much easier and more flexible travel experience across India. I'd be happy to chat with you in more detail about the new routes if you'd like.
Sri Lanka Airlines opens up little known Gan Island – April 2017
As part of their renewed focus on expanding regional routes, Sri Lankan airlines have become the first international airline to offer a destination in The Maldives beyond Male. There are currently 4 flights a week between Colombo and Gan so there is ample opportunity to understand the culture in the Maldives.   This is something we at ETG are really excited about and you can read more about Gan Island and what it has to offer.
AirAsia expand Network – April 2017
Due to an increase in demand, low-cost carrier AirAsia has drastically increased its network of flights, increasing the number of new flight routes in Asia significantly.
Our favourite new routes AirAsia routes are:
Bali (Denpasar) to Labuan Bajo which opens up Komodo Island National Park.
Siem Reap to Danang – a great link between the incredible temples of Angkor and the beaches of Hoi An.
Kuala Lumpur to Bhubaneshwar which opens up the east coast of India and off the beaten track state of Orissa.
Kuching to Langkawi means you can combine the amazing wildlife experiences of Borneo with a luxury beach stay, something that Borneo doesn't quite offer.
Kota Kinabalu to Johor Baru – like the above link you also have the option to combine Borneo with Japamala on Tioman island.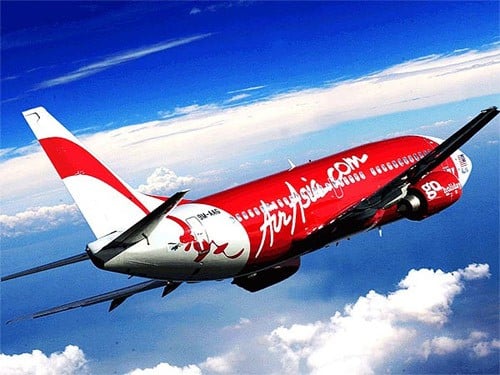 New flights between Vietnam and Cambodia – June 2016
We're excited by the new route between Vietnam's southern capital Saigon (Ho Chi Minh) and the white-sand beach destination of Sihanoukville in Cambodia.
Launched by Cambodian Angkor Air, it opens up the two countries making them even easier to combine in one holiday with a beach stay in the middle of your trip, letting you reflect on experiences in each country before further cultural exploration.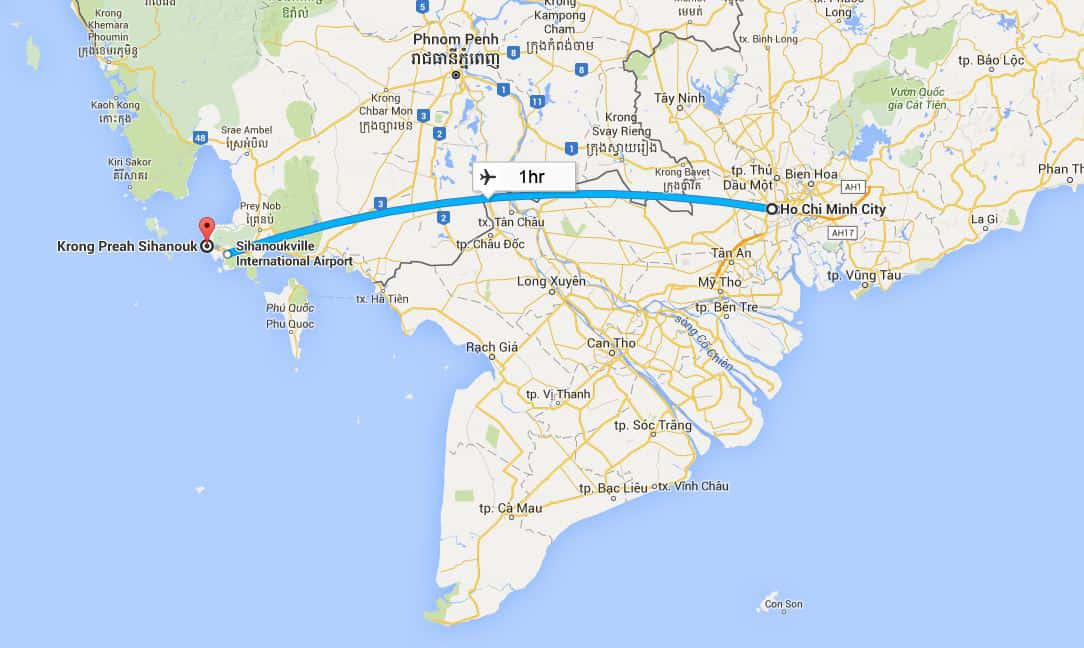 Launching from 17th June, the flights will take place five times a week on a Tuesday, Thursday, Friday, Saturday and Sunday using a 70-seater ATR-72 aircraft. Flight times are at a very comfortable 1450 from Saigon (Ho Chi Minh City) arriving at Sihanoukville at 1550. The return flight is at 1240 arriving at Saigon at 1340.
For those wanting to reach one of the Sihanoukville beach resorts, they are generally just a 20-minute car journey from the airport. The flight particularly suits those who want to have a relaxing stay at the eco-luxury property Song Saa, a 45 speedboat from Sihanoukville Port and arguably one of the best private island resorts in the world.
It's previously been difficult to get from Vietnam to Sihanoukville and vice versa because of precarious transport routes. For example, to get to Sihanoukville from Vietnam you'd have to fly to Siem Reap and then take a connecting flight to the coastal city or you'd have to fly to Phnom Penh and drive for four hours. This new flight cuts out a long drive and having to take 2 flights – which sometimes don't even connect, which is fantastic.
Direct route from Bangkok to Danang (Hoi An) – April 2016
Well, every now and then a flight comes along that could stop even the most passive of travellers in their tracks and thankfully this day has arrived. I think I've dreamt about this flight before. Genuinely. It's one of those flights we've talked about in the office again and again. We wished it would just exist and couldn't work out why it didn't!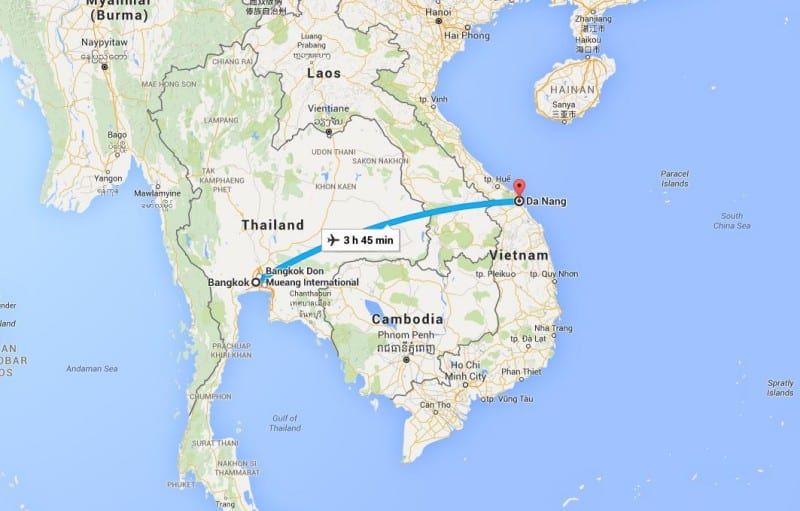 Now you can fly from Bangkok to Danang (Hoi An) with Bangkok Airways directly and back. (Or you could just fly it back and forth about 10 times for the sheer joy of how exciting it is!)
I jest, of course, but this honestly is a fantastic flight. Why? I hear you ask. The link to Hoi An is fantastic because the destination offers brilliant Vietnamese food, colonial history and amazing cultural experiences and is a great beach destination from May to October making it ideal for the summer holidays.
Bangkok is one of the key transport hubs of Asia and is home to a lot of new flight routes in Asia. This connection means that a flight via Hanoi or Saigon is no longer required to get to Hoi An and reaching this place is now easier and more cost-effective than ever.
The route will launch on 25th May 2016 and fly four times weekly from Bangkok and back. I personally can't wait to start using it for my clients as that little bit of plane geek is buzzing with excitement.
Emirates are flying to Yangon & Hanoi from August – March 2016
Emirates is following a more general expansion of routes to Southeast Asia, making this area of the world more and more accessible. It opens up the possibility of easily combining Myanmar and Vietnam on a multi-centre holiday. The new routes are particularly useful for those who can't or prefer not to fly from London and it cuts down the total number of connections involved.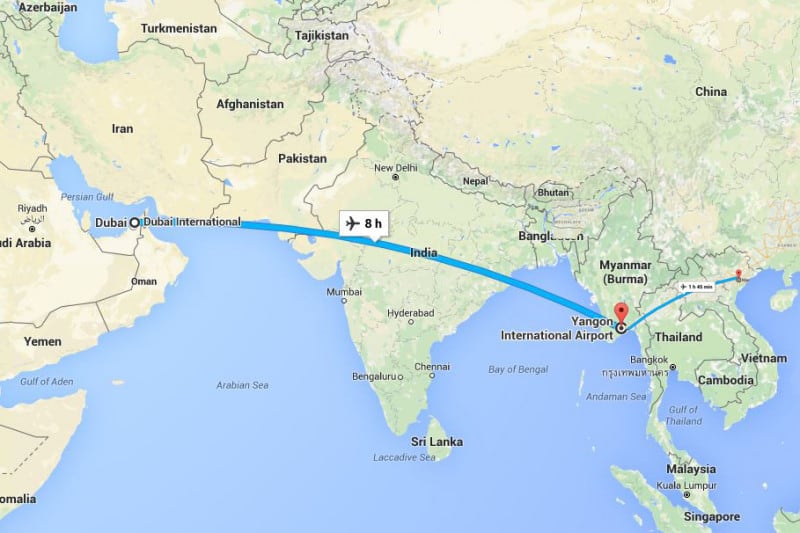 ---
The planned flight schedule details are:
Outbound to Asia:
Dubai to Yangon Dep. 0250, Arr. 1105|
Yangon to Hanoi Dep. 1235 Arr. 1450
Return from Asia:
Hanoi to Yangon Dep. 2250 Arr. 0020 the next day
Yangon to Dubai Dep. 0150 Arr. 0505
The flights starting from 3rd August 2016 will be on a Boeing 777-300ER with three class configurations: 8 First Class seats, 42 Business Class seats and 310 Economy Class seats, all boasting 2,200 channels of on-demand in-flight entertainment.
Emirates to Launch Daily Service to Bali From June 2015 – March 2015
From June 2015, Emirates will operate a new non-stop service from Dubai to Bali, which will be the Middle Eastern airline's 148th global destination.
Emirates' new daily flight to Bali will depart from Dubai as EK398 at 08:20AM and arrive at Bali's Denpasar International Airport at 21:40PM the same day. The return flight, EK399, will depart at 23:40PM and arrive at Dubai International Airport at 05:00AM the next day.
With opportunities to connect from many of the UK's airports including London, Birmingham, Manchester and Glasgow, the luscious landscapes and beautiful beaches of Bali seem that little bit closer now!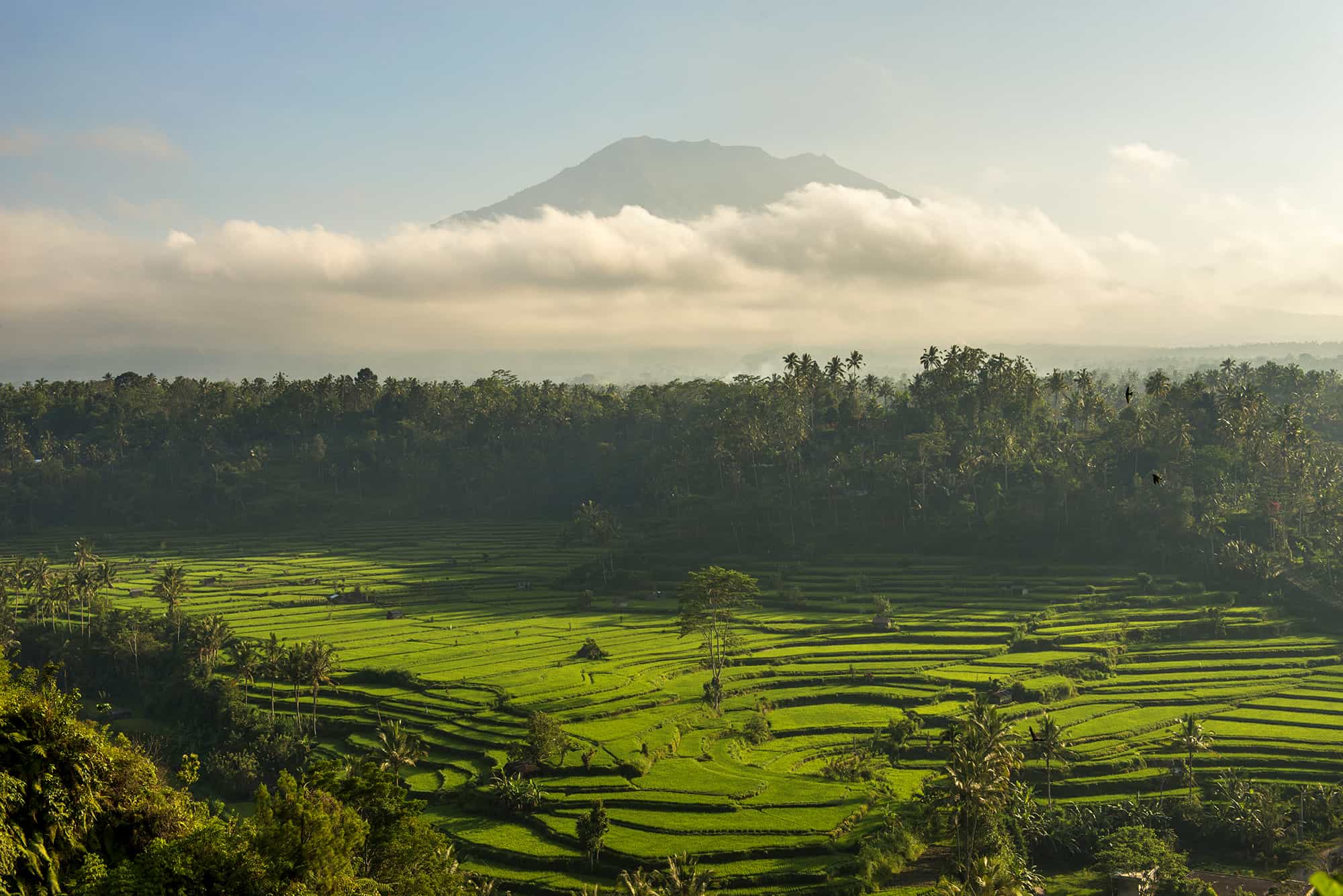 Call us today on 0207 924 7133 to speak to Becky, our Bali and Indonesia specialist, or email [email protected] to arrange a callback or request further information.
New Routes From Edinburgh to Asia with Qatar – January 2014
Great news for all our clients and potential clients in Edinburgh, with the launch of a new Edinburgh to Doha service to be launched from the 28th May this year. This means that there will be connecting services from Edinburgh to Colombo, Bangkok, Rangoon and Ho Chi Minh City.
Qatar has kicked off the year with an excellent special offer from Edinburgh to Colombo, Sri Lanka of just £510 inclusive of taxes on selected flights from the 28th May. Clients booking onto this service will find the price over £100 cheaper than those quoted on our website. We worth enquiring today.
We've also got the same great special to Colombo from London and Manchester. Special January fare deals from Singapore Airlines and Thai Airlines too, so great discounts available all around on our published prices, both online and in our brochure.
Dubai to Phuket with Emirates – September 2012
Great news for us and all fans of Thailand holidays – Emirates flying directly into Phuket has just made options into Phuket a whole lot wider. No funny stuff with stop-offs in Kuala Lumpur or Bangkok – this is a straightforward direct flight.
It means for example, that Phuket is just two flights away from Glasgow or Newcastle.
Phuket has a slightly bad reputation these days amongst travel cognoscenti – but I think this is undeserved. Yes, the hot spots and fleshpots of Patong and a couple of other beaches should be avoided, but Phuket is a big island and has plenty of untouched natural spaces, superb hotels and great restaurants.
Moreover, if you are looking to really get away from it all and escape to that hidden Thai beach – this flight makes Koh Yao all the more reachable and in particular the wonderful Koyao Island Resort. Call us to talk through the possibilities for your Thailand holiday.
More direct flights from London to Sri Lanka – January 2012
One of the great travails of being a tour operator that specialises in Sri Lanka has been the constant fiddling of dates involved in making sure that 'flying direct' with Sri Lankan airlines actually meant flying direct. Until now, the daily London to Colombo (and vice versa) flight with good times has touched down in The Maldives on 4 days of the week, adding two hours to the overall flying time. While there has always been an additional direct flight on all of these days, they have been at very unsociable hours, either arriving into or departing from Colombo in the middle of the night. This has led to a constant struggle to fit in all the conflicting requirements of the clients with the reality of the dates and times. To the great relief of everyone here at Experience Travel this problem is no more!!
From April 2012 neither the overnight flight from London to Colombo nor the afternoon flight from Colombo to London will touch down in The Maldives at any point during the week. While this does create the new headache of there being no carrier that flies direct to both The Maldives and Sri Lanka, this is, in our opinion at least, a small price to pay. It means that a wide range of itineraries in Sri Lanka becomes easier, more readily available and with far more flexibility. The seaplane from the south of the island once again connects with the direct flights to the UK 5 times a week, as does the new route from the hill country, both of which result in a considerably reduced amount of time spent in a car and avoid the need for a final night closer to the airport.
This change may not mean anything to you but this may well be the result of the fine work our consultants have done over the years in making the touchdown irrelevant to you! However, trust me when I say that it will make our life easier, allowing us to concentrate even more on the body of your holiday and offering an even better level of service (not possible I hear you cry). I can also assure you that while you may not realise it, your options in Sri Lanka have been enhanced and the amount you have to compromise, reduced.
Laos is getting easier to fly too – December 2011
Lao Airlines has announced a new route between Vientiane and Singapore – the first time the airline has operated a direct flight to this regional hub. The service will operate three times a week in each direction.
The Airline has also added the first of two, brand new, A320 aircraft from Airbus. The new modern craft will operate on the routes to Bangkok, Kunming, Hanoi, Ho Chi Minh City, as well as on domestic services linking Vientiane to Luang Prabang and Pakse.
This is a further welcome development in Lao tourism and makes this mountainous, landlocked country much easier and less arduous to get to.
For holidays to Laos please visit our main website.
Fly direct from London to Vietnam – December 2011
As we have mentioned several times before, Vietnam Airlines are commencing their direct flights from London to Vietnam on the 8th December. This is a very exciting development for Vietnam tourism as it will shave as much as 12 hours of the average return journey time. There will initially be 4 flights weekly, flying into Hanoi and Saigon.
The schedule runs thus:  Hanoi to London, two flights per week on Monday and Thursday at 23:40 and 06:20.  Ho Chi Minh to London: two flights per week on Tuesday and Friday at 23:20 and 06:20.
London to Hanoi,  two flights per week on Tuesday and Friday at noon and 06:30 and from London to Ho Chi Minh, two flights per week on Saturday and Wednesday, at noon and 07:10.
They will be flying Boeing 777's.
There has never been a better time to holiday in Vietnam: the direct flights make it much easier and it is still great value – talk to us about this exciting, vibrant and changing country.
You can fly direct from Gatwick to Vietnam – July 2011
Yes: it's true. Finally, there will be a direct flight from UK to Vietnam – Gatwick to be precise from the 8th December this year. There will be 2 direct flights a week to Hanoi and 2 to Saigon (Ho Chi Minh). It is old news now – but the fares are not quite available to book, but get in there ahead and talk to us now about your holiday in Vietnam.
Doha to Phuket Service with Qatar Airways – October 2010
Qatar Airways has announced welcome plans to start flights from Doha to Phuket later this month. The flight will not be direct, but will touch down in Kuala Lumpur before heading onto Phuket, meaning no plane change and no need for baggage to be offloaded.  This is a welcome addition to the flights operating in and out of Thailand and makes it easier to fly to the south of Thailand from regional airports in the UK such as Manchester, Newcastle and Birmingham, all of which are serviced by Qatar flights to Doha. Qatar also flies out of both Heathrow and Gatwick, increasing options for people living in the south of the UK.
It also means people flying by Qatar will be able to fly into Bangkok and out of Phuket, without requiring an additional plane change, as is often the case. Qatar Airways are one of the most reliable carriers and we have been receiving continued positive feedback about their services from clients over the past few years, with particular mention being made to the quality of their in-flight entertainment and food.