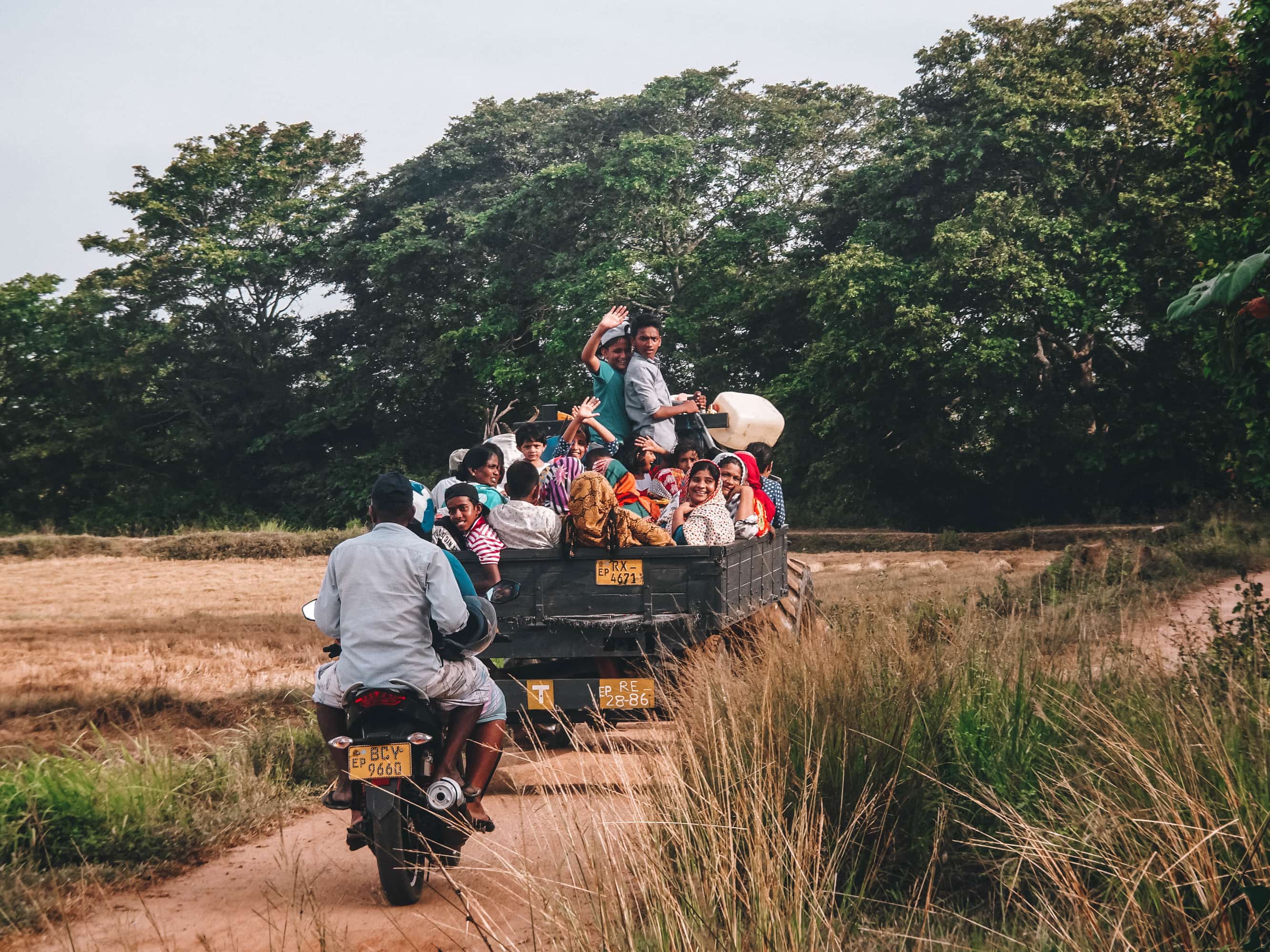 Vaccinated tourists will 'travel freely' in Sri Lanka – 7th April 2021
In a positive step forward, it has been confirmed that fully vaccinated travellers to Sri Lanka will be able to 'travel freely' as soon as they receive an in-country negative PCR test result. This means that people can plan to start their holiday with a two night stay in a Level 1 'bio-bubble' hotel before exploring the island as normal. A good range of our preferred hotels are part of the 'bio-bubble', including characterful boutique hotels a short drive from the airport, so there is plenty of choice for this first stop and it is something that we tend to recommend anyway. our update from the 27th of January to outline what a bio-security bubble entails for those travellers that are not fully vaccinated
Please see the below infographic for an outline of the present rules. If you have any questions or would like to plan your own trip, please call us on 020 7924 7133 .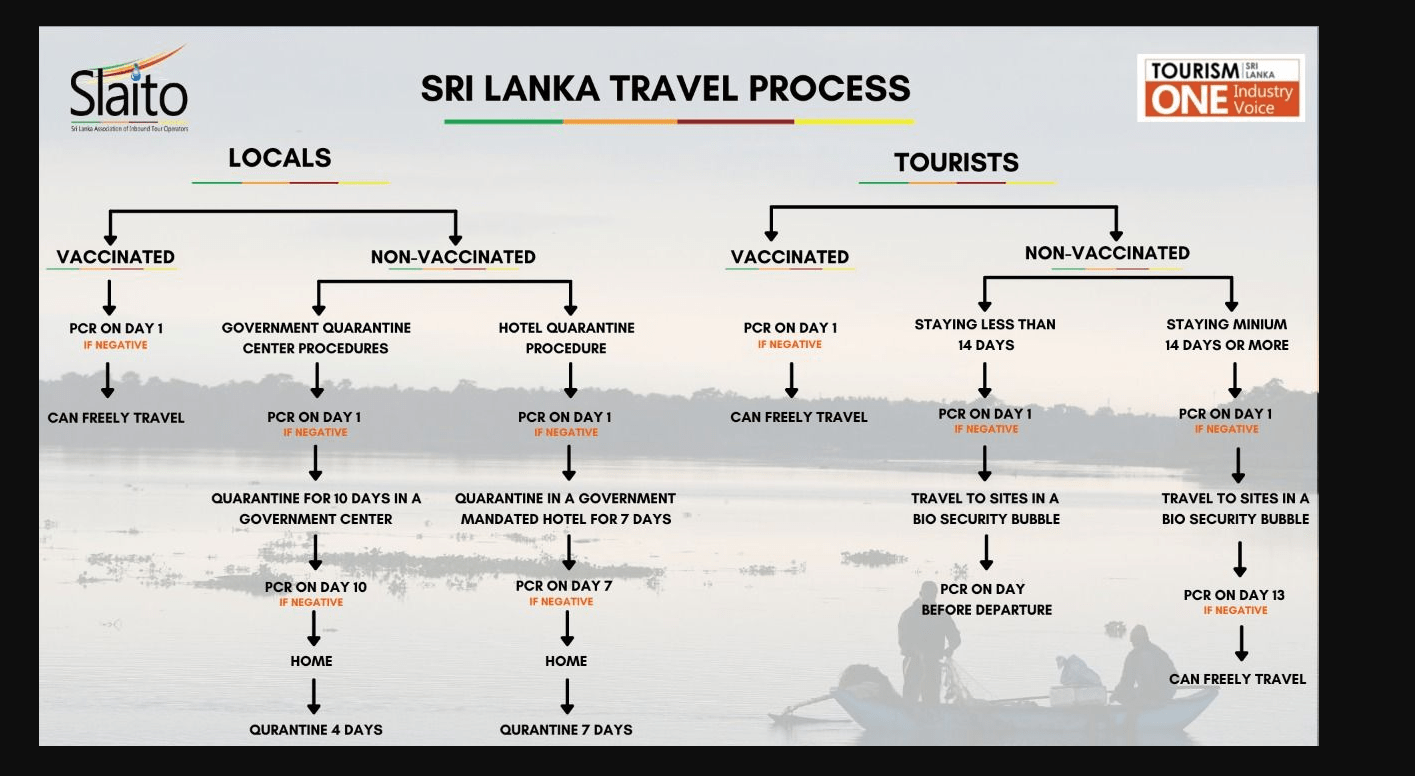 Bio-Security Bubble in Sri Lanka – 17th March 2021
In a further relaxation of the rules, the Ministry Of Health has confirmed that anyone who has received their 2nd vaccination dose at least 14 days prior to arrival in Sri Lanka, will only have to remain in the 'Bio-Security bubble' for 7 days. Assuming that they then produce a negative result on a PCR test, they will be able to travel freely throughout Sri Lanka.
Sri Lanka "semi" opens for tourism – 17th February 2021
On 17th February 2021, the Government of Sri Lanka announced that the temporary restriction on travel originating from the UK to Sri Lanka will be lifted with immediate effect.
First Tourists Arrive in Sri Lanka after Covid – 27th January 2021
On the 23rd of January, Sri Lanka took the bold step of a first move towards re-opening for tourism following the Covid-19 enforced shutdown. The first tourists arrived and were met by the chauffeur-guides before being taken to their chosen hotels.
The development followed months of fierce debate between public health officials, concerned with importing cases of Covid-19 and the tourism industry, which has been suffering very badly from a complete lack of income dating back to March 2020. The exact details have been laid out in various briefings, but as they are changing fairly rapidly and we expect to change further we won't go into specific details here.
In brief, though, travellers have to travel with a pre-approved travel company and stay in hotels that have been given Level 1 'Safe & Secure' status by SLDTA (Sri Lanka Tourism Development Authority). This can also be known as a 'Bio-security bubble'. Travellers are not permitted to leave their hotels for an initial 14 day period, except to transfer to other Level 1 'Safe & Secure' hotels or one of a list of 15 pre-approved excursions and sites. All hotel staff, drivers and guides will be required to wear face masks.
The initial tourist arrivals were met by chauffeur-guides in full hazmat suits before being driven to their chosen hotels where they would be free to use all of the facilities in the normal way.
ETG (Experience Travel Group) Co-founder, Sam Clark says: "We have not yet made Sri Lanka 'travel ready' as we want to give the new system time to bed in. However, we applaud Sri Lanka's proactive move here as a first step towards opening up for tourism again in a way that allows the 1 in 8 families dependent on tourism for their living to thrive once again, while balancing the need to keep their citizens safe".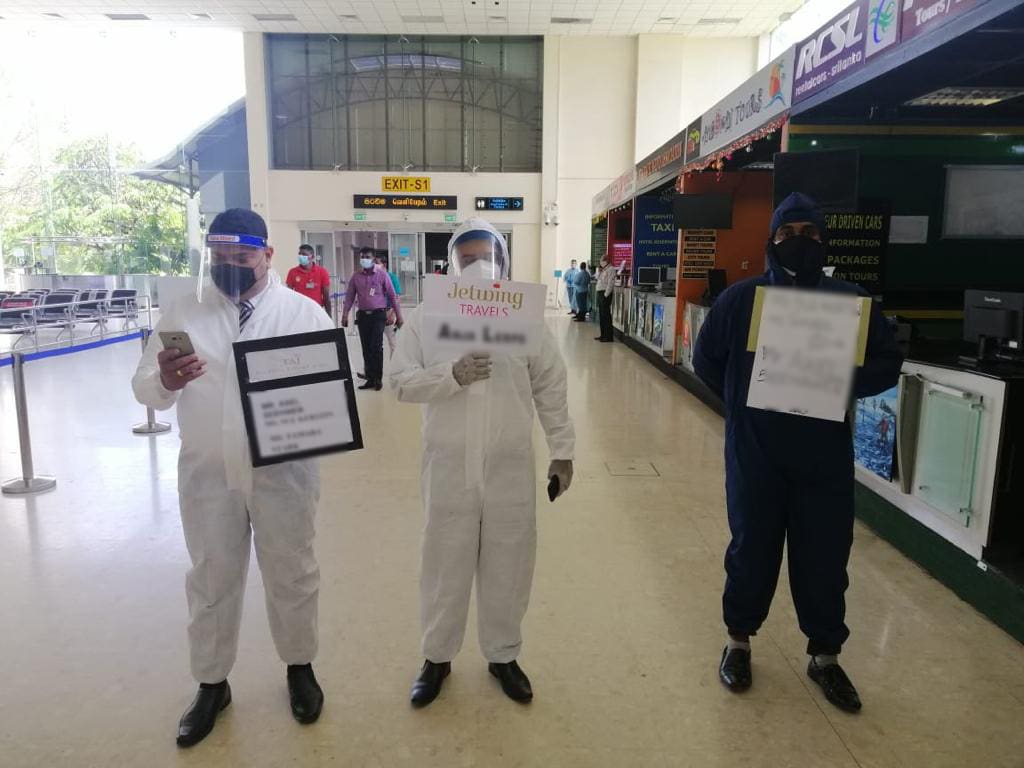 Sri Lanka is on the official travel corridor list – 14th December 2020
Though the UK government recently added it to the official travel corridor list, Sri Lanka is not yet open to tourists. As with many destinations, simply being on the list does not mean that holidays in the destination are possible.
Therefore, while it was a positive development, a much more encouraging sign for us at ETG is the strong report that Sri Lanka will be opening its border to tourists on January 1st. Despite suggestions in the UK media, this is not yet confirmed. However, from the conversations we have been having with our friends and colleagues in Sri Lanka, we are confident that this will be soon.
Based on the draft guidelines that we have seen, this will not mean an immediate return to normality for holidays in Sri Lanka, but it is an important first step. Sri Lanka has done a good job in controlling the virus and as an island, will be reluctant to jeopardise that. However, it will be great to see tourists back in the country and a soft opening will start the process of normalising travel again, ahead of a fuller opening later.
If the draft guidelines are confirmed, the sort of holidays we will be looking at are 'fly and flop'. Booking through an operator like us, for the first 14 days at least, travellers will be able to stay in a single government-approved hotel (including many of our favourite boutique properties). In addition, travellers who book with us will be protected by our COVID promise and £100 deposit scheme.
Baby steps they may be but after 2020, they are still enough to get everyone at ETG HQ excited!
CURIOUS ABOUT TRAVEL TO SRI LANKA?
If you would like more Sri Lanka travel advice or help planning a holiday for 2021 and beyond, please don't hesitate to get in touch. You can make an enquiry online or give us a call on 020 7924 7133 . Alternatively, take a look at other destinations that you are able to book now for future travel.