We're delighted that our favourite Sri Lankan eco-tourism project Abode Tours Community Homestay has been nominated and longlisted for the 2015 World Responsible Tourism Awards. These are extremely prestigious awards with a rigorous judging process – with the winners to be announced at the World Travel Market (the infamous, to all of us in the travel biz – WTM).
We've been working with Sid ever since he first started Abode – roughly at the time as Experience Travel Group came into being, about 10 years ago.
Although Abode is not for everyone, we do send a good few intrepid clients every year to do one or other of Abode's cultural homestays either in the remote Knuckles mountain range or on cut off Mannar, northwestern Sri Lanka.
Sid is a people person and his joy in stories is reflected by the feedback we get from our clients – that they felt welcomed into a family, a way of life and above all, a community. We've heard from many of our clients that these adventures were 'life-changing', which is an extraordinary thing to say about a holiday and reflects the love and care that has gone into creating these projects.
We've also worked with Abode to get them featured in the press which you can read about here and here. Although there are more options now, Sid is one of the original pioneers of tourism in the beautiful Knuckles range.
We asked Sid to write about his experiences in setting up the Mannar Island Homestay – as it's quite an interesting tale. In Sid's own words:
"The challenges in working with local people on Mannar Island where the beautiful beaches are unspoilt are quite different from our previous work developing two Homestays in the Knuckles Mountains area of Sri Lanka where www.abodetours.com has been a part of the local community since 2005. For on Mannar Island the civil war raged above local peoples' heads for twenty-six years whilst in the Knuckles life continued much as usual, with little outside contact or development in farming methods, aspirations and traditional life.
Whilst trust still had to be built with the community, in Mannar the common suspicion we faced was of being government spies sent to inform on local people. I, the director of Abode Tours and Founder of the Abode Trust, was obviously Sinhalese, did not speak Tamil and appeared as far as the people of Mannar were concerned out of the blue just after the end of the conflict in 2009.
Through the son of a community leader at the Knuckles, who was a General Manager for the Land Reform Commission in the Mannar area, I secured an introduction to a local man who was his assistant, called Rohan. He introduced me to his family and local people and in this way I was slowly accepted into their community.
Luckily Rohan spoke Sinhalese as his father was Sinhalese, though Tamil was his first language. But feeling like a foreigner in your own country was an unexpected challenge for me.
It was through Rohan's family that I found the first premises for the Pesali Homestay, an empty house which had been abandoned when Shanthe, Rohan's aunt had fled to India during the civil war with her two children some years before. We completely refurbished the house in the local style, funded by our Abode Trust supporters and within six months had taken our first guests to this still remote island as the roads had only just been resurfaced and the causeway made good – both were heavily damaged in the conflict.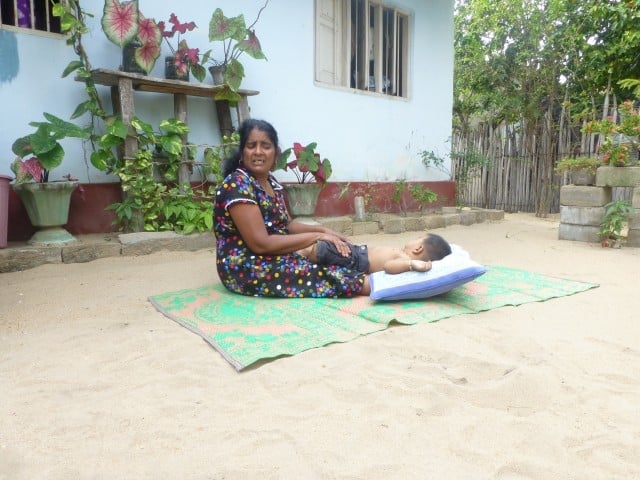 Shanthe returned a few years later and continues to host the Pesali Homestay with her two now adult children and enjoys the independence the income brings which supplements her seasonal work at the fish factory.
We aim to build a new Homestay on Mannar at Talaimannar in 2015 which is in keeping with the local traditions. To do this we have had to meet the particular challenges of the Mannar Planning Department. This has taken some time, over a year, as their regulations are very particular and our aspirations and ideas for a traditional building have been numerous.
As part of our commitment to the community we were also determined to use local labour and offer employment in the building project. Rohan's brother in law, Jeagan, is a builder and offered the best quotation. He has already completed the well.
Jeagan and his wife Delsia have hand made all the bricks to local specifications and stored them at their home before taking them to the site as they need to be watered daily to set properly.
Thanga, our nearest neighbour to the site and local community leader, is acting as our Project Manager. His son is our carpenter who will fix the doors and windows which we purchased from a reclaimed war damaged building in the Tamil capital of Jaffna earlier in the year.
If all goes well our new Homestay at Talaimannar will be open in time for the resumption of the ferry service between Mannar and the southern tip of India later in 2015. And already we have bookings from international journalists who want to be on the first boat!"
For those keen to know – here is a potted biography of Sid.
Sid has been taking visitors to the Abode house in the Knuckles Mountains since 2005. He first stumbled on the area while hiking in the district and was impressed by the pristine environment and the hospitality of the villagers. Since then he has worked with villagers to set up two homestays as part of the Abode project, one in the valley and the other high on the mountainside. Visitors who appreciate the quiet, basic lifestyle with no electricity or sanitation are guided by Sid to the valley and throughout their stay enjoy local cooking over an open hearth fire. They can also choose walking in the hills, visiting waterfalls, rivers, appreciating the wildlife, flora, fauna and helping out with the chores of everyday life.
You can find out more about our work on www.theabodetrust.com.  Abode homestays can be built into any tailor-made holiday in Sri Lanka with Experience Travel Group. To see an example of an itinerary featuring Abode, have a look at this family adventure featuring the Knuckles or this one, featuring Mannar Island.