Alice and family enjoyed a summer adventure to Indonesia, exploring the best of Java and sailing around magical islands west of Lombok. From komodo dragons, to manta rays, to stunning colourful reefs – here she shares her favourite moments.
---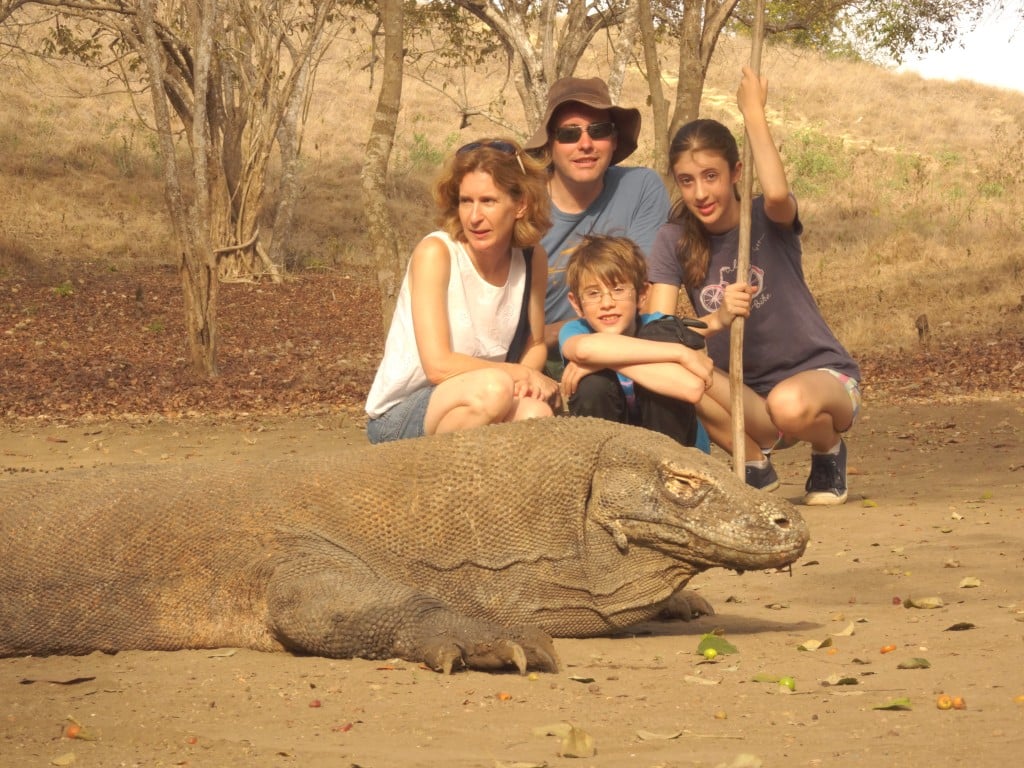 This summer my husband and I and our two children, Anna (aged 13) and Felix (aged 10), went on holiday to Indonesia. We spent the first two weeks on Java and Bali, climbing active volcanoes, marvelling at temples both at sunrise and sunset, flying kites we had made ourselves (with help from the experts) and wobbling along the edges of paddy fields on mountain bikes as we marvelled at shades of green we never knew existed. We learnt how to cook mouth-watering satay, received blessings from a Buddhist monk under a waterfall and spent a while persuading Felix that he couldn't use his money to buy a pet mouse in a local market.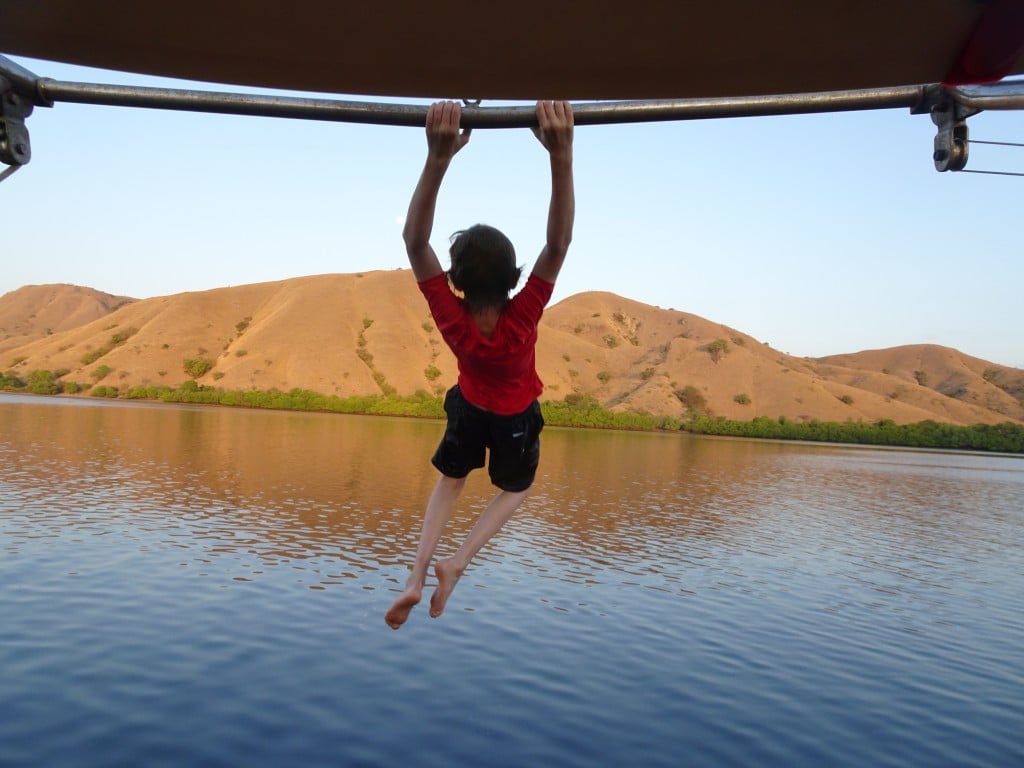 At the end of all this adventure, culture and colour we were ready for a bit of R&R before we returned home. Instead of a luxury beach resort we decided to spend a few days on a boat, cruising around the Komodo National Park. Not long after we climbed aboard Ikan Terbang and were introduced to our smiling crew (Pieter the captain, Mitha the cook and French owner, Fanny), we slipped out of Lubuan Bajo's busy harbour bound for the first of many quiet and beautiful anchorages.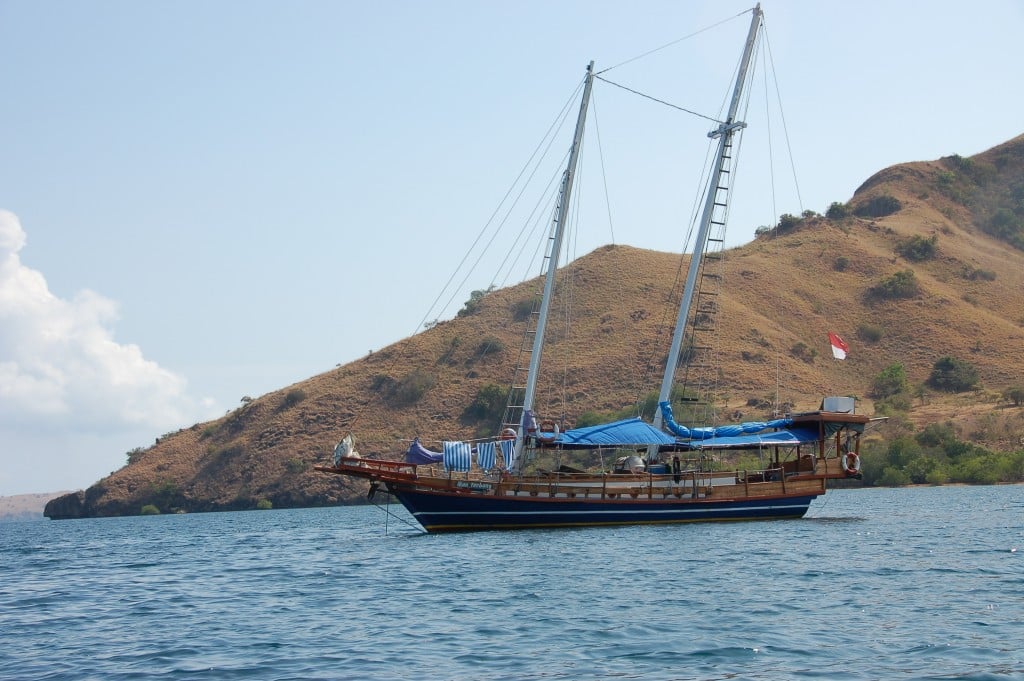 By that first afternoon we knew we had made a good decision: there was plenty of time to relax on the boat, simply taking in the dramatic scenery as we motored along, sunbathing or playing games on the spacious deck. But there were also unique experiences to be had – the very first afternoon we went to a small fishing village on Rinca where the local children were fascinated by my digital camera and delighted in posing for us so that they could see themselves on the screen. Felix was envious of the freedom allowed to two toddlers playing unsupervised on the building site of a new stilt house, while a village mother was very keen for her tiny daughter to be introduced to my tall 13-year old.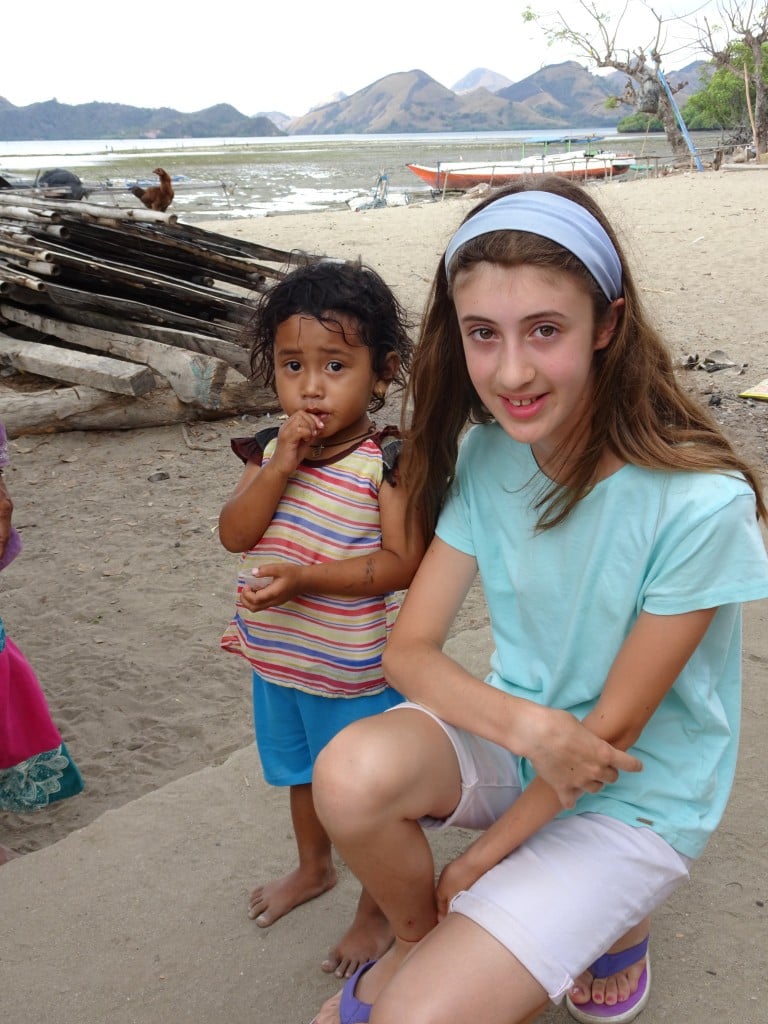 Back on board and after an incredible sunset, we witnessed the nightly exit from the mangroves of flying foxes as they soared over us to go hunting in the forests.  As we floated in the inky sea the thousands of black silhouettes against the full moon – like squeaking Batman logos – were eerie and impressive.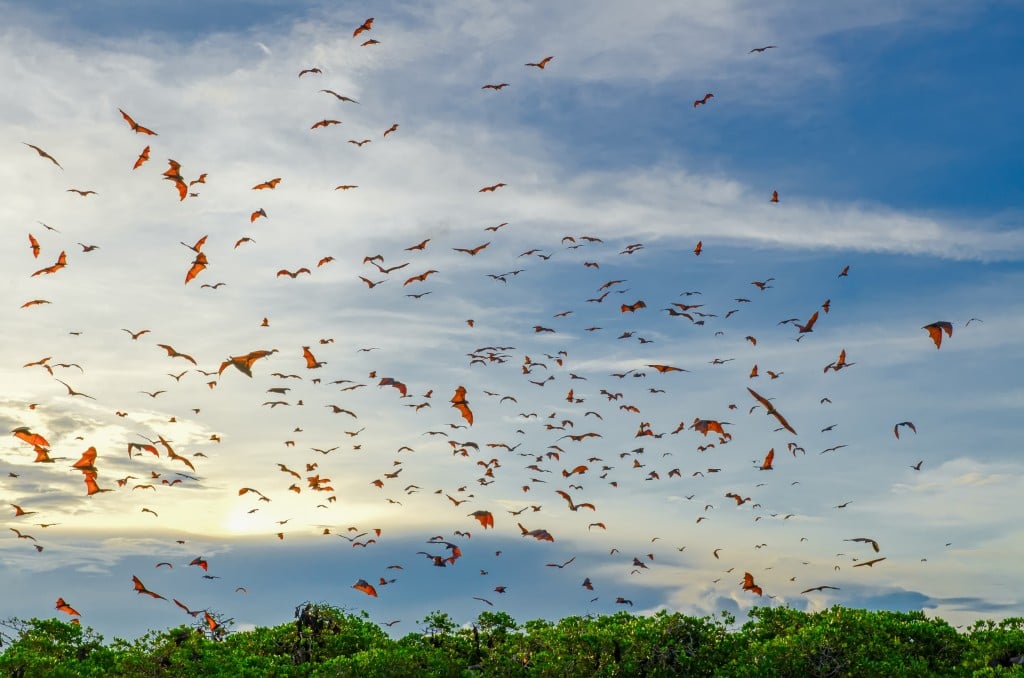 After our first night, we followed the example of the crew and slept soundly on deck or, in Felix's case, gently swinging in a hammock acquired in Ubud. The stars were incredible, there was natural air conditioning, and we were just a jump away from our morning swim. The boat is comfortable but not luxurious and the open plan nature means there is not a lot of privacy – although the crew are incredibly discreet. Mitha conjured up fresh and delicious food for us, ranging from banana crepes for breakfast to melt-in-the-mouth tuna sashimi, straight from our fishing line!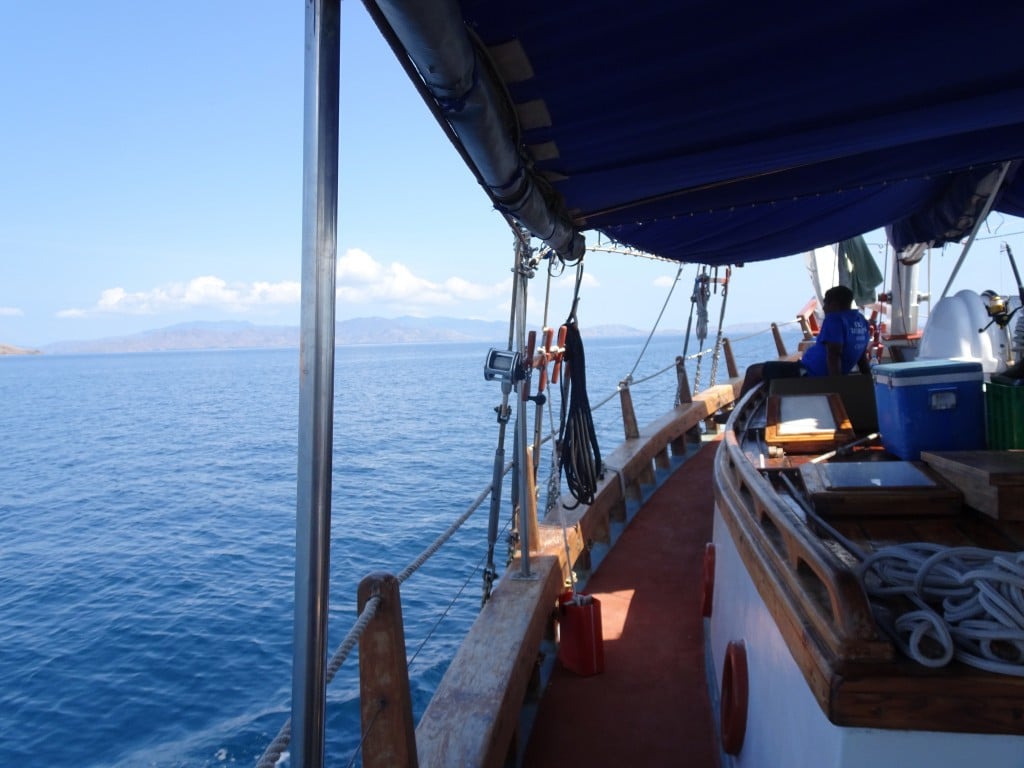 Of course no trip to Komodo would be complete without dragons. We copied our guide and armed ourselves with tall sticks before setting off into the national park to search for these giant lizards.  The biggest ones were to be found staking out the camp kitchen, their jaws drooling in a most unattractive way and the occasional fight breaking out to keep us on our toes. Later we came across a female checking out a nest and then ambling off down the centre of the path as if it were made for her rather than us. It was as if we'd stumbled upon dinosaurs – exhilarating but ever so slightly terrifying.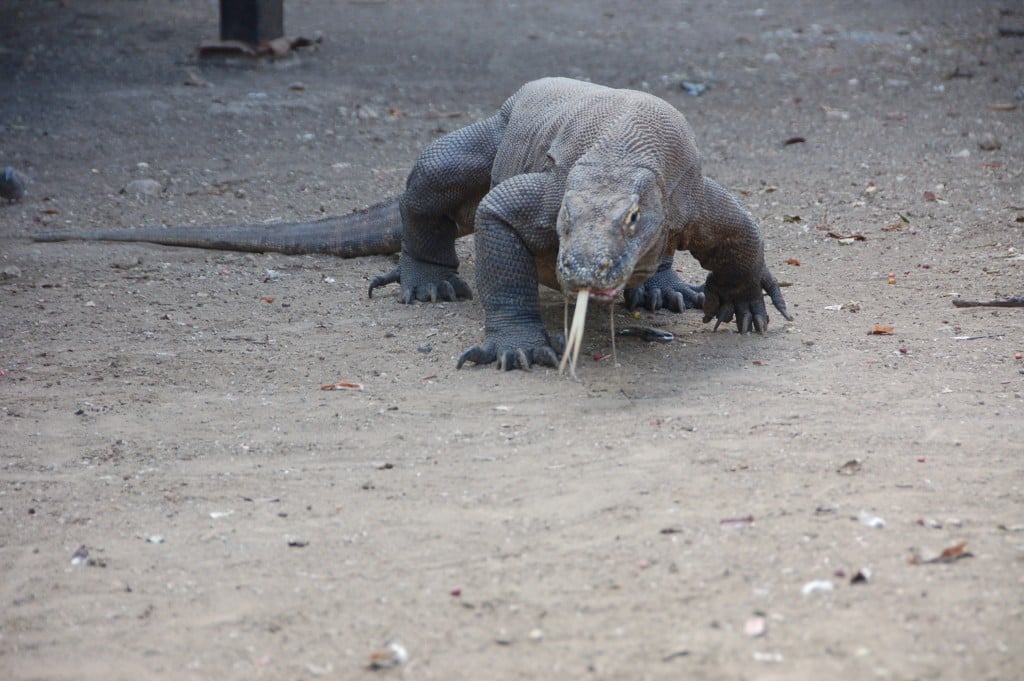 Even more memorable for me, however, was our encounter with manta rays.  One morning we piled into the rib with Pieter, who we were assured had an excellent 'raydar', our snorkelling gear at the ready. We all jumped into the water the minute he gave the signal and sure enough we came face to face with these magnificent giants who seem to 'fly' so elegantly through the sea while we flapped about on the surface. Anna was a bit freaked out by their size, proximity and other-worldliness – she preferred to look down on them from the safety of the rib – but I could have followed them for hours.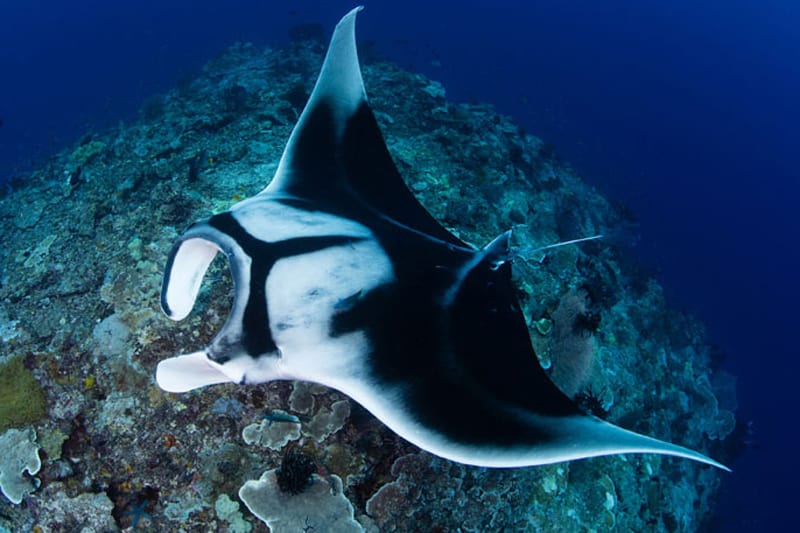 Every day the crew found us wonderful snorkelling spots to explore. I've been lucky to snorkel and dive all over the world but the reefs in Komodo are some of the best I've seen, especially in terms of density and variety of fish.  As we headed back on our last morning towards port we tried to name all the different species we'd seen: lionfish, lobster, cuttlefish, shark, clownfish, turtles… the list went on and on. "Everything but a dolphin" smiled Fanny, when right on cue, a pod arched out of the sea much to everyone's excitement. This incredible archipelago, that had at times seemed to be revealing itself and its natural secrets just to us, was waving goodbye.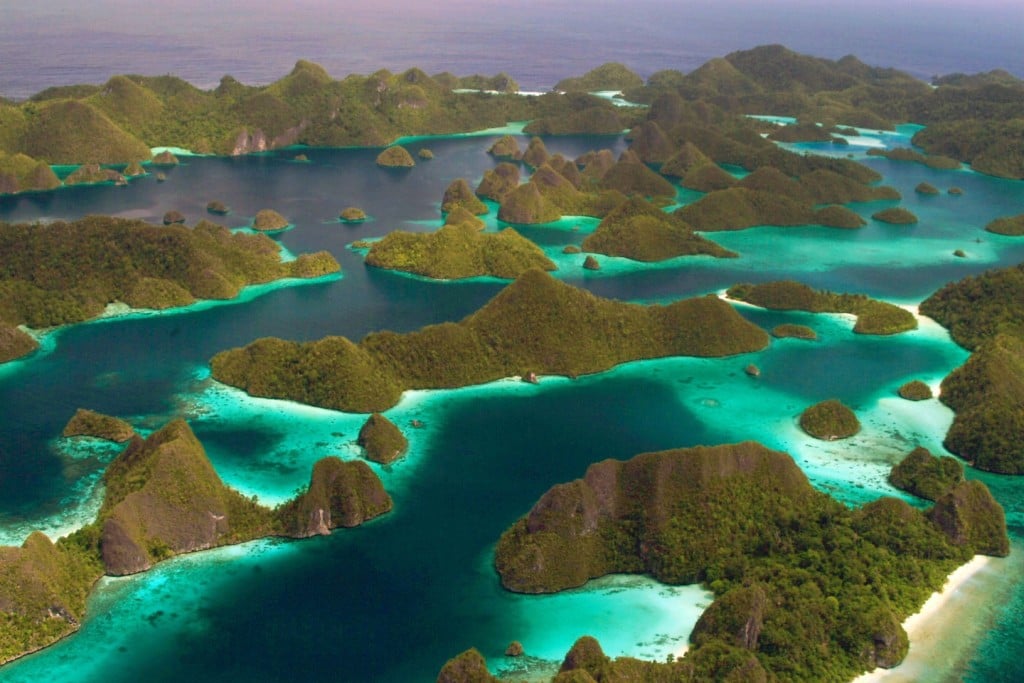 ---
Experience Travel Group specialise in tailor-made, authentic holidays for travellers who want to leave the beaten track, but return to a soft bed.
Alice chartered the Ikan Terbang Ship as part of her Indonesia holiday but there are different boats available varying in terms of luxury level and route. For more information about options do contact us on 020 7924 7133. We're happy to chat at any stage of your planning process and there are no obligations whatsoever. If emailing is easier for you, do contact us in writing here.
To see how this cruise could fit into your Indonesia holiday, have a look at these sample itineraries:
Dragons, Culture and beach (Komodo, Bali and Lombok)
Family Java, Bali and Komodo Cruise Deluxe