Whilst the world-famous overgrown Angkor temples are an obvious lure for travellers going to Cambodia, there are so many other nearby experiences that are often overlooked. Here, we share what else there is to do in the area whilst you're visiting.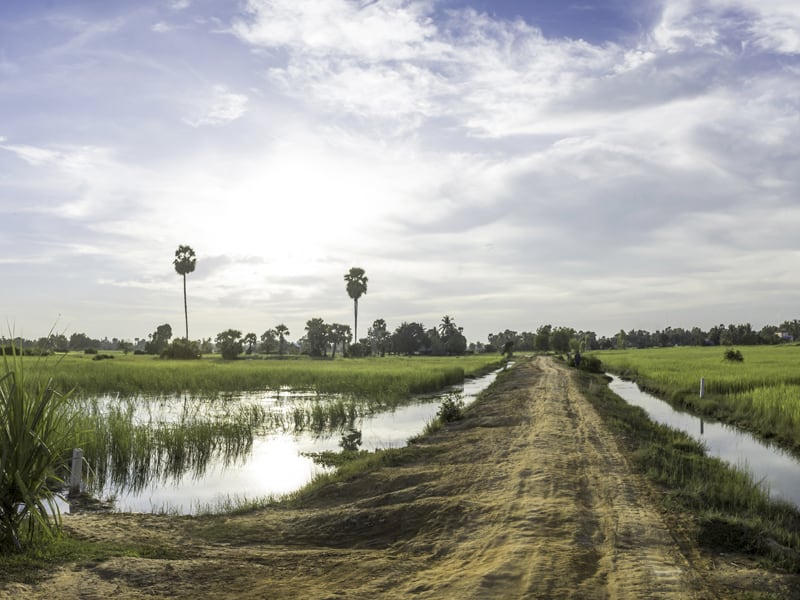 ---
The Temples of Angkor are breathtakingly beautiful, utterly unique and iconic for the Kingdom of Cambodia; a depiction of Angkor Wat even appears on the national flag. Since their rediscovery in 1901, the temples now draw in roughly 2 million visitors every year, which in turn has meant that the gateway city to the complex, Siem Reap, has developed extremely quickly to facilitate the influx of tourists.
The last time I came to Siem Reap was in 2008 as a backpacker, and I have fond memories of a town that was authentically grubby yet distinctively charming, with colonial architecture, vibrant and colourful streets, and glimpses of true Cambodian culture along the waterfront and throughout the Old Quarter. I spent a few days exploring the sprawling Temples of Angkor and was completely amazed by the whole place; from every tiny Buddha relief to the majestic quincunx of towers at the centre of the temple. Sadly, I was not around long enough to properly explore the rest of the region.
You can, therefore, probably imagine my excitement when Experience Travel Group gave me the chance to come back to Siem Reap 5 years later to see what else this historic and beautiful region has to offer. It's really easy to combine a trip to Angkor with a few extra-special excursions, and here are my top three suggestions for us to include as part of your tailor-made Cambodia holiday :
---
1. Floating Village of Kampong Phluk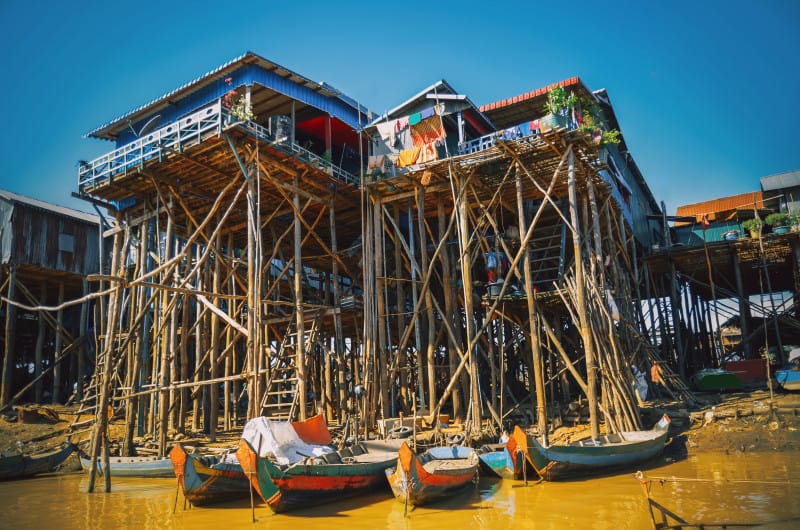 About a 45 minute drive south of Siem Reap lies the vast Tonle Sap Lake; the largest freshwater lake in Southeast Asia that shrinks and swells with the annual flooding of the mighty Mekong River. For centuries, the lake has been an epicentre of life in rural Cambodia, both human and animal. The fertile floodplains of the lake support fishing and rice farming and provide the perfect natural habitat for a plethora of exotic flora and fauna, so much so that it was designated as a UNESCO biosphere in 1997. However, the most fascinating aspect of the Tonle Sap Lake is the floating villages that are home to hundreds of people, a small yet perfectly functional society with schools, shops, homes, handymen and an impressive temple. I was lucky enough to visit the exemplary Kampong Phluk village and see how the locals go about their daily lives.
The drive to the lake will afford keen photographers with many a chance to get some fantastic shots of the locals who live along its banks. The constantly changing tides mean that most people have built their houses high off the ground on stilts, to avoid flooding and all the nasty surprises it brings with us (apparently snakes are the biggest worry!). However, the locals seem undeterred by the threat of floods, as you can clearly see generations of families swinging from hammocks, chopping firewood, tending to their boats and relaxing on their verandas, having made their peace with the tempestuous waters.
Moored at the very edge of the lake are several motorised long-boats moored, used to ferry inhabitants of the floating villages to and from their homes if they ever need to step onto shore. They are also used as floating shops, with land dwellers peddling an amazing range of goods to those living in the floating villages. However, before we could reach the boats the road was cut off by some leftover seasonal flooding, meaning our car would not be able to make it to the jetty. A tuk-tuk quickly came to our rescue and braved its way through the 4-inch deep water that covered the road.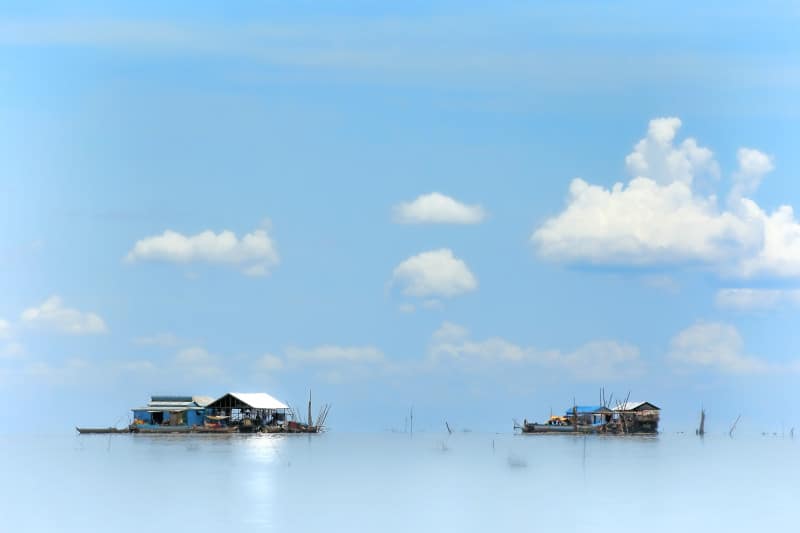 Once on-board, we set off into the vast lake which stretches out as far as the eye can see with no shoreline in sight. At first there are only a few forlorn-looking shacks here and there, interspersed with bunches of bushy scrub poking up out of the water. The sheer size of the lake is astounding, and for a while you do feel like a tiny dot in the middle of a vast expanse of nothing. However, after about 15-20 minutes of cruising, the floating village of Kampong Phluk starts to come into view. One of the first things you will see is the Kampong Phluk Secondary School, two modest buildings floating steadily on the surface, which was surrounded by small boats packed with women and children excitedly passing books around, singing and clapping, jumping from boat to jetty and back with ease. You will then turn the corner into what can only be described as "Kampong Phluk High Street".
Small boats full to the brim with fresh fruits, bars of soap and straw hats are paddled up and down, colourful houses are lined up side-by-side, often sharing a small jetty for their private boats. All the homes have quaint porches, where it would seem every member of the family will sit, chat to their neighbours, comb each others hair, chop vegetables and tend to their pigs (housed in their very own floating pen!) whilst the children all scream with delight as they jump from their homes into the water. For a village in the middle of the lake, there is a stunning array of floral decoration, with most homes growing colourful flowers in English-Cottage-style window boxes.
Our boat stops for a short while at one of the floating houses, where it seems that my guide knows the inhabitants; he is quickly enveloped in a huge hug from a large lady with beautiful long black hair and an infectious grin. His hair is ruffled by various members of the family as he drops off what appears to be a bag of laundry, and as he emerges from the house he has a number of children shrieking with laughter, hanging off his arms. It's an intimate exchange (clearly between family or very close friends) and it really drives home that this village is still relatively untouched by tourism – only a handful of other boats passed us en route and at that time I was the only foreigner on the "main drag".
A large portion of the traffic is usually centred around the village temple; a large yellow building with a huge courtyard, where I was lucky enough to witness a local festival taking place, with streams of colourful flags, festive music and throngs of villagers praying and socializing. Monks swathed in the iconic orange robes mill around in small groups and look relaxed and happy as they chat to the locals; sometimes it's easy to forget that you are in fact in a floating village at all because the villagers seem so well adapted to their lives on the water.
The ride back includes the occasional encounter with a boat load of smiling, waving children or fishermen returning for the day with their daily catch. My guide has picked up one of his friends from the village and kindly offered him a lift to shore, and as I look behind me into the warm orange glow that is now the late afternoon backdrop to Kampong Phluk, he is the absolute epitome of Cambodia today; shoe-less and fully out-stretched on a hammock that is strung up at the back of the small boat, his bag of colourful fabrics and scarves, rice and fruit at his feet, reading about the recent Phnom Penh demonstrations on his iPhone that is undoubtedly a more modern version than mine. A visit to Kampong Phluk is a very eye opening experience!
The waters are high during the wet season, which runs from May to late September/October and is definitely the best time to visit to get the full floating village experience. During the dry season, which is October to late April, the water levels are very low, at which time you will see the exposed stilts that hold the houses up underwater. Although not as picturesque, it is still fascinating to see as it shows how dramatic the flooding in this area can be. Dry season is also ideal for seeing the beautiful and rare waterbirds that are unique in this area.
---
2. Sunset Quad Bike Ride
Beyond the Temples of Angkor, real Cambodians live real lives away from the hustle and bustle of foreign tourists in the small villages and hamlets that are peppered around Siem Reap. A short drive from the dusty streets and air conditioned hotels of central Siem Reap will take you to the edge of town, where Quad Adventure Cambodia have turned a large colonial mansion into their four-wheeled adventure headquarters. After a quick chat about my quad biking experience (minimal) and my feelings about getting a bit wet and muddy due to a recent downpour (ecstatic), I was off on a quick test-drive of my quad bike. A short lap around the block with a guide sat behind me was enough to prove that I was able to steer, brake, stop and give way to traffic.
With my helmet firmly on my head and my guide ahead on his motorbike, we were off into the rice paddies.
What followed was breath-taking vista after breath-taking vista of rural Cambodia; a patchwork quilt of shimmering rice paddies next to fields of bright green grasses and vegetables, carved up by winding streams of murky water with the occasional buffalo or gaggle of children enjoying an early evening swim. The roads were not in fact roads, but dirt tracks that were expertly navigated by my guide, who clearly knew the area like the back of his hand. We passed traditional dark-wood Khmer houses on stilts, with small groups of people huddled around cooking fires and lounging in hammocks. Children in blue and white school uniforms peddled along barefoot on their push-bikes, their faces illuminating at the sight of a foreigner in such a rural area.
The only traffic that we encountered was a large herd of cows being brought home from grazing for the day, and I must say they remained incredibly calm in the face of my loud quad bike as I sped past and splashed almost half of them by driving through a big muddy puddle.It was in fact the sunset that topped off this unique rural experience. Our pre-planned late departure (around 5pm) was deliberate, meaning I was able to enjoy one of the most beautiful sunsets I have ever seen. The orange sun sunk into a hazy pink sky, and was reflected perfectly in the mirror-like paddy fields. I can't even do justice with words how beautiful it was, so check out the pictures and see for yourself!
---
3. Beng Mealea Temple
Hidden in (and under) the jungle about 1.5 hour drive from Siem Reap town is the stunning Beng Mealea Temple. Never has the phrase "hidden gem" been so appropriate than for Beng Mealea, for this temple is seldom visited by tourists but has all the charm, intricate detail and beauty of any of the temples around Siem Reap.
The name Beng Mealea means "lotus pond" in Khmer, and the temple was built as a precursor to the world famous Angkor Wat by King Suryavarman II. Since the temple's construction in the 12th century it has not been renovated nor preserved, and hence now is covered in a spectacular tangle of roots and trees. As you approach the temple, one of the first entrances you come is a large window up high that seems to be pouring out giant lime stones, just as water is poured from a jug. Walk further around the temple and the whole atmosphere is completely enveloping; you feel as if you yourself are discovering the temple for the first time. There are hardly any tourists here, only a few buffalo, some local children playing amongst the vines and not a whole lot else, save the beautiful surrounding jungle.
At the back of the several-acre complex, you can scramble up the rocks and actually walk inside the ruins, which are mind blowing. Bloated tree vines weave eerily through dilapidated libraries and galleries, and ferns burst through gaps in the rocks here and there, creating a green/grey carpet that is striking to the eye. As I was visiting just after the wet season, the floor of each chamber was flooded by a few inches of water so the bright green colours and faces of stone relief Buddhas were reflected in the still water. Every corner you turn reveals further layers to this vast labyrinth of chambers and corridors, all in varying states of disarray, but all commonly covered by snake-like vines. It is difficult to describe quite how physically you are affected by the extraordinary atmosphere of this magnificent temple, in the middle of the steamy Cambodian jungle. This is Mother Nature really flexing her muscles, as she strangles every pillar, every stone, every wall with thick mossy tree roots.
Keen photographers will want to spend all day at this temple, it is without a doubt my number one recommendation for anyone travelling to Cambodia.