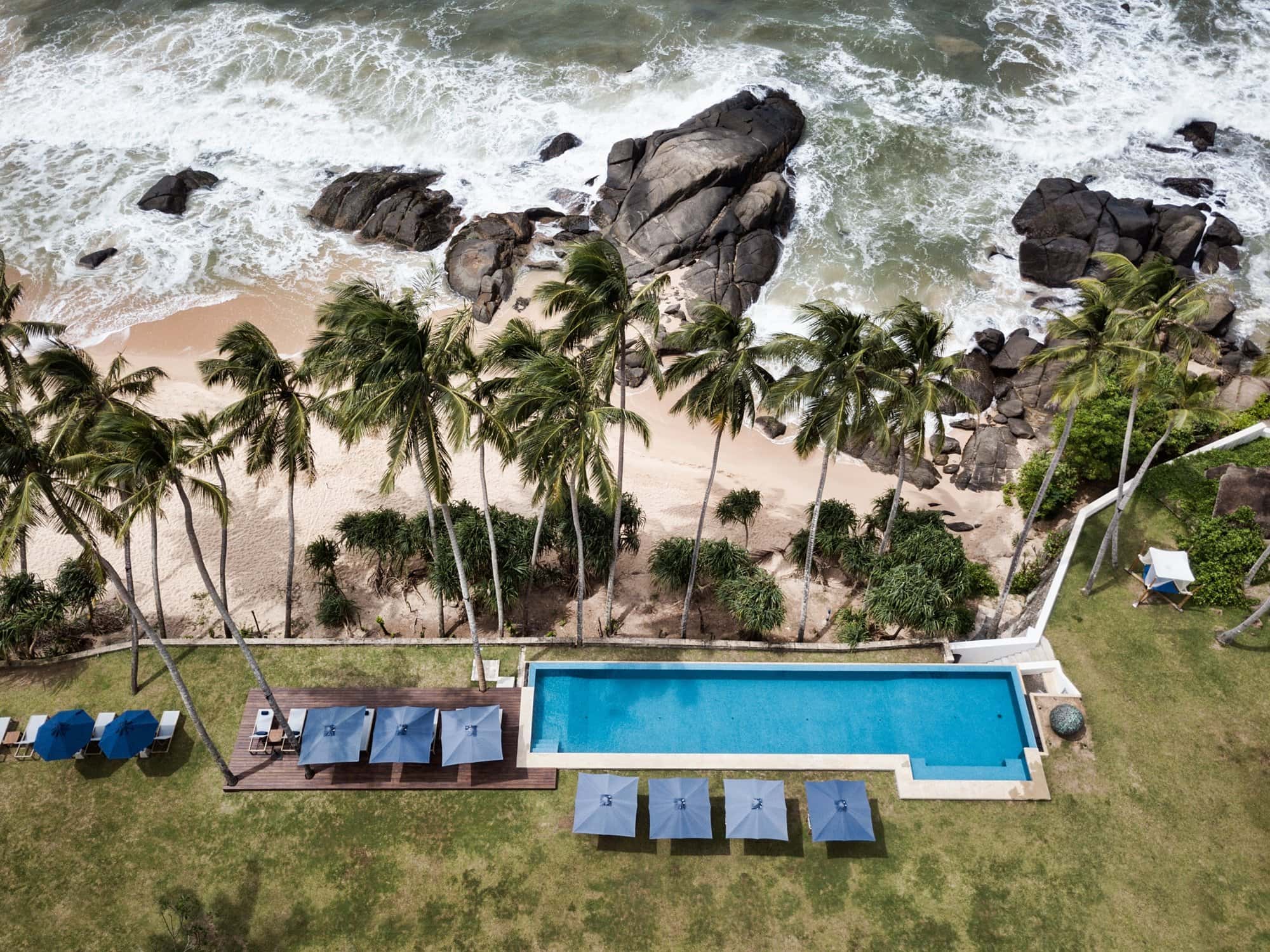 The first stop in your Sri Lanka itinerary
Choosing the right base for your arrival in Sri Lanka can set the tone for a remarkable trip. For some travellers, the first stop after a long-haul flight is just a place to rest, recuperate and muddle through jetlag. For others, it's the first taste of a new adventure, and it's all far too exciting to just lounge by a pool. Luckily, Sri Lanka has options to suit all tastes – and in this blog, we'll help you figure your best place to stay on arrival in Sri Lanka.
Most international tourists enter Sri Lanka at Colombo airport, so we'll weigh up five options near and far from the arrivals gate for your first stop in Sri Lanka. After almost two decades planning holidays to this exceptional island, we understand that what works for one traveller may not work for another, with no itinerary being the same.  To further assist you, you might like to read our blog on how to plan a holiday to Sri Lanka.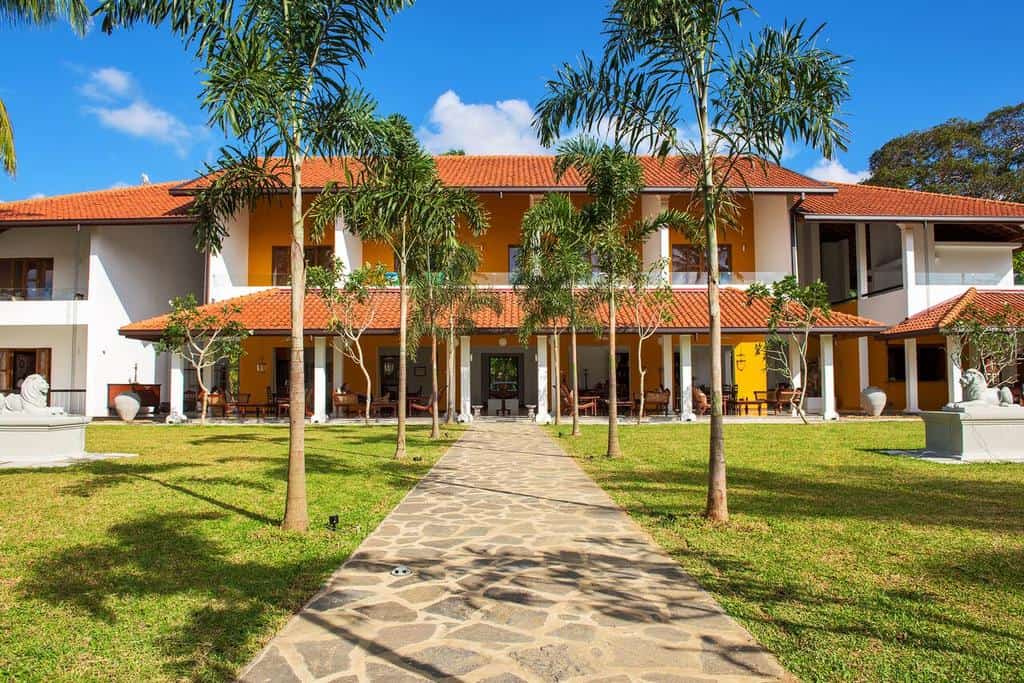 1. A rural stay inland from the airport (Gampaha)
Suggested length of stay: 1-2 nights
If you're someone who wants total relaxation on arrival in Sri Lanka, staying at a beautiful countryside hotel near the airport might be a brilliant option. There are several gorgeous rural properties that exude Sri Lankan character, all at just an hour or so from the airport. Our favourites include Notary's House, a six-bedroom luxury hotel; the charming Horathapola on a working organic estate; and Comilla Bungalow, an understated colonial villa. All are surrounded by lush gardens and have lovely pools for tropical downtime.
Pros
These properties are only an hour or so from the airport so you don't have to travel far on arrival
You'll have a very relaxed, rural start to your holiday away from the crowds
They provide the solitude for the perfect place to get over jetlag so you'll be refreshed and ready for your adventure
The properties offer a great introduction to Sri Lanka with gentle paced local experiences such as bullock cart rides, country walks and visits to temples.  For those who like the quiet life, extending to three nights could be a good option as there are things to do in the local areas.
Cons
A common question we get is 'how many days are enough for Sri Lanka'?  With a start in rural Gampaha you could be using up your precious holiday time at the start of your trip.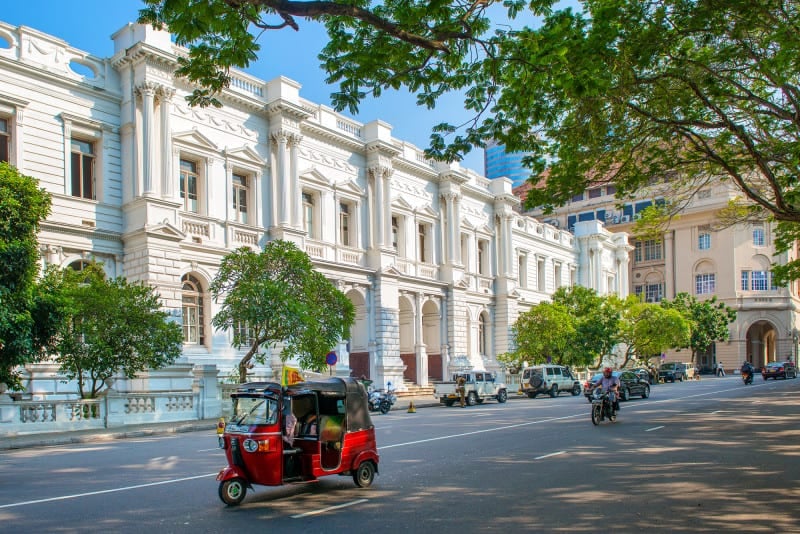 2. Arrive in Sri Lanka and go straight to Colombo
Suggested length of stay: 2 nights
If you like to hit the ground running, without a long journey from the airport, venture straight into the vibrant city of Colombo. This would be the perfect choice for travellers who want to get stuck straight into the culture of a fast-paced city, with restaurants, markets and shopping galore. While you can find city hotels that feel very much in the heart of the action, we think it's a great idea to start your holiday in one of Colombo's more tranquil hideaways. We love Lake Lodge for stylish calm, Maniumpathy for luxury and legacy and Galle Face Hotel for grandeur and epic sea views.
Pros
Like Gampaha, you're only looking at an hours drive or so from the airport
Colombo is a buzzing city with lots of experiences – a historic centre, hectic Pettah Market and lovely restaurants
It has an atmospheric seaside promenade which is nice to walk down of an evening
You have grand historic hotels and several beautifully converted houses, which are now boutique hotels: peaceful oases in the busy city
Cons
It could be too hectic for some to start their time in Sri Lanka.  For example, Pettah market is best experienced early in the morning…it could be too early for the start of a trip.  Perhaps a vibrant end to the holiday is in order, that is also close to the airport?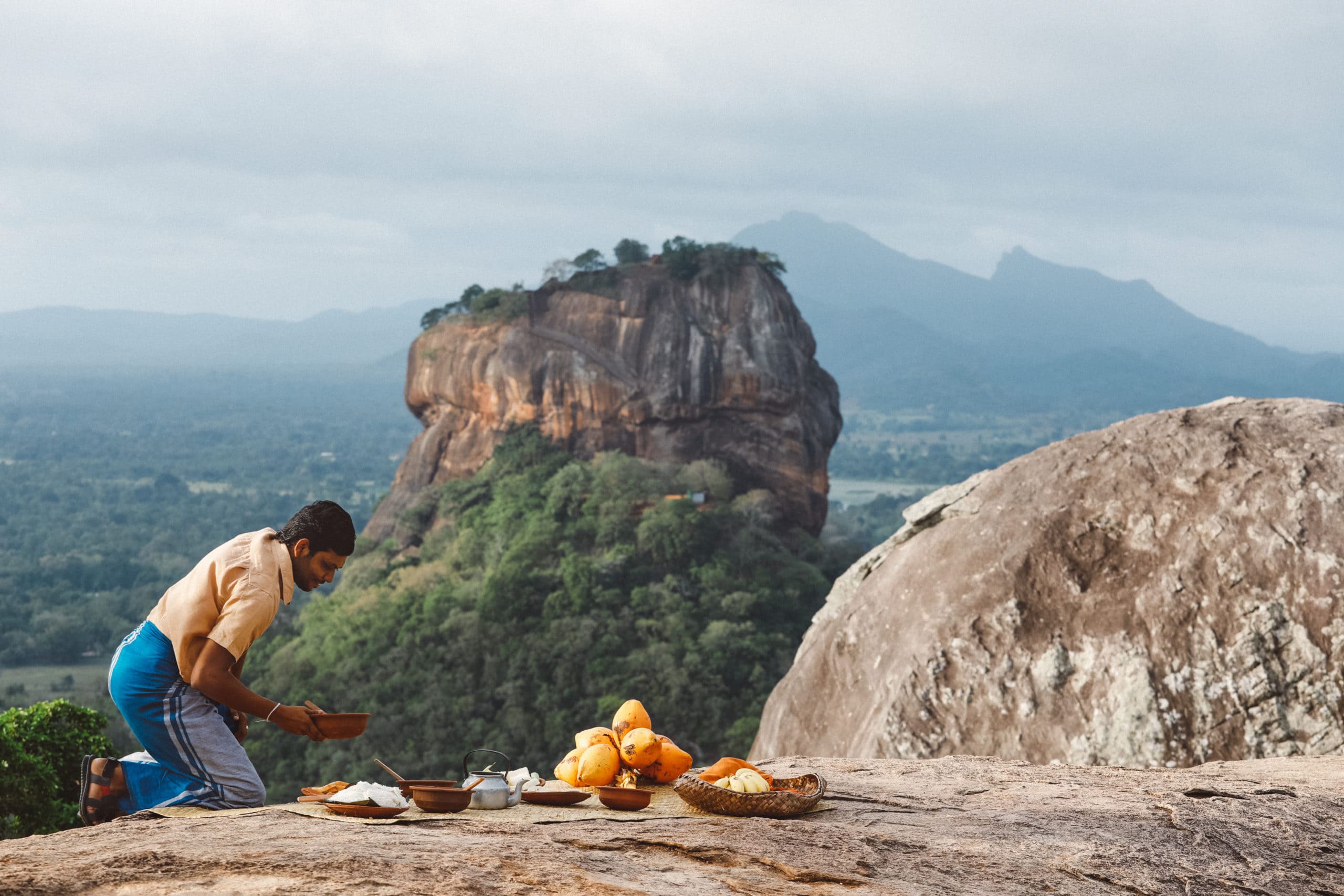 3. Head straight to the Cultural Triangle from the airport
Suggested length of stay: 3 or 4 nights
Stretching from Anuradhapura to Polonnaruwa to Dambulla (and covering everything in between), the Cultural Triangle is a land of ruins and iconic scenery. For many travellers, this region is a must when exploring Sri Lanka – and it is possible to get stuck in straight away. However, at around a 5-hour drive from the airport, it might feel like too much of a schlepp post-flight; it simply depends on your travel style.
We think it's worth several nights to take it all in, and fortunately, there are some brilliant properties to greet you. Water Garden Sigiriya offers mesmerising views of Sigiriya Rock Fortress; Aliya Resort has sleek modern design amidst the rural jungle; Kumbukgaha Villa provides understated lakeside charm while Vil Uyana delivers eco-luxury and beautiful gardens.
Pros
What a place to start your Sri Lanka adventure – a variety of spectacular monuments and landscapes are within close proximity to your hotel.
You've already covered a lot of distance by the time you wake up on your first morning in Sri Lanka so you can take a bit more time through the rest of the trip.
Cons
The Cultural Triangle is 5 hours drive from the airport – that is quite a long journey after a 10.5hr+ overnight flight.
A lot of tour operators start a full day excursion on the morning of your first full day in the country in order to cram all the amazing sites in.  How will you feel starting on such an active level?
You might have to fly Business Class in order to sleep overnight so as to be ready for your activities straight away.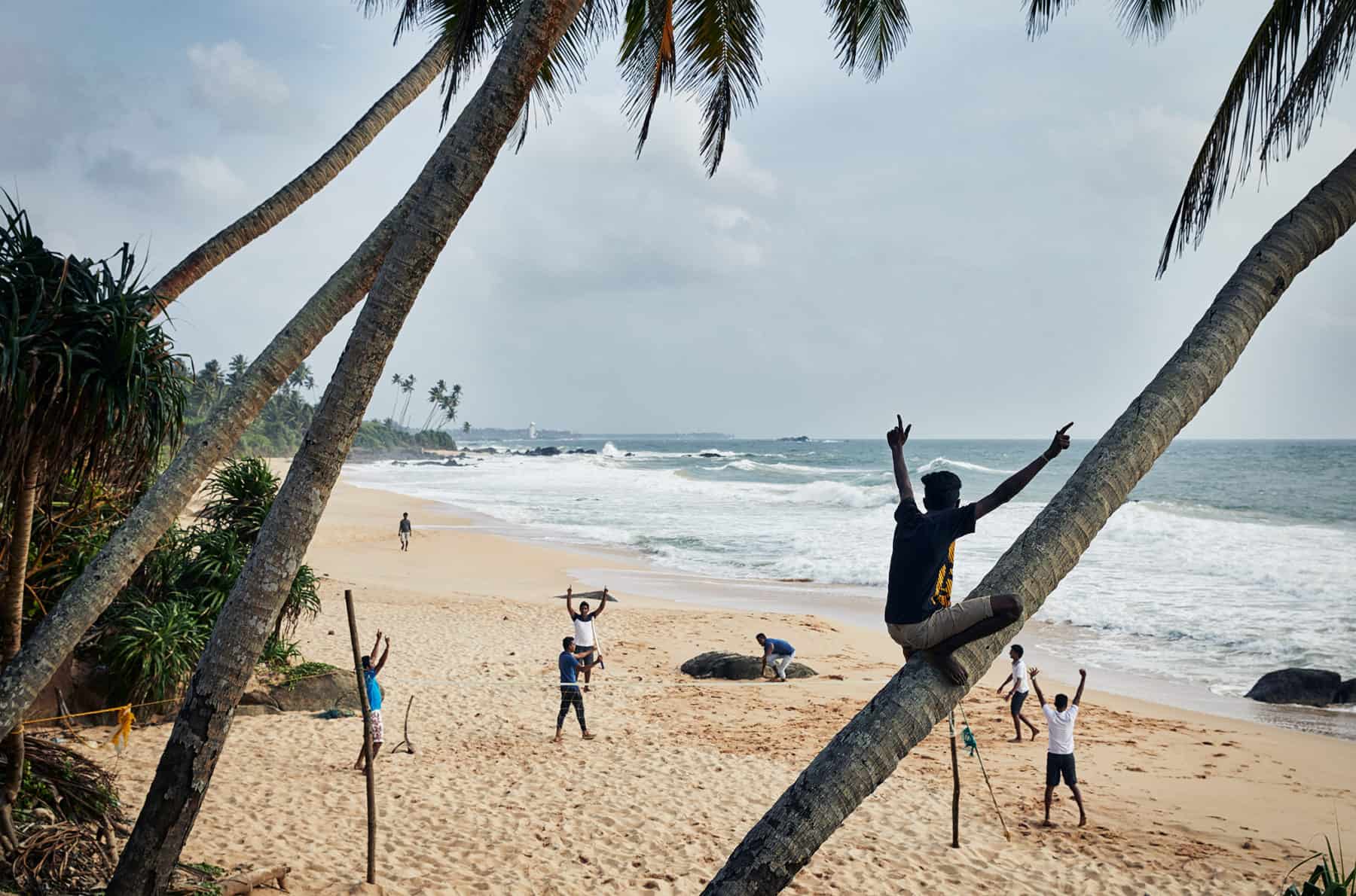 4. Start your Sri Lanka Holiday on the beach
Suggested length of stay: 2, 3, 4 nights… As long as you like!
While many travellers like to save the beach for the end of their holiday, sand and sea are also often welcome on arrival in Sri Lanka. There's nothing to get you in the holiday spirit like watching the sunset over the Indian Ocean, and after a lengthy journey, the swaying palms and ocean waves might be the best place to stay on arrival in Sri Lanka for you. The islands loveliest beach spots on the west and southern coasts take between 2 to 3 hours to reach from the airport, but the beauty is worth it.
Plus, the hotel choices in this region are truly sublime. Depending on your onward journey, you could travel 3 hours north of Colombo to Kalpitya to stay at the rustic Palagama Beach. Alternatively, travel south to Bentota or the Galle Coast, where numerous gorgeous hotels await. We recommend Why House for a 'home from home' between the jungle and beach, or Aditya for a gorgeous stay on the cusp of the ocean.
Pros
Cons
The beaches do tend to be 2- 3 hours from the airport so it can be a long drive after a long flight.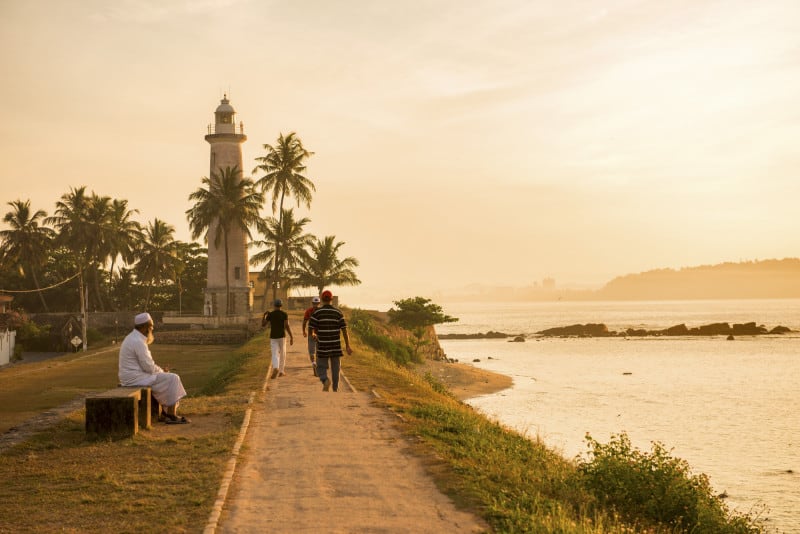 5. Begin your holiday in Galle Fort
Suggested length of stay: 2 nights
Remember that time you stayed in a UNESCO World Heritage site?  That was when you arrived in Sri Lanka and went straight to Galle Fort.
Galle Fort is the heart of the south coast of the island and most famous for its local seafood fresh from the morning catch and its iconic ramparts and cricket ground.  It is 2-3 hours from the airport so can act as a starting or ending point for your Sri Lanka adventure with day trips to beautiful beaches possible from the fort.
There aren't loads of hotels to choose from in the fort but the luxurious Amangalla is a great high-end option.  Fort Printers has one of the few swimming pools in the fort and Fort Bazaar offers a contemporary stay within the forts historic walls.
Pros
Local restaurants are abundant in Galle Fort so you're walking distance away from great places to eat – no hassle on your first few nights!
Starting off in a UNESCO World Heritage site can't be bad.  You can walk out from your hotel and explore the lanes of the iconic fort and its ramparts at ease without being overwhelmed
Cons
Like the beaches of the west and south coast, it is a 2- 3 hour drive from the airport.
There isn't a huge variety of hotels in the fort but they do tend to be full of character if that is important to you.
Is Negombo worth visiting?
Negombo is a beach town just 15 minutes from the airport, which may sound like the best place to stay on arrival in Sri Lanka.  However, many others have had the same idea, and it's now rather built-up and busy (no longer the 'sleepy fishing village' you'll see advertised on many travel sites!). If a quick trip to the beach is your number one priority on arrival in Sri Lanka, this will do the job – but in truth, we think you can have a more pleasant experience elsewhere.