Many people planning a trip to Asia find the budgeting process tricky. There's a misconception that everything is priced low when really it's just very good value compared to a European holiday equivalent – you'll certainly get more bang for your buck, especially when it comes to more high-end experiences and hotels. Here, we share our top suggestions on making the most of your money, whatever your budget in Vietnam and Cambodia.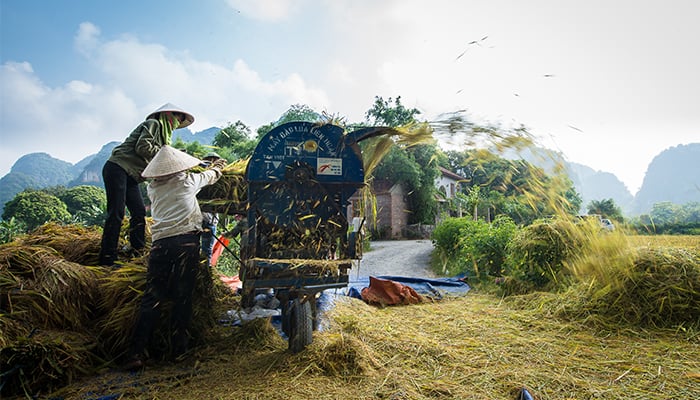 A trip to Vietnam and Cambodia is a family holiday with a difference. The cuisine and 'other-worldliness' of these countries is sure to enthral everyone. The mix of adventurous activities (such as zipping through city streets by Vespa) and relaxation time by your luxury pool, a cocktail in hand, means there'll be a perfect balance of downtime and discovery.
It's important to approach the budgeting of your trip with a considered frame of mind. Here are some top tips to think about when organising your holiday:
1. Flights
Flying to Vietnam and Cambodia can be very inexpensive if you book in advance, online, with restrictions. But if you're willing to pay a little bit extra and you book with a travel company like Experience Travel Group, you'll benefit from increased flexibility. For example, we're in a better position to react to flight schedule changes, delays and, if necessary, rearrange things to make your experience a smooth one.
Our top tip is to fly with Vietnam Airlines because you can book all your international and internal flights on the same ticket and this dramatically reduces the price.
2. Travel dates
Peak season dates, namely Christmas, Easter and the summer holidays are likely to drive prices up. The last two weeks in August are a good time to go as usually the flight prices start to come down then. Cambodia, in particular, is great in the summer during its 'green season' (the rainy season); hotel rates are lower and yet the country is beautiful and lush emerald green.
3. Accommodation
There are some great value hotels in Vietnam and Cambodia as well as some properties really worth a splurge. The Sofitel Legend Metropole hotel in Hanoi, for example, is quite dear but has over 100 years' worth of history within its walls, not to mention top-notch service, a stunning swimming pool and luxurious rooms. Hotel guests also have exclusive access to a bomb shelter built under the property from the Vietnam War – a very intriguing experience.
Another insider tip is to plan your relaxation time in a stunning hotel in Cambodia rather Vietnam. Like-for-like, Cambodia offers better value for money and there are often fantastic special offers available. Have a look at Sokha Beach, Sala Lodges and Pavilion D'Orient for examples.
4. Experiences
Certain popular experiences like a cruise on Halong Bay can drive up the price of a family holiday. Be prepared to compromise on the level of luxury of the boat you choose, in order to keep costs down. There are also some fabulous overnight train journeys in Vietnam connecting the main points of interest and, while they take much longer than a domestic flight, they're certainly cheaper and a memorable experience in themselves.
Beach stays are more economical in Cambodia than Vietnam, although the Cambodian beaches aren't generally rated as beautiful as those in Vietnam.  Also, getting to the beach – such as Hoi An in Vietnam – will vary depending on whether your domestic flights are with Vietnam Airlines or a more expensive carrier. Finally, there's always a cost involved in getting to the stunning white sand beaches on the tropical island of Phu Quoc, but at the same time, it's a wonderful destination for a totally relaxing experience.
---
There are lots of other ways to bring down the price without compromising on your holiday in Vietnam and Cambodia. At Experience Travel Group we ensure our clients get fantastic value across their entire holiday experience, through specially negotiated contracts with our favourite hotels and with our expert knowledge of our countries. To find out more, call 020 3627 8440  or contact us via email here.
---