As the Christmas season fast approaches, we thought we'd divert your mind away from the potatoes, brussel sprouts and turkey with some of our favourite Asian culinary treats. That's why, throughout December, we're sharing some brilliant festive recipes with an Asian twist.
Coconut rice with Mango is a delicious, simple recipe and a staple pudding in Thailand. It's light, refreshing and healthy, known in the office as 'heaven on a plate.' It's suitable for vegetarians and with only a few ingredients, is easy to make.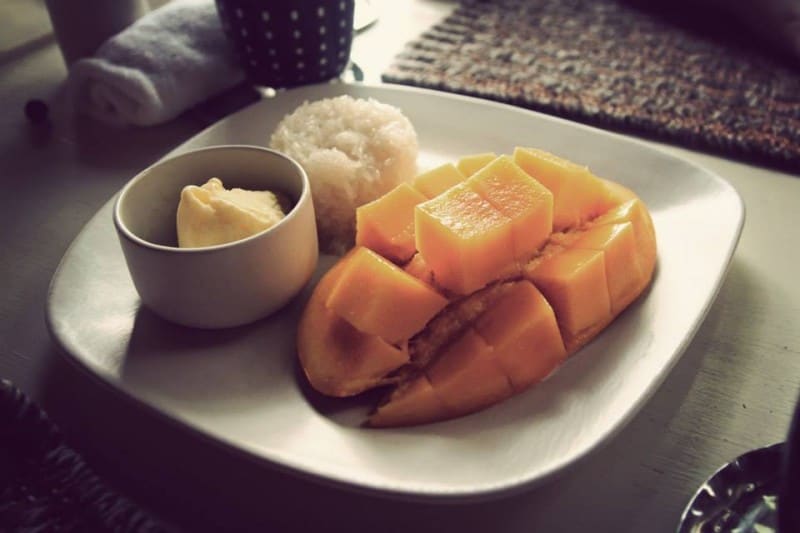 ---
Here's the recipe, we hope you enjoy!
Preparation time: 1 hour, 15 mins
Serves: 2-3
Ingredients:
300g thai sticky rice
250ml coconut milk
2 tbsp sugar
2-3 mangos – must be ripe
Optional addition: vanilla or coconut ice cream
Method:
1. Take the sticky rice and soak it in cold water for around 4 hours or preferably overnight. Then drain and rinse the grains thoroughly.
2. Steam the rice in a pan or steamer for 30 minutes mixing the rice now and then.
3. Take the coconut milk can and separate the cream in the top into one bowl and the milk at the bottom into a pan. Add sugar to the coconut milk in the pan and heat gently until all of the sugar has dissolved. Make sure it doesn't boil.
4. Pour the coconut mixture over the rice and put to the side for cooling.
5. Remove the mango seeds and score cube cuts into the fruit.
6. Arrange the mango and sticky rice on the plate – adding the coconut cream on top of the rice as final decoration. Serve with additional ice cream if you wish.
---
Whilst this recipe stays true to the Thai method of preparation, nothing beats an authentic tropical mango in-country. Have a look at our Thailand holiday idea with a food twist as inspiration:
All our holidays are tailor-made by our country experts, so if you wanted to get a personalised itinerary or just some more ideas, do call us on 020 3627 3081. Our specialists are very happy to help – no matter where you're at with your holiday planning. There are no obligations to book and you don't have to pay a penny until you are completely sure that you've found your perfect holiday.