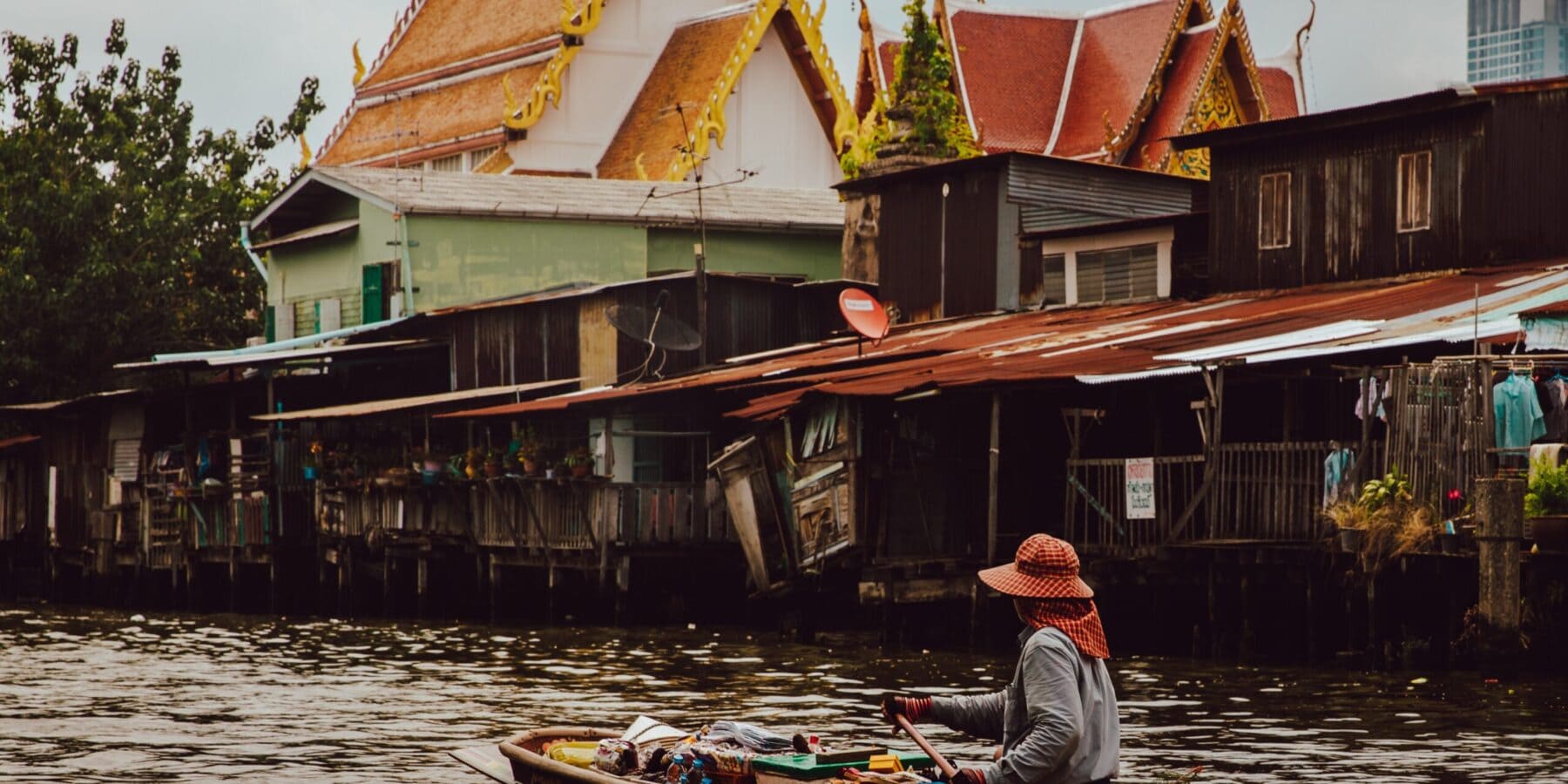 The pandemic put a hold on family holidays far from home so, as soon as the world started opening up again, we were keen to get travelling.  We were also a bit nervous – would our destination feel 'recovered' from Covid in all senses or had the pandemic somehow taken the magic out of travelling to and really connecting with a new place?
We shouldn't have worried.  Thailand is still the welcoming, fun and easy place in which to explore, relax, have adventures and eat amazing food that it always was.  And our lovely guides were delighted to be able to show off the best of their country again to visitors like us.
The Green Lung of Bangkok
A morning cycle trip around the island of Bang Krachao, known as the 'green lung' of Bangkok was one of our highlights. According to our guide, Paninee, the previous Thai King flew over this island of lush greenery, a network of canals and small villages so close to the capital, and decided that it must be protected as an oasis for urban dwellers because the trees clean up some of the city's pollution.
Cycling in Bangkok
Although you can see the high rises of Bangkok not so very far away, you feel a world away from the city. No buildings above the height of a coconut tree are permitted and we saw very few cars. We cycled along quiet flat roads, dived down jungle lanes that seemed to pass right through people's gardens, and wobbled along raised pathways next to the mangroves and klongs (canals). It wasn't a strenuous ride and there was plenty of time to enjoy the scenery and tranquillity – but my two teenagers also enjoyed the sense of jeopardy as they wobbled along perilously close to the water's edge and tried to anticipate Paninee who wasn't afraid to take a sharp turn onto a track down the side of a teak house or stop to point out a particularly large lizard.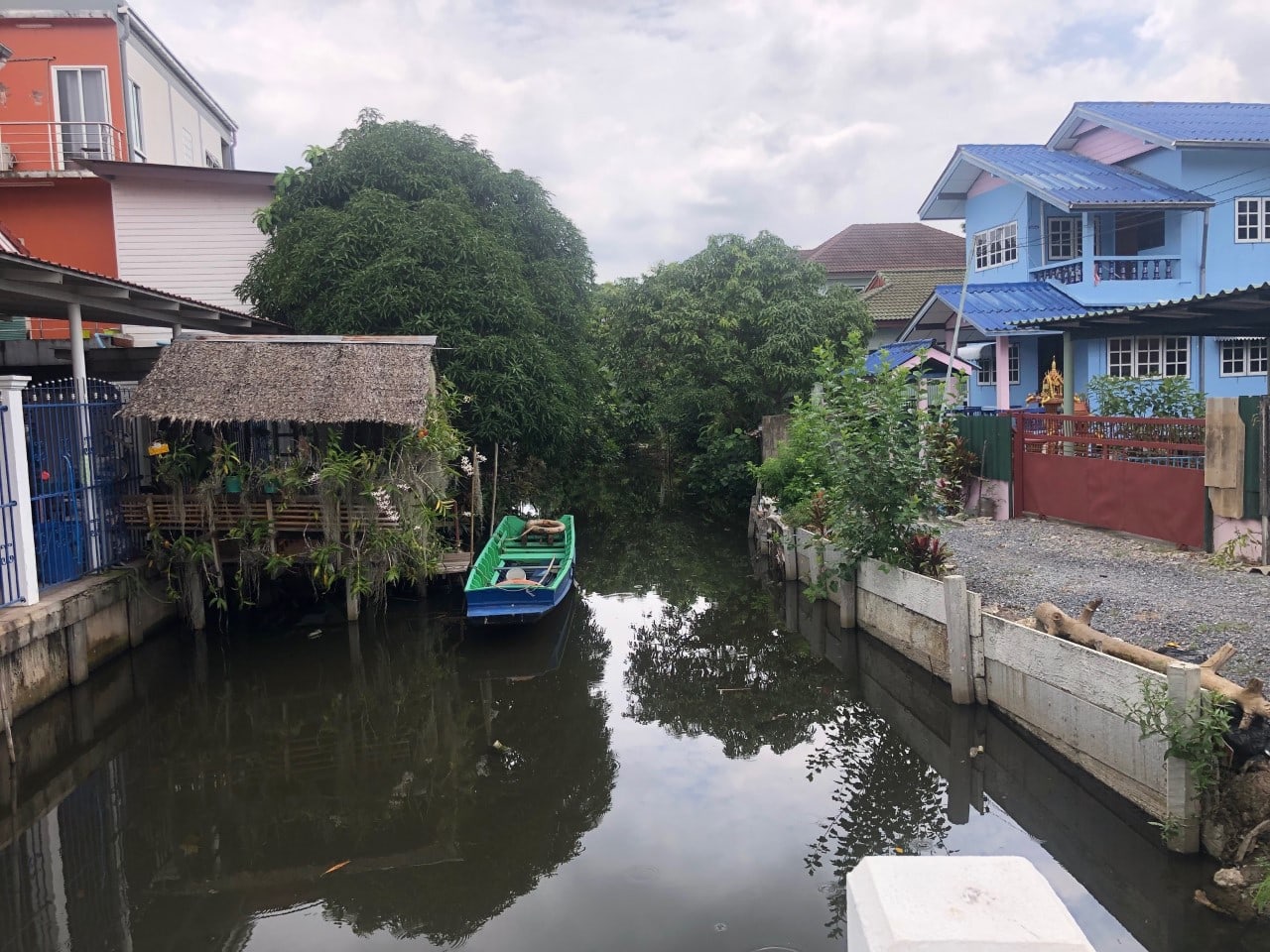 An eco-community
We made some interesting stops along the way – most memorably at a recycling plant run by the island's inhabitants. Plastic waste is brought from the Chao Praya River that runs through Bangkok and is turned into eco fabrics.  We were amazed to see women making distinctive saffron-coloured robes for Buddhist monks, essentially from plastic bottles! 
We also stopped by a small 'grandparent' shrine where gifts of flowers and fruit had been left beside the figurines of an elderly couple.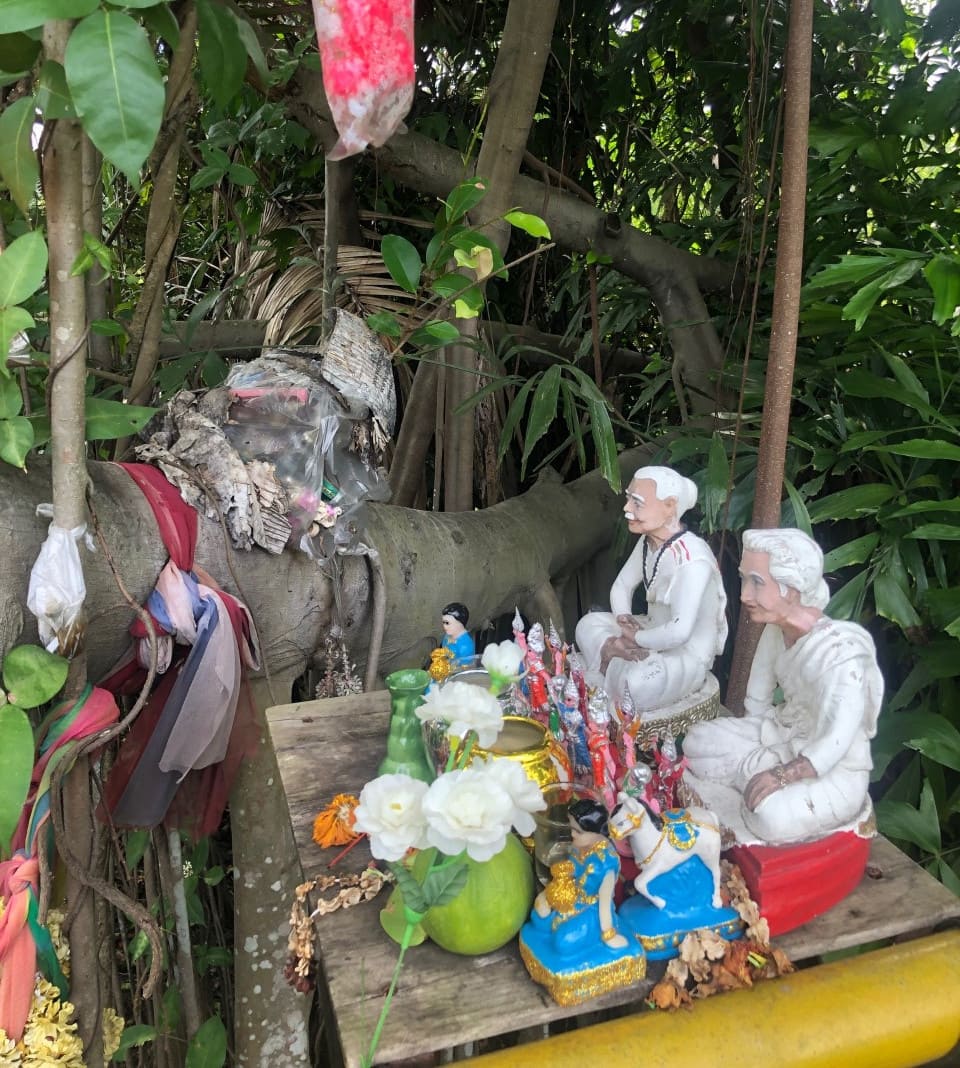 "Arroi mak mak"
There are several homestays and cool cafes hidden among the trees along the cycling route. We stopped at a small family-run restaurant perched at the edge of a klong for lunch, where our guide assured us we'd have one of the best Pad Thais of our trip.  We were given a very warm welcome and treated with no little curiosity as the only non-Thai diners, and we were encouraged to try multiple dishes on the menu. The owner came out of the kitchen to sit with us and ask us where we were from.  Our guide would act as our translator and we got by with a lot of smiles and laughing at our attempts to learn some words of Thai. 
Our final stop was a post-lunch roadside stop to sample the deceptively simple and unctuous mango sticky rice dessert. We sat on a wooden bench as a lady prepared it for us in a shack in front of her house.  Paninee told us that during the pandemic when she had no work as a guide, she returned to her home village and earned money cutting up fruit to sell.  She explained that she'd learned how to source the best mangoes and negotiate a good price with the farmers who sold them to her.  "Just like this lady – this is the best mango sticky rice on the island!"  We agreed and enthusiastically tried out some of our newly learned Thai: "arroi mak mak!" (very delicious!)