As of July 2012, Experience Travel Group no longer offer trips to the Pinnawela Elephant Orphanage in Sri Lanka.
As Experience Travel's Wildlife and Nature Specialist, I have a lot of experience in both travel and conservation. I studied Ecology at University and have taken part in various conservation field programmes over the years including Bornean elephant research in Sabah, Borneo, giraffe ecology in Kenya and a year spent living in the Kalahari Desert of Botswana studying the human and wildlife conflicts affecting carnivores such as the cheetah. I have a strong passion for ecology and conservation, and try my best to ensure that all of our tours and experiences are done responsibly and are not exploitative of any animals or people which they may involve.
Ever since I started at Experience Travel a year ago this week, I have been pushing for an end to a complete ban to our tours including trips to Pinnawela Elephant Orphanage due to concerns over animal welfare. The company has never encouraged this experience however has reluctantly included it when asked until now. Whilst we respect a person's right to choose what they are comfortable doing, we have finally decided that we no longer feel able to provide these tours, as they conflict with the companies, and our personal responsible travel philosophies.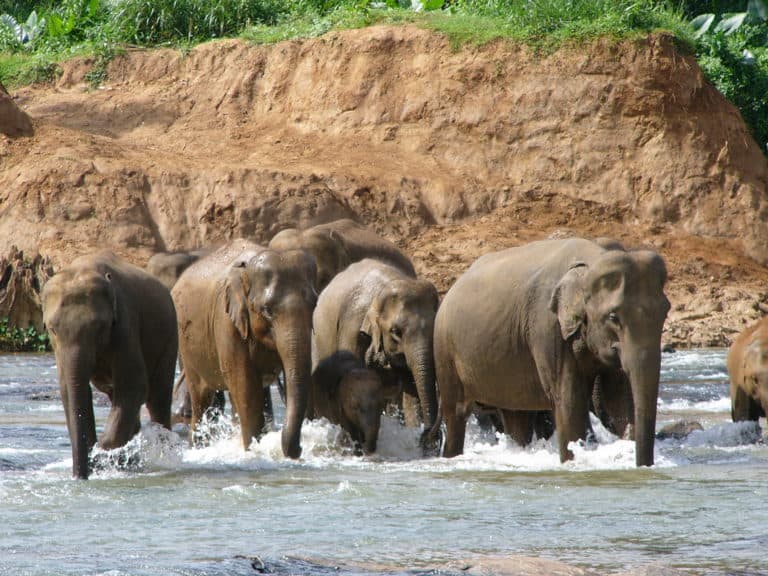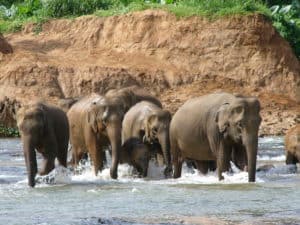 The centre, which is located within reach of Kandy, is home to about 78 individual Sri Lankan elephants (Elephas maximus maximus) and is well known both nationally and worldwide as one of Sri Lanka's most popular tourist destinations. Pinnawela breeds its own elephants, adding to it's own herd size whilst the wild population of Sri Lanka which is classified as endangered by the IUCN, is suffering a population sink.  Among other issues, the wild populations of elephant here are at risk due to habitat fragmentation and the subsequent lack of genetic variation, and so the genetic input that could be coming from re-released orphaned elephants could be hugely beneficial to population levels in the country. Pinnawela however does not do this, they simply grow their own herd, seemingly without regard for local elephant conservation.
However our main concerns about Pinnawela are that of animal welfare. The centre is essentially a zoo rather than an orphanage, thus is a bit of a misnomer. In my mind, an 'orphanage' is a place of calm and safety, where one is taken to be protected from harm – however these individuals which are taken in are not kept only until weaned and then released back into the wild, but are kept in captivity, chained and objected to high levels of stress for the rest of their lives.
In a recent article by Wanderlust magazine, an incredibly disturbing video was released of tourists at Pinnawela interacting with the elephants. The video showed evidence of Mahouts accepting illegal tips and more worryingly, mothers and calves were being harassed by tourists posing for photographs. This is an incredibly dangerous situation as a mother elephant will be extremely protective of her calf and can react dangerously if threatened or perceived to be threatened. Therefore this is not only endangering the welfare and health of these majestic animals, but also putting their visitors at risk as well. Do note however that it is not only the staff at fault here, as tourists themselves put unfair pressure on guides to flout the rules – this is something that we all as responsible travellers should be preventing not encouraging!
We do not believe that the Pinnawela Elephant Orphanage provides our clients with the best elephant experience in Sri Lanka, especially when there are so many more authentic and wild ones on offer! In season (July-October) it is possible to see one of the largest gatherings of Asian elephants in the world at Minneriya National Park. This event, named 'The Gathering' is phenomenal and an incredible sight to see as hundreds of individuals congregate in the evenings beside the Minneriya tank. Even out of season, the national parks of Eco or Kaudulla also offer great opportunities to see wild elephants in their natural setting. For those keen to see baby elephants, there are the fantastic Elephant Transit Camps at Uda Wallawe National Park, and also at Ritigala in the Cultural Triangle. These camps take in orphaned individuals and provide medical care and bottle feeding for them, four times a day until the age of 5years. Once they have reached this milestone of an age, the individuals are released into the wild, getting to live the life they were meant for and from a conservation perspective, contributing the genetic diversity of the wild herds.
So why bother with a centre which costs 5x more than the transit camps and from which many clients come away from with a sour taste in their mouths, where the elephants are there simply for human enjoyment when you could instead visit one of these authentic and sound projects providing you and your children to observe a conservation project in action, or even more magical, wild elephants interacting in their natural habitat?  To me and, thankfully, to the rest of my colleagues here at Experience Travel, it is simply no contest.
CURIOUS ABOUT WILDLIFE IN SRI LANKA?
Check out our wildlife in Sri Lanka blog for detailed information on the wildlife hotspots of the island and what to consider.
For tailor-made suggestions weaving together some of these properties with some fantastic experiences to get under the skin of Sri Lanka, do call 020 3468 9584 or request a call back here.