---
Your stories
ETG travellers Hilary and Paul recently visited the north of Sri Lanka. Here is an account of the best experiences they had, fantastic inspiration for a holiday adventure to Sri Lanka. 
---
---
Our adventure began with a sunset walk along the beach of Negombo lagoon, sampling samosas from the beach snackbar.   Yes, we were really in Sri Lanka with its warmth of temperature, friendly people, and excellent food.
Next morning, following a brief visit to Negombo harbour and the tail end of the fish market – lovely smiley people, fish of all shapes, and sizes, and colourful fishing boats – "onwards and upwards" to the coastal town of Chilaw and the fruit and veg market.   Many items we didn't recognize.  Were these really poppadums?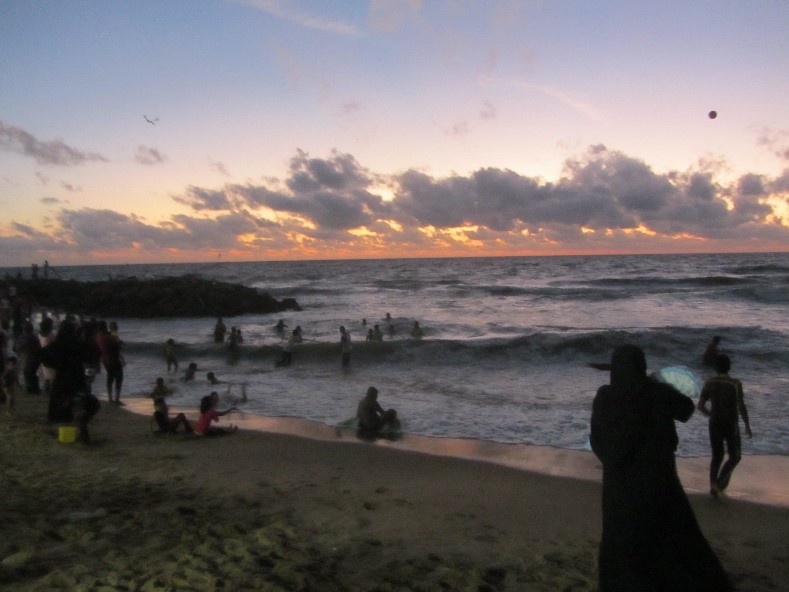 Following an unexpected (to us!) diversion to the recently established Sri Lanka Salad Company's "depot" where superb lettuces are grown hydroponically for the hotel and airline trade, we arrived at The Mudhouse, our base for the next two nights.   Comfortable and different accommodation, excellent staff and food, a fun lakeside picnic and swim, an expedition to Paramakanda temple and rock monastery and Tonigala Inscriptions, and an early morning birdwatching walk.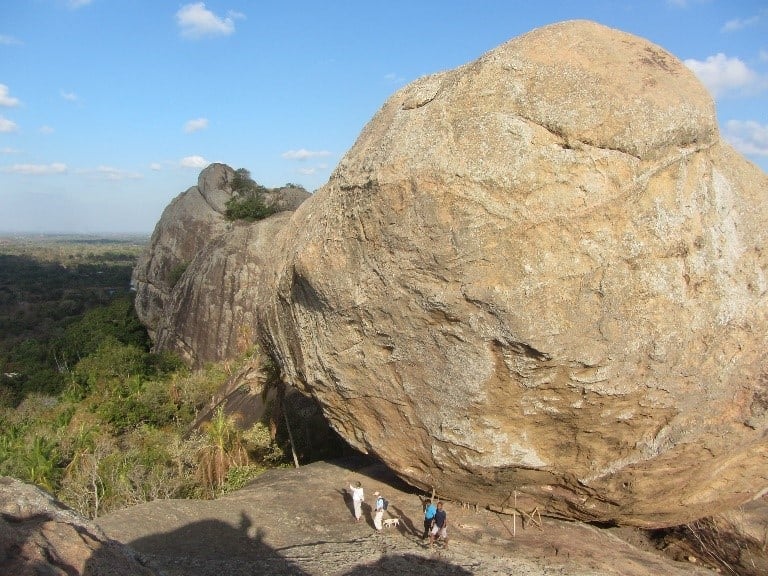 On the way to Wilpattu National Park next day, we visited the ruined Hatthikuchchi monastery complex.   We were the only visitors to this temple, built in a semi-circle of huge rocks, where King Sisirangabo is reputed to have fled to hide from ambitious relatives.   There were superb views from the summit of the rocks where there is a hidden pool of water continuously full even in times of drought.
Elephants, crocodile, and various other species were spotted on two fun jeep rides into Wilpattu National Park from our next night's accommodation at Leopard Safaris. AND, by great good fortune, we saw a leopard emerge from the jungle to drink at a pond.   Quite magical.  Apparently, an elephant walked right by our tent during the night – it was heard but not seen (though its prints were seen next morning)!
The Island of Mannar, our next destination, was reached via Our Lady of the Rosary church at Madhu – a vast Portuguese style Catholic church revered and visited by Tamil and Sinhalese Catholics, as well as people of other Sri Lankan faiths.
Long, thin, sandy Mannar island approached by a causeway/bridge, ends in sandbanks leading to South India.   Our Homestay accommodation there was with a delightful family, and it was a privilege to spend time with them and friends.   Chatting by the front door of Shanti's home under the stars will be something none of us will forget.   A Sufi temple, a welcome snack of Coconuts & Biscuits generously provided by a charming elderly resident with first-hand knowledge of the effects of the recent Civil War, and the lighthouse, colourful boats and drying fish at Talaimannar completed our island visit before catching the late afternoon train from Vavoyna to Jaffna.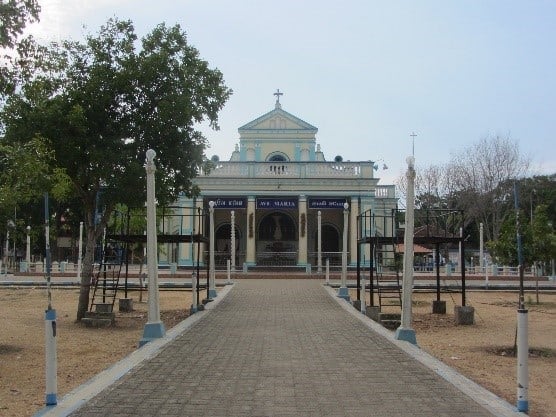 Jaffna proved a colourful and interesting city, vibrant and friendly though still bearing many battle scars of the War.   The Fort, the ruins of the administration building and various churches were visited.  Later we joined hundreds (thousands?) of brightly dressed jolly pilgrims attending a festival at the Naguleswaram Temple dedicated to the Hindu god Shiva on the coast some 20km north of Jaffna.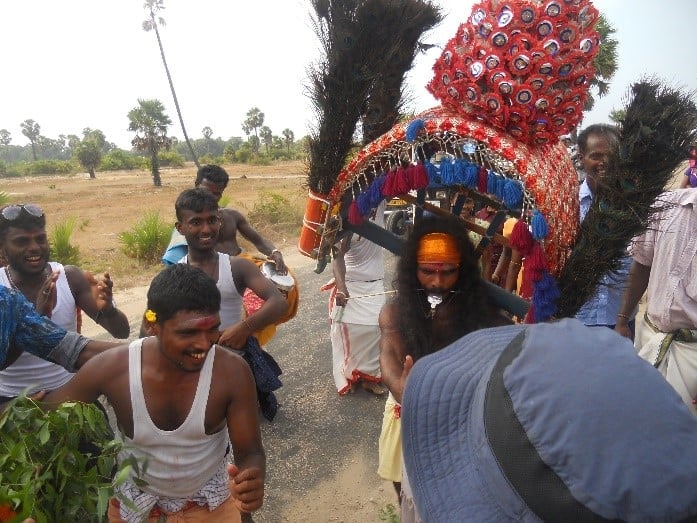 We opted for a trip to low-lying Delft Island next day.   This was reached by ferryboat from Kurikadduwan on an island in Jaffna Lagoon, is composed of black coral, and supports a small population, a strange square chimney-like tower, a temple, a herd of wild ponies, a baobab tree, a giant's footprint, a ruined fort, and a "growing rock".   An extraordinary place.
Our chartered fishing boat ride home (motoring or "non-motoring"?) from Delft provided an unexpected and never to be forgotten experience!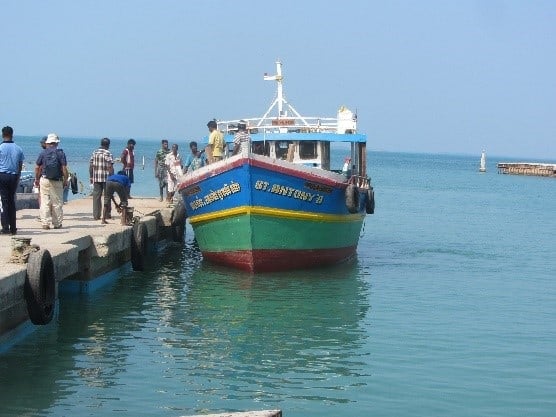 The following day, after stumbling through sand to the forlorn and half-buried St. Anthony's Church north-east of Jaffna, southwards to Trincomolee following the coast.  The road had only recently been reopened, post-War, and in many places reverted from paved to sand track, making driving a challenge.  Minefields either side of the road, houses with "Red Cross" painted on their roofs, concrete evidence of either pre-tsunami or pre-Civil War dwellings, and little vegetation of note.  Excellent lunchbreak at an isolated army R&R establishment (with birdwatching on the nearby lake – no visible crocs!), and later an LTTE experimental submarine development complex from the War.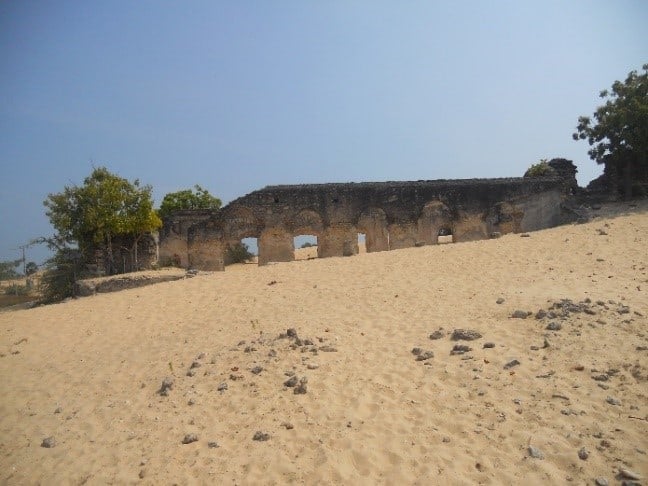 And so to Trincomolee and the superb Jungle Beach Resort some 20 km north of the town.   The peace of the nearby Commonwealth War Cemetery and an afternoon relaxing at the resort prepared us for the next busy and rewarding day's sightseeing.   The Maritime & Naval Museum, Fort Frederick with its resident deer, the busy Hindu temple with many Indian pilgrim visitors on Swami Rock on the clifftop, a boat trip to the base of the Rock below Lover's Leap, a stroll through the busy centre and snake-lanes of the town itself (colourful gateways and fences to the small houses) and finally, an early evening drive round part of the wonderful natural deep-water harbour brought to life the legendary and historical name of "Trinco".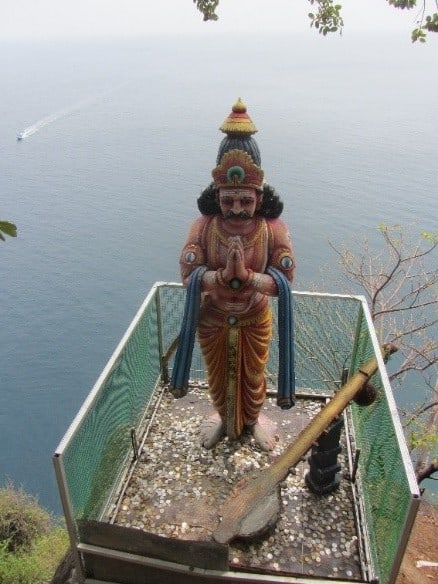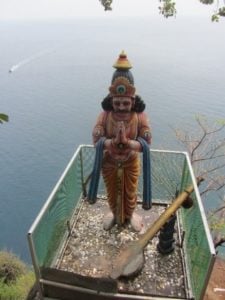 Our final day was a day of two halves:  train from Trinco station to Galoya Junction, thence to our accommodation at Wildgrass Resort, and from there the short distance to Sigiriya.   What a place!   From the initial walk through the Water Gardens and past various caves to the steps up to the frescoes, the Mirror Wall and then the Lion platform – and further on up to the ruins of the Royal Palace on the summit – Sigiriya truly warrants its World Heritage Site status.   Wonderful views.
And so – back to Negombo airport and home after a wonderful holiday, full of new "experiences" and excitements, led and guided by our two excellent and knowledgeable local friends, Sid and Saman.   Thank you both, and our thanks also to Zoe, Tom and the staff of Experience Travel for arranging these "experiences".
You can read more about Experience Travel Group's experience in North Sri Lanka with Andrew Eames and our intrepid explorers in 2014.
---