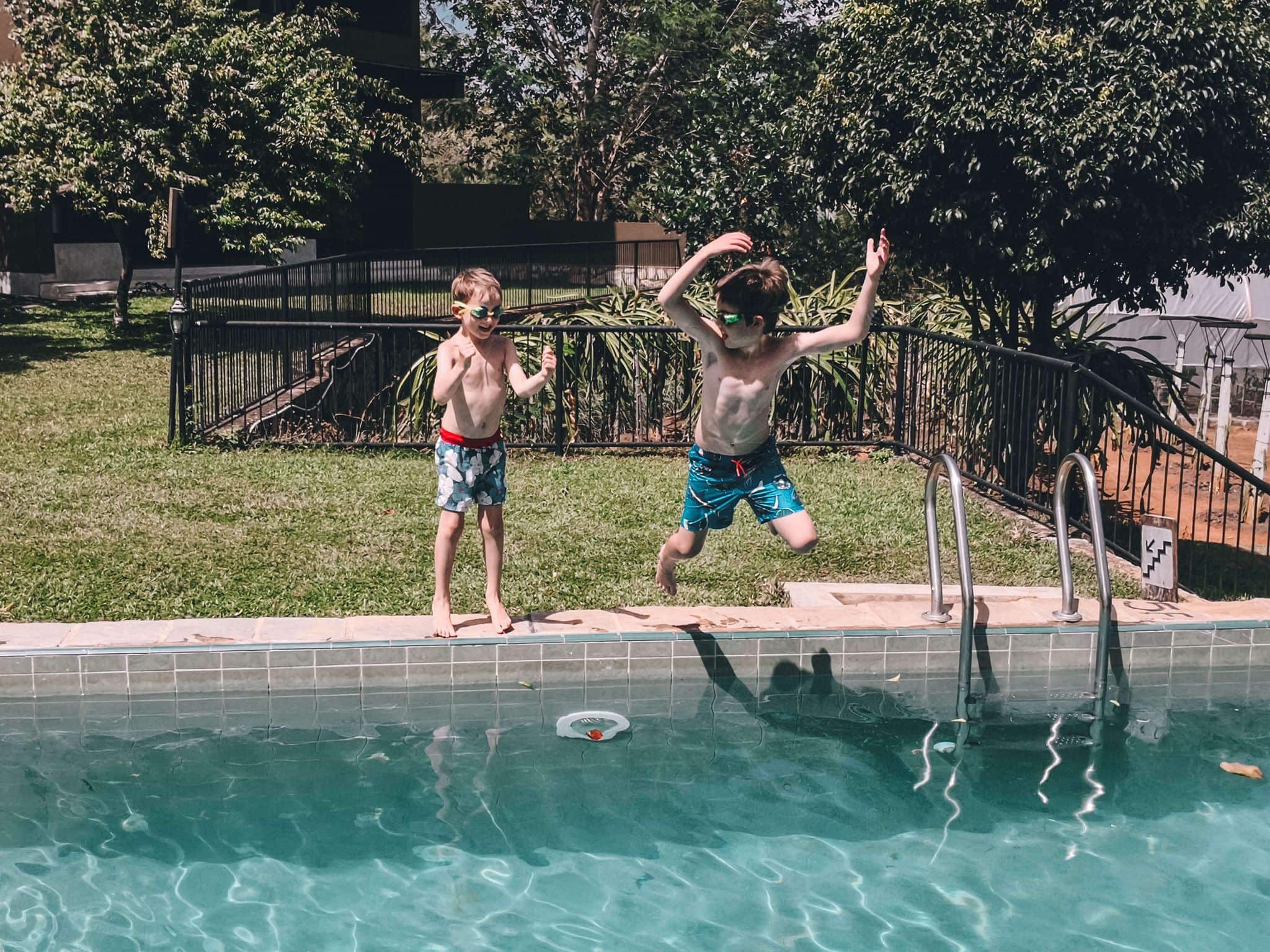 This post was written by Anneke, a member of the Experience Travel Group community. Prior to having her two boys, Anneke and her husband had always travelled independently. But, with kids in tow, Anneke decided it might be worth getting some support when travelling long haul – and that's when she found ETG. Here are her tips for family travel in Asia…
Don't put off travelling with your children! No matter where you go, how near or far, nothing opens children's minds like new experiences. Our two boys even get along better – they need and rely on each other as they explore new places, meet new people and encounter new activities and situations together. Adventurous travel doesn't have to stop when you have young children, but there are a few things that can make life easier. Here are my top 10 tips for family travel in Asia.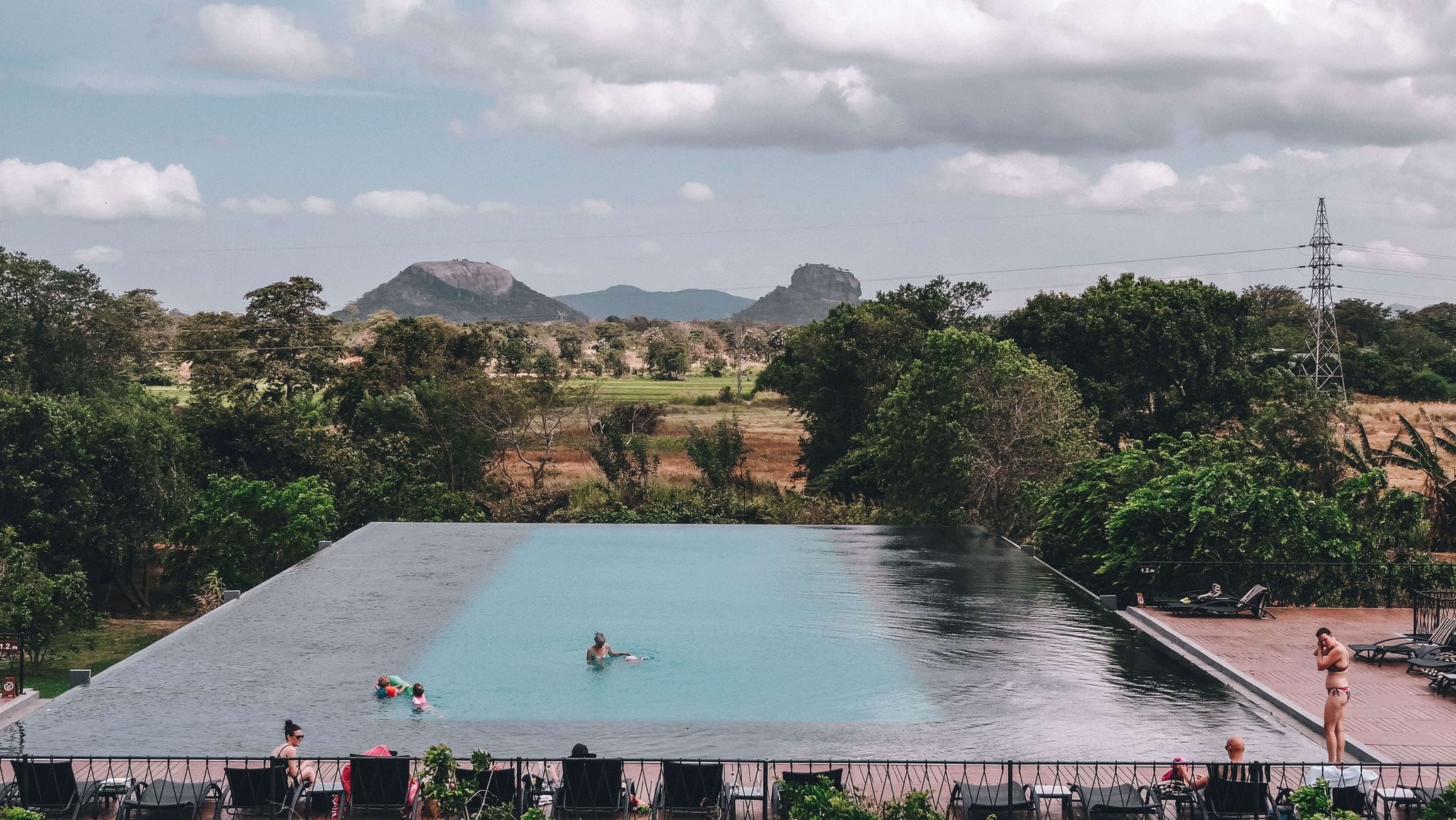 1. Pools are priority!
As far as possible we look for hotels with a swimming pool. If you've had a busy day of sight-seeing, hiking or sitting in a car there is nothing better than relaxing and having fun in the pool at the end of the day, or even a quick dip in the morning before heading out, or a night-time swim before bed… a pool is always a winner with children!
2. Plan for picky eaters
Our favourite hotels have been the ones that are off-the-beaten track, very small and local. This means food-wise you eat what you are given, rather than select from a menu. The food has always been delicious and we are lucky that our two boys will eat anything – weird looking, spicy, no idea what it is? – no problem, they will eat it! However, not all children are this flexible when it comes to food. The last thing you want on holiday is for every meal time to be a battle. So if you know your child is a picky eater then you may want to select hotels that are slightly bigger and so can offer a menu or a buffet.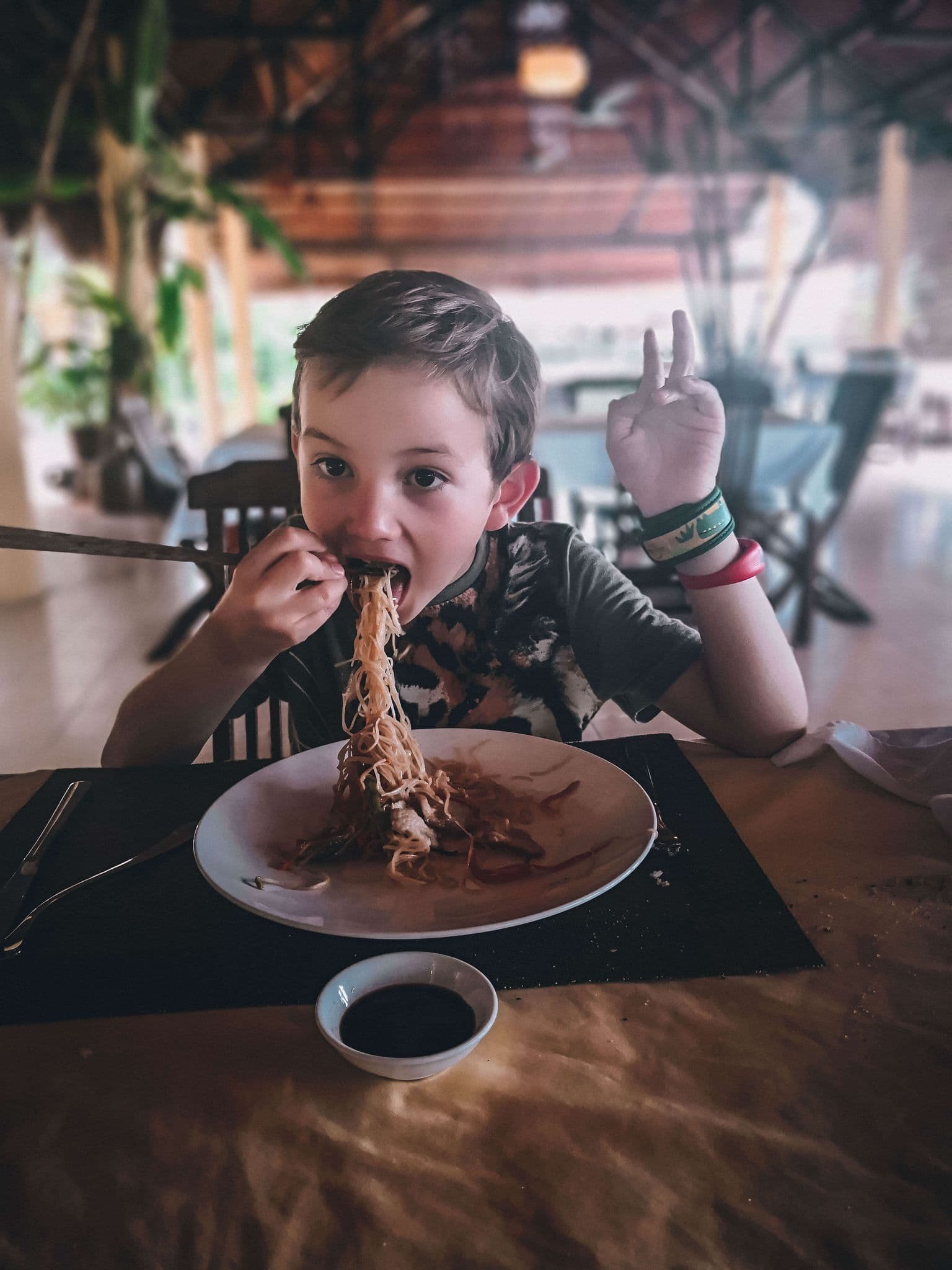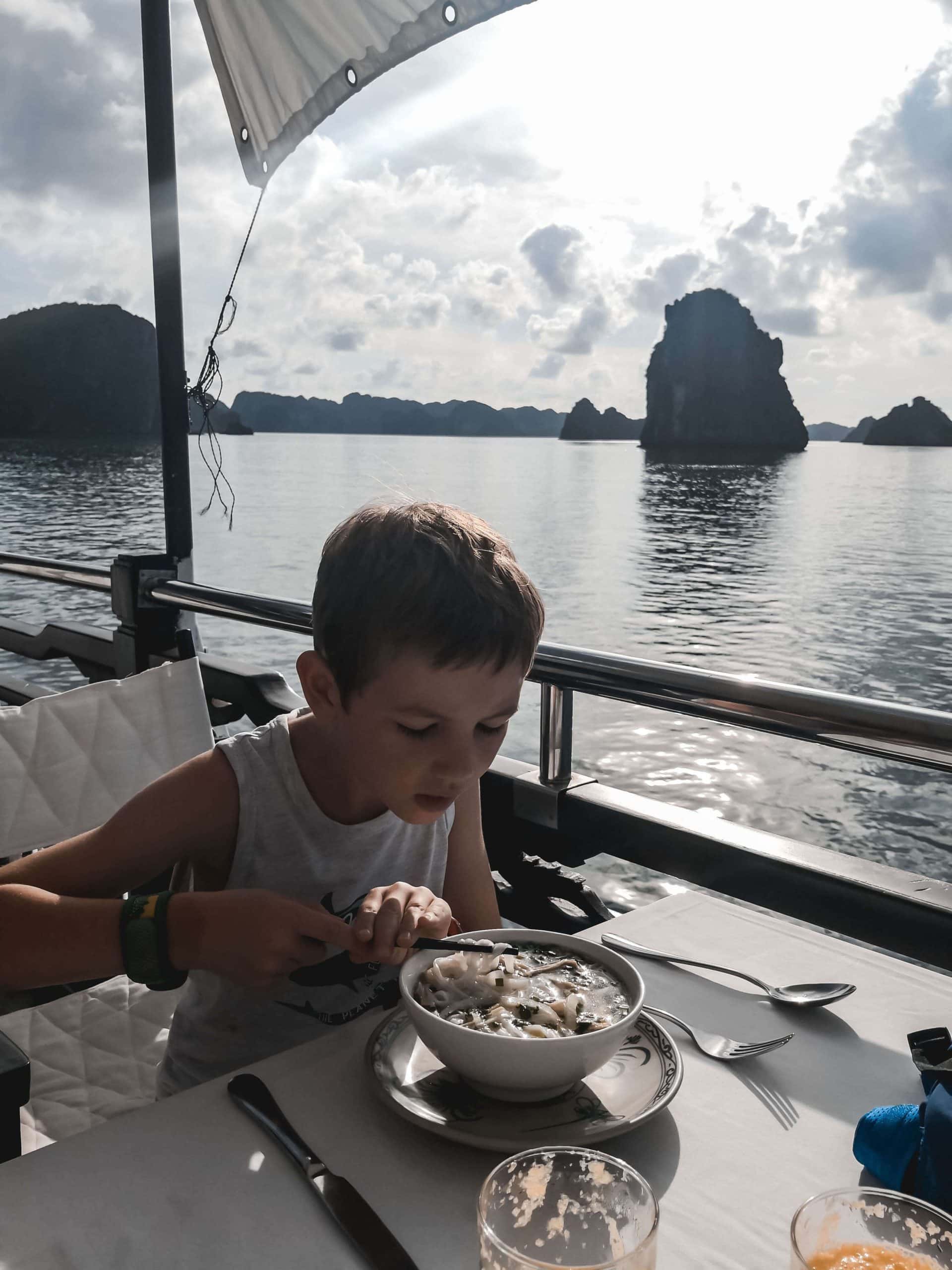 3. Start slowly
If you have the luxury of time, then starting the holiday slowly works well when travelling with children. Hitting the ground running after a 12-hour night flight with a 6-hour time difference doesn't. So, if we can, we try and have 2 or 3 nights in a hotel (with a pool) at the beginning of the holiday. This means we can get over the jetlag, acclimatise to the weather and food, and just start the holiday off on a refreshed, fun note. No rushing around. No early wake ups. You are on holiday after all!
4. Pack swimsuits & sarongs
I spent much of my childhood living in Kenya where everyone and anyone uses a kikoi. A kikoi is a single piece of colourful cotton cloth, traditionally worn by men – like a sarong. It's so versatile and we never travel without one each. They can be used as a scarf if you're cold, shade if you're hot, a shawl if you need to cover your shoulders or knees when visiting a temple, dodgy hotel… (unlikely if you're using ETG) …use it to cover smelly pillows, as an extra sheet if chilly on the night train, a picnic blanket, a towel – the list is endless. So I make sure we each have a kikoi and a swimsuit in our hand luggage. If your luggage goes missing then when you arrive at your hotel (with pool of course!) you can at least go swimming whilst you wait for your luggage to hopefully turn up.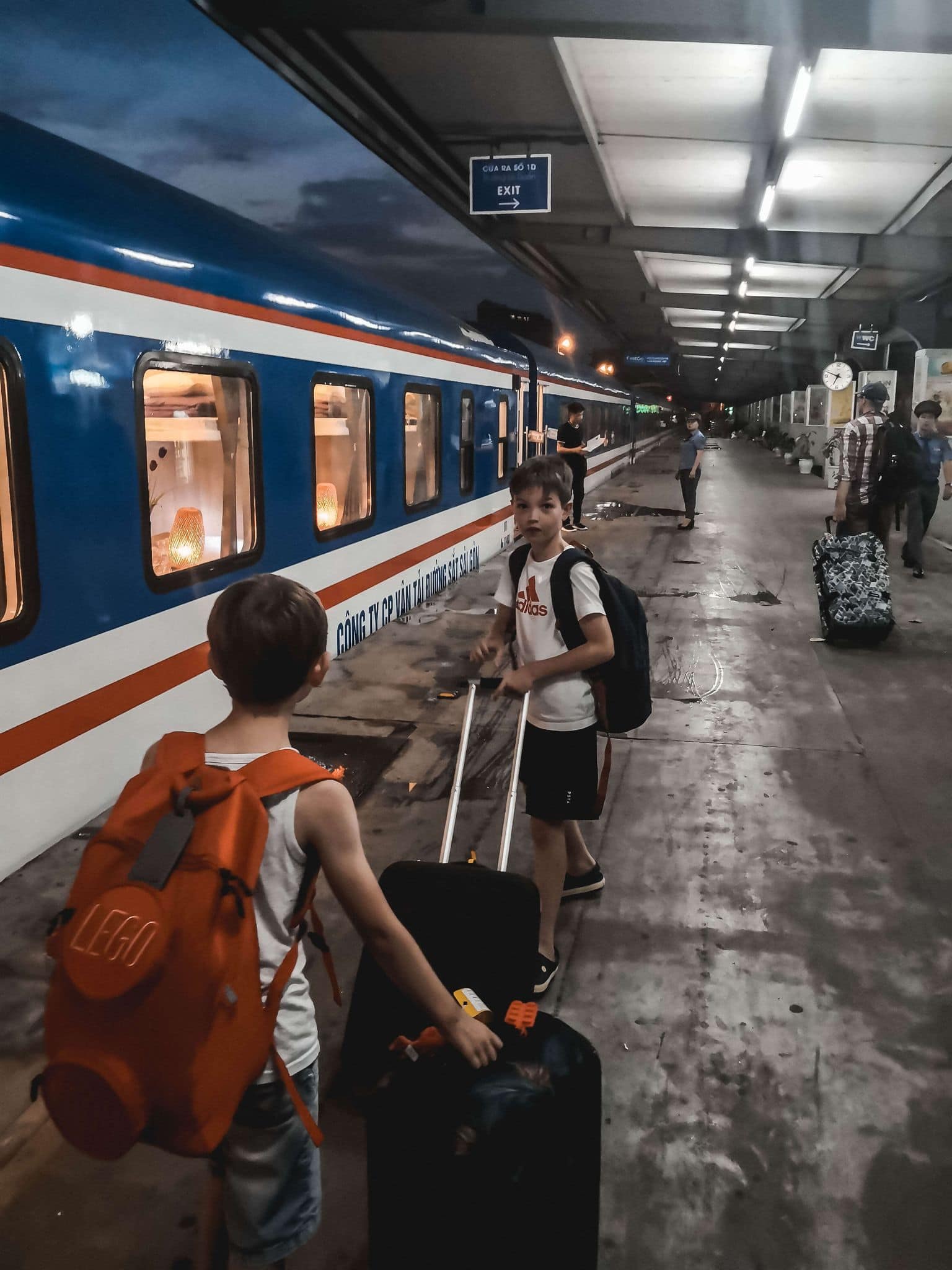 5. Embrace 'kid-friendly' activities
Know that when you travel with children there will be stuff you can't do, see or experience which you will really want to. ETG are great at planning an itinerary all will enjoy, but there are still things you will have to miss out on and you have to let that go (the Vespa night tour of Saigon comes to mind – we decided to wait a few more years for that one)! It's more important to create happy family memories and enjoy the experiences you can do, than feel frustrated about the things you can't do. In fact, what we, the parents, have enjoyed the most on our holidays have been the activities that were planned initially "for the children"!
6. Engage early on
Get your children engaged and involved as early as possible. The DK Eyewitness guidebooks are great as they have so many photos and maps. My boys love to look through them and mark the pages of anything that looks interesting to them. If possible, we try and incorporate their ideas into the itinerary. You can usually find children's books on the country you will be visiting too – fact or fiction – which are always fun to read before you go. ETG have some recommendations on their website. The ETG travel app has all the details of your itinerary and a map of the country with each place you will be visiting marked on it. My sons love to look at this map to get a sense of where they're going and how much of the country they will be seeing.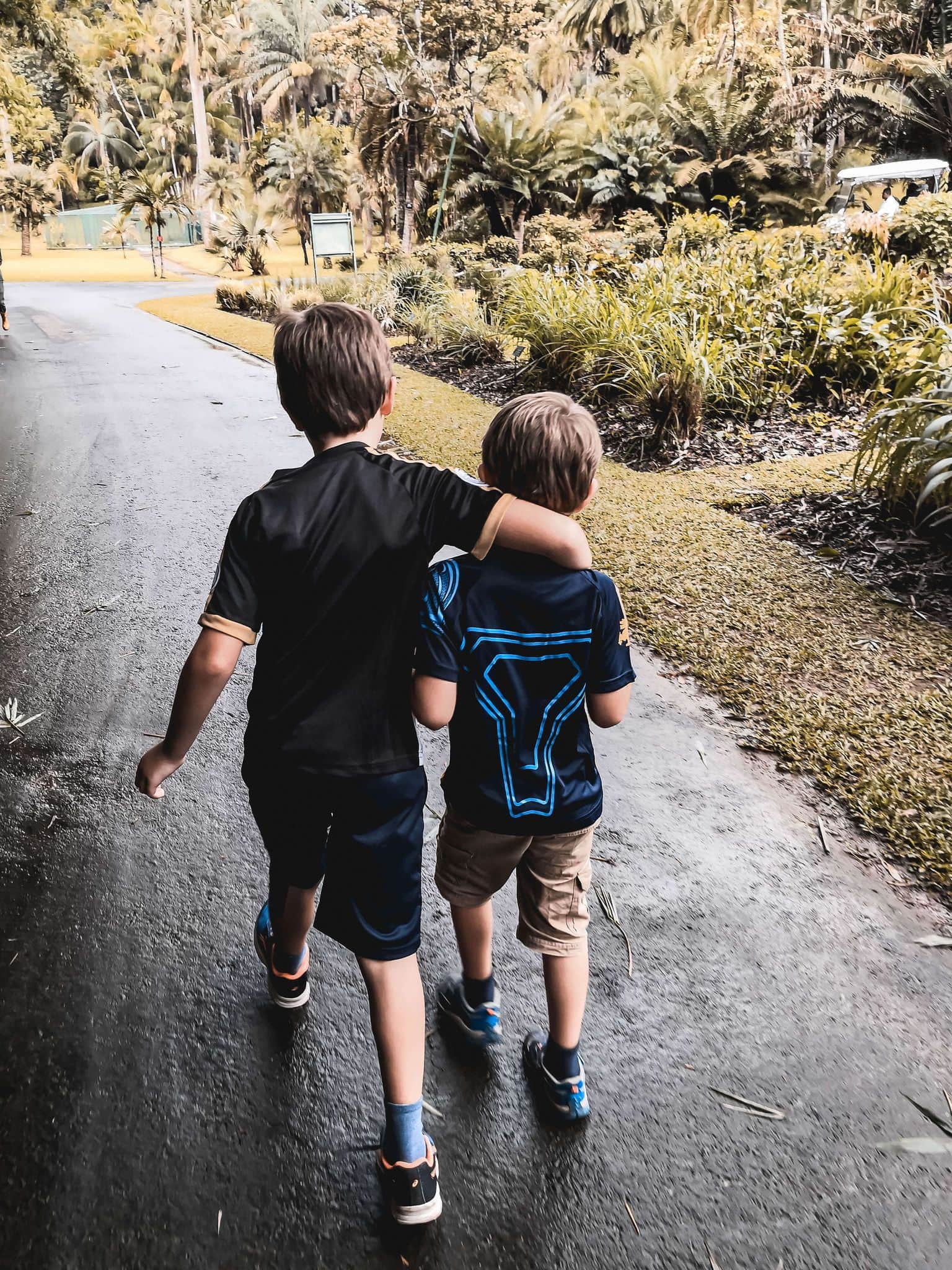 7. Carry small change
As in all major world cities, you are likely to see beggars. Whilst I believe it is generally best to support a local charity (ETG can advise) than to hand out money, it's difficult to walk by and do nothing, and our children feel this especially. We therefore make sure we always have some small change handy and encourage our children to smile and say hello.
8. Pack light
We find it works well to make sure our children can manage their own luggage and they love this responsibility. A hand-luggage sized suitcase on wheels for the hold and a small backpack as actual hand-luggage per child provides plenty of space. You don't need much when travelling in hot countries and you can do laundry along the way – in Hoi An we found a little place near our hotel that would do your laundry for the equivalent of a euro a kilo! Clean clothes and supporting the local economy. What's not to love?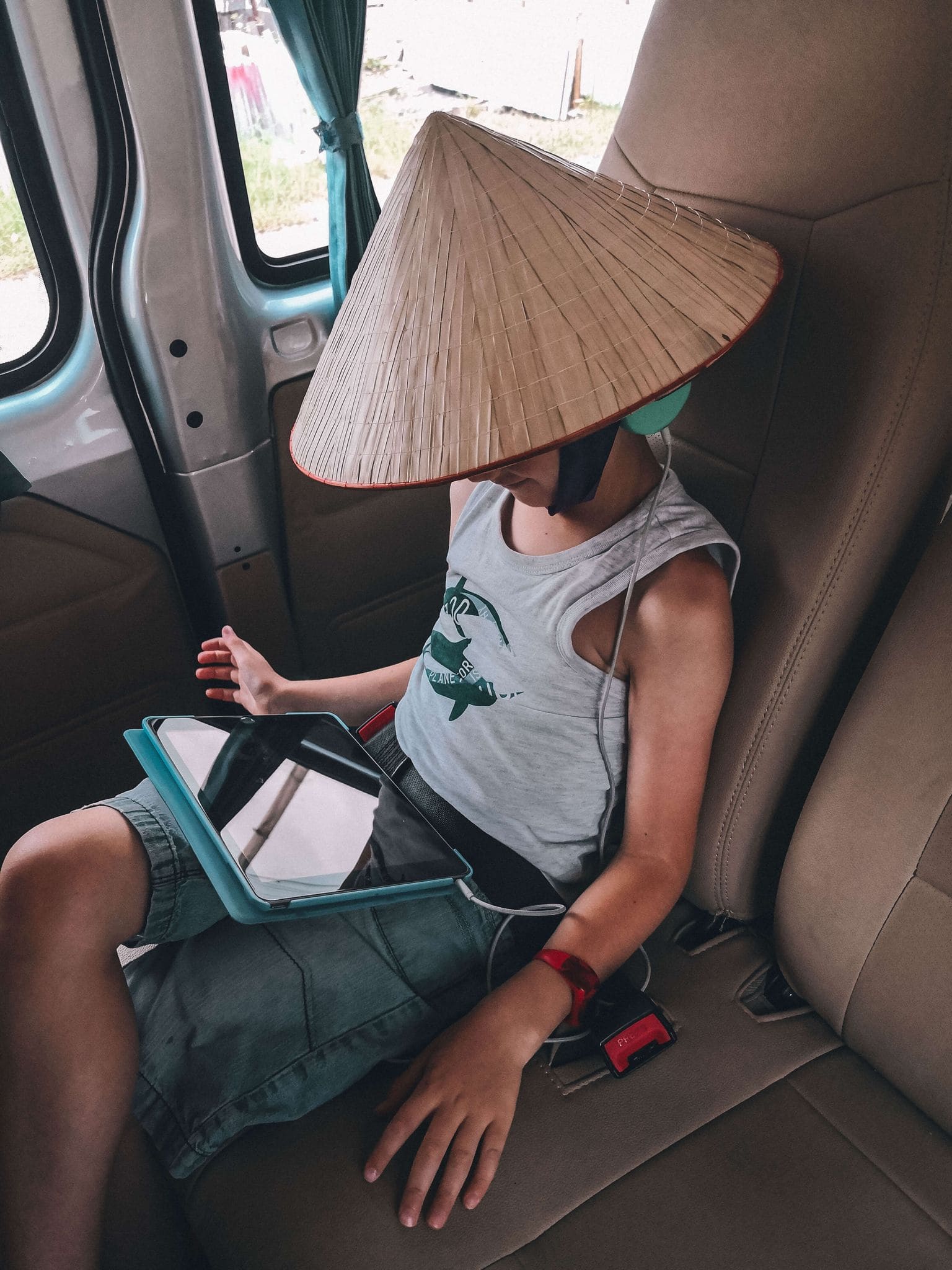 9. Where possible, fly direct
Direct flights are just so much easier when travelling with children. If it's affordable and doable fly direct – even if it means taking off and landing at ungodly hours. It's still easier than dealing with connecting flights which often means stressing about delays and missed flights, dashing for the next flight, missing luggage or long boring lay overs.
10. Bring Electronic Devices
Yes, we do bring iPads for the kids on holiday. They are just so handy for long flights, long car rides, long train rides, and providing some quiet time whilst Mum & Dad have a siesta to avoid the midday sun. We make sure to download movies and books before we go or wherever there is free Wi-Fi. Plus my kids love making holiday vlogs and this can keep them entertained for hours! Who knows, we may have the next Simon Reeves on our hands.
So those are my tips.  Do you have any more tips for family travel in Asia?
CURIOUS ABOUT FAMILY TRAVEL IN ASIA?
Get inspiration for your family holiday to Asia.
For personalised travel tips, give us a call on 020 7924 7133

We don't believe in standing still. Watching the world go by through a window. Hearing it through the stories of others.
You want to be in it, out there. Asking questions and finding answers. Finding yourself in worlds unknown. Finding the path less trodden. Meeting people with a different story to tell.
Just ask why, what, how, who? We'll never stop helping you find the answers.
Our travellers come home with stories to tell, memories to keep and new ways of seeing their lives around them. That's what happens when you truly connect with a destination.
FREE YOUR CURIOUS SIDE WITH EXPERIENCE TRAVEL GROUP

FREE YOUR CURIOUS SIDE WITH EXPERIENCE TRAVEL GROUP