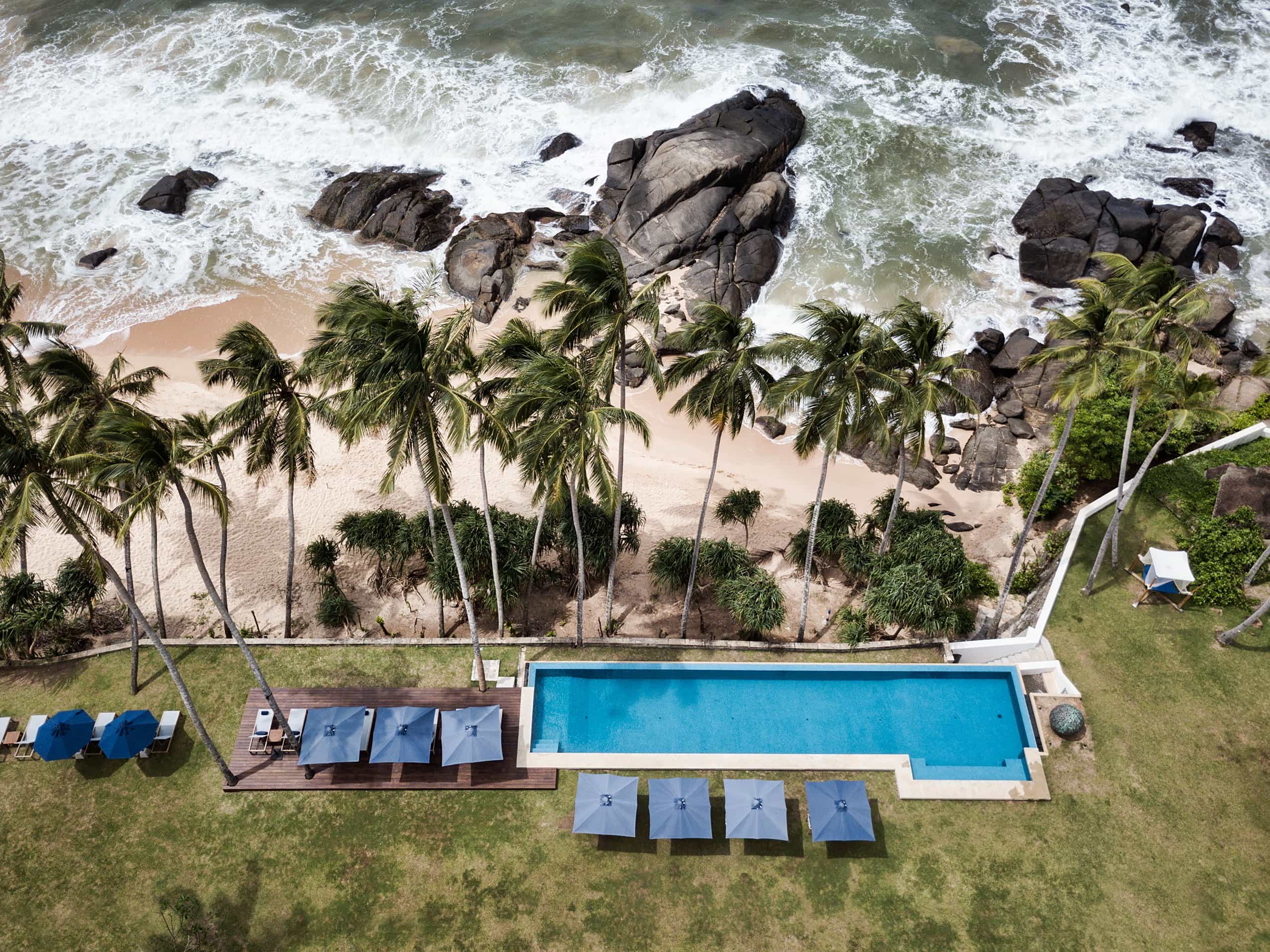 I don't know many travellers who haven't had a 'moment' with a special view. They inspire awe, wonder and contentment; the very best views in the world feel almost life-affirming. Whether it's waking up to the mist rising from a forest canopy or toasting a sundowner over twinkling city lights, an incredible view is hard to beat. Here are a few of the best hotel views in Asia,  as selected by our team of passionate Asia specialists. If you're a sucker for a beautiful vista, these are all for the bucket list.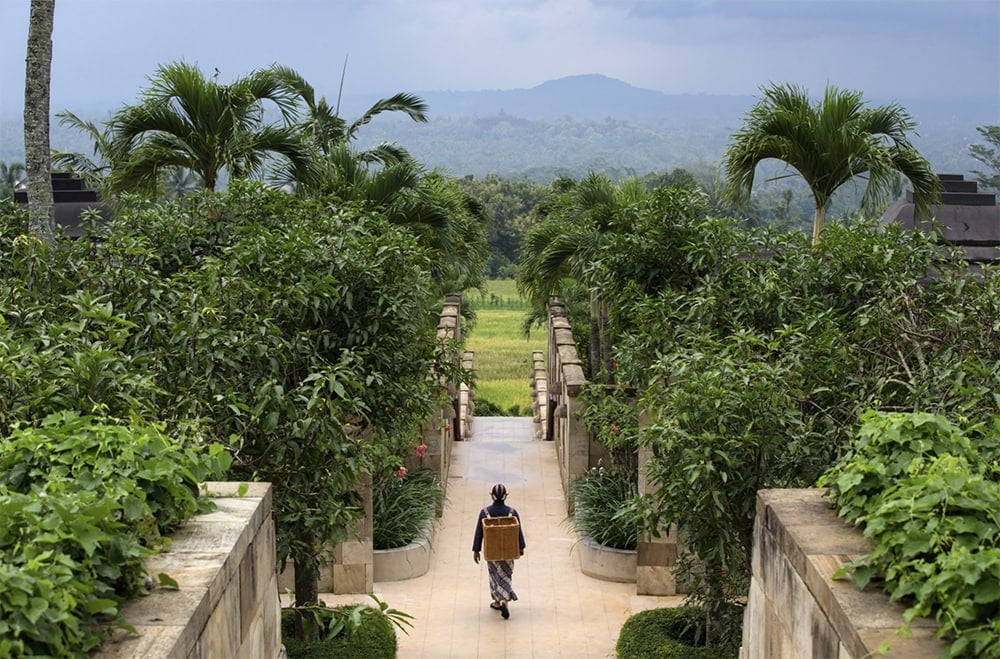 Best hotels for iconic views
Amanjiwo, Indonesia
Without a doubt, Amanjiwo has one of the most remarkable hotel views in Asia. As you approach the entrance to the hotel, the mystical Borobodur appears on the horizon. Past the lobby, the hotel crawls down a verdant hill, with views of paddy fields and woodland all unfurling around the ancient temple. In the far distance, four volcanic peaks tower over the horizon. It is truly extraordinary, and, when combined with the luxurious amenities of impeccable service that you can expect from Aman properties, becomes a real once-in-a-lifetime stay. Head to the Aman website to watch their inspiring video on the property.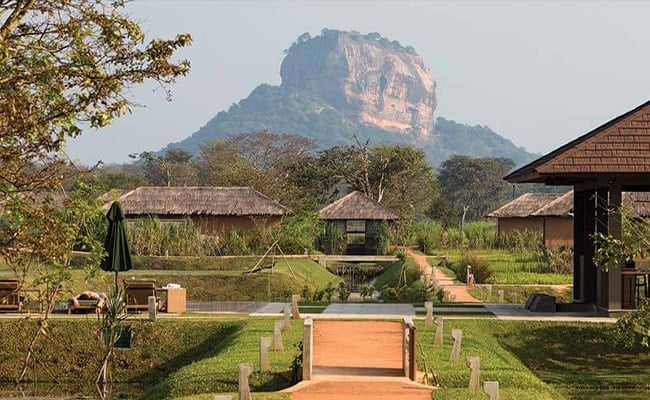 Water Garden Sigiriya, Sri Lanka
One of our very favourite properties in Sri Lanka's cultural triangle, Water Garden Sigiriya is just 20 minutes from the main attractions but feels pleasantly rural. Thirty luxurious villas are dotted among a network of rivers and streams modelled on the ancient water gardens of Sigiriya, with rolling green farmland beyond. But the pinnacle of the views here is that of Sri Lanka's most iconic site itself, Sigiriya Rock Fortress: this tranquil haven offers one of the best places to soak it up in the entire area.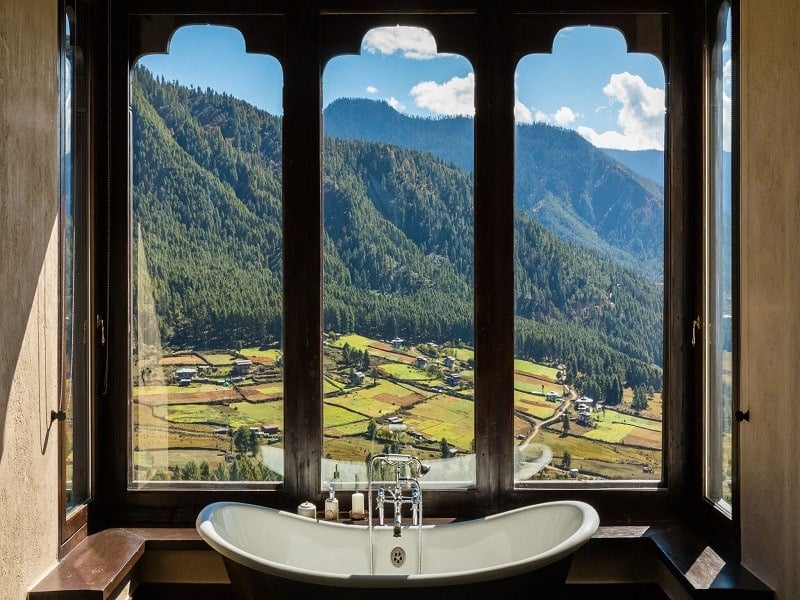 Best hotels for mountains views
Gangtey Lodge, Bhutan
There is no shortage of exceptional hotel views in the unique Himalayan kingdom of Bhutan, but the vista from Gangtey Lodge has to be one of our absolute favourites. The property is a luxurious converted farmhouse in the rolling hills of the Phobjikha (Gangtey) Valley. Retreat here after a long day's hiking to welcoming service, hot apple cider, and magnificent views from the terrace, a toasty fire lit behind you.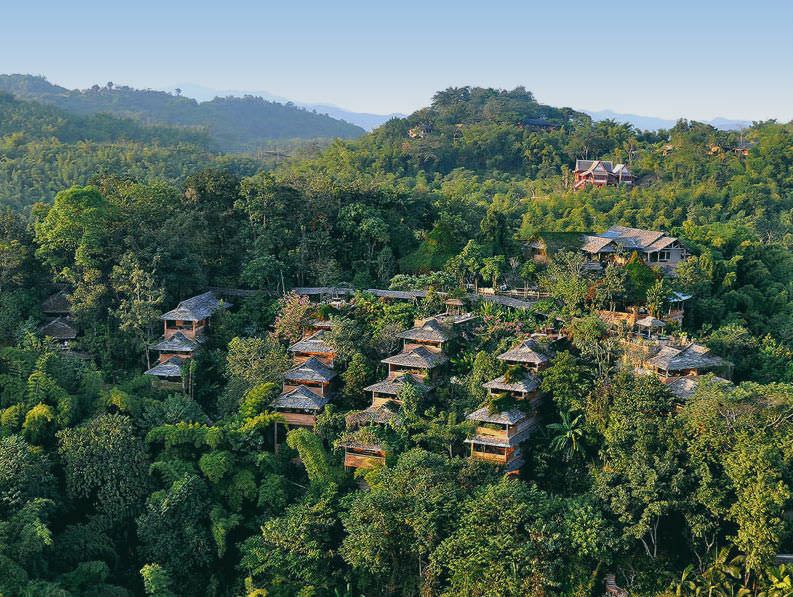 Phu Chaisai, Thailand
Most visitors to Thailand flock to Bangkok or the beaches, meaning that the mountainous regions in the north are surprisingly little explored. Up near Chiang Rai you'll find the glorious Phu Chaisai mountain resort, a little slice of heaven encased in bamboo structure and lush green hills. The irresistible restaurant is perfectly placed for cocktails or dinner with a view, and waking up to such incredible vistas is a real treat.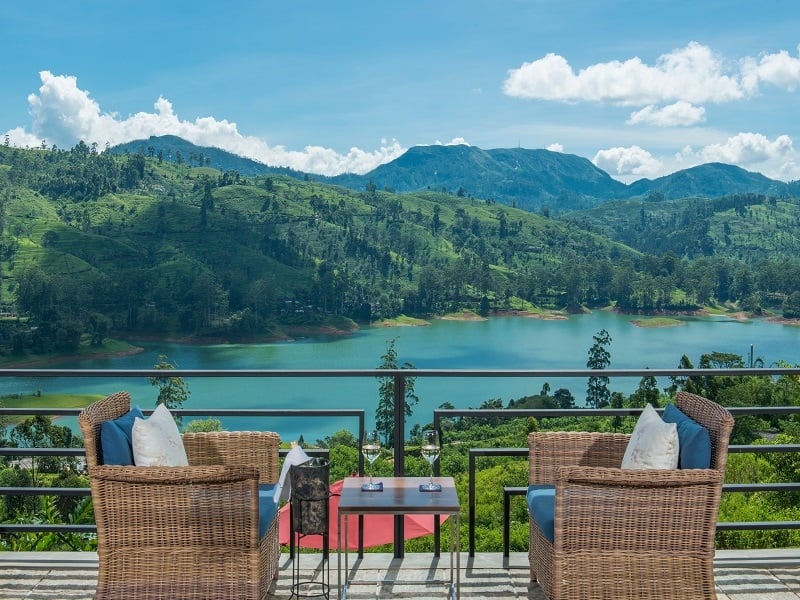 Camellia Hills, Sri Lanka
Sri Lanka's hill country is astronomically beautiful, and there is a wealth of remarkable hotels from which you can enjoy it. We love Camellia Hills for its intimacy: with only five bedrooms in a converted tea planter's bungalow, you feel like you have the breathtaking landscapes all to yourself. It's located in the mountains of Dickoya in the western hills, a lesser explored region, and offers exceptional views of the Castlereagh Reservoir, tea fields, and pine forests. A great option for families too.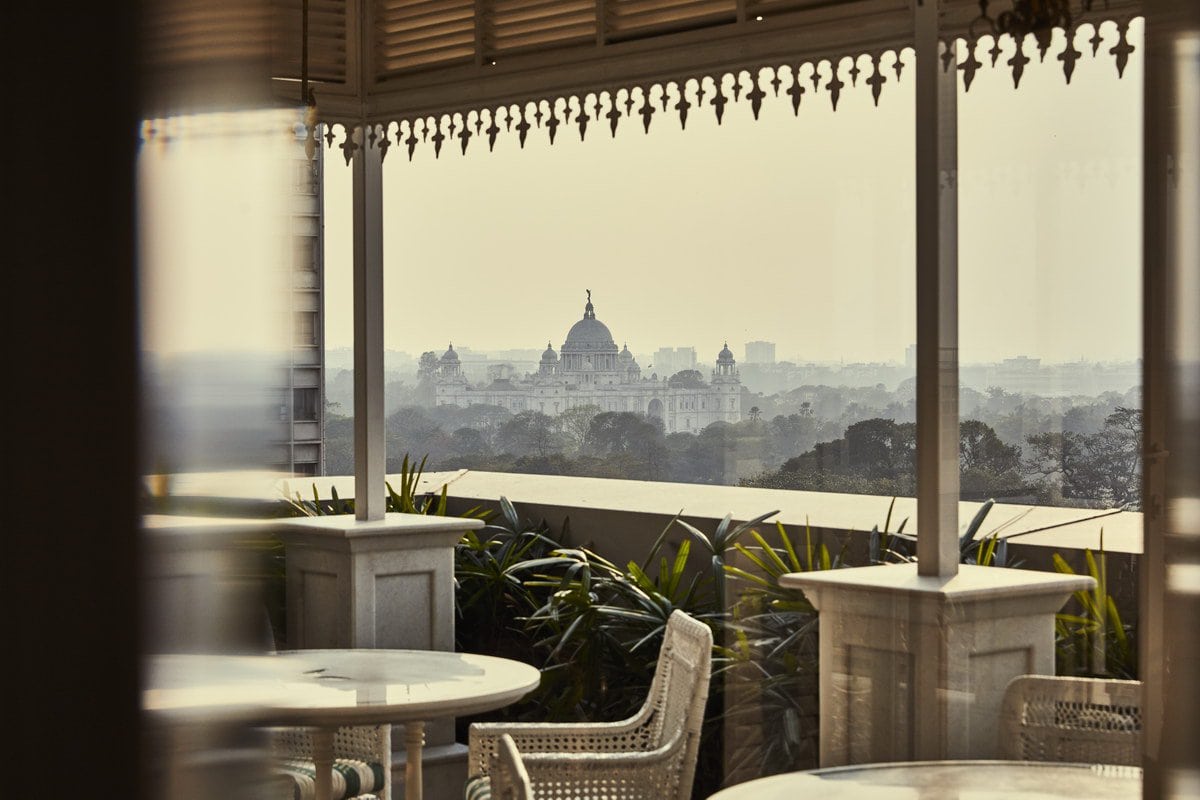 Best hotels for city views
Glenburn Penthouse, Kolkata
 High above the hectic streets of Kolkata, you'll find Glenburn Penthouse, a colonial retreat with unparalleled views of the city. As this property was opened by owners of the renowned Glenburn Tea Estate, you can be sure of impeccable design and elegant rooms. Take in excellent views of the Maidens and the iconic Victoria Memorial from the rooftop pool or as you tuck into afternoon tea.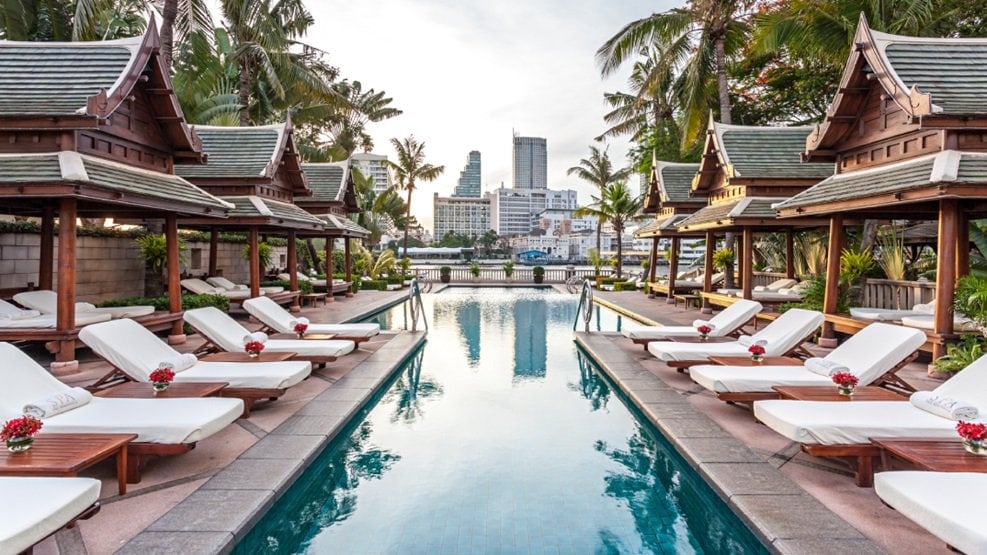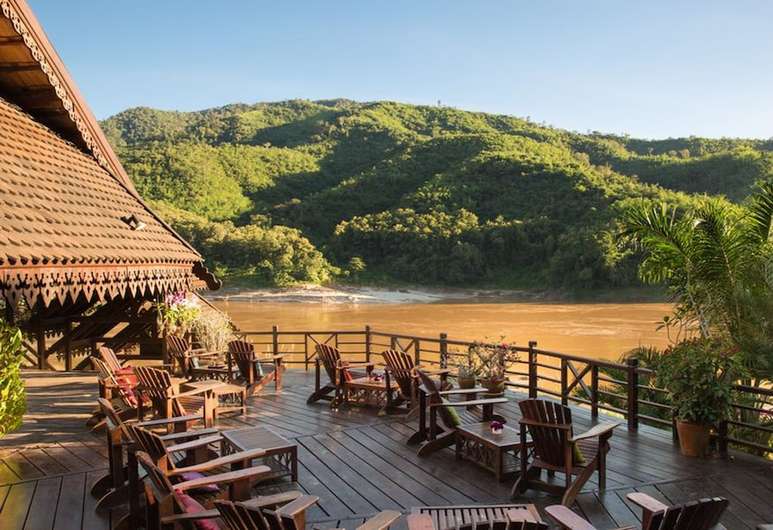 Best hotels for waterside views
Luang Say Lodge, Laos
A simple lodge built into the banks of the Mekong River, Luang Say Lodge is the perfect place to enjoy the extraordinary riverside scenery after a day of cruising in Laos. It has 25 charming wooden cabanas linked by panelled walkways that are rustic yet stylish, and a central restaurant serving good food and wine. The town of Pak Beng is just a 15 minute walk away, but most people tend to spend an evening here relaxing with the magnificent views.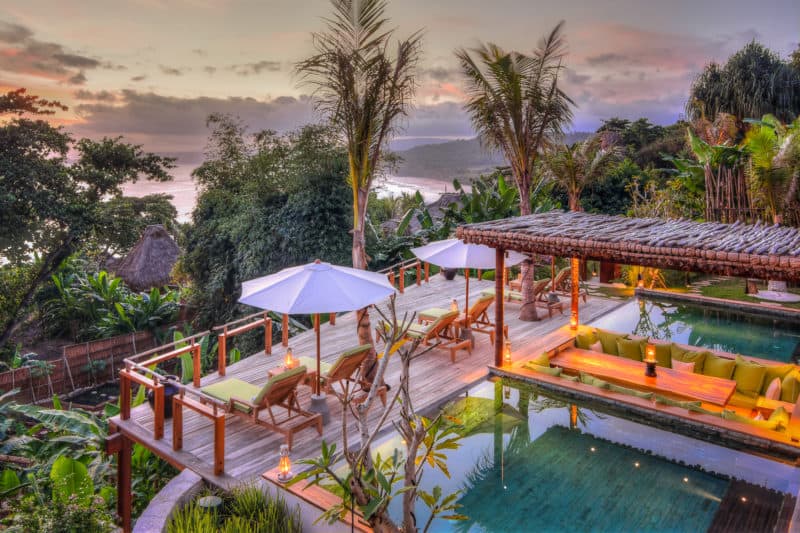 Nihi Sumba, Indonesia
For unparalleled views over one of the best beaches in Indonesia, it has to be Nihi Sumba. This intimate island retreat is one of the most exclusive spots in the country, with miles of untouched coastline just waiting to be explored and admired. Views can be best enjoyed from the sand at an ocean-front dinner, from the edge of your private infinity pool or from the window of your luxury treehouse. Take your pick.
---
DO YOU WANT TO STAY IN A HOTEL WITH AMAZING VIEWS?
Head to our website for more ideas and information about travelling to Asia.  Feel free to let us know if there are any hotel views in Asia we haven't included or the type of view and setting you're looking for.
You can reach us on 020 7924 7133 or make an enquiry.