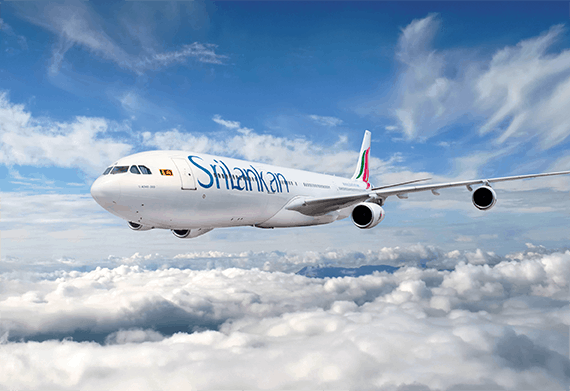 Many ETG travellers seem a little hesitant to book with Sri Lankan Airlines, preferring the more familiar Emirates or BA. However, looking into the details for Emirates or BA for a Sri Lanka holiday reveal those airlines to be less favourable. They often have awkward flight times, meaning you'll be exhausted at take off or on landing. You may also have to stop over for hours at another airport, and the prices are usually quite high. The next question then becomes: What is flying with Sri Lankan like? With their affordable prices, civilised flight times and direct route from London to Colombo they are, in my opinion, one of the best options on offer.
---
I had my first Sri Lankan Airlines experience on my first ever trip to the country, back in summer 2015. The Airline have a new set of planes which means all the furnishings are new, and the in-flight entertainment system is very good. The flight is long-haul – 10 hours 30 minutes in general – and I found my economy seat to be fairly comfortable and easily adjusted. I even managed to get some sleep during my flight. The food was very tasty; I opted for curry and whilst not the best meal of the whole research trip and it was certainly one of the best meals I've ever had on a flight.
---
The on-flight entertainment system was good, with a mixture of classic films and new releases. It's all touch screen and easily navigable. The staff were great, and although I did have to ask for extra water when I got a bit thirsty, it is safe to say it was promptly delivered.
One particularly good aspect taking me by surprise was that flying Sri Lankan Air already helped me absorb the culture of the country. I was surrounded by both British and Sri Lankan families on their way to and from visits to friends and relatives. My anticipation for arriving was all the more heightened, and the flight attendants looked very glamorous in their Saris.
All in all I would not hesitate to book a flight to the country with Sri Lankan Airlines again. The overall experience is very comfortable and the journey is good value, very convenient, and prepares you very well for your holiday.
Inspired to travel to Sri Lanka? Experience Travel Group started out in this incredible country over ten years ago, specialising in tailor-made holidays there ever since. Here are some of my favourite Sri Lanka holiday ideas:
If you'd like to talk to a specialist you can always phone on 020 7924 7133. Remember there are absolutely no obligations and we're here to offer advice for any stage of your holiday planning.