I have recently come back from a work trip to Laos and Vietnam (lucky me!) and discovered what I think is one of the most breath-taking journeys I have ever embarked upon. Running 448km from the most northern province of Laos to Luang Prabang, the Nam Ou River is not only surrounded by some breath-taking scenery but is also a fantastic way to experience daily life for many of Indochina's ethnic minorities as part of a holiday in Laos.
We were coming from Muang La, so the 45-minute drive to the boat landing at Muang Khua was nice and simple. On arrival at the riverside, amongst all of the chaos of cranes being lifted onto horrendously tiny boats and the local celebrity loading up his (incredibly out of place) hummer-type vehicle onto a particularly cranky and stinky barge, we managed to find our vessel for the day, a 30ft long and 4ft wide wooden tub. Contrary to its external appearances, the boat was actually incredibly comfortable – thank god as we had a 6-hour journey ahead of us! The seats were like those you get in a racing vehicle and were placed well away from the engine so you didn't get too harangued by the noise.
As you set off from Muang Khua you go past loads of relics of gold mining, both past and present, with pebble islands dotting the river as you go. The hillsides are lush and green and despite the constant cloud cover the temperature is already at a balmy 28 degrees – it is only 10am – so the breeze off the boat is amazing. About an hour down river you begin to come out of the gold mining area and head into the middle-of-nowhere, where the riversides are clad with bamboo forests and semi-wild hogs. Now and then, with a tell-tale boat tied up at the river bank, you will see a group of children bathing and playing in the water, or one of the typically stilted houses of the Khamu tribe situated just above the high-water mark.
In fact, it was just in this isolated area where our boat started to fill up with water. We pointed it out to our guide who of course just smiled and said 'yes! Water!'. When the water didn't subside on its own and instead continues to rise to about 5 inches the smile did start to disappear however and we chugged toward the bank, sending a group of pigs running. While the helmsman and our guide, Lanxang started bailing out the boat it gave us a great opportunity to explore the river bank, with so many butterflies and lizards hidden away in the trees. It wasn't long however before they fixed the bilge pump and we were on our way once more.
We were provided with another opportunity to have a break and explore when we came across a village that Lanxang was familiar with. The village consisted of a group of different ethnic groups and was only accessible by the river, there are no roads here. We were kindly invited into the family home of a Hmong man that Lanxang knew from years past. They provided us with a sweet drink and some cucumber slices which were above and beyond seeing as the poverty is so clear here. Despite having four generations in the same one bedroom, wooden, non-water-tight home, these people are so generous it is astounding – it is certainly something you would be surprised to come across here in the UK. Touched by their kindness and after ogling the cutest new addition to their family, we headed to the shop to buy some crackers for the kids and a new baby-grow for their 3-month old. Little did we know that in thanks for their gifts the head of the household, an elderly man with very few teeth, would insist on us sharing many a shot of Laos Laos, the local pungent rice liquor that tastes more like paint stripper than anything else. However, it is by far the most authentic and genuine experience I have ever had with tribal communities and the banging headache I had a few hours later was well worth it!
Reluctantly heading back into the boat, we continued downstream and rounding the bend about 2 hours from the town of Nong Khiaw to the jaw-dropping view of dozens of limestone karst monoliths standing proud and jungle-clad in the plateau ahead. The photos that I took (and there were many) don't do the scenery justice at all. It is something that really has to be seen to be believed as nothing can describe the lush greens and the ragged rocks peeking out from behind the vines. You even get lucky and can spot the odd cave in the rocks, many of which were used as administrative centres during the Secret War.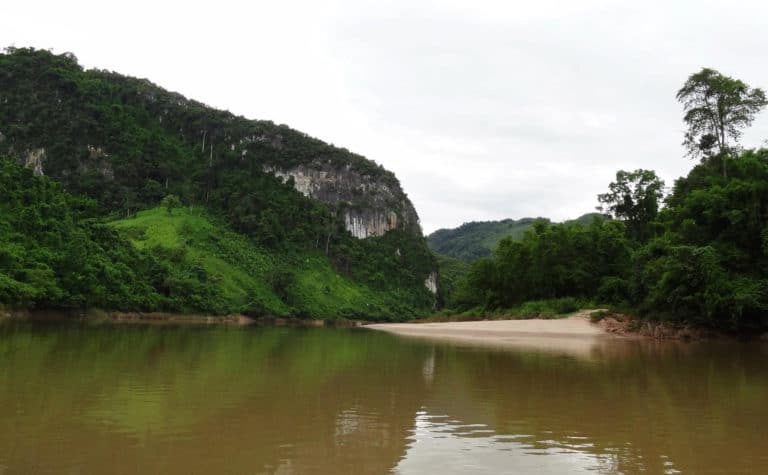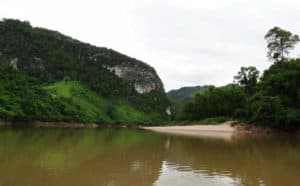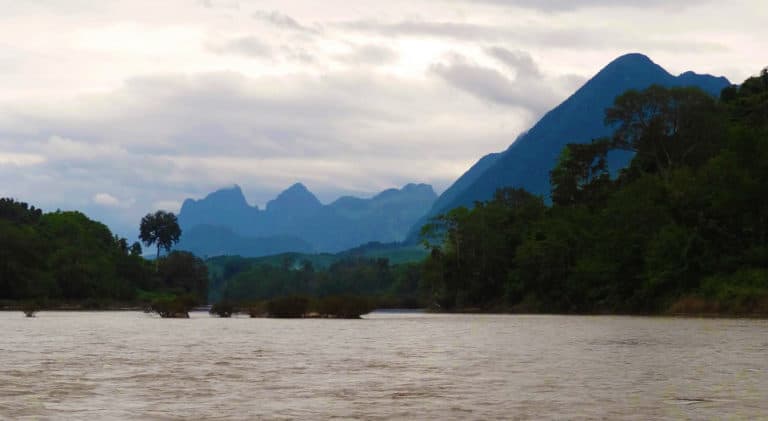 Rounding up the day, with the sun slowly setting behind the mountains, we made our way into Nong Khiaw which was to be our stop for the night. The town is in a stunning setting and has a bit of a backpacker vibe so it was only polite for us to enjoy a little more Laos for a mojito sundowner…. The journey took 6 hours give or take, and was so beautiful I was sad to end it. We had met and made new friends, and explored a part of this country that very few people even know about (Wikipedia only has 2 lines to say on it and clearly this is the best way to gauge how well known it is).
If you are fortunate enough to be going to Laos, you would be crazy to miss out on a trip on this majestic river. You can even do one better and continue the journey down to Luang Prabang where the river meets the mighty Mekong – lucky things. Have a look at this itinerary too – which you can look at and we can adjust to suit you if you like.