On his research trip to Myanmar, David tested the two latest ballooning experiences. From floating over the stunning Lake Inle to enjoying spectacular aerial views of Ngapali Beach, he's had a lifetime experience, twice!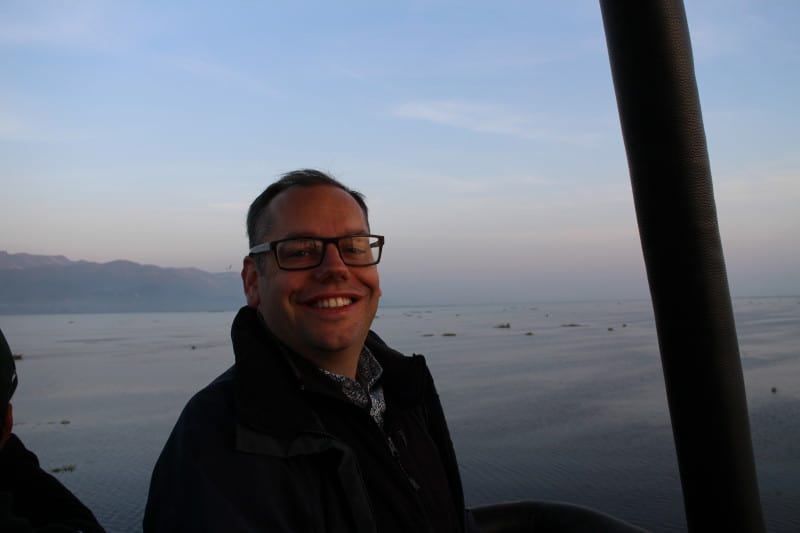 ---
Hot air ballooning in Myanmar
Most clients choose to take hot air balloons in Bagan and it has become increasingly popular with several companies offering rides with up to around 20 flights each morning. There has been some concern that the balloons may get too close to the temples and possibly cause them damage. So, some new rules have been recently introduced banning flying below 300 ft and not flying directly over the archaeologic zone.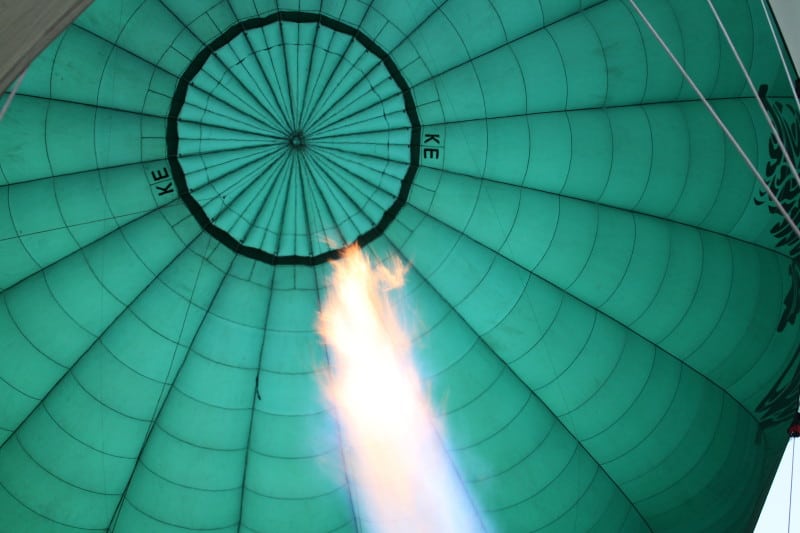 I spoke to a couple of balloon pilots on my recent trip to Myanmar and they have been frustrated by this as they believe the risk is minimal and there have been no near misses with temples over the 16 years and they hope that rules will be changed after some further consideration. Although I have not yet had a chance to fly over Bagan, it still sounds like it remains a wonderful (and only) opportunity to see the sheer number of temples as far as the eye can see.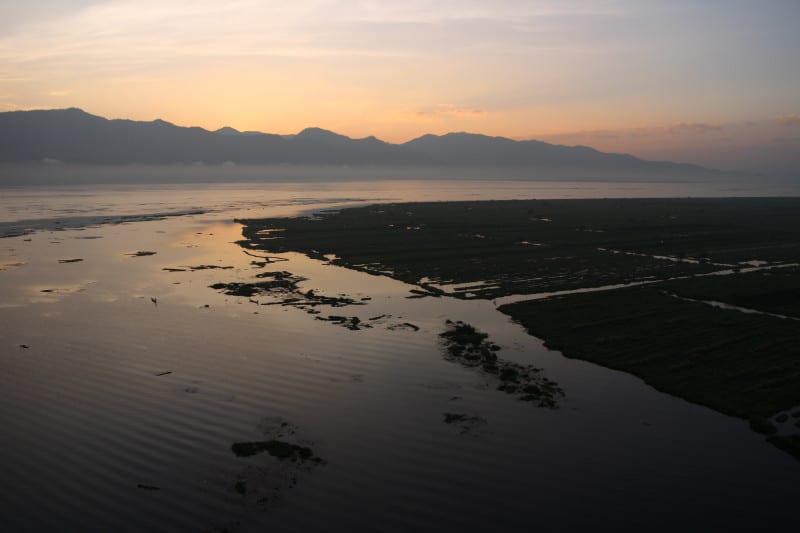 Morning flight over Inle Lake
I was, however, really lucky to get the opportunity to fly over Inle Lake with pilot Bill from Oriental Ballooning. This is a relatively new experience – with flights starting just over a year previously – and it was my first ever balloon ride and what a magnificent early morning it was! After zipping across Inle Lake by boat from my hotel to the launch site, myself and 3 others were treated to coffee and pastries before a safety briefing with Bill. The balloon was inflated right in front of our eyes and we were soon asked to climb into the basket and adopt the safety positions while the excellent local ground crew made sure we were ready for take-off.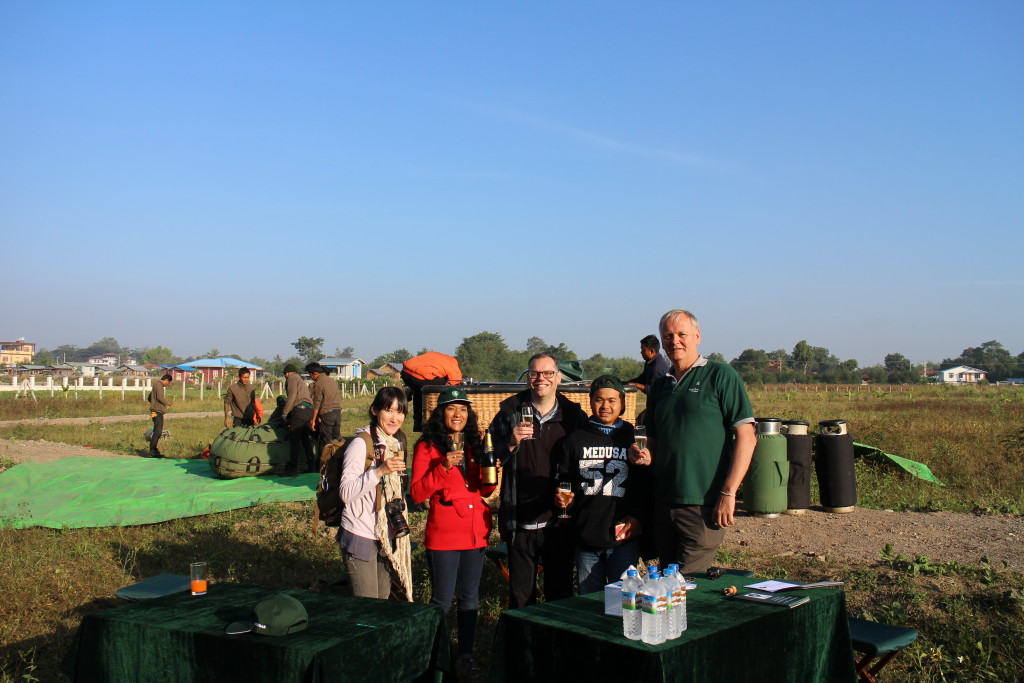 We gently rose up into the sky and could see the lake ahead of us, with the mountains silhouetted against the break of dawn, while the floating gardens famous for growing vegetables were below us. Bill expertly controlled the balloon, lifting it higher and lower and even being able to rotate it so that we could all get great views which were also made very easy as we had the luxury of a small basket with 4 people – 2 in each compartment. We flew for an amazing 90 minutes or so above the lake fishermen with their unusual leg-rowing, the geometric shapes from the floating gardens, the mountains and the mist in the distance and – most fun of all – flying low over the stilted villages and monasteries and being able to wave and shout Mingalabar to the locals!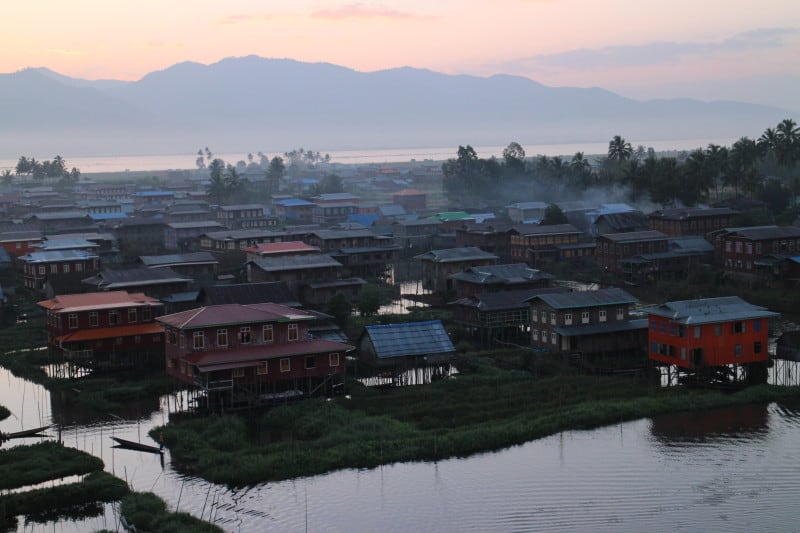 [at one point Bill pointed out 4 boats were following us with the ground crew in – two of which were joined together with a landing pad in case the winds prevented the balloon from reaching across the lake]
As if this wasn't enough exciting enough Bill and I got chatting about Oriental Ballooning's brand new destination with flights from Thandwe near Ngapali beach and after a few phone discussions and e-mails later I was booked in to do their 2nd ever commercial flight there.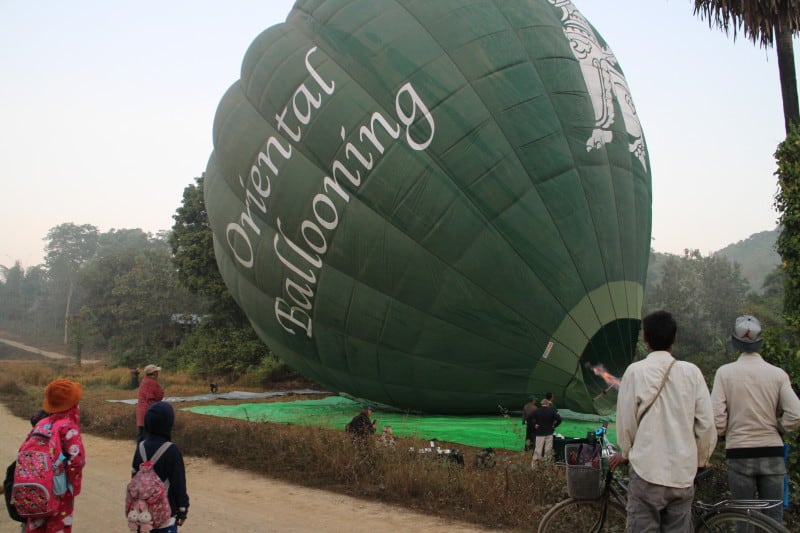 Flying over rural Myanmar
This time, the pilot was Allie who has over 1000 hours of flying experience and I was joined by her husband Phil (also a pilot but unofficial photographer this time) and a delightful mother and daughter from The Netherlands. It was about a half-hour drive from the hotel to the launch site – a small farmer's field in a beautiful setting amongst trees and by the river. This was a different experience to the one at Inle Lake – with differing airstreams there was more zig-zagging and it was closer to the more usual balloon rides of around an hour.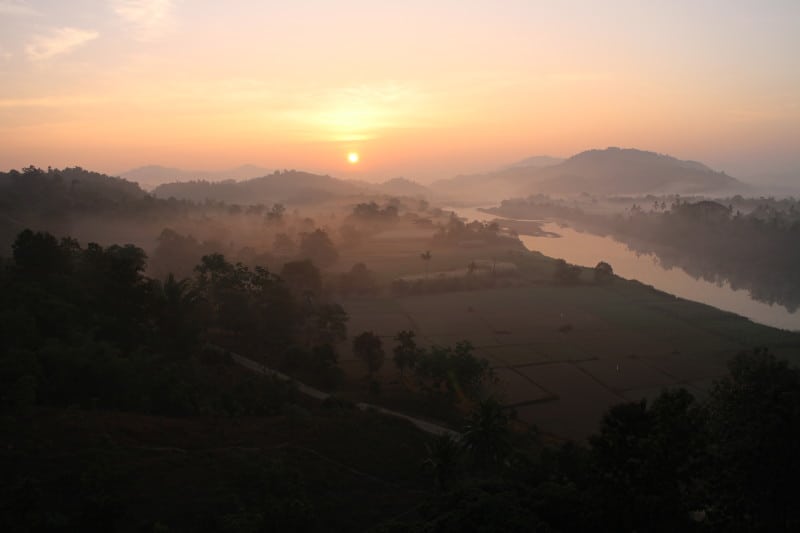 As daylight broke over the nearby mountains there was an ethereal mist amongst the trees and the river and we flew across temples, and villages all under the forest canopy – again getting close enough to see the locals' faces and, as this was a really new sight for them, the excitement was infectious. We even had a lot of locals race over to the balloon when we landed and had photos with them!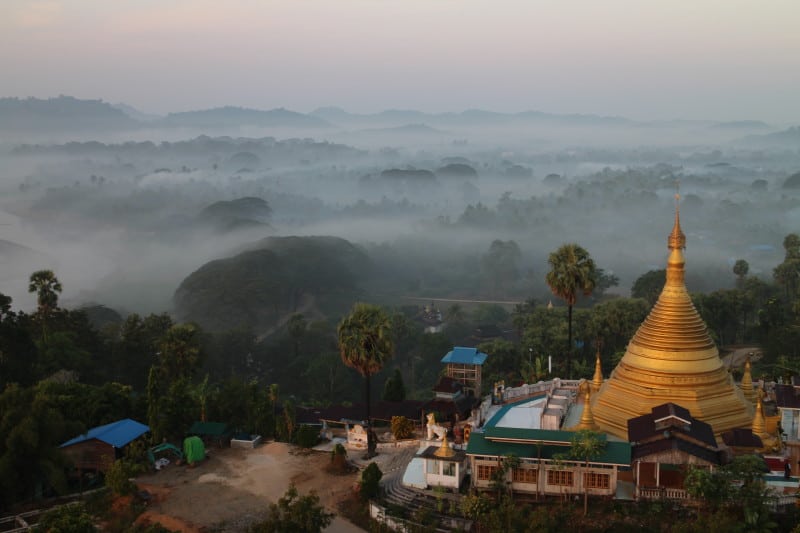 With both Bill and Allie, I felt safe at all times through a combination of their expertise, the British-made balloons and fantastic ground staff. It was very much a once (or twice!) in a lifetime experience – highly recommended!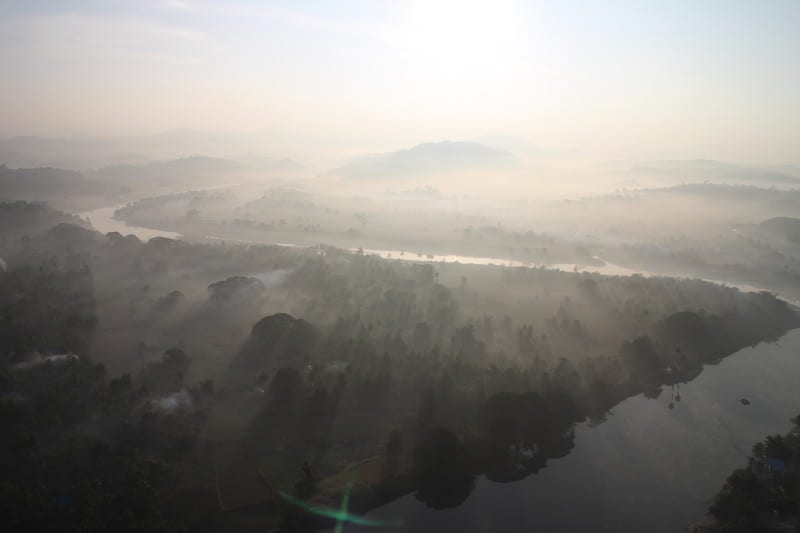 ---
If you wanted to tailor in either of these two Ballooning experiences (or both), have a look at these holiday itineraries as a starting point for inspiration:
If you'd like to talk to me over the phone, you can always call us on 020 7924 7133 or make an enquiry. Remember there are absolutely no obligations and we're here to offer advice for any stage of your holiday planning.