---
Your stories
Sarah went on a trip of a lifetime to Indonesia and Myanmar (Burma) September 2015. From meeting local celebrities of the Malang football team, to spotting beautiful orangutans in the rainforests, to escaping unusually strong forest fires in Borneo – it was an experience full of adventure and discovery. Here she shares her story:
---
---
Twenty years from now you will be more disappointed by the things you didn't do than by the ones you did do. So throw away the bow lines, sail away from the safe harbour, catch the trade winds in your sails.  Explore, Dream, Discover."  – Mark Twain
It was my bucket-list trip. A 2-month trip travelling through Indonesia and Burma with "once in a lifetime" experiences. Such exotic sounding places that had captured my imagination since childhood. The big ticket items: seeing the Komodo dragons, hot air ballooning over Bagan, dolphin watching, trekking through volcanoes, sunrise visits to Borobudur, the orangutans of Borneo and a cruise down the Irrawaddy.
My travel expert at Experience Travel Group, Nick, translated my requirements with expertise into a diverse trip to truly explore this part of the world through participating in activities, meeting local people and still returning to a comfortable bed at night!
I knew the itinerary well, had "googled" galore!, but often our best memories are made from those things on the journey that we cannot anticipate – chance encounters, the people we meet and the unexpected. So here are a few of those unexpected moments that have stayed in my memory long since the tan faded.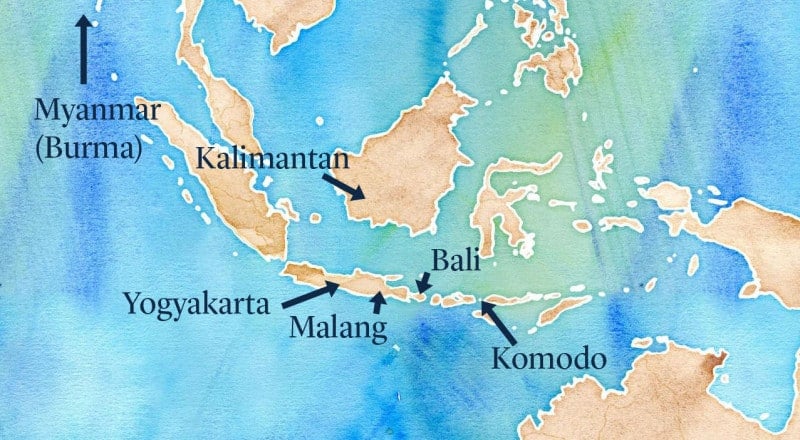 ---
Menjangan Island and a Circumcision Ceremony
Santi Sari is a special place, a boutique hotel in the West Bali National Park that is a great place for day trips out on the owner's boat to snorkel in crystal clear waters. We arrived and were met by the owner, Tony, who made us feel like private house guests. Our surprise was that we were the only house guests (we were travelling off season) and had the place to ourselves! What luxury! A beautiful infinity pool, wonderful food and a great setting. We kicked back.
My  travelling companion went behind the bar and taught the staff how to make dry martinis, which was a lot of fun, and the manager took us for a walk where the villagers were having a party for a circumcision. We were invited to participate and shared fabulous local food and treated as honoured guests. The villagers were keen to have photographs with us! We felt very privileged to share their day.
---
Orangutans and Forest Fires
Our home for three nights was the Kalimantan Explorer. A traditional river boat that cruises through the Kalimantan rainforest to see the orangutans – here is where it pays to use an expert! Our boat had a double bedroom with en suite bathroom and air con! We were the envy of many a traveller. There is nothing to quite describe the joy of seeing orangutans swinging through the trees with their babies.
However, the forest fires that plague this part of the world were intense this year and the smoke descended into the valley and by the final day was dense. As we arrived at the airport it was clear that planes could not land. We spent 2 days waiting at the airport and came to know the airport lounge intimately, and we are not talking LHR T5 here!
We passed time surveying the smoke – was it lifting or getting worse? – and chatting with fellow travellers. Our local guides were amazing; they booked us on every airline flight out, just in case one plane landed and another didn't. They waited outside the building for the whole time until we were safely off. When a plane finally landed it was like a scene from Apocalypse Now, everyone clambering to get on! We boarded and very soon it became a good story to share. We were very glad to have Nick in London, who called us at our hotel and re-jigged our trip so we did not miss out on the adventures ahead.
---
Selfies with celebrities
Taking a train is a great way to traverse a country; watching scenes from the window gives you a different perspective. So we took a train from Malang to Yogyakarta. As we boarded the train, so did Arema, the Malang football team. Our guide was very excited as these are local heroes. We took selfies with them and chatted with the coach. The paparazzi were waiting for them at the station. It was a lot of fun. A few days later, at the Mesastila coffee plantation, we watched the Malang team play on TV and felt we had a personal connection.
---
Election day in Myanmar
Not by design, but by chance, we were in Yangon on the day of the first democratic election in the history of Myanmar. We were staying in The Savoy hotel and excitement was building as so were the international television crews, NGOs and election vote counters. Our guide told us not to go out and that things were shut down for the day. We went for a walk and it was eerily quiet. Our guide found us a room where they were printing Aung San Suu Kyi t-shirts and we bought some to mark this historical day. We talked to many people about the significance of these elections and their hopes for the future and it felt a very special time to be in the country. History in the making.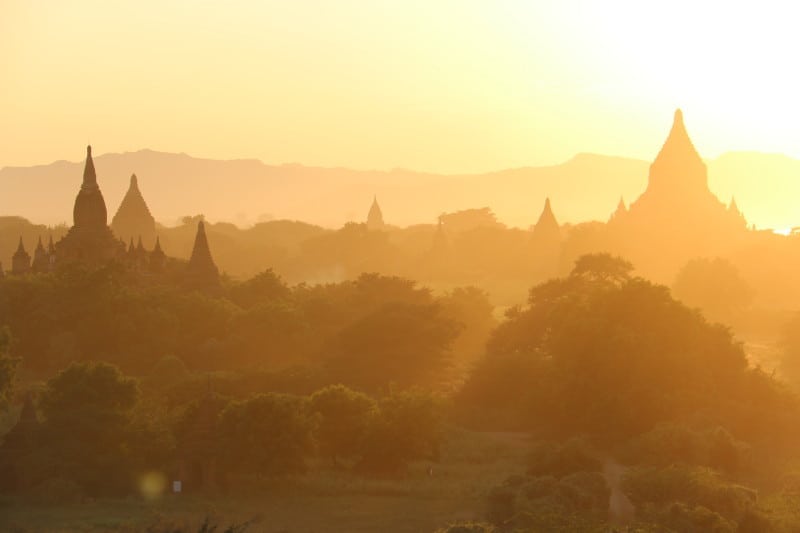 ---
We saw the big ticket items on our list and they were wonderful: Borobudur was a truly magnificent site, the Komodo dragons were fearsome and the marine life in this part of the world is what the word "awesome" was created for. The scale and beauty of the Bagan temples takes your breath away and eating seafood on Ngapali Beach was a highlight. Explore, Dream, Discover!
---
Many thanks to Sarah for writing this blog for us and sharing her wonderful photos. Have a look at our top 3 Indonesia holidays for further holiday inspiration. You can also view our Myanmar holidays here. 
---