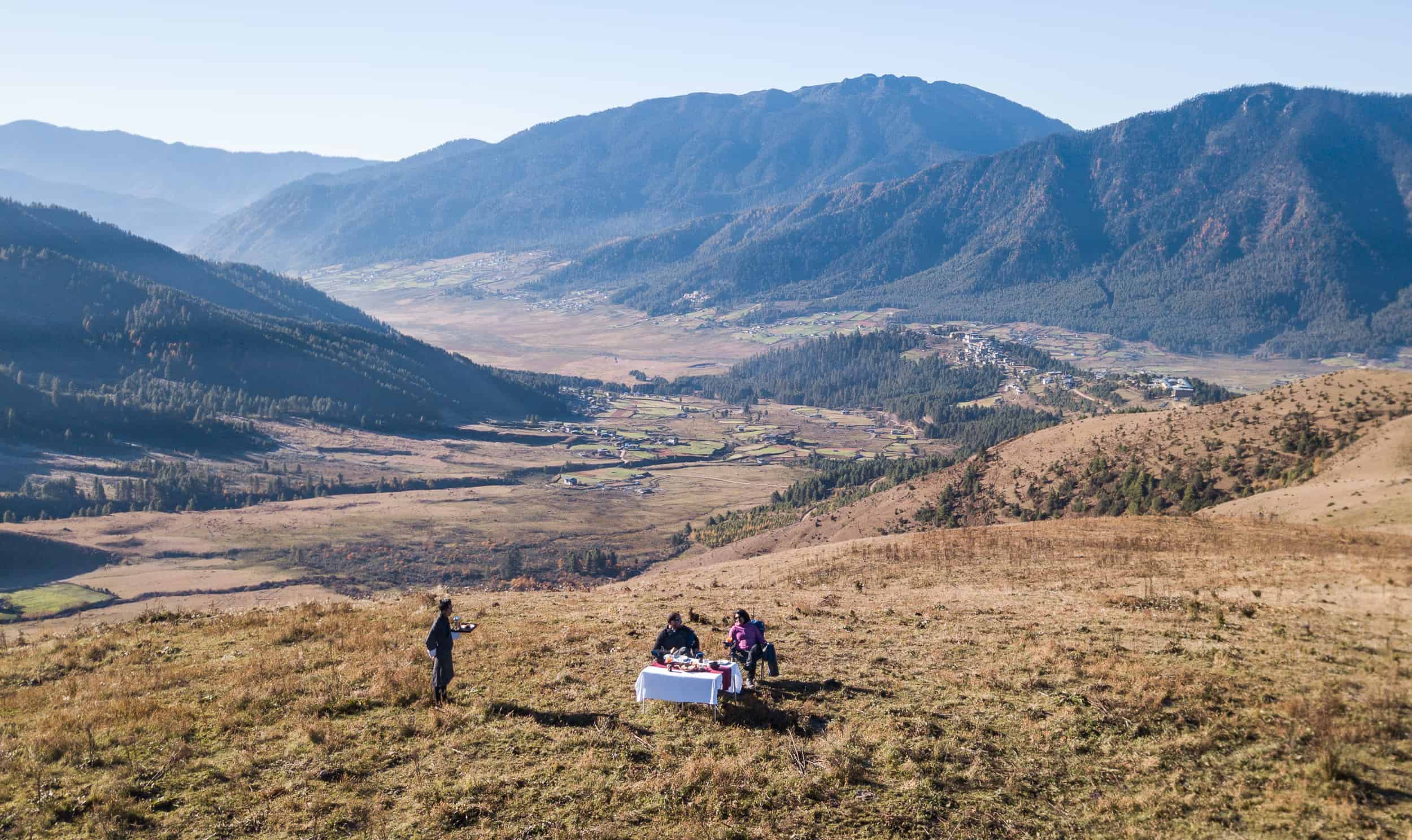 To trek or not to trek?
I'd always loved the idea of going to Bhutan, but you're more likely to find me sitting on a beach than climbing a mountain! To me, it seemed like people mainly went to Bhutan for trekking and, on that basis, it had never found its way into my travel plans. However, in 2018 I was lucky enough to be given the chance to travel there on a research trip with my colleague Sara, which meant the decision was out of my hands. I didn't like to admit to Sara I had hike anxiety at the back of my mind and couldn't answer 'Is Bhutan just for trekkers?'; instead, I addressed my concern with a quick dash to Decathlon, scanning all the hiking gear and leaving with nothing but a pair of trainers and a pack-away bum bag.
Bhutan walking holidays can be incredible and it is no doubt a fantastic destination for experienced trekkers looking for a moderate or even epic challenge. But I found it possible to feel truly immersed in the remarkable scenery and gentle culture of each valley we visited, without doing any more walking than I would on a typical visit to, say, Vietnam or Sri Lanka. There are short walks all over the country that require little or no ascent, minimal fitness and no special footwear or clothing (although the bum bag did come in handy). Forget long and arduous and think more walk in the park.
Gentle walking in Bhutan
There are some gentle yet excellent walking trails in Bhutan. For example, the fertile Punakha Valley has some excellent routes along the river. You could spend an hour or two taking in the breathtaking scenery, passing terraced rice-fields and orchards of flowers. You might even spot a few white water rafters floating by as you amble towards Punakha Dzong, one of the country's most picturesque fortresses. Your guide will join you on every walk to point out flora and fauna, help with translation when you meet locals and explain the symbolism of the intricate and colourful Buddhist sites.
The scenery is epic, but that's to be expected; the real surprise of Bhutan for me was the unpredictable encounters along the way. During one walk we wandered into a congregation of hundreds of meditating pilgrims who'd gathered in a field to listen to the readings of the Chief Abbot (the country's most important religious figure). On a run-of-the-mill walk to a monastery, we found ourselves swept up into a traditional outdoor darts tournament. And at the end of a walk in Haa Valley, we arrived at a small village where we were issued with several plates of turnip filled delicacies, only to discover that it was the annual dumpling festival.
At the end of every walk, our lovely driver was on hand to whizz us on to the next place. We had lots of work to fit in but on holiday you'll be able to head back to your hotel for tea on the terrace or an afternoon spa treatment.
By no means does Bhutan need to be arduous, so don't let the perception of it as a hardcore trekking destination put you off as it did me. It can be enjoyed by all – and if you need a beach fix, there are flight links that allow you to easily combine Bhutan with other destinations. For example, there are direct flights to Thailand and during our travels, we met a honeymoon couple who were combining Bhutan with the Maldives with a short transfer in India.
Challenging Treks in Bhutan
If you do like the idea of full-on trekking holidays in Bhutan, there are of course plenty of options for you. At the complete other end of the spectrum, there are the likes of Bhutan's 24-day Snowman Trek which is known as one of the most physically demanding on earth. My colleague Matt took a sabbatical to take this trek last year and would be more than happy to discuss with anyone interested – you can get in touch with him via the links below.
While Experience Travel Group does not specialise in this kind of intensive trekking holiday, we can certainly organise some of the fantastic 2-3 day moderate treks with excellent overnight camping accommodation. I actually even did one of these for 2 days/1 night and was surprised at how much I enjoyed the challenge. Take a look at our Adventure in Bhutan sample holiday if you are interested in a more intrepid trip like this – it could be a good place to start (though all our holidays can be tweaked to your interests, fitness levels, or whatever you desire).
---
 To find out more about holidays to Bhutan, trekking or otherwise, do get in touch on 0207 924 7133 or fill out an enquiry form here. Alternatively, you can head to the Experience Travel Group website to explore our holidays in a little bit more depth.