Hidden in a landlocked region between China, Vietnam, Cambodia, Thailand and Myanmar, Laos is one of the last hidden gems of Asia. To help you with inspiration for your trip to this mysterious country, we're listing our Top 10 Travel Experiences in Laos that you can include in your itinerary.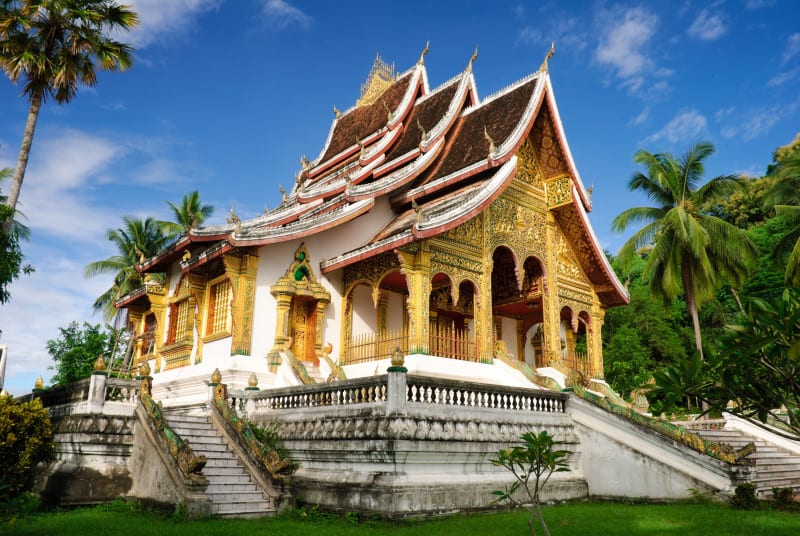 ---
1. Play petanque with the locals
This classic French game of petanque, otherwise known as boule was imported over during the colonial period in the late 19th Century. As a favorite leisure activity in the country, the game couldn't be missed on our list of the Top 10 Travel Experiences in Laos. The aim is to get your heavy ball as close to a small rubber one that's a good 4-6 metres away from you. The winner is the person who gets their ball the closest. Slow, relaxed and fun, it's a brilliant way of getting to know the local people.
There are lots of petanque playing areas around the cities of Laos and many will combine playing the game with eating some wonderful snacks including fried and spiced meat on skewers in a satay-like sauce and other barbecued delights. It doesn't matter if you can't speak Lao as the universal language of the game will let you interact anyway.
Read more about playing petanque here.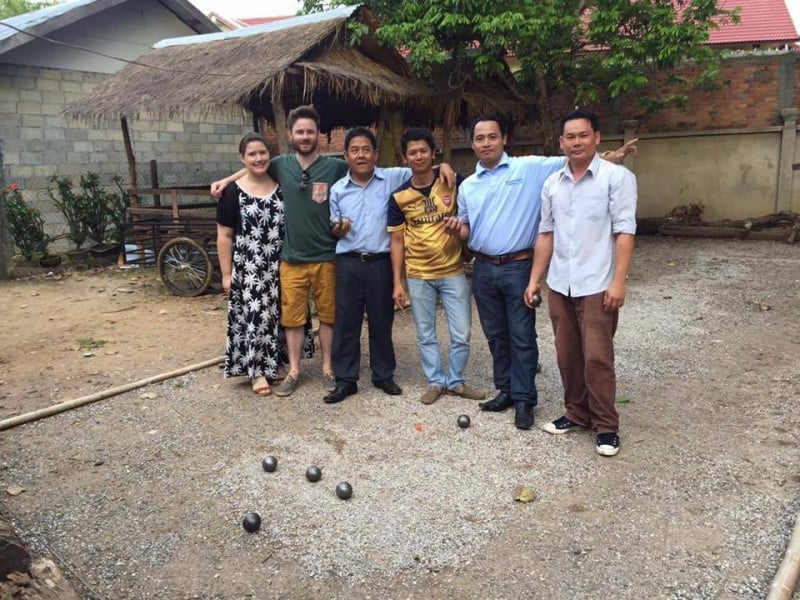 ---
2. Eat breakfast surrounded by waterfalls and nature
Enjoy some of Laos most stunning waterfalls away from the crowds by having a delicious early morning picnic amongst them. Enjoy a spread of tropical fruits and omelette with sweet chilli sauce whilst surrounded by this picturesque natural landscape. You can have a swim in the waterfall pools underneath – they are a little cold though! By going early you miss the crowds that arrive by ten O'clock onwards.
Read more about this experience here.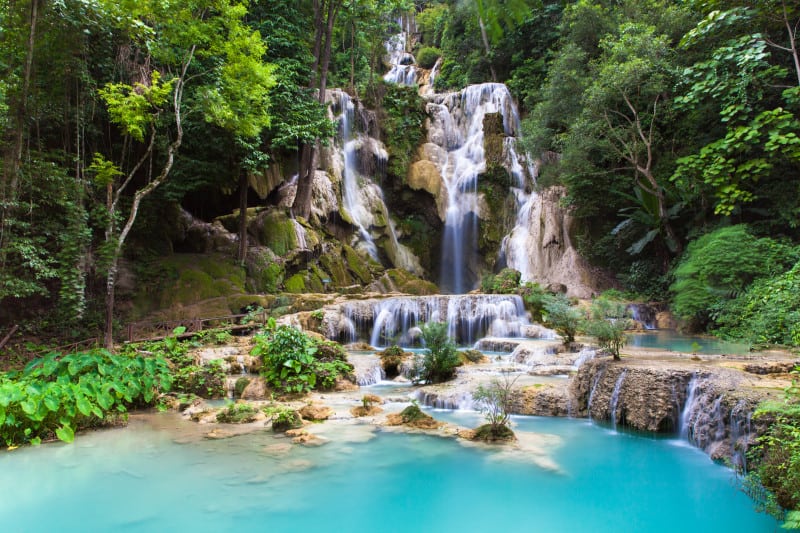 ---
3. Watch hundred of monks give alms in UNESCO heritage Luang Prabang
Follow your expert local guide to roads in Luang Prabang few tourists know about and watch monks give alms at the various temples throughout the city. There will be hundreds and hundreds of orange-clad monks making their way to receive food for the day. It's an awe-inspiring experience.
Read more about the collection of alms here.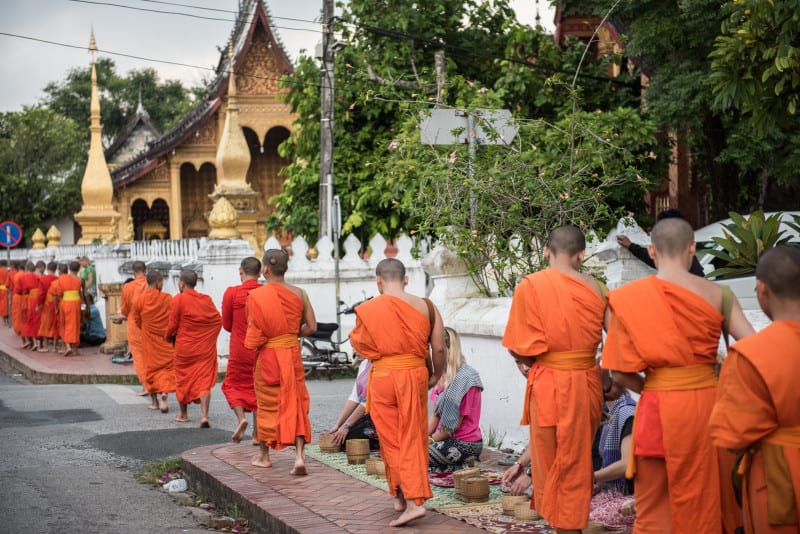 ---
4. Eat French Indochine food
There are some delicious fusion foods you must try when visiting Laos. The Lao crepe is delicious, made similarly to the traditional French crepe, the locals like to serve it with bananas inside or other tropical fruits. The baguettes (Khao Jee) are stuffed with delicious spiced meats, fresh vegetables and coriander and are delicious with the crusty French bread perfectly complimenting the flavour-full filling.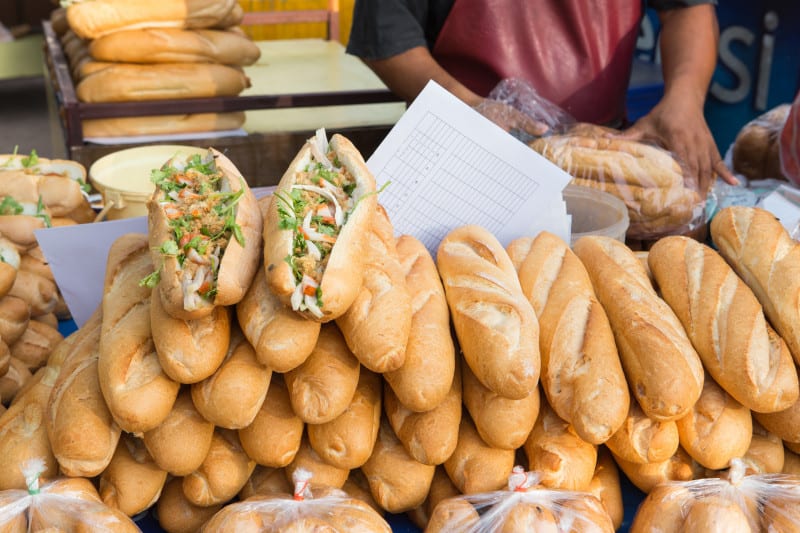 ---
5. Relax on 4000 islands
Si Phan Don or 4000 islands is a region in Laos where the Mekong spreads wide into an archipelago and the water slows. It's an incredibly relaxing place with little towns dotted throughout and locals living a life in harmony with the rise and submission of water as the seasons pass. An insider tip is to stay in one of Sala Dhone Khone's floating villas for an extra special experience of this beautiful place. A wonderfully relaxing beach alternative to those concerned about Laos' lack of coastline.
Read more about the gorgeous 4000 islands here.

---
6. Meander down the Mekong
A brilliant way to get an insight into life on the Mekong river is by embarking in a river journey on a converted traditional riverboat. There are a few to choose from with different routes and different lengths of voyage. Usually you embark from Luang Prabang and finish downstream.
It's a great way of experiencing some of the main sites of Laos including Vat Pho Temple, a pre-Angkorian Khmer temple and small local villages only accessible by boat.
Read more about Mekong river cruises here.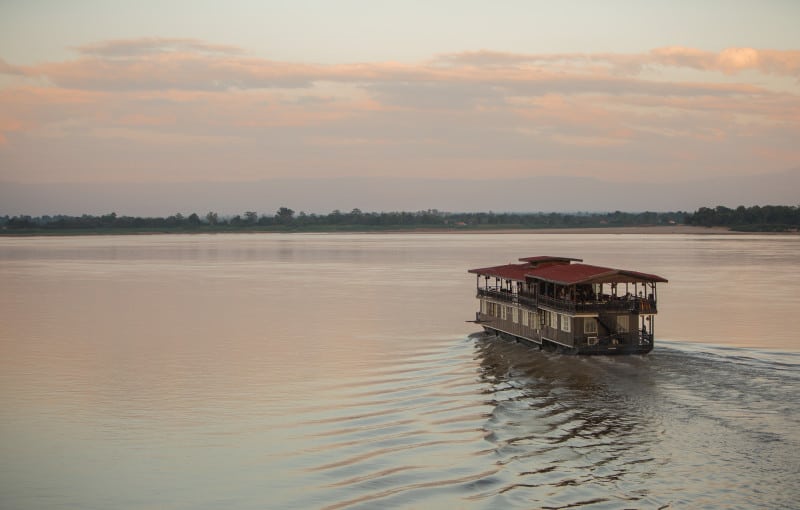 ---
7. Experience real life on a rural rice farm
Just outside Luang Prabang you can visit a working farm and learn about the typical crops grown in Laos, surrounded by beautiful scenery. The Living Land Company is a community project where the friendly staff are all local farming families and the rice produced on the farm feeds the whole village. You are taken through the whole process, from how the land is cultivated (including ploughing with a water Buffalo!), how rice is planted, harvested, dried and finally processed into Sticky Rice. You can also learn all the different stages in how typical Lao noodles called "kapoen" are made. It's a really hands-on and authentic experience and the tasty noodle soup is a lovely way to end a fascinating morning.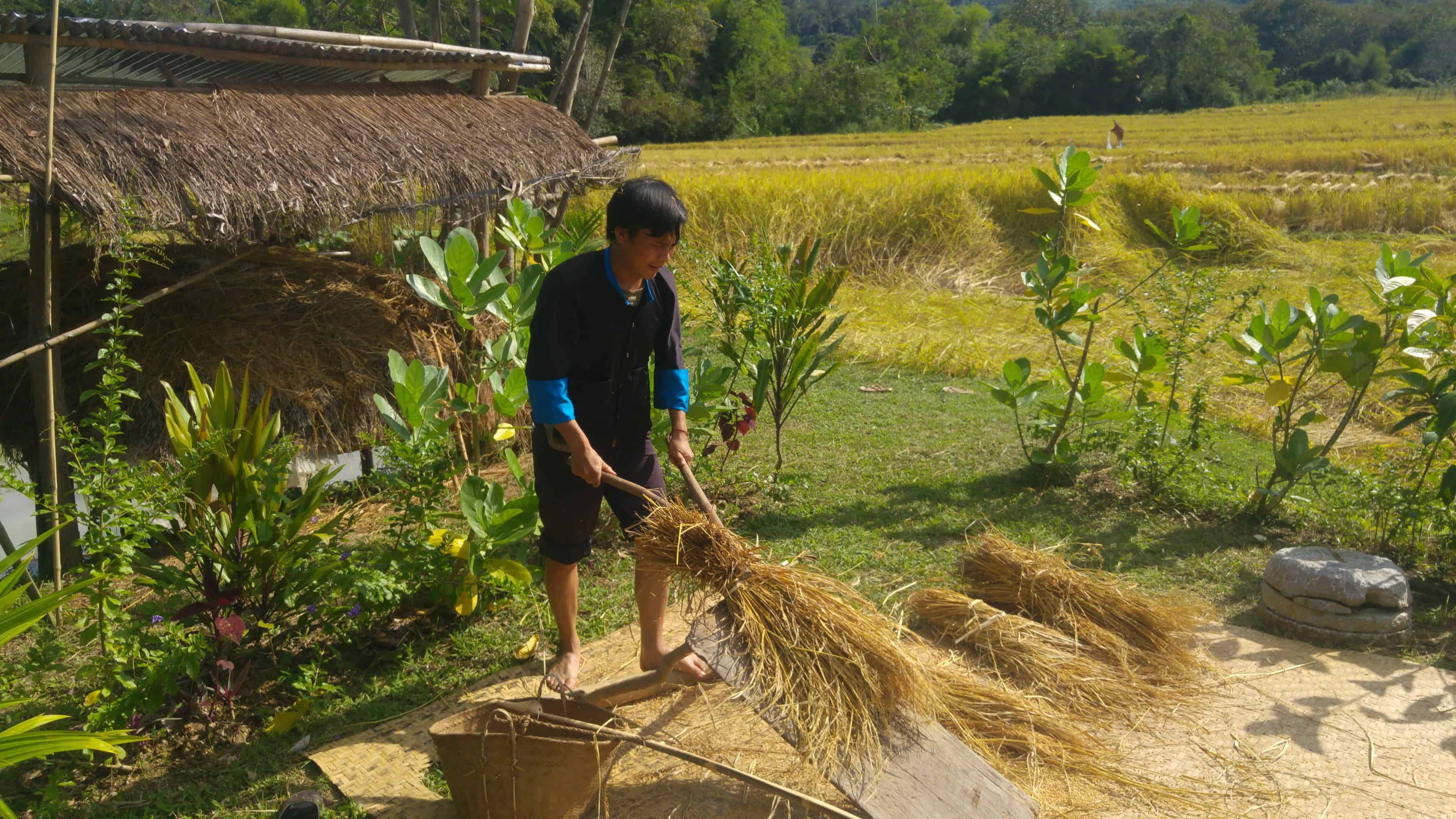 ---
8. Laos Buffalo Dairy Farm
This is a fascinating and unusual place to visit. It all began when the foreign founders first visited Laos and were surprised at the lack of dairy products available in the country despite the huge number of buffalo. After a mid-life crises (their words!) they set up a small dairy farm with absolutely no prior knowledge of keeping animals or producing dairy products and over the years the size of the farm has steadily increased in size.
It's a socially responsible enterprise that cooperates with people from nearby villages by renting their buffalo, which provides the families with a regular income stream and at the same time. You can meet the founders and learn their amazing story of how they set up the business with the various regulations involved, skills to learn and also the hiring of local staff too. You also get to meet some of the delightful buffalos and try some of the delicious products – everything from cheese, ice cream, yoghurts to cheesecakes.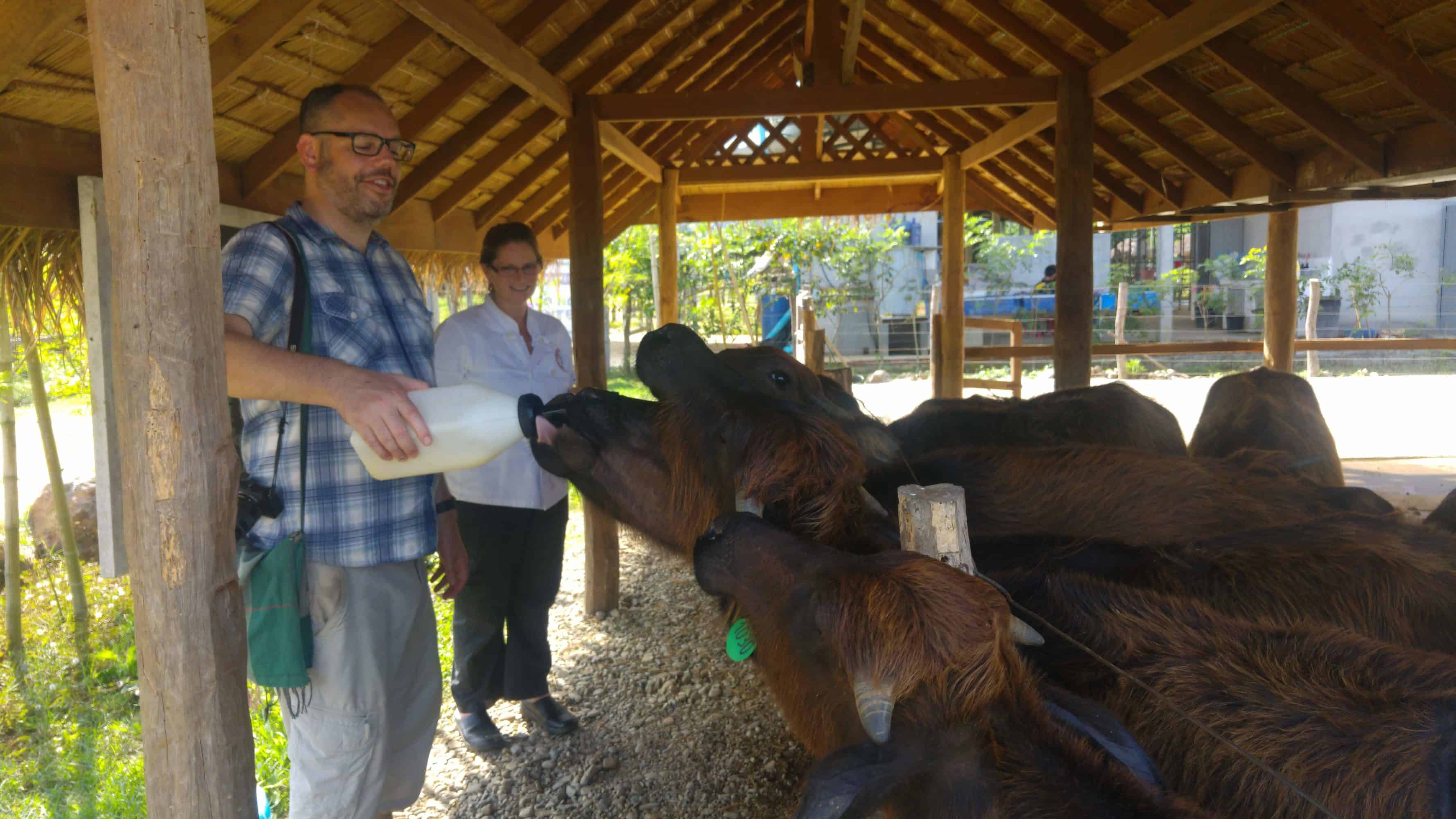 ---
9. Learn about moon bears at a rescue centre
Very close to the Kuang Si Falls is the Tak Kuang Si Bear Rescue Centre run by Free the Bears. It takes care of animals rescued from illegal poaching and to campaign for better wildlife protection. The Asiatic (moon) bear are an endangered species targeted by illegal hunters for use in Chinese medicine – bile from their gallbladders are extracted for days while the animal is held in a cage – often for years.
The centre is home to 20 rescued bears and they enjoy large enclosures in the forest with fresh water streams to drink from and lots of enriched spaces for them to play. Funds generated are invested in local staff and education programmes to protect the animals.
---
10. Take part in a Baci ceremony
Last but not least on our list of 10 Top Travel Experiences in Laos is the traditional Baci ritual. This ancient ceremony is a part of Laotian animist belief and happens at weddings, births or when welcoming friends to bring good luck. We can arrange a Baci followed by a traditional dance and dinner with a delicious spread of local dishes to boot.
Read more here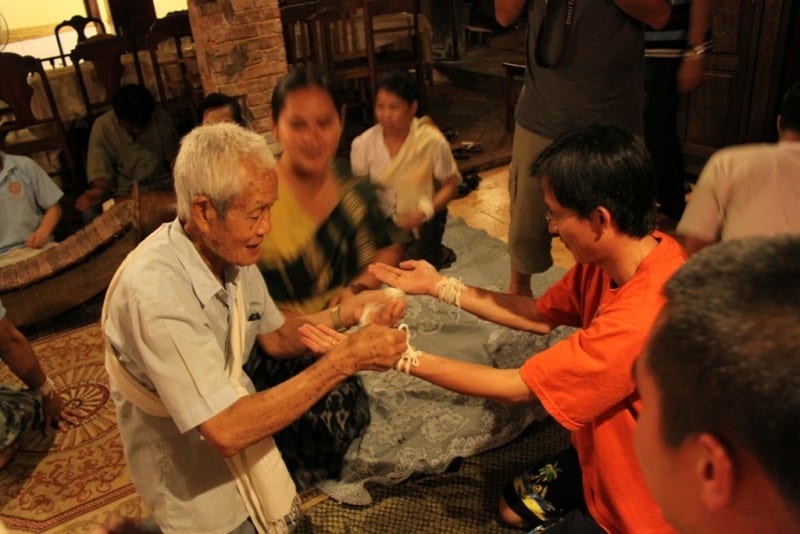 ---
Interested in more unique travel experiences in Laos?
We can tailor any of the above experiences and give you expert advice on more activities that suit your needs for your tailormade holiday. Just pop us a message here or give us a call on 020 3411 6494.