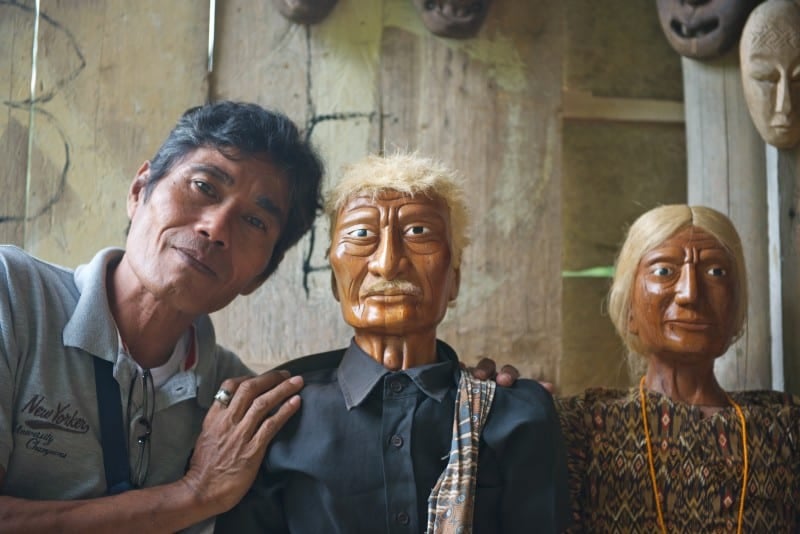 'Grandpa's sleeping up there with the children.' My guide said. 'But he's been dead for three years… Well sort of.'
So sets the scene for my perplexing visit of Sulawesi with its intriguing concept of life and beyond.
---
As an Indonesia travel specialist, I wanted to uncover a side to the country not seen by most travellers. Sulawesi seemed like the perfect place to explore. An island sandwiched between the more famous islands of Borneo and Papua New Guinea, it has been rather overlooked despite the variety of experiences on offer.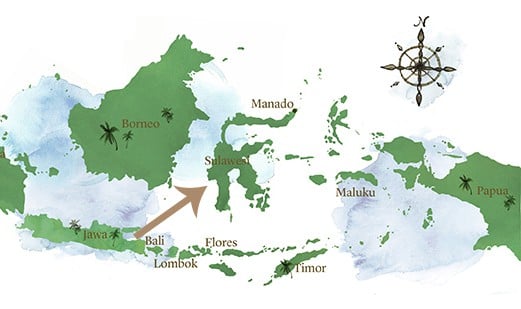 Sulawesi is home to the elaborate funeral rites of the of the Toraja people, the 400 stone megaliths of Lore Lindu National Park and world class diving sites, not to mention beautiful mountainous landscapes, colonial history and beaches. I was tasked with investigating the activities on offer and find the most interesting and enriching experiences. Since coming back all I can say is, 'where to begin?'
What has made Sulawesi particularly famous are the incredible funeral rites of the Tana Toraja people, living in the south of the island. They certainly made a big impression on me.
'The funeral traditions date back to ancient times, before the Dutch converted islanders to Christianity and it's important for our identity,' explained my guide. 'It's believed locally that your soul doesn't pass on until you have had a proper funeral and so until then you are, in one sense, still alive on earth.'
Indonesia is a spiritual place with the predominant religion being Islam while Christianity in South Sulawesi has stayed strong since the Dutch occupation in the 1900s. Hearing this before visiting I thought great, myself and the locals will have a culture in common. Boy was I wrong! I found the traditional western Christianity had merged with local tradition to become something of an incredible hybrid.
Certainly the funerals are quite the opposite to those we are used to in the UK; they last several days and include the sacrifice of dozens of cows (which is rather gruesome and not for everyone), dancing, chanting and feasting. The main event is the burial of the ancestors, usually placed in a coffin on a cliff edge or in a stone tomb. The whole funeral is an incredibly expensive affair where honour and status is intricately woven into proceedings. This means that very often Toraja people are embalmed for some years until their families can afford the correct proceedings and until then they can live/exist in traditional longhouses amongst the family until all is ready.
'We're not scared of the dead, we say they're sick when after they've died and only when the proper rituals are done will they have passed on' explained my guide.
Funeral season is in the summer time (June through to August). This is when you can see the full ritual – although it's certainly not for the faint hearted, as the sacrificing of the animals is fairly brutal. You don't have to witness one though, and you could opt for a cultural immersion at other times of the year too.
I for example, explored the local village and learned about how status is displayed by local families via the architecture – the more bull horns on a building's pillars, the higher status the family. I also visited a local bull market and learned about how valuable they are – albino ones are often referred to as 'Mercedes cows' because of the price they can fetch. All in all, it makes for an absolutely fascinating experience.
Culture is not all Sulawesi has to offer. The dive sites are world renowned – particularly for the diversity of the sea-life. For example, there are three different environments you can explore in the north: the steep coral wall of Bunaken National Marine Park, the reefs of Bangka-Gangga Archipelago and the sands of the Lembeh strait. This mean you can see a huge array of underwater life with short transfer times between them.
The landscapes around the whole of Sulawesi are stunning and the animals are markedly different from those found in Borneo and western Indonesia. The famous contemporary of Charles Darwin, Alfred Wallace, studied them here to realize they had similar adaptations to those from the Australian continent, distinct to those from the Asian continent. He therefore came up with the idea of evolution independent to Darwin – he was just too late in publishing it! Bear cuscus for example is one of most westerly found marsupial species and is a descendant of the Australian possum.
You can even get a good sense of Sulawesi's colonial history from a visit to Makasar, the gateway to southern Sulawesi and provincial capital. The famous writer Joseph Conrad once described it as one of the 'prettiest' of all towns in the Malay islands and a visit lets you explore an old Portuguese fort built in the 16th century.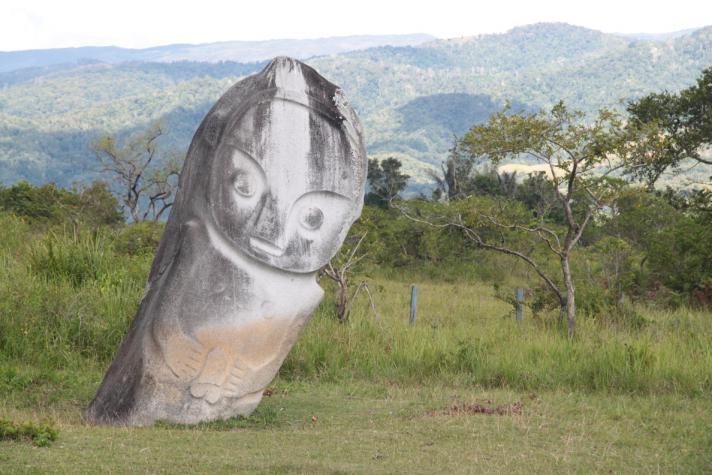 Finally, a little further off the beaten track is Sulawesi's answer to Stonehenge. A series of ancient Polynesian stones thought to date back to as much as 5,000 years ago exist, their discovery had only being formally documented in 2001.  They can be accessed from Palu city in central Sulawesi, a short domestic flight from Makasar.
Visiting Sulawesi works incredibly well as a standalone holiday or in combination with other Indonesian islands. Whilst luxury accommodation is thin on the ground, rooms are clean and service is very good. A holiday to Sulawesi is brilliant for travellers wanting to visit a place that will really challenges how you see the world.
---
Thank you to travel writer and photojournalist Mark Stratton who travelled with us to the island last summer. He kindly let us use some of his photos in this blog and his travel story was published in Wanderlust Magazine April 2016.
---