Mark is our expert streetfood tour leader. Made famous within his field by his blog 'Sticky Rice', now he and his team of foodie experts guide our travellers to the best stalls to try the most delicious food. Here he explains how he became interested in Vietnamese cuisine and why he does what he does.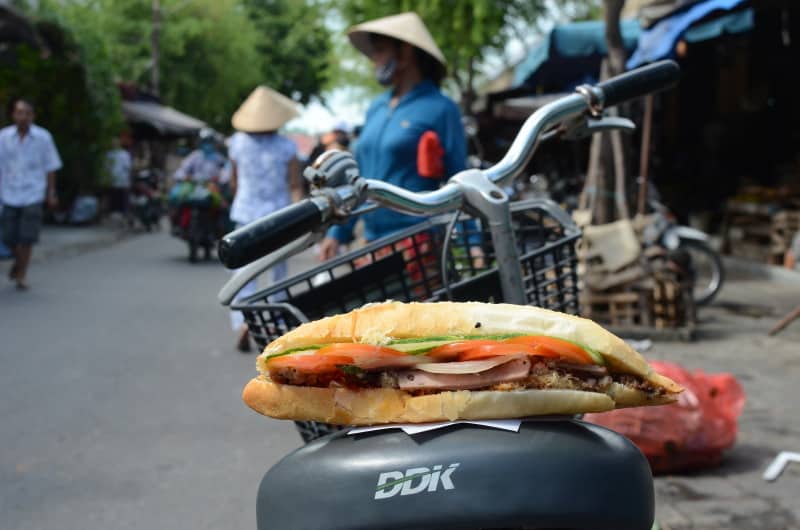 ---
When I first travelled to Vietnam in 2001, I had a bit of a food epiphany. Having had a certain amount of exposure to Vietnamese food in Melbourne, where I grew up, I wanted to see what the real deal was like. During a two month trip to Vietnam, I remember being in Hanoi and not really having the guts to try street food but desperately wanting to.
One day I was in Ngo Dong Xuan, an alley that runs off the main market in the capital, ambling up and down trying to figure out how to get fed – what things were, how to order etc – back in those days the Hanoi street food vendors weren't feeding that many foreigners so they didn't know how to deal with me, either.
I stood in front of one stall, behind a full bench of local customers and beside three or four others waiting, and watched proceedings for a few minutes. I realised everyone was eating the same thing – there were no menus to navigate, hardly any conversation going on – it seemed that, if you sat down, you'd be served her dish. So I did.
What I got was pho tiu ( more of a southern dish actually) – fresh rice noodles, bean sprouts, lean thinly sliced pork shoulder, garlic vinegar, thickened pork broth, sweetened nuoc mam, topped with a garnish of crushed peanuts, crunchy deep fried shallots and a handful of coriander and mint. I added some chilli sauce, mixed it all up like the other patrons were doing – and did a little bit of a good food moan! I was converted!
I've been eating at that stall ever since. The daughter in law recently took over from the original vendor. I've eaten there so often, taken so many of our clients there, seen that dish prepared so many times that I could give the vendor a half hour break and serve the bloody dish myself.
That one little experience opened up a whole world of pleasure to me and ultimately changed my life. I started writing a blog about the street food scene in 2005, and slowly and very organically, our street food tour business evolved in 2009. It wasn't planned. We never expected it to be more than a fun hobby to do "on the side". But, in 2012, after months of knocking back clients because we couldn't accommodate them, I had to quit my regular employment to conduct the tours full time. Now, I eat for a living. It's funny how life can take you, if you let it…
---
---
Many thanks to Mark for contributing his story! You can read more about his encounters with Vietnamese food at Sticky Rice Blog.
If you were interested in joining one of Mark's streetfood tours as part of your holiday to Vietnam, do have a look at the experience here.
---