If you thought that a visit to the Maldives meant sacrificing local culture, think again. Gan Island, the most southerly point in The Maldives, has recently become considerably more accessible due to the opening of an international route to the tiny island airport. As part of their renewed focus on expanding regional routes, Sri Lankan airlines have become the first international airline to offer a destination in The Maldives beyond Male. There are currently 4 flights a week between Colombo and Gan so there is ample opportunity to understand the culture in the Maldives. 
Where is Gan Island?
Located in Addu Atoll, Gan itself has a rich and often chequered history. A former British air and naval base during the Second World War and, later, the cold war, this tiny (but actually large by Maldivian standards) stretch of palm-fringed land has played an important role domestically and internationally for decades.
Flying directly to Gan also removes the need to transit through Male and change to domestic flights, seaplanes or speedboats. Beyond removing the hassle of the transit, flying directly to Gan also hugely reduces the costs involved with getting to anywhere this remote in The Maldives. Male itself is an interesting place and ETG offer a variety of guided walking excursions there, but the international airport is the limit of what most visitors will have the time or inclination to see.
Addu Atoll is comprised of seven islands, four of which are joined by causeways which are passable on foot or by cycle or vehicle. This is a somewhat unique feature in The Maldives, and means a visitor to Gan is able to enjoy the secluded 'private island' experience on Gan itself, while being able to explore the inhabited islands of Feydoo, Maradoo and Hithadoo and get a taste or real Maldivian life. Like all Maldivian islands, the weather is fantastic pretty much all year round.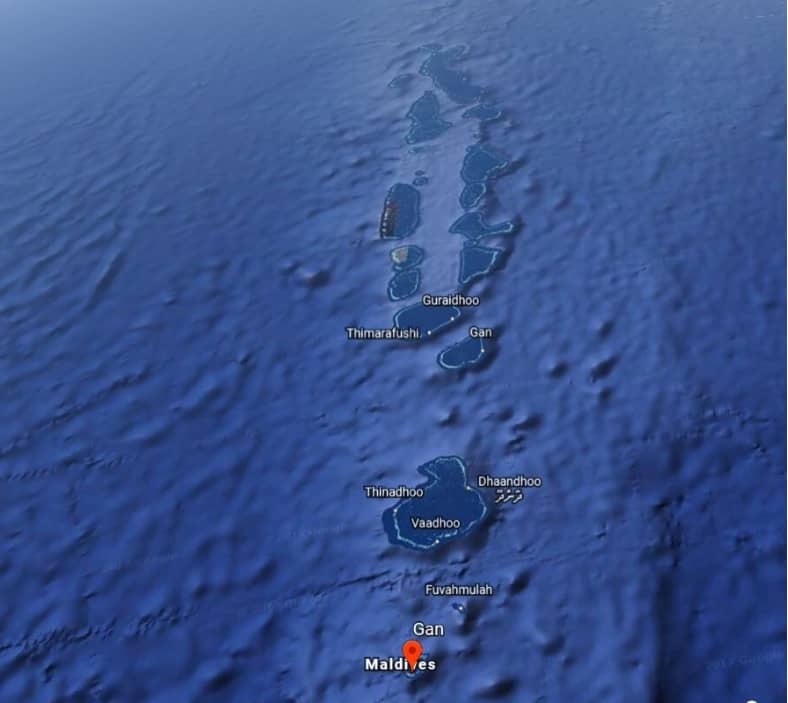 Culture or beach in the Maldives?
For some people, one of the potential frustrations of going on holiday to the Maldives is the need to choose between staying in a resort or seeing something of the local culture and ways of life. Resorts tend to be located on private islands, or parts of islands that have been entirely segregated from areas inhabited by the local population. That's why Experience Travel Group have been researching 'offbeat Maldives' itineraries for a few years now, ever since the government changed the laws and made locally-owned guesthouses open to international travellers (tourism laws had previously restricted foreign visitors from travelling freely and visiting islands that didn't have resorts on them).
Gan Island and the Equator Village Hotel
In light of this, Gan Island and the Equator Village Hotel are something of a rarity where guests can experience a bit of both.
The Equator Village is located 1km away from the airport arrival building. With 78 standard rooms, the hotel is not luxurious by contemporary international standards but offers a great range of facilities in a truly spectacular location and will hold some considerable appeal to people looking to visit The Maldives who are not in search of high-end luxury resorts. The bedrooms are situated in converted 'lines' of single-storey buildings on the former military base. Simple in design and layout, all come with en-suite bathrooms, hot water showers, fridges, air-conditioning and veranda.
If you book the hotel on an All-Inclusive basis (I wouldn't recommend anything other here) then a range of local excursions and activities are included free of charge in the price. All guests are given bicycles to explore the other islands of Addu; it takes around an hour to cycle all the way to the top of Hithadhoo Island and back to the hotel again. Local islanders are welcoming and friendly and there are a handful of coffee shops (Maldivians consume quite staggering quantities of coffee) and eateries to stop off at. The harbour is also an interesting place to stop and get a feel for the intriguing logistics of making a place this remote function.
It's also worth noting that All-Inclusive here means access to unlimited bottled water.
The Equator Village offer two snorkelling trips a day on the hotel boat, visiting a variety of coral reefs in the area, again free of charge for all-inclusive guests. There is a weekly island-hopping boat trip as well as a guided vehicle tour of Feydoo, Maradoo and Hithadoo islands. The hotel also had a jovial atmosphere, with staff ever friendly and a lot of interaction between hotel guests – this is not a place you come for total solitude, unlike many of the Maldivian luxury resort. If you are looking for that then are also two higher-end resorts close to Gan, which the direct flights can also be used to make access more convenient and considerably less costly. These are the Shangri La on Vilingili island and the Canareef Resort on Herathera island.
Spending days jumping in and out of the sea at the hotel, snorkelling with baby sharks, wandering around the shores of Gan and taking advantage of the excellent activity list at the Equator Village; the trip to this unique island and hotel now seems something of a dreamy memory- such a contrast it cuts with the places I normally spend my time. I certainly plan to return to this slice of isolated paradise and I hope the Equator Village can resist the urge to 'upgrade', as it currently stands totally alone in what it offers visitors to the Maldives.
---
If you are interested in either exploring the unique culture in the Maldives or simply to relax in a beautiful resort, do get in touch with us on 020 7924 7133 or request a call back here. For more inspiration, take a look at our example holiday itineraries plus our Revitalise Holiday – Hidden Magic in the Maldives for a chance to get an insight into the life and culture of the country; remember – everything we create is tailor-made so these are just a starting point. 
---