Here one of our travel experts, David Gookey, shares his foodie experiences in and around Chiang Mai…
---
As my Chiang Mai local guide Jeab tucks into her third packet of crisps one morning I thought this must be a reason why we get on so well – a shared love of all things fried – except she, like many Thai people seem not to put on weight.
I ate well in Chiang Mai – both on my own accord and sometimes with the help of Jeab – and it's easy to come by fresh, simple tasty and cheap food. There are some differences between the food local to Northern Thailand and that from central and southern parts. For example it tends to be a little less spicy, the soups tend to have little or no coconut milk in and there seemed to be a lot more pork in dishes than I have seen elsewhere.
My 'Northern Thailand Food Odyssey' began with a jackfruit and pork rib curry 'Gaeng Baa Noon' – it was delicious and had a great balance between being slightly sweet and sour and the slow-cooked pork was so tender it fell off the bone. It came with sticky rice – a northern Thai staple – served in a plastic bag to keep it a little moist and what seemed to be a small amount was remarkably filling!
The food highlight of my day spent with Mr Prapat and his family at his home was creating a dish called 'Nam Prik Ong' based around chopped pork and a tomato sauce. This bolognese style dish was flavoursome with chilli, garlic, shallots, shrimp sauce and the all-essential soy and fish sauces and was very much a staple for the family being eaten almost every day.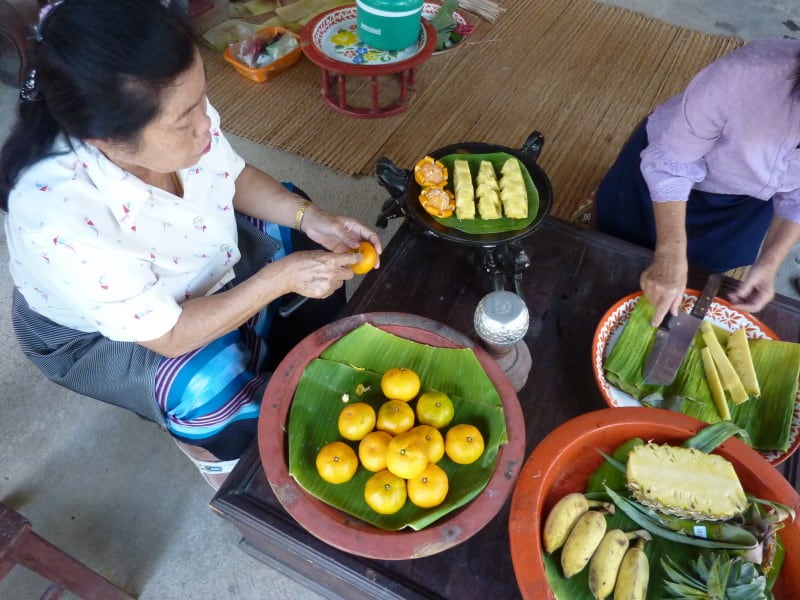 More pork was on the menu at the first lunch I had with Jeab who was excited by the fact that I was pretty much up for trying anything, loved spicy food and wanted to eat in more local places. After a bit of a food ordering frenzy we shared a pad thai (fried noodle and egg) with pork instead of the usual chicken or prawn, pork balls (on sticks and very much street food), prawn noodle soup and 'Som Tam' a spicy green papaya salad – 2 dishes without pork! It was all very delicious although I did find the pork balls a bit on the chewy side.
At the second lunch I shared with Jeab she suggested Laab Moo (spicy ground pork salad), Kanon Pung Naar Moo (fried bread topped with minced pork), and Rad Naar (stir fried squid and prawn with a gravy). It was all absolutely delicious, especially the fried bread – totally unhealthy and I have no idea how Jeab is so skinny.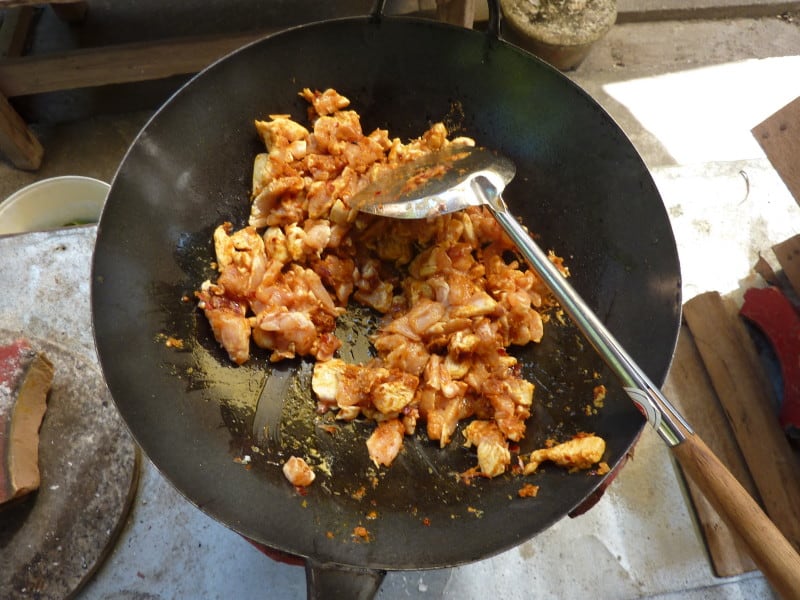 I don't want you to get the wrong impression that pork is so abundant in and around Chiang Mai that it limits choice – there is full range of Thai cuisine available everywhere – it's just that the people I were with seemed to favour eating it! And, it never seemed to stop with even my driver taking me to the airport when leaving Chiang Mai asking me why I hadn't yet tried the spicy pork sausage famous in the area…
If you're Asian food obsessed and you'd like to talk to me about putting together a tasty food based holiday in Thailand – perhaps with Mr Prapat and Jeab – fill in the form here.