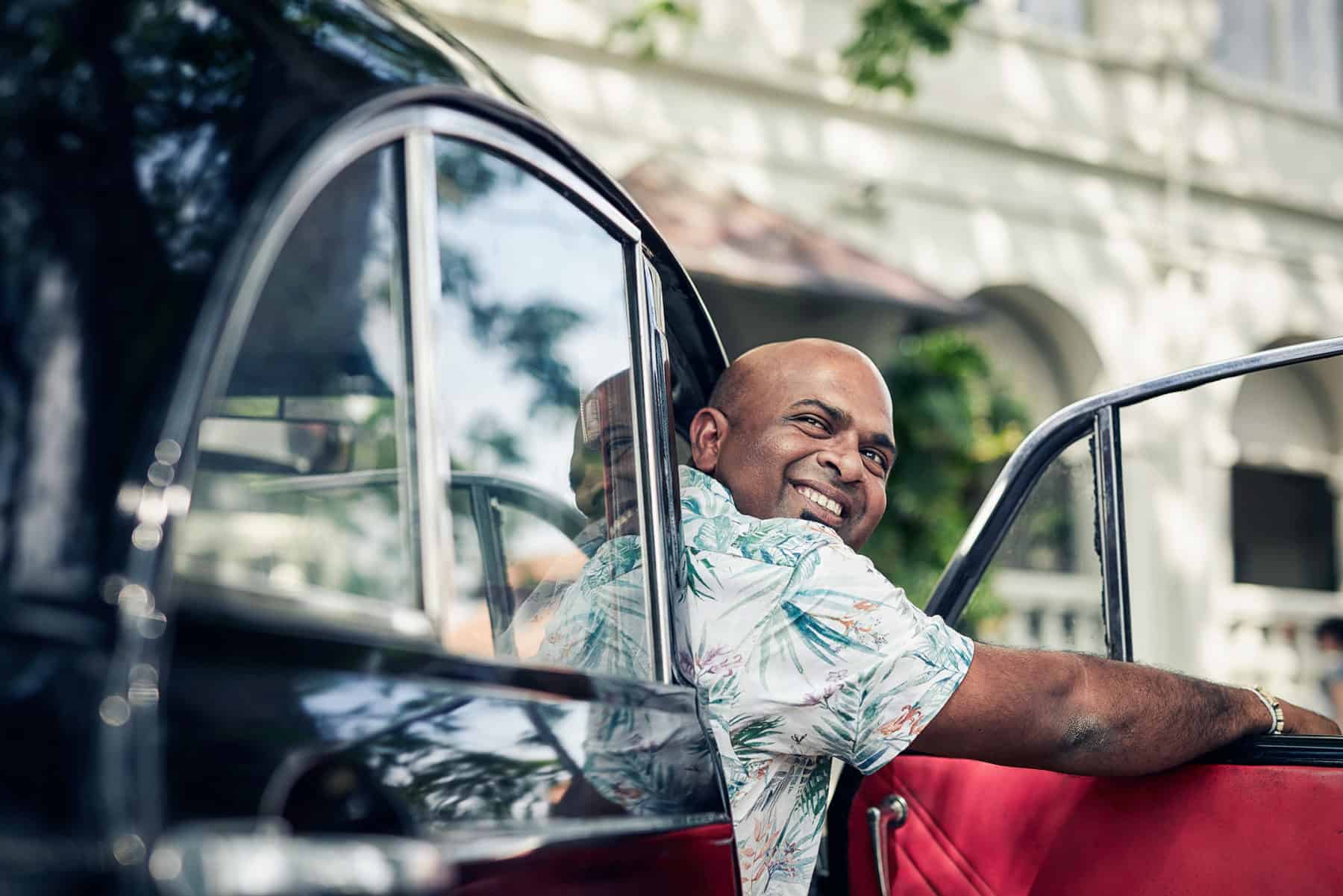 In the wake of the Covid-19 pandemic, the tourism industry has come to an unprecedented standstill. Our entire team, from London to Asia, has felt the hit.
We've been in regular contact with our friends and partners across Asia, who have shared some insight into their daily lives in this difficult time, and we thought the curious travellers among you might like to hear a few of their tales. How have small businesses in remote areas adapted to the crisis? What does quarantine feel like in Yangon, Phnom Penh or Bangkok?
Our primary purpose as a company has always been to create connections between people across the world. At a time when none of us are able to do what we do best – design remarkable holidays – we think that sharing these stories might be the next best thing.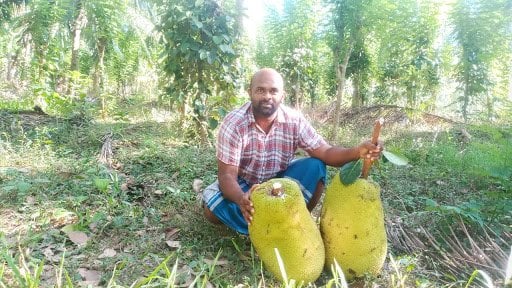 Chami, Sri Lanka
There is currently little to no business to be had as a chauffeur-guide in Sri Lanka – even for the best of the best, like Chami. But with all his newfound free time, he's been keeping busy working on his organic farm. From bananas to jackfruit, all that tropical produce is enough to get us itching to go back to Sri Lanka once it is safe to travel again.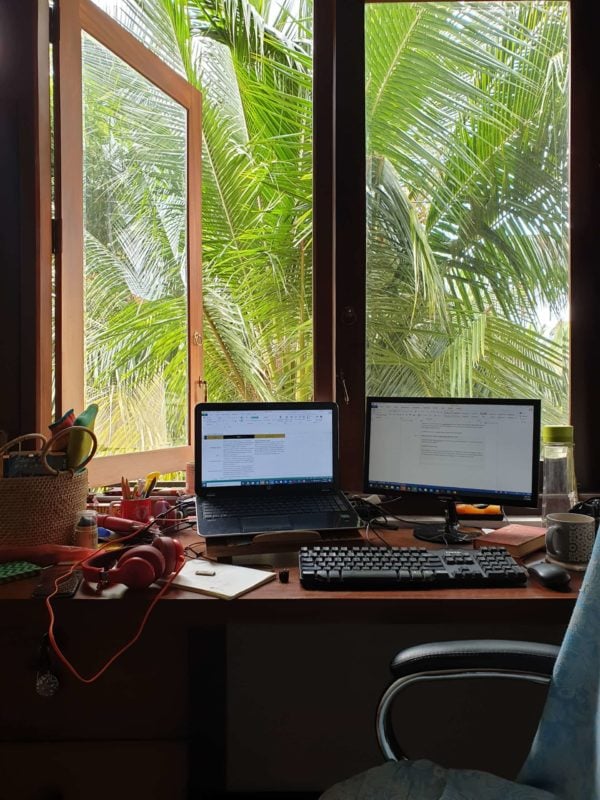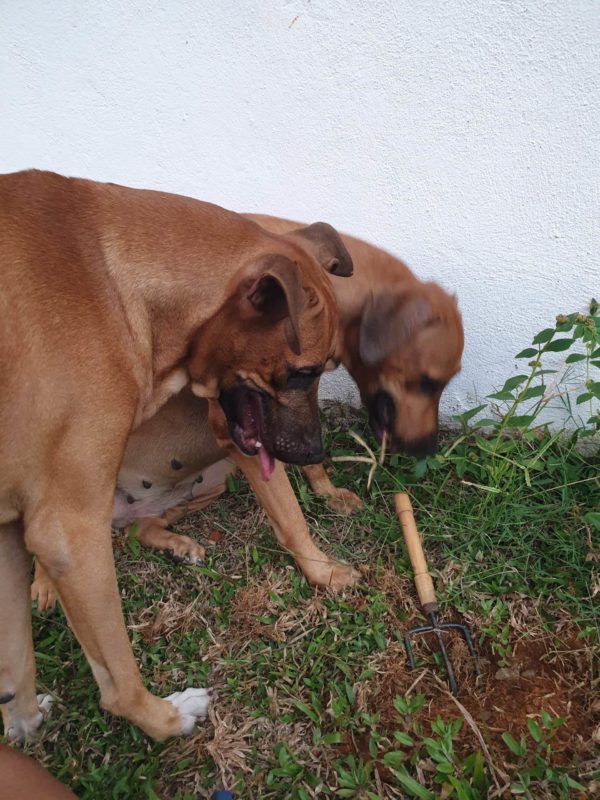 Thushni, ETG's Sri Lanka Experience Manager
Thushni's home working station looks a little more tropical than ours in the UK! She told us, "I gave gardening a try, hoping to work on some new plots but my dogs disapproved, protesting by sleeping across what I was digging. I too have gone through the quarantine bandwagon stages of making the whipped coffee, banana bread etc but now baking is at a minimum because finding butter is like finding gold!"
The 13th night of confinement in Sri Lanka fell on the dawn of the Sinhalese and Hindu new year. Usually all auspicious occasions are marked by eruptions of fire crackers but this year, Thushni only knew the new year had dawned when her phone started to ping with messages. She told us "It was the most somber new year because we couldn't meet with family or make sweet meats as we usually do, but if ever there was a time to hope for a new and better beginning, it is now. I enclose a photo of the traditional bowl of flowers that is typically created at new year to symbolise prosperity – this was taken last year – and I wish you all a happy and prosperous new year."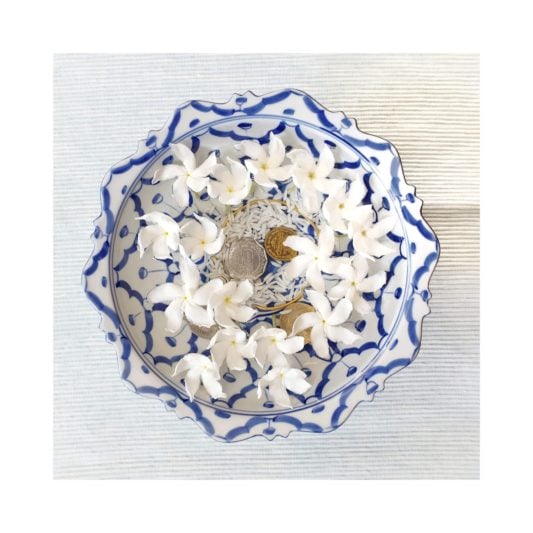 Sinna, South India
Sinna helps put together our fantastic experiences in Southern India. The entire country is currently under a 21-day lockdown with only emergency and essential services operating. He tells us that they are all now maintaining social distancing and 'working' from home, even though there is not a lot of work to be done at present (his team are doing the general admin work that they usually do during off-season).  In his own words, "Netflix and X-box are a lifesaver!"
He also shared the heartening news that a good percentage of people in Southern India have recovered from the virus and returned to their homes. This includes a couple of elderly European tourists, who have now fully recovered in spite of developing serious complications.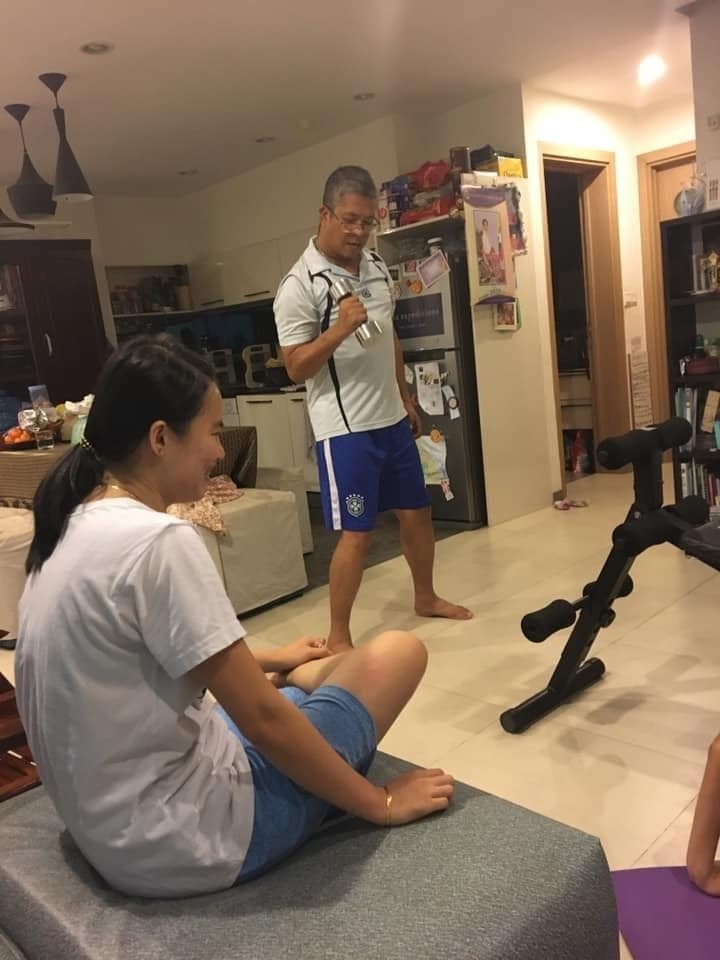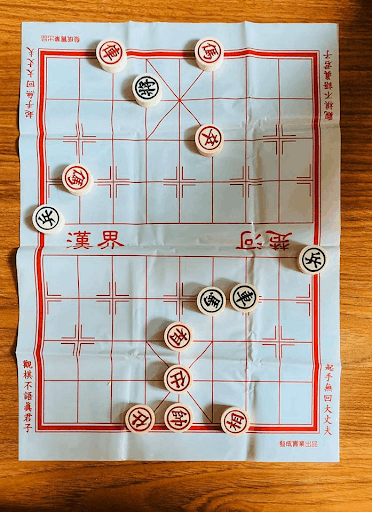 Esther, Cambodia
In Cambodia, people are advised to stay home if at all possible and our partner Esther worries there may be a state of emergency declared soon. While indoors, she is spending the majority of her time cooking mouthwatering Southeast Asian specialities – it's Shan noodles on the menu this weekend – and torturing her husband and business partner, Win Zaw, with exercise in their apartment!
Thu, Vietnam
Thu, who is part of our on-the-ground team in Vietnam, has been at home in Saigon since the 22nd. She is worried things won't really change until there's a vaccine, and had some travel plans of her own this month that will now of course not go ahead. Her time in isolation has been spent watching movies, sending occasional work emails, and playing boardgames (see pictured above).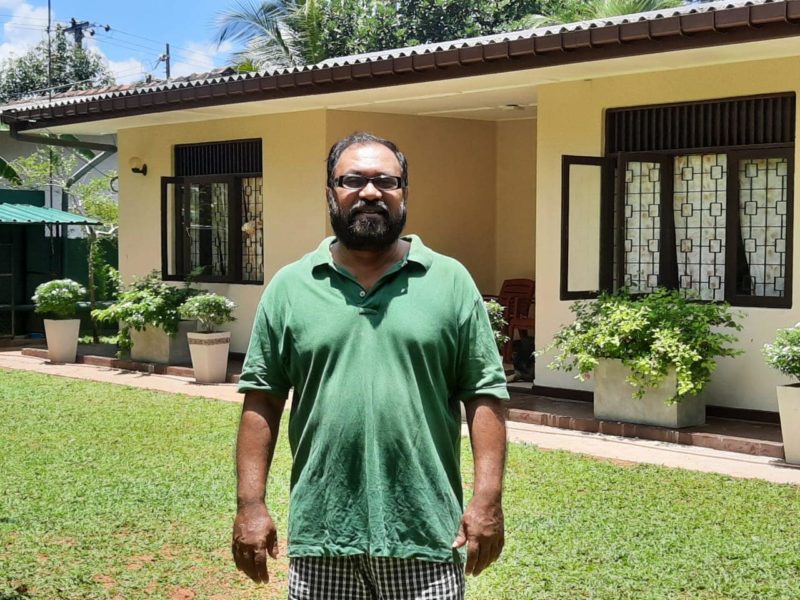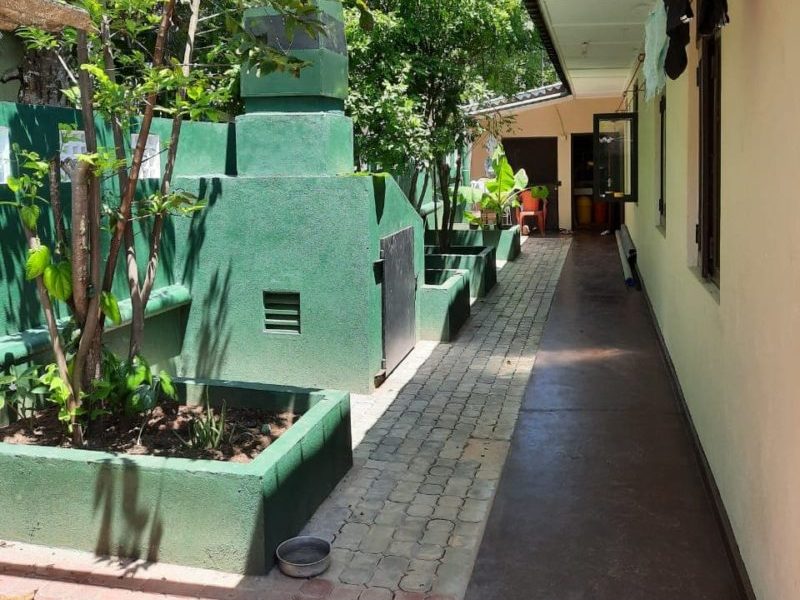 Lala, Sri Lanka
Lala has been a chauffeur guide for about 17 years and told us he's finding it strange not looking after clients, as it's such a big part of his life. He is from a big family in Bandarawela and and has always been an outdoors man. He has a brother who has a plant nursery at home, which cultivates some great plants. Lala himself is a fantastic birder. He now lives with his wife and two children in Maharagama, a suburb of Colombo. His wife is a teacher and son and daughter are classically trained musicians. They both just finished their A/Ls.
Lala is not one who can sit idle. He told us, "whenever I have time to do something I'm always very methodical about it. As you can see, my garden is pretty spotless. I had to build cement squares as planters to keep my plants safe from the dogs. With no work at the moment, I'm going to be growing plenty of fruit and vegetables in the garden, and hopefully provide a great crop for my family".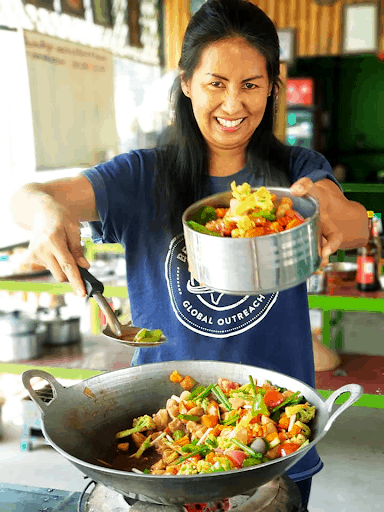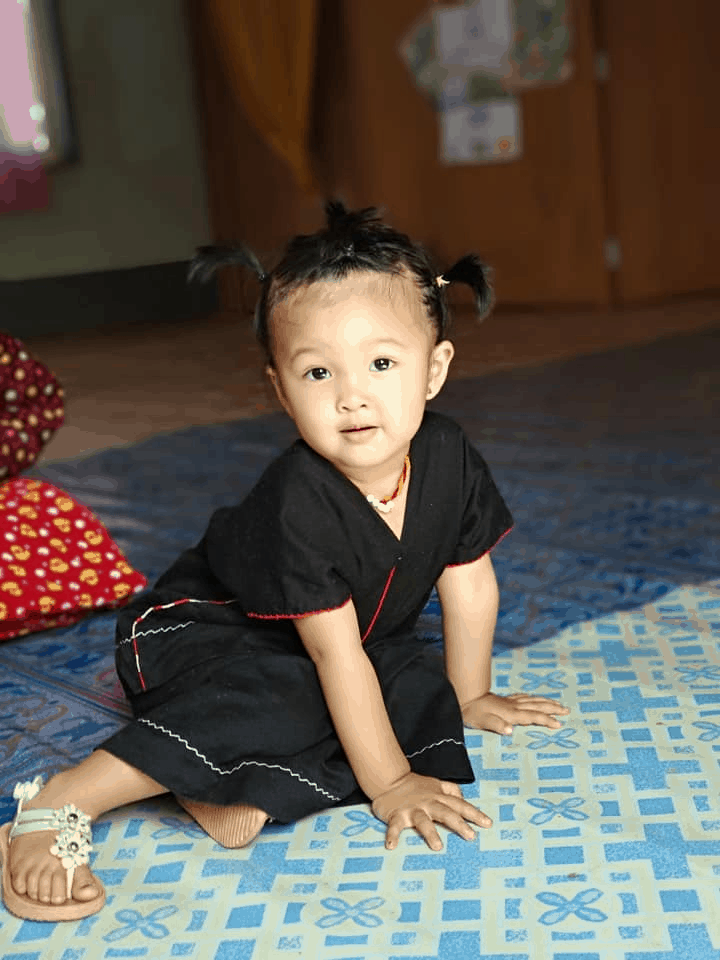 Sue, Myanmar
Sue runs a fantastic cooking school in Lake Inle by the name of Bamboo Delight, which is universally adored by ETG travellers. She and her family are doing well, and though the business is quiet they have come up with a brilliant way to help the community: donating meals to the local doctors and nurses.
Khun, Myanmar
Khun isn't going to be working for the next two months, but his wife's shop is still doing good business. He is enjoying the opportunity to spend lots of time with his little girl (pictured above), a toddler who he tells us is getting bigger and bigger by the day. He's also found temporary employment as her hair designer!
Nouvanh, Laos
This is a story that really brightened our day. Nouvanh, one of our guides in Laos, has decided it's high time to pursue a lifelong dream… to become an international Hmong music star!
Nouvanh has had an ambition to become a music star for years, but it has been challenging to combine it with family life and work. He is now using all his extra free time to write songs in the Hmong language and to shoot music videos which he posts on Youtube under the artist-name 'Dong Na Wa'. Nouvanh is hoping to become popular amongst the sizable Hmong community living in the USA.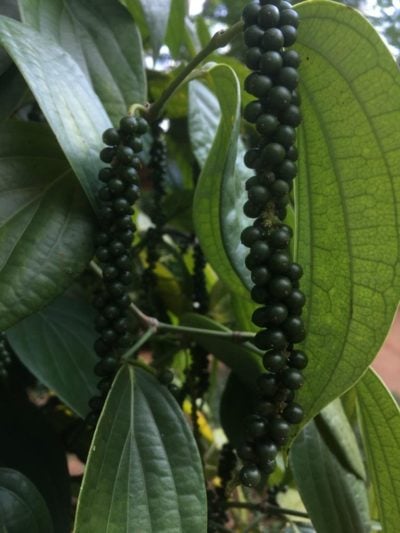 Kevin, Jim's Farm, Sri Lanka
The particular issue at Jim's Farm is that the curfew was implemented so quickly that most of our remote living hotel staff could not get back home, and now that travel over district boundaries is banned, they're stuck at Jim's for the duration of the lockdown! Luckily they have plenty of fresh fruit and veg, as it's peak season. The hotel staff are upskilling and learning to work on the farm  – so they will emerge incredibly fit! Kevin also noted "keeping busy is key for their mental strength as-well of course.  A great pepper harvest is anticipated: if there are any traders with money to buy it?!" Otherewise let's hope the guests like peppery dishes when they start coming back.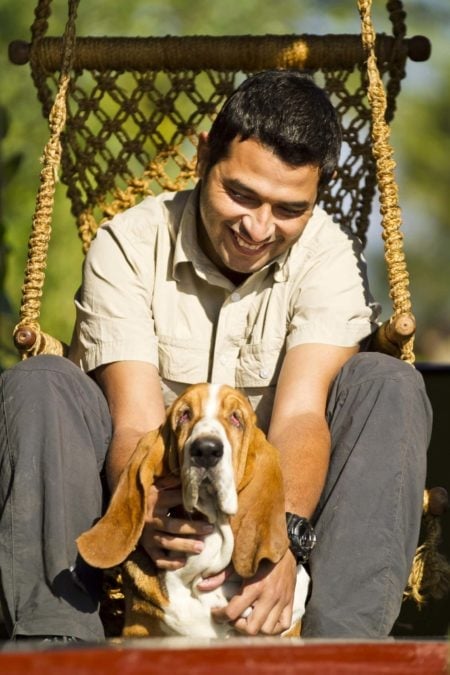 Rishi, Bhutan
Bhutan was quick to ban all tourism in early March and has thankfully limited cases at present. All Bhutanese coming back into the country have been on mandatory quarantine so it's really helped stop the spread. Although the country is not under lockdown, the team in our partner office have all been working from home to ensure that they do not have any transmission. Working from home in turn is letting Rishi spend more time with his 12 year old Bassett Hound, Jingles and also helping his wife with some cleaning/cooking/ long pending tidying the wardrobe, etc. Also, they are both catching up on a lot of movies as they usually don't get to do that living in such a remote Kingdom.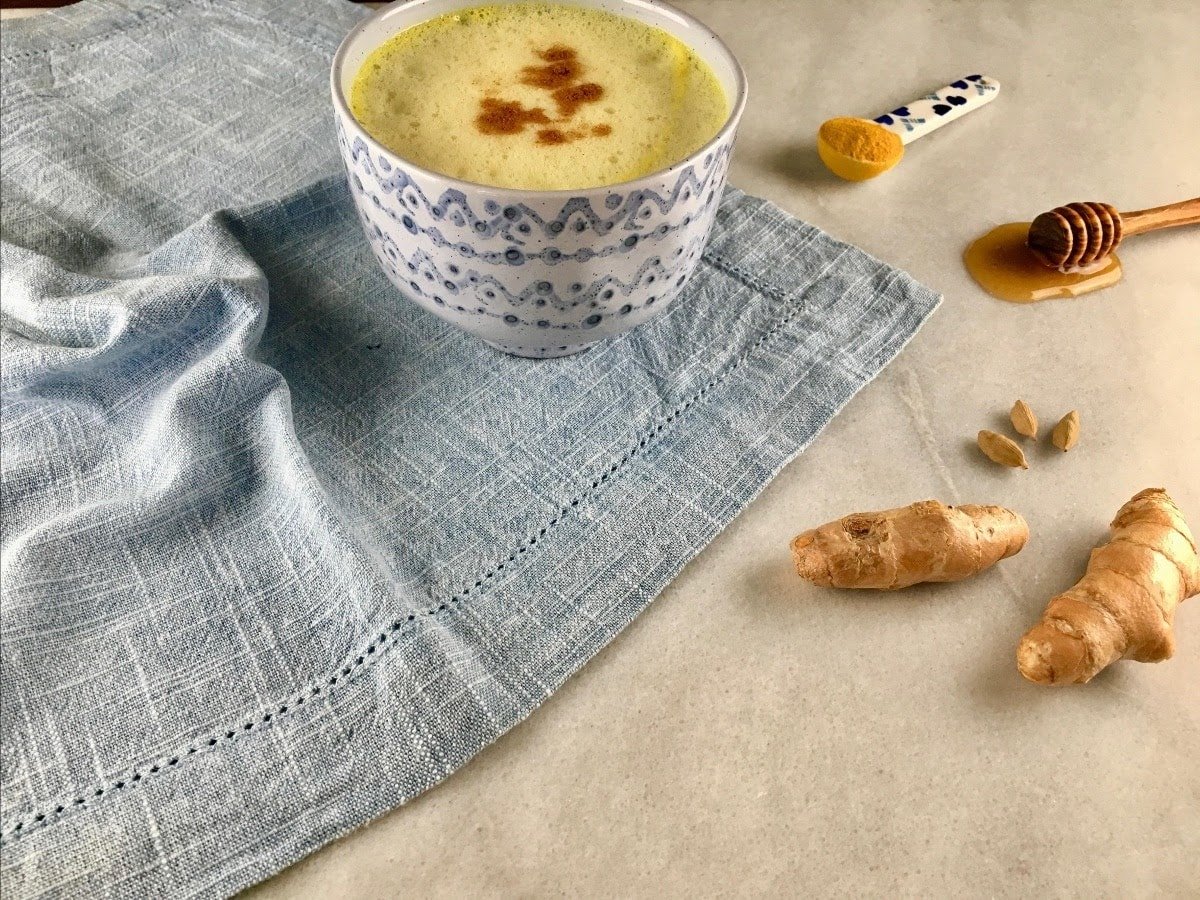 Dee, Kalukanda House, Sri Lanka
Dee travelled to Sri Lanka with Experience Travel Group in 2014. She fell so in love with the country that over the course of her trip, she decided to leave her life in London behind, and ended up purchasing a boutique Sri Lankan hotel (the beautiful Kalukanda House). She and her family have been living between Sri Lanka and London ever since.
When we got in touch with Dee, she kindly agreed to share a little Sri Lankan tip (or tipple) to help get us through this difficult time. A taste of Asia to feed our wanderlust, that is also soothing and packed with healthy goodness – what's not to love?! Over to Dee…
"If you are not sleeping well because of indigestion caused by stress or this sudden change of lifestyle, try this drink.
Coconut oil is rich in various healthy fats and has anti-microbial properties. Adding it to a bedtime drink is not only soothing but it will help calm acid reflux and aid digestion.
Delicious and effective, it also includes turmeric which is an anti-inflammatory, pepper which helps with the absorption of turmeric and honey which helps you sleep. I have also made this with just water which is lighter in taste and works just as well.
Ingredients:
2 cups coconut milk
1tbsp coconut oil
1-inch piece of sliced ginger/ 1 teaspoon ginger powder
1 teaspoon turmeric
1 tablespoon organic honey
¼ teaspoon ground black pepper
Method:
In a bowl, mix the ingredients, except for the honey. Mix them well, transfer the mixture to a saucepan, and place it over low heat. Cook it for 5 minutes, and add the honey at the end.
This delicious and healthy drink is easy to prepare, and it soothes the stomach, enhances digestion, prevents acid reflux and helps you sleep."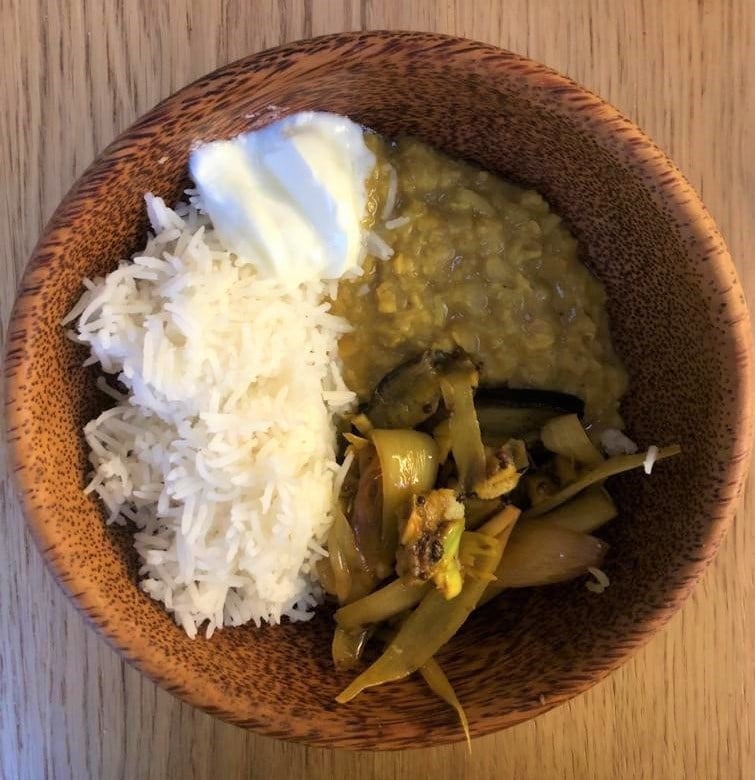 Alice, London, "Our Asia. At Home"
Even though Alice (Head of Sustainable Travel) isn't in Asia, her recipe for Sri Lankan Coconut Dal with Aubergine Pickle was too good not to share, so here we go…
Ingredients:
For the Dal
2 shallots / 2 garlic cloves / 100g solid coconut cream / 1 vegetable stock cube (or chicken) / 200g red lentils, rinsed / 1tsp ground turmeric / 2 tbsp curry powder
For the Aubergine Pickle
2 aubergines / 1-2 green chillies / 3 shallots / 30g fresh root ginger / 3 garlic cloves / 1 tsp ground turmeric / 60ml cider vinegar / 2 tsp black mustard seeds
Method
Dissolve the stock cube and the coconut cream in 600ml boiling water. (If you don't have coconut cream, use coconut milk and reduce the amount of water)
Slice the aubergine into strips. Heat a large wide-based pan (with a lid) with a drizzle of vegetable oil over a medium heat. Once hot, add the aubergine and a pinch of salt and cook, covered for 10-12 min, turning occasionally until golden and tender. Add a little more oil if looking dry.
Heat a separate heavy pot with a drizzle of vegetable oil over a medium heat. Sliced and add 2 shallots, 2 garlic cloves, the curry powder and 1 tsp turmeric and cook for 1 min.
Add the rinsed lentils and cook for a further 1 min.
Add the coconut stock, bring to the boil and cook (stirring occasionally) for 15-20 min until the lentils are tender and starting to break down. This is your coconut lentil dal.
Whilst everything is cooking, prepare the pickling liquid for the aubergine: Peel and finely chop the garlic and ginger. Combine with the cider vinegar, black mustard seeds and 2 tbsp sugar.
Once the aubergine is golden and tender, transfer it to kitchen paper and return the pan to a medium heat.
Finely slice the green chilli (1 or 2 depending on your heat tolerance), peel and slice the shallots into wedges. Add to the pan with the turmeric and cook for 2-3 min.
Return the aubergine and pickling liquid to the pan and cook for 2-3 min or until the liquid has evaporated.
Serve the coconut lentil dal with basmati rice or naan bread and plain yoghurt if liked. Top with the aubergine pickle, garnish with fresh coriander if you have it and season with a grind of black pepper.
Enjoy!

We don't believe in standing still. Watching the world go by through a window. Hearing it through the stories of others.
You want to be in it, out there. Asking questions and finding answers. Finding yourself in worlds unknown. Finding the path less trodden. Meeting people with a different story to tell.
Just ask why, what, how, who? We'll never stop helping you find the answers.
Our travellers come home with stories to tell, memories to keep and new ways of seeing their lives around them. That's what happens when you truly connect with a destination.
FREE YOUR CURIOUS SIDE WITH EXPERIENCE TRAVEL GROUP

FREE YOUR CURIOUS SIDE WITH EXPERIENCE TRAVEL GROUP