As the Christmas season fast approaches, we thought we'd divert your mind away from the potatoes, brussel sprouts and turkey with some of our favourite Asian culinary treats. That's why, over the next few weeks, we'll be sharing some brilliant festive recipes with an Asian twist.
We've decided to start off with a fantastic Pho Noodle Soup. Warming, comforting and nutritious, it's essentially the national dish of Vietnam and an impressive meal to serve up to friends and family.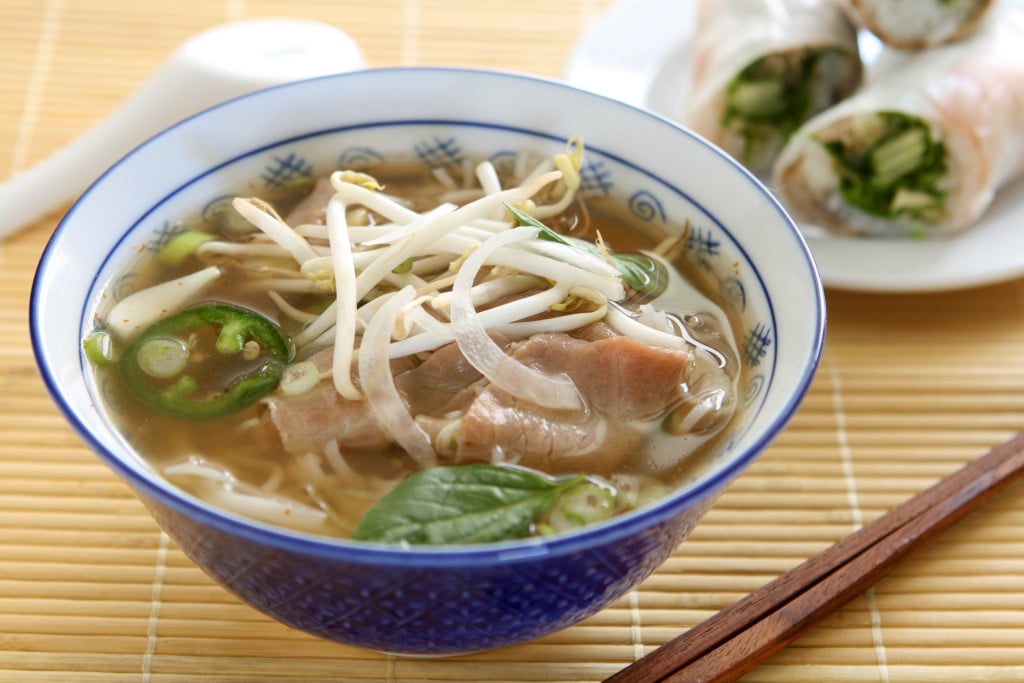 ---
Here's the recipe – enjoy!
Preparation Time: 50 minutes
Serves: 3-4 people
Ingredients:
1-inch knob of fresh ginger (peeled)
30g of pink shallots (peeled)
1.5 litres of beef stock
1 star anise
1 black cardamom pod (lightly crushed)
500g of dried rice noodles
2 tbsp chopped Chinese chives (you can use chives as an alternative)
2 spring onions (coarsely chopped)
1 small onion (finely sliced)
180g beef rump (finely sliced)
Optional garnishes include: 200g bean sprouts, sprigs of peppermint, red hot chillis, and 1-2 lemon wedges.
Method:
1. Roast the ginger and shallots for 20 minutes in some kitchen foil so they don't dry out.
2. Into a large pot, pour the beef stock in anticipation for the ginger and shallots.
3. Chop the ginger and shallots once out of the oven and add to a large stockpot, then add the star of anise and cardamom. Bring to the boil for 30 minutes and then set aside.
2. Prepare the noodles following the packet instruction and then plunge into cold water whilst you finish the stock. Separate out into serving bowls after a minute or so to ensure the noodles don't all stick together.
5. Divide the raw chives, spring onions and onion between the serving bowls. Then add the finely sliced beef raw – once we add the boiling broth it will cook quickly.
6. Reheat the broth to boiling point, remove cardamom and star of anise with a fishslice, and pour into your prepared serving bowls – the beef should turn opaque quickly.
7. Serve with any optional garnishes as you wish.
---

Whilst the above is a great dish, nothing beats a real local Vietnamese noodle soup. Have a look at one of our favourite Vietnam foodie holidays for some inspiration:
Essential Vietnam with a Culinary Twist
All our holidays are tailor-made by our country experts, so if you wanted to get a personalised itinerary or just some more ideas, do call us on 020 7924 7133. Our specialists are very happy to help – no matter where you're at with your holiday planning. There are no obligations to book and you don't have to pay a penny until you are completely sure that you've found your perfect holiday.