Starting to plan a holiday to Vietnam? We know there is a lot of information out there about where to go and when. If you're not sure where to begin, read our insider advice about how to plan a holiday that's right for you.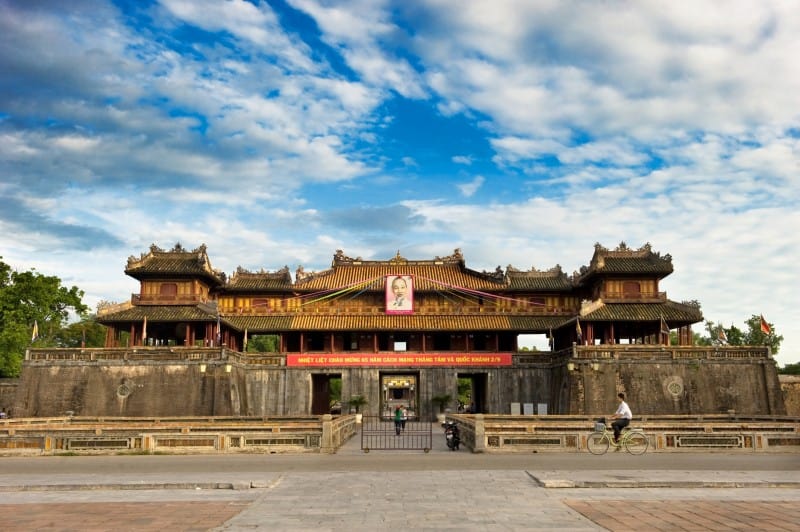 ---
1. Decide on when you're going
Vietnam is long and thin with lots of coastline. It's affected by different weather patterns, so it's important to think about where you're going and at what time.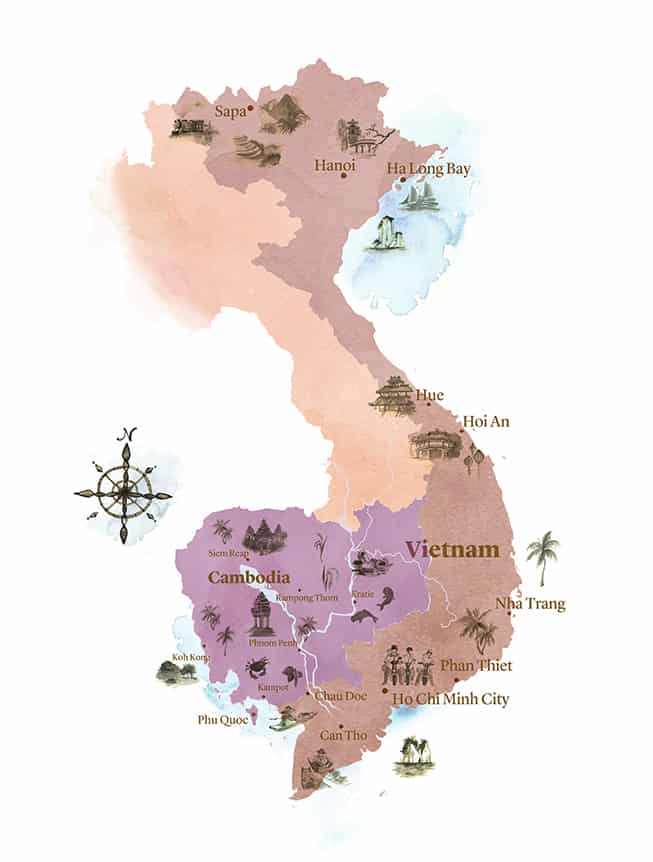 Let's break it down a bit for you:
Winter: November to April
It's a great time to go. Hot, sunny and dry everywhere. Best beaches at this time are in the south of the country.
Spring & Summer: May to August
Central Vietnam is superb during these months, with great weather for the beaches around Hoi An. You'll see some rain in the north and south at this time, but not enough to totally put off a holiday (in our opinion!).
Autumn: September to October
This is monsoon time, so best avoided if possible.
---
---
2. What type of experience are you looking for?
Vietnam is rich in history and culture with so much on offer to see, do and experience. Depending on how much time you have, we would recommend trying to focus on three, maybe four different stops and using them as your bases to see the main highlights as well as some less-visited gems.
A very classic itinerary might incorporate historic Hanoi in the north, the charming UNESCO World Heritage town of Hoi An in central Vietnam and bustling Ho Chi Minh City in the south. Convenient and popular add-ons to this are an overnight cruise at Halong Bay (easily reached from Hanoi) and the Mekong Delta (a three-hour drive from Ho Chi Minh City).
Of course let's not forget Vietnam's beautiful beaches, where you can round off your holiday with some relaxation. There's Phu Quoc Island, just a one-hour flight from Ho Chi Minh City. Good roads have been recently built, but much of the island still retains its lovely laid-back atmosphere and great beaches. Hoi An is a great choice for those travelling in school summer holidays, as the beaches are in season here from April until the end of August. Mui Ne and Phan Thiet are less-developed with wide, sweeping beaches and good water sports, around a four-hour drive east from Ho Chi Minh City.
For second time visitors to Vietnam, you might want to consider heading deeper in the countryside to see the rice paddy fields of Sapa, or even better, the lush green valley town of Mai Chau. There are a few national parks such as Cuc Phuong and Cat Tien with very basic facilities, and of course the spectacular Son Doong, the largest cave in the world.
---
3. Figure out how you're going to get there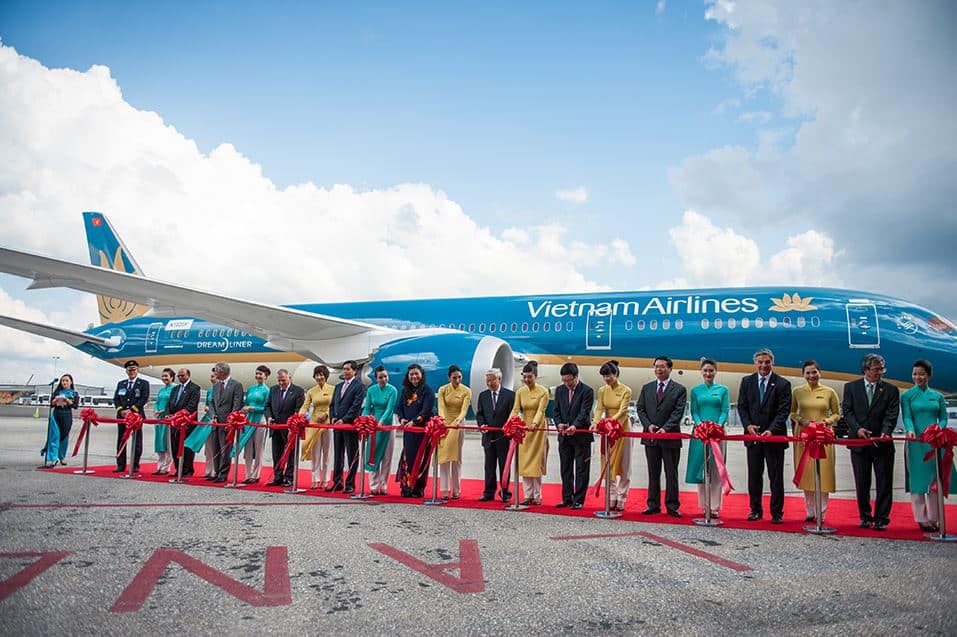 Vietnam Airlines, the country's national carrier, offer direct flights from London to Hanoi and Ho Chi Minh City on alternating days of the week. They've recently upgraded their fleet so the airplanes are comfortable, high-tech, with good service and a rather wonderful Premium Economy option with added leg-room at good value prices.
There are plenty of other airlines you can consider, including Thai Airways, Emirates and Qatar Airways. This opens up plenty of opportunity for stop-overs and also flying from regional airports across the UK including Glasgow, Manchester and Birmingham.
Domestic flights in Vietnam are cheap, easy and efficiently operated. Whilst this is definitely the fastest way to get around Vietnam, train travel can also be a really fun experience. Overnight journeys from Hanoi to Hoi An and Hoi An to Ho Chi Minh along the re-unification highway are particularly enjoyable. Vietnam is a bit too big for long-distance bus journeys in our opinion, and when you're in towns/cities, having a private driver guide is the best way to see all the sites in a relaxed manner. Tuk-tuks are also fun for the odd post-dinner journey home!
---
---
4. Decide where you want to stay
Vietnam has a fantastic array of characterful boutique hotels, all well-established and many offering you the chance to learn about Vietnam when you stay. Think about what is important to you in terms of facilities (like interconnecting rooms, swimming pool, bike hire) and also places you've stayed before that worked really well for you and go from there. From slick colonial-luxury hotels in the city all the way to shabby-chic beachfront huts, there's something for everyone. If you're looking for a starting point, have a look at our favourite hotels in Vietnam.
---
5. Pick a guide
Think about whether you want a guide to accompany you for your trip. They are a brilliant point of contact in the country, quickly answering any questions you have on protocols, customs or even where the nearest cash machine is. I find them absolutely invaluable for getting under the surface of a country. Try to make sure though that you get a properly trained and vetted guide. There is a culture of commission-making amongst many which means lots of unscheduled detours to touristy trinket shops, and sometimes cultural misunderstandings can occur if your guide is not carefully selected; you might find yourself taken to a newly developed western shopping mall for lunch or dinner when a lovely family restaurant would have been a much more pleasant experience.
---
6. Visit your GP and think about visas
Be sure to visit your GP about topping up your vaccinations for hepatitis, tetanus, etc. The UK National Health Service advises that Vietnam has a low risk of malaria, and whilst we in the office don't tend to take anti-malaria tablets when visiting, we'd always recommend double checking with your Doctor first. Until June 2017, British (and a number of other) nationals do not need a visa to travel to Vietnam for any duration under 15 days. If you're going for over 15 days, you will need one and if you're planning on entering, leaving and then re-entering, you'll need a visa too. You can check further details at this link.
---
---
7. Remember currency details
It can be tricky to get hold of Vietnamese Dong outside of Vietnam so we would strongly recommend converting when you arrive. British Sterling, Euros and US dollars are all readily changeable, and the rates you will get for exchange in Vietnam are much more competitive. Ask your guide for recommended, trustworthy money changers. As a general rule of thumb in Asia, we'd always recommend keeping a few US dollar notes with you, as they can always come in useful.
---
8. Leave some room in your suitcase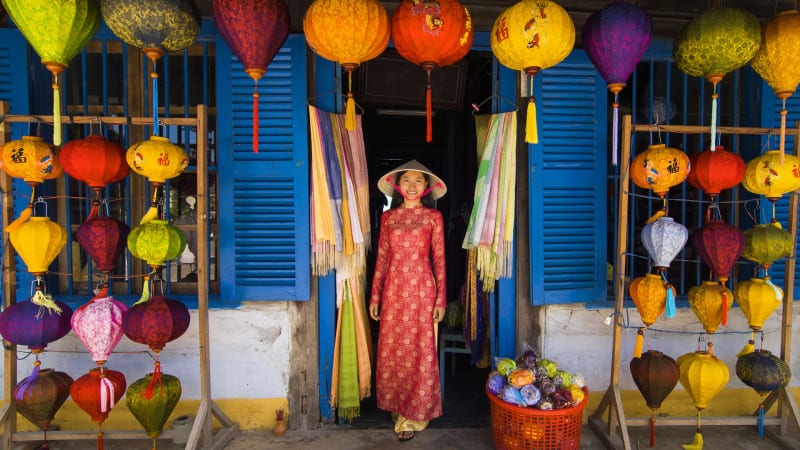 Vietnam is world-famous for beautiful fabric and skilled tailors, especially in places like Hoi An. Build a few days into your itinerary to allow time for window shopping, measurement and tailoring of clothes (anything from men's shirts to bridal dresses!) Be sure to leave some space in your suitcase to bring your garments home with you.
---
All our holidays are tailor-made by our country experts, so if you wanted to get a personalised itinerary or just some more ideas, do call us on 020 3603 2578. Our specialists are very happy to help – no matter where you're at with your holiday planning. There are no obligations to book and you don't have to pay a penny until you are completely sure that you've found your perfect holiday.
---