Having relatively recently opened up to the world, Myanmar can still pose challenges for travellers wanting to navigate the country. It encompasses a vast landmass, so getting about can be problematic as can be experiencing the highlights away from crowds and reaching undiscovered spots. This short guide will briefly outline how best to plan your trip.
---
1. Decide when to go
With a tropical climate, the country is warm all year round although there is a "wet season" that runs from May to October. Climate varies depending on the topography of the landscape; the mountains and hills experience cooler temperatures than the lowlands.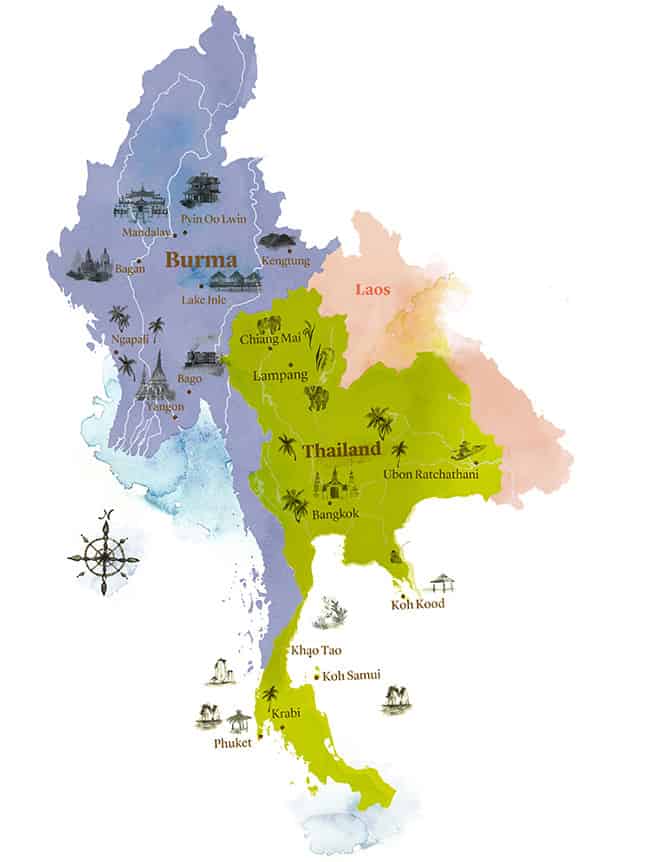 During the wet season it can rain heavily in Yangon although it won't stop you sightseeing if you are prepared and, in places like Bagan and Lake Inle, there could be short showers mixed up with sunshine. On the other hand it is worth noting that Ngapali beach pretty much closes down at this time because of the weather. The rainy season also affects the river levels and journeys by boat; the Irrawaddy River is best experienced just after the rainy season as the landscapes will be lush and waters high.
April is the hottest month of the year so go prepared with sunhats, fans and lots of sun cream at this time.
---
2. What do you want to do?
Next it's a good idea to work out why you're travelling to Myanmar. There are lots of things to do, so pinning down your 'must-sees' might need some careful consideration. Do take into account the size of the country because you may need to include internal flights or be able to incorporate some interesting river journeys to get to all the locations.
For a first-time visitor, we recommend the world famous Bagan. Built over the 9th to 13th Centuries, there are over 2,200 Buddhist temples to see across the dry plains. The Shwedagon Pagoda is a mighty sight to behold and the country's most important pagoda. The stupa is plated in gold and its history is thought to date back to over 2,500 years. In the centre of the country, freshwater Lake Inle is a brilliant place to explore rural life. The lake itself is famous for fishermen with a one-legged method of catching fish. A final highlight to mention is the beautiful U Bein footbridge in Mandalay. We'd recommend going at sunrise and soaking up the atmosphere as monks and market hawkers wander across.
If you're looking to delve a little deeper you can visit the stunning Mount Popa, a volcanic pilgrimage site with stunning views over Popa Taung Kalat, a shrine jutting up from a volcano plug nearby. Relax on Ngabali beach, part of the country's gorgeous coastline. There are some great hotels here but it is still peaceful compared with some of the mass tourism beaches found in other countries. Visit hill tribes in the Loikaw region near Thailand, or discover the Mergui archipelago – a series of white-sand islands and small villages surrounded by warm turquoise waters.
---
3. Figure out how you're going to get there and move around
Travelling to Myanmar is relatively straightforward. There are no direct flights, so it is best to fly via Bangkok, Singapore, Hong Kong, Kuala Lumpur or Ho Chi Minh and then connect onwards.
With much of the country being remote, Myanmar relies on a network of internal flights. Flying is the quickest way of getting around internally and journeys are usually very short with scenic views. In addition, as the airports tend to be small, there's little hanging about waiting for your luggage.
For those wanting to minimise flying, there are some fun experiences to be had by train. From the overnight sleeper between Yangon and Mandalay to scenic, shorter rides along historic British colonial tracks like the Goteik viaduct or on the circle train around Yangon, it's a more culturally rich way travel.
Another brilliant way of getting around in Myanmar is by boat. There are long and short journeys on the Irrawaddy river with various standards of luxury. You can also explore the Mergui Archipelago by yacht or liveaboard boat and enjoy the turquoise waters.
Rickshaws, three-wheeler tuk-tuks and vintage taxis are available in cities and large towns – although be wary of the tourist prices set by drivers. Public buses in the main cities of Yangon and Mandalay are available although they can be overcrowded and slow. Where possible, we'd recommend having a private vehicle as they are fast, clean and safe.
Cross-border travel is easier than ever before, and you can combine Myanmar with Thailand in one trip, perhaps crossing into northern Thailand or, alternatively, you can use the southern Myanmar border and cross into Thailand at Ranong, close to the Andaman Sea.
---
---
4. Decide on where you want to stay
There are some beautiful boutique properties and stand-out places in which to stay in Myanmar. The Governor's Residence in Yangon is a colonial mansion dating back to the 1920s. Located in the Embassy Quarter, it's a throwback to a bygone era whilst fitted with top-notch modern conveniences.
Bagan Lodge is a great resort in which to base yourself when visiting the nearby temples. The tented rooms are lovely, offer great value and the swimming pools are a welcome way to refresh after the temples. For beach lovers, Ngapali Bay Villas has an on-the-beach location with spacious rooms. Architecture is modern with a Burmese twist and the service is very good – a perfect place to kick-back and unwind.
Some hotels may have links to Government officials (or former Government officials) and there are some ethical implications that you may also want to consider.
---
5. Pick a guide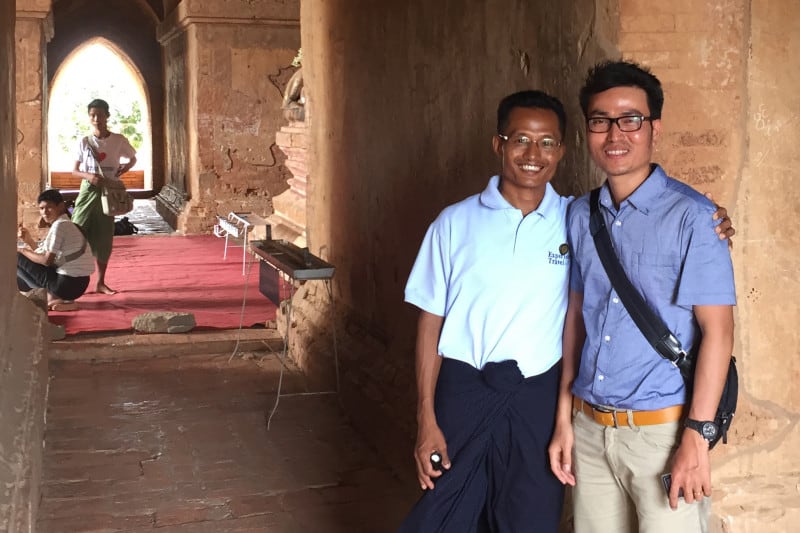 For some parts of your trip, you may find it very useful to have a local guide. They can really get you under the surface of the culture whilst also being an invaluable help with practical matters. Try to make sure though that you get someone who is properly trained and vetted.
There is a culture of commission-making amongst many guides which means lots of unscheduled detours to touristy trinket shops, and sometimes cultural misunderstandings can occur if your guide is not carefully selected; you might find yourself taken to a newly developed western shopping mall for lunch or dinner when a lovely family restaurant would have been a much more pleasant experience.
---
6. Visit your GP and think about Visas
Be sure to visit your GP about topping up vaccinations for hepatitis, tetanus etc. The UK National Health Service advises that there is a low risk of contracting Malaria in most of the tourist areas. If you're flying into Yangon, Mandalay or Naypidaw you can use the e-Visa service; visit www.evisa.moip.gov.mm in advance of your trip to obtain one. It costs $50 and is valid for 3 months from the issued date. Be sure to print out a copy as digital versions might not be accepted. Otherwise you can obtain a visa by post or in person at the Burmese embassy in London. You'll need to download a simple application form from their website and requires two passport photographs. You can apply for a visa in the morning between 10 and midday and pick it up the visa in the afternoon between 2 and 4.30pm, about a week later. The visa is valid from 3 months from the issue date.
---
7. Sort out currency
The official currency in Myanmar is the Kyat (pronounced 'chat'). However, the US Dollar is widely used as an alternative currency and particularly for larger purchases so we recommend that you take some with you. Note that only dollar bills in pristine condition will be accepted and, because of concerns over counterfeit money, US Dollars with the letters AB and CB at the start of the serial number (top left-hand corner of the note) are not always accepted.
You can exchange US Dollars and Euros into Kyat at major airports and at banks in the larger cities. You can also exchange money at some hotels and local jewellery shops, although the rate is likely to be less good. You're likely to get the best rate in Yangon and Mandalay but your guide will be able to help and advise you. There are no coins in Myanmar currency and it's useful to keep a supply of 1000 kyat notes for tipping and small purchases (although do note ETG holidays include the costs of tips for guides and drivers in them).
There are now some ATM machines in the main cities that are able to accept Visa/Mastercard/Maestro/Cirrus cards. Cash withdrawals have a transaction fee of approximately 6 USD. Credit card facilities are still limited but, as with so much in the country, the situation is changing fast; cards are accepted at upscale restaurants and hotels in Yangon and in some of the more popular spots around the country (with a surcharge of around 3%).
---
8. Leave room for lacquerware
Lacquer may have its origins in China, but there's an ancient tradition of it in Myanmar, particularly Bagan. The intricate designs are beautiful and priced very reasonably given their quality. It's a fantastic memento or gift for a friend.
---
If you were interested planning a trip to Myanmar (Burma), do get in touch with us on 020 3603 2578, or request a call back. There are absolutely no obligations and we're here to offer advice for any stage of your holiday planning. To see some example holiday itineraries, have a look at our Myanmar portfolio.
---