Now I must be honest, I am not really a great connoisseur of 'adventure' sports. Out of my friends I am definitely the biggest wimp, jumping out of my seat watching the 'Scream' spoof horror movies and avoiding anything that seems potentially limb breaking. So it was with a rather heavy heart that I agreed to partake in this next chapter of my Sri Lankan adventure, being nudged into it by my new bosses.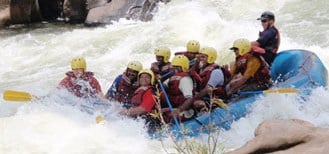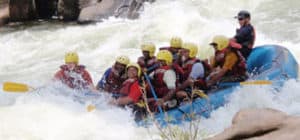 My fear and reluctance however, was misplaced as the day I spent with the crew at Borderlands, Kithugala was one of the most enjoyable of my trip. Specializing in white-water rafting and canyoning on the Kelani Ganga and its tributaries, Borderlands is the only rafting centre in Kithugala to provide safety kayakers as standard when white-water rafting. The presence of safety kayakers is essential in making sure that the river is safe to raft.
Having been greeted by Gwen, Niamh (the kayaking instructor) and Johan (who was to be our guide), we got suited up with helmets and buoyancy aids and headed off upstream, accompanied by a few of the Borderlands team in order to provide some paddling muscle.
Once at the water's edge, we tested our buoyancy aids, had a reassuring safety talk from Johan and went on our way. Niamh was to be our safety guide on the river and she was great in heading off down the rapid first to make sure of its safety. She was able to position herself in small eddies and pools next to the rapid, ensuring that she would be immediately available to move to a rafters aid should one be dislodged from the boat, and give them a lift back to the raft.
After ensuring we all knew what to do, our team hopped into the raft and paddled downstream. It was not long before we reached our first rapid. The initial rapids are the practice run, ranging from grade one (the lowest) to two, and they provided the opportunity for us to hone our team work and paddling skills, and to get used to the movement of the raft as it was pushed and pulled in different directions. The next rapid saw the training wheels come off as the grade three rapid (the highest grade for rafting on this river) buffeted the raft, dislodging two of my teammates. It certainly got the adrenaline pumping as we tried to pull them back in as well as obey Johan's loud demands of 'Paddle Paddle PADDLE!!!!!'…


By some miracle, we all made it through the rapid without falling (fully) into the water, and after a team cheer and paddle slap, we headed off in search of our next challenge. The Kelani Ganga (river to you and me) is perfect for inexperienced rafters in particular as the rapids increase in force and velocity the further you go downstream, offering you the chance to gain your footing and find your groove on the smaller rapids before meeting the big dogs. After a couple more, we stopped off at a riverside beach and threw some shapes whilst using the raft as a makeshift trampoline and hurling ourselves into the water. A few more grade two and three rapids were beaten by our formidable team and our two safety kayakers before our last of the day, the Killer. With a sly smile Johan told us of how this rapid was a grade three level but was actually made up of three rapids, all positioned directly after one another and how it earned its name from its uncanny ability to capsize rafts. As we headed in we all looked pretty nervous, and we had reason to be… Wave after wave seemed to come at the boat on a never-ending conveyor belt, pushing me further and further into the raft. Johan's constant 'Paddle Paddle PADDLE!!!!!' kept my fingers from wondering towards the safety line but only just. The last in the rapid trio was the worst, with a wall of water slamming into us and the raft, almost dislodging a couple of my team mates. If it were not for the fact I had wedged my feet so far into the inflatable boat that I ended up with friction burn, I would have certainly tasted a lot more river water than one would like. But incredibly, we were out of the rapid in one piece and all breathing a sigh of relief.
'Thank God that's over' I said to myself as adrenaline coursed through my veins… only to be reminded by Gwen that of course there was the Canyoning to do now…. Splendid.
After a quick glug of water, we headed off on a light walk up the canyon to the top of a small series of waterfalls and rapids along one of the tributaries of the main river. The canyoning activity took in a series of jumps into the river punctuated by slides down river rapids. The first jump was tricky, and really got the adrenaline going as you had to jump away from the rock to a narrow but deep area about a metre away from the launch pad. The deep spot was surrounded on approx 60% of its sides by a sheer rock face. Gwen plucked up the courage and went first, taking a few minutes to talk herself into it whilst teetering on the edge of the rock. Feeling as though to bail out before I had actually experienced any of it would be too pathetic to fathom, I too took the plunge, thankfully judging the distance correctly and avoiding any of the rocks. Next up were too river slides, the first a simple wash down a straightforward rapid and the second a rather complicated rock funnel hidden for the most part by the large spray of the white water. Ironically, the simpler looking rapid dunked me the deepest in the water whilst the scary-looking funnel was actually very easy and surprisingly fun, reminding me of the water flumes at the swimming pool. Another couple of cliff jumps came next, with the tallest being at least 20ft high. I was TERRIFIED, but as everyone else had done it, and I really didn't want to be the only wimp, I took the plunge and the adrenaline coursing through my veins after I had pushed myself to do it was incredible. It felt so exhilarating!!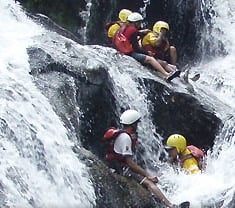 There was the option to continue canyoning for longer but all of our bellies were beginning to rumble. Therefore we all headed back into the raft, experience (and survived) 'The Killer' one more time before drifting back to camp and a hearty meal of Sri Lankan Rice and Curry – YUM.
Murali really did have to drag me away from Borderlands by the end. I had such a great day realizing what I was capable of if I just gave it a shot and I met some great people. I recommend this outfit so wholeheartedly, and will certainly be staying for longer during my next trip and encouraging my clients to include a spot of rafting as part of their Sri Lankan Holiday.