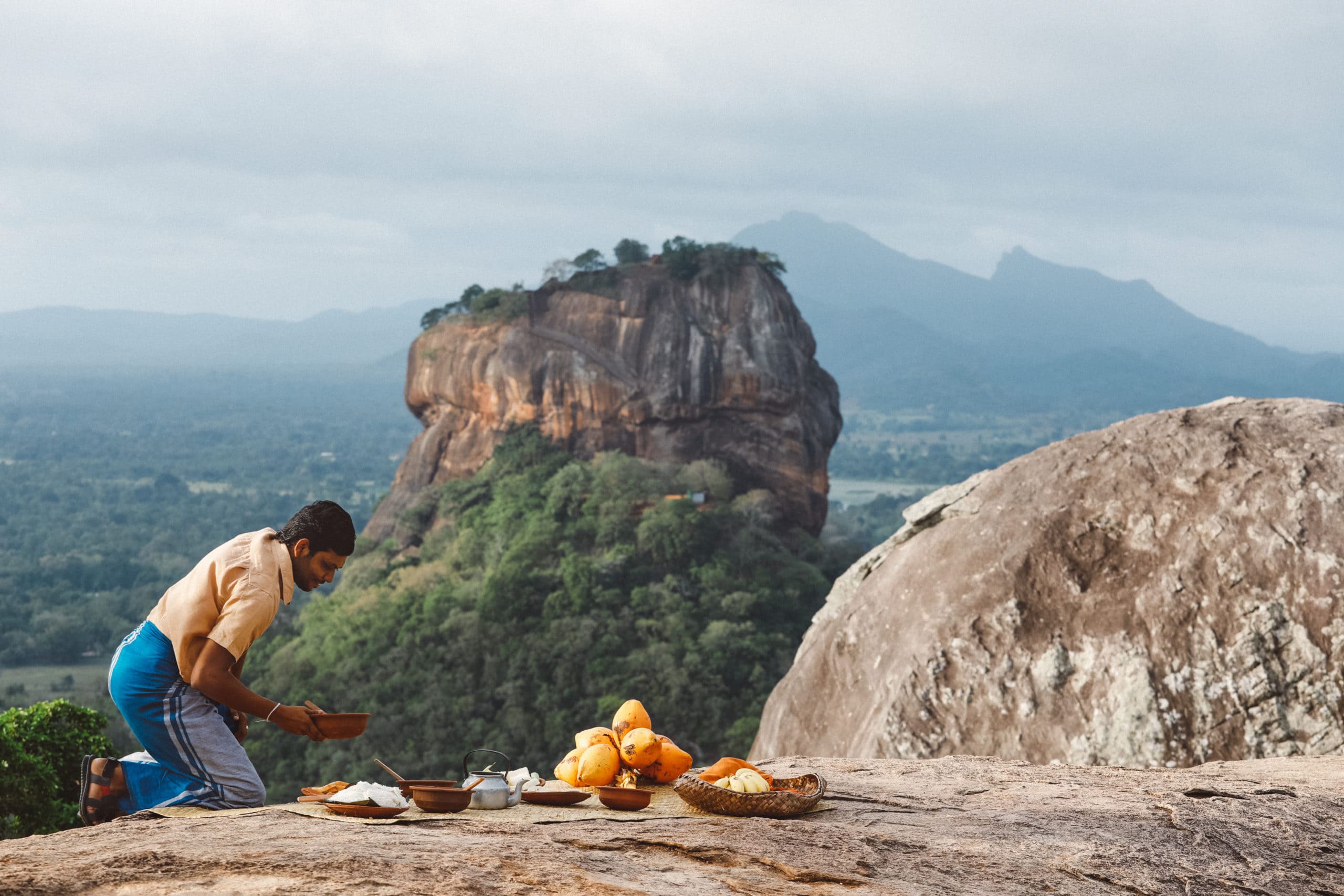 About the author:
This article was written by Alison Allfrey, an ETG traveller who has recently moved into travel writing, alongside her career in financial communication and has just published a book about the time her family spent living in Sweden, So Sweden – Living Differently (available on Amazon). Find out what happened on her holiday with us to Sri Lanka's Cultural Triangle…
There's a body of thought which tries to dictate that children and cultural treasures are somehow incompatible, like two north ends of a magnet. So when we – with a strong dose of conviction and the knowledge that we would do it anyway – announced to friends that we would be embarking upon a voyage of discovery in Sri Lanka, with a good deal of time spent in its central Cultural Triangle, more than one eyebrow was raised questioning our sanity.
No matter – our boys had cut their teeth on a hugely enjoyable trip to Cambodia, where we had learned that temples combined with a child-friendly guide and a good dose of intermittent animals was what we needed for family happiness to prevail. So ETG had a clear remit in planning our foray into the Cultural Triangle and there was a bit of family history into the bargain. The model of having a personal driver is superb with children, affording total flexibility and cushioning the excesses of any culture shocks or fatigue. And our driver, Ashocka, was exemplary with his unflinching kindness, adaptability and reassuring smile.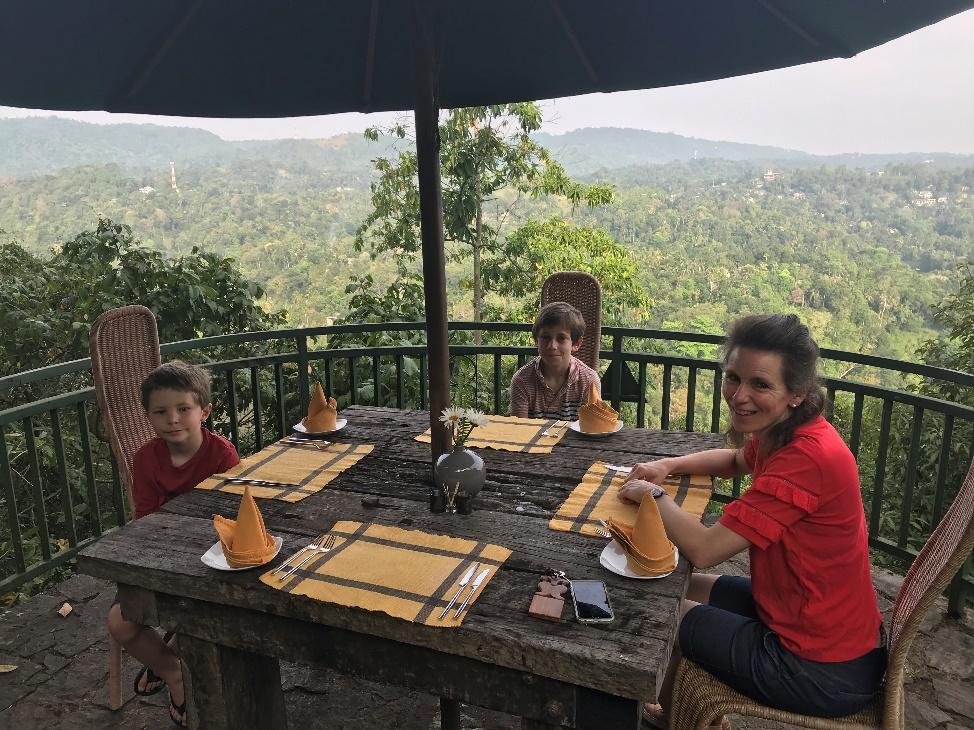 We embarked upon our Sri Lankan road trip, which would be a feast for the eyes and the senses. First stop, Kandy, where my husband's grandfather had served as Head of Secretariat to Lord Mountbatten when he was transferred to Kandy as Supreme Allied Commander, South East Asia. Ashocka had prepared our expectations for a long drive up from Colombo, with the road winding through rice paddies, past stalls laden with bananas of every persuasion and melons of epic proportions, and altitude increasing all the time. Kandy itself was a pulsating bustle of business, with incredible people-watching opportunities as we wound our way slowly through irresistible tomato red tuk-tuk crammed streets to our beautifully chosen hotel, hanging precariously up a hugely steep slope with a gorgeous view over the river and city below. Villa Rosa was a tranquil haven, with tables for dinner and breakfast dotted beguilingly in a pretty garden with croaking toads below and even the odd porcupine, for some after dinner spotting interest. The food was superb, enticing but not too spicy for the smaller amongst us, replete with stunning juices which made our boys feel ten foot tall as they imbibed their very own 'cocktails'.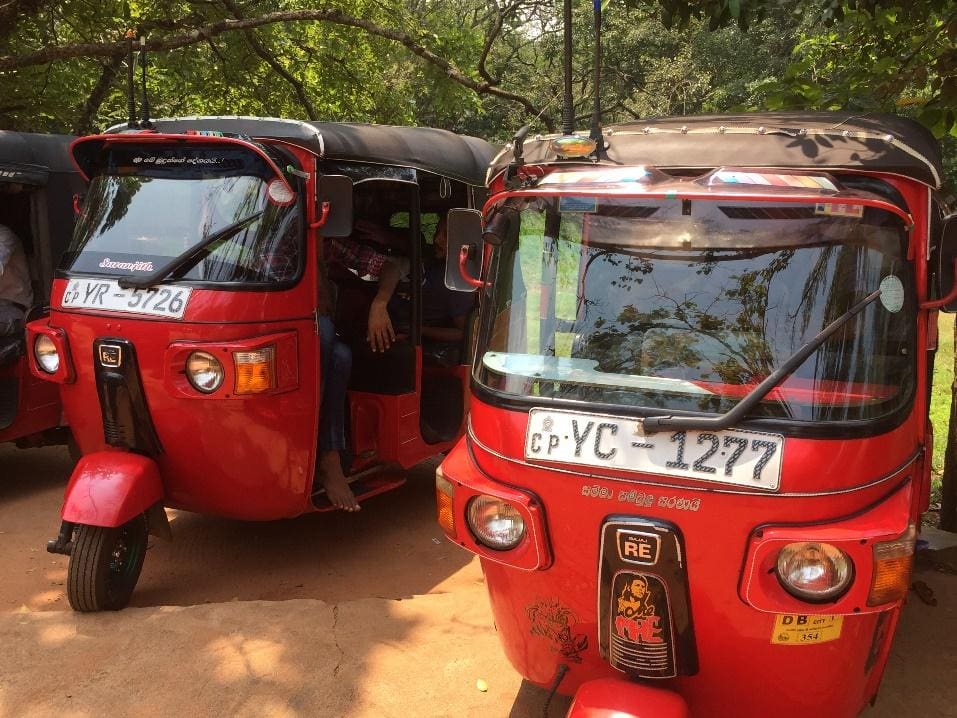 Ben, our youngest, was utterly fascinated by the concept of the Buddha's tooth in the aptly named Temple of the Sacred Tooth, to be found right in the heart of 'old' Kandy where every building was embellished with beautiful scalloped white arches looking out towards the lake. In truth, seeing the tooth seemed an elusive goal, as it is only revealed on extremely rare occasions, but nothing could detract from the charm of the numerous stalls outside the temple selling exquisitely scented bunches of jasmine and perfect lotus flowers. The opportunity to make an offering in this majestic wooden Buddhist temple was humbling and the ritual captivating for boys who had never seen the like before. Humbling, too, was the vast open courtyard with teak roof where the king of Sri Lanka had handed over his jewel of a country to the British Empire. Awesome events with awesome consequences in a country which has seen more than its fair share of political turbulence and civil unrest.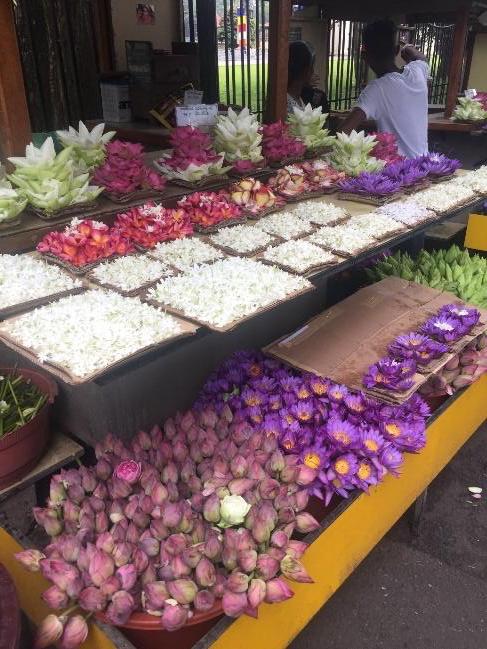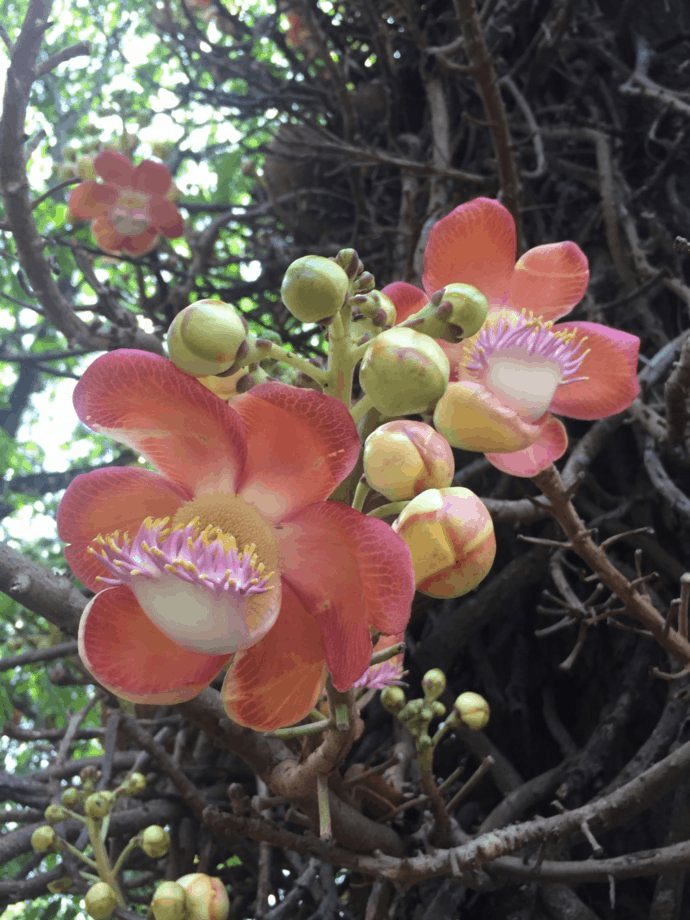 Jewels are of course one of the island's lifebloods, with a phenomenal array of precious and semi-precious stones mined around Kandy. Understanding the process of extracting these glimmering treasures was eye-opening, as we visited a gem shop revealing the surprisingly elementary process of large bamboo ladders being lowered into a muddy hole, a detailed sifting process being undertaken and wicker baskets of promising mud hauled up and then examined for tell-tale shimmering gems. I had somehow expected something more complicated, and most touching was the fact that the miners ceremoniously give ritual thanks to Buddha for all gems forthcoming.
Then, from jewels to bats, stunning avenues of palm trees – perfect for hide and seek and photo opportunities – reminiscences of grandfatherly activities and stupefaction at the incredible cannonball tree at Kandy's botanical gardens. These are not just a gardener's honey pot, but a beautiful place to spend a morning with welcome scope and space to run around unfettered. Said cannonball tree stands at a huge height, with perfect pale orange flowers in abundance and in the midst of each nestles a perfectly hewn stigma resembling a Buddhist stupa and emitting a truly heady scent. More on the small boy bandwidth are the extraordinary cannonball shaped spheres which hang from the tree, earning it its name and with a suggestive sense of combat. The sort of tree of which you merrily make a mental note, imagining it soaring in full bloom in your English garden, whereas the fact is that only tropical climes will do. Orchids in profusion and the titillating game of spotting which famous person planted which tree ensued – our Queen's tree seemed not to have taken that kindly to the soil. Other, more despotic, donations seemed to have fared somewhat better…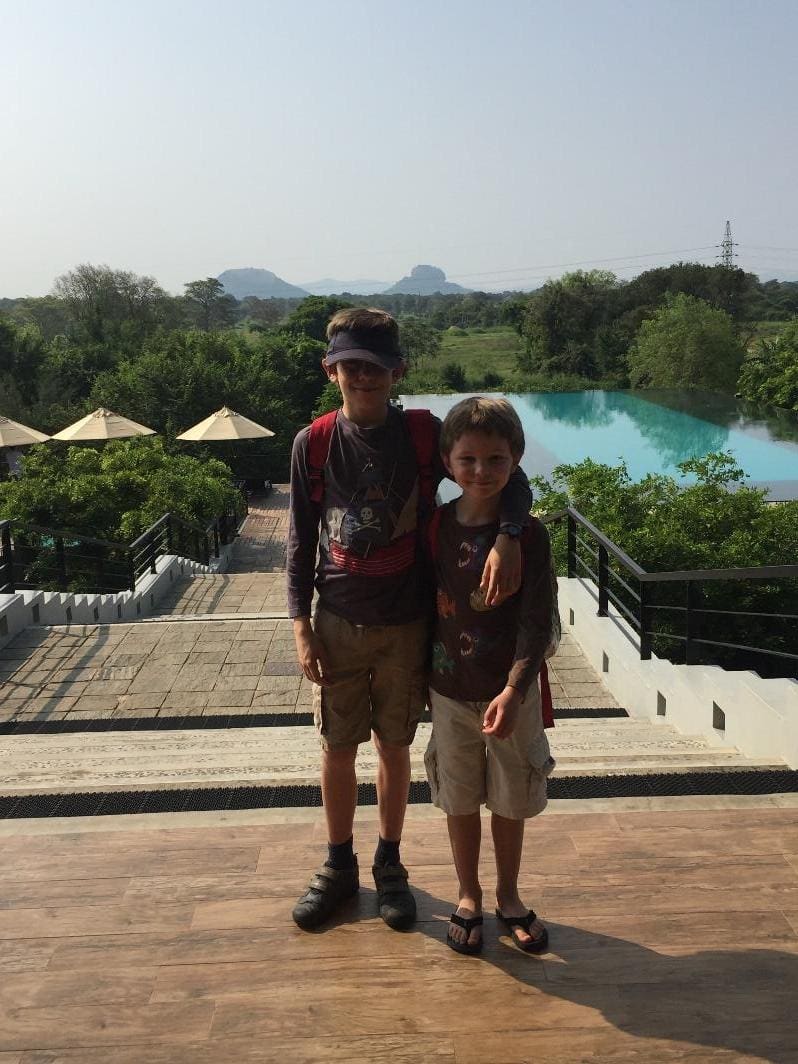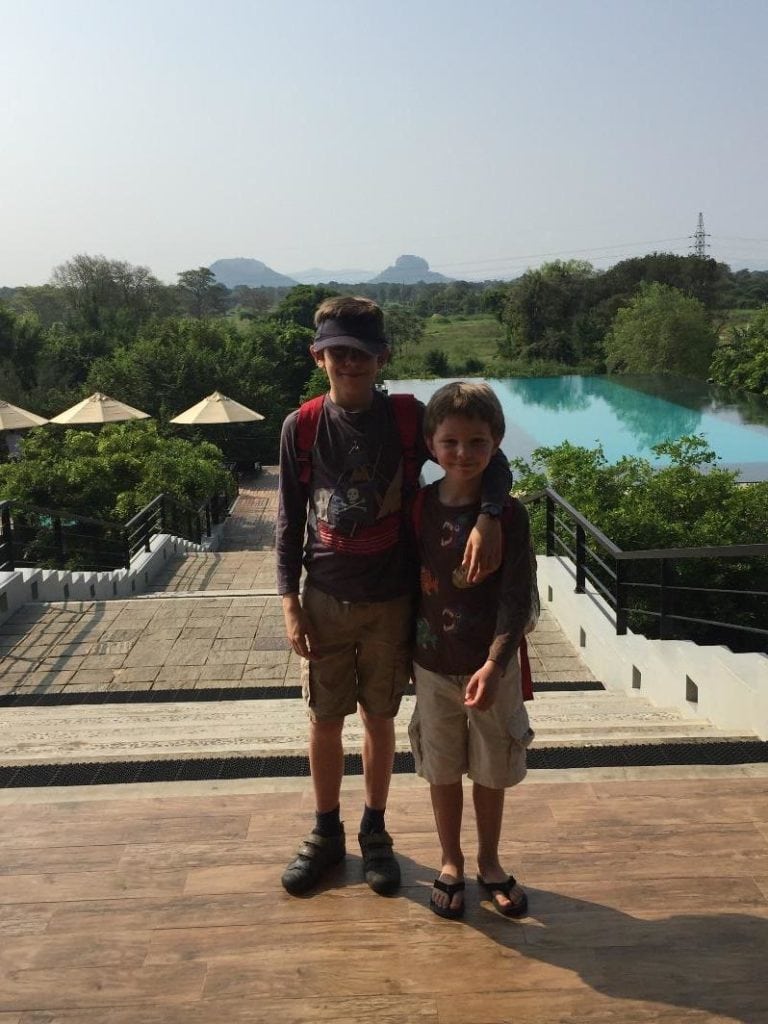 Next, to Aliya Resort, which has a view nothing short of spectacular of Sigiriya Rock from the vantage point of its incredible infinity pool. You could simply float in said pool gazing at the rock in the varying intensities of balmy haze throughout the day and the pool was an incredibly sociable place, the view inspiring much shared admiration from guests. But that would be to miss the opportunity to climb up the testing 1,200 steps of the Lion Rock fortress and to feast on the panoramic views at the top. This incongruously placed palace has a grisly history, King Kashyapa having killed his father before retreating to the safety of a reign at altitude on this improbable rock. As we climbed up the narrow metal steps, monkeys chattering left and right, we wondered at the efforts of his bearers in hauling him up by sedan chair and mused as to whether he had ever managed to assuage his guilt or had remained perched in torment, swimming fruitless lengths in the incredible swimming pool – this was the fifth century – to atone. He would certainly have had the comfort of his vast lands stretching before him and our climb was well worth the effort, with the added bonus of snake-charming opportunities as we descended towards the bottom. It is astounding to think of the architectural feats accomplished in centuries gone by and the dogged determination they must have required.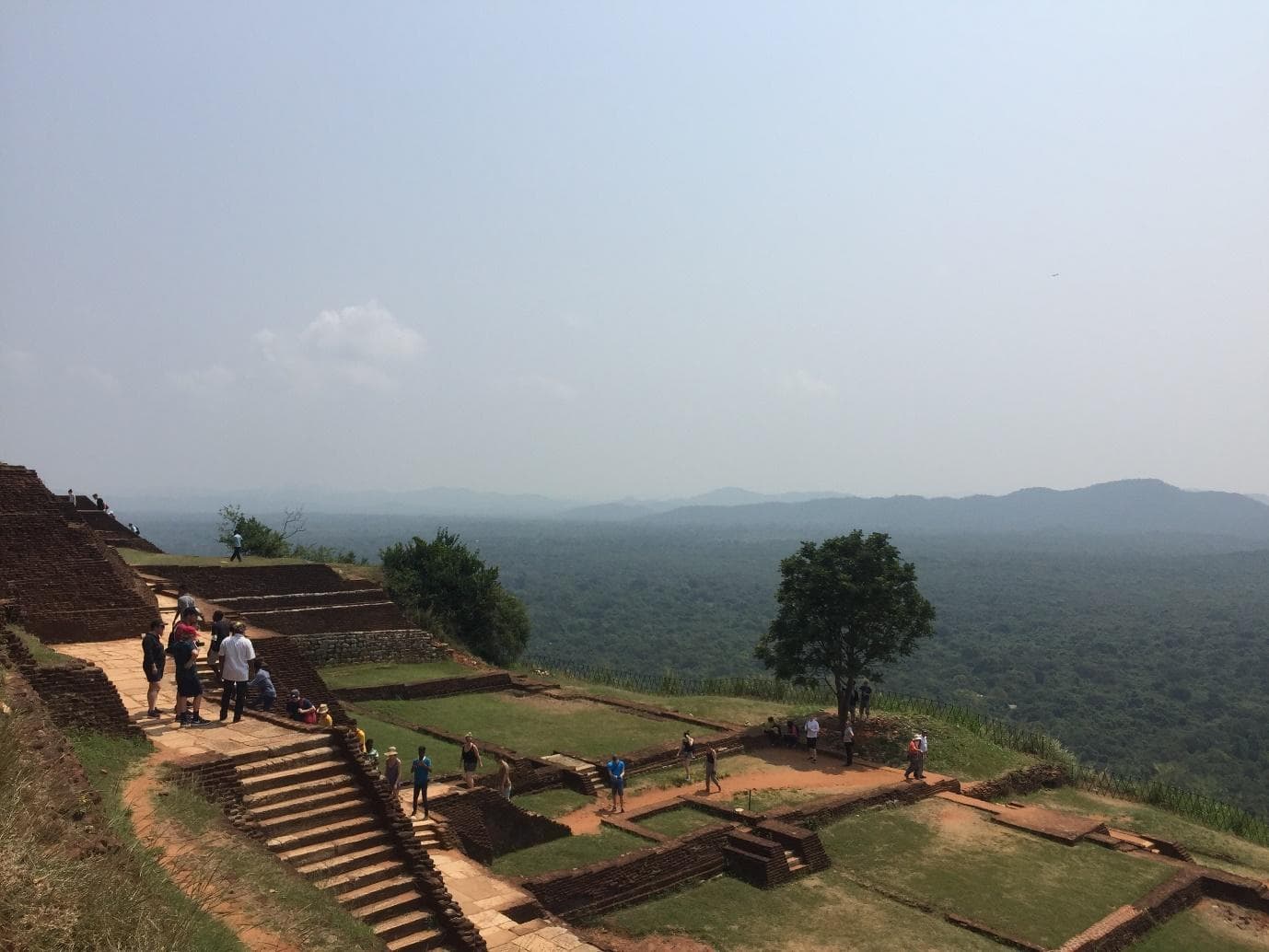 No less dogged or inspired must those have been who built the nearby temples of Dambulla, where massive statues of the Buddha at various stages of his life sit or lie recumbent in unsuspecting caves. The scale of these temples was awe-inspiring, not to mention the glorious detail of the Buddhas themselves, reclining on perfectly painted embroidered head cushions or sitting in total serenity, seemingly luminous and utterly peaceful in their lovely colours.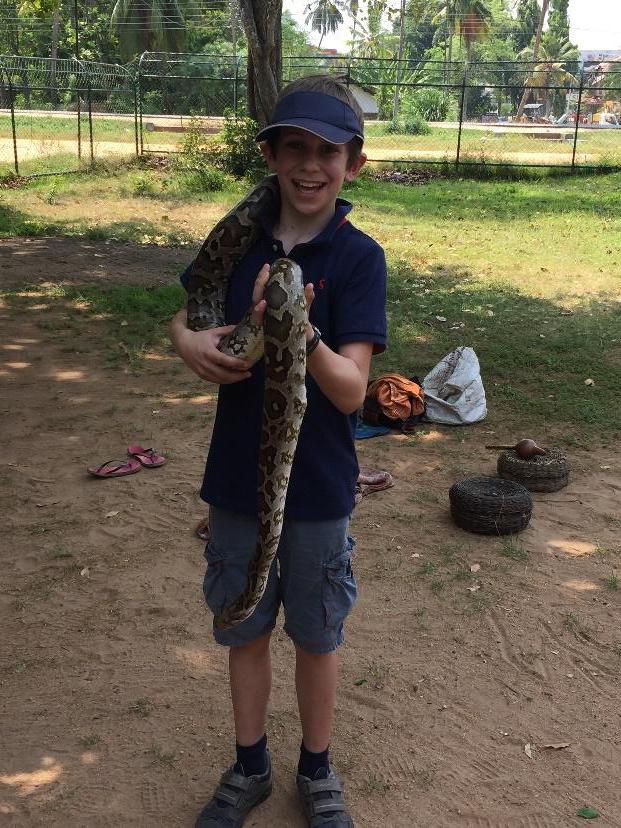 Hot trips, these, rewarded by spectacularly macheted coconuts, their cool juice exactly what was needed after our climbs and provided by an ETG accomplice who assembled a makeshift bar on the back of his scooter, just, of course, in view of a different face of Sigiriya to remind us of our endeavours, not to mention its beauty.
Last stop before our much-awaited leopard safari was Polonnaruwa, where Sri Lanka's ancient kings had ruled the country's flat heartland. A site with a plethora of fabulous Buddhist temples and reclining Buddhas, one of truly colossal size but touching and arresting tranquillity. Such a complex of temples could well be daunting for any visitor, let alone those of tender years in searing heat, but our rented bicycles proved the perfect diversion and a thoroughly mellow means of transport, once the parameters of my husband's relationship with minibus drivers had been established. His policy of cycling right in the middle of the road to prevent any aggressive driving met with mixed success, but the strategy of pitstops, temple admiration and further coiling of menacing but de-venomed snakes around necks proved excellent. This was a truly relaxing place to visit, bicycles affording exploration at our own pace and in a way where we felt at one with these incredible buildings – somehow observing things from a bicycle holds them in wonderfully slow suspense, their impact all the greater. And the quintessential peace of the reclining Buddha at the end cast the whole visit in a sort of spell.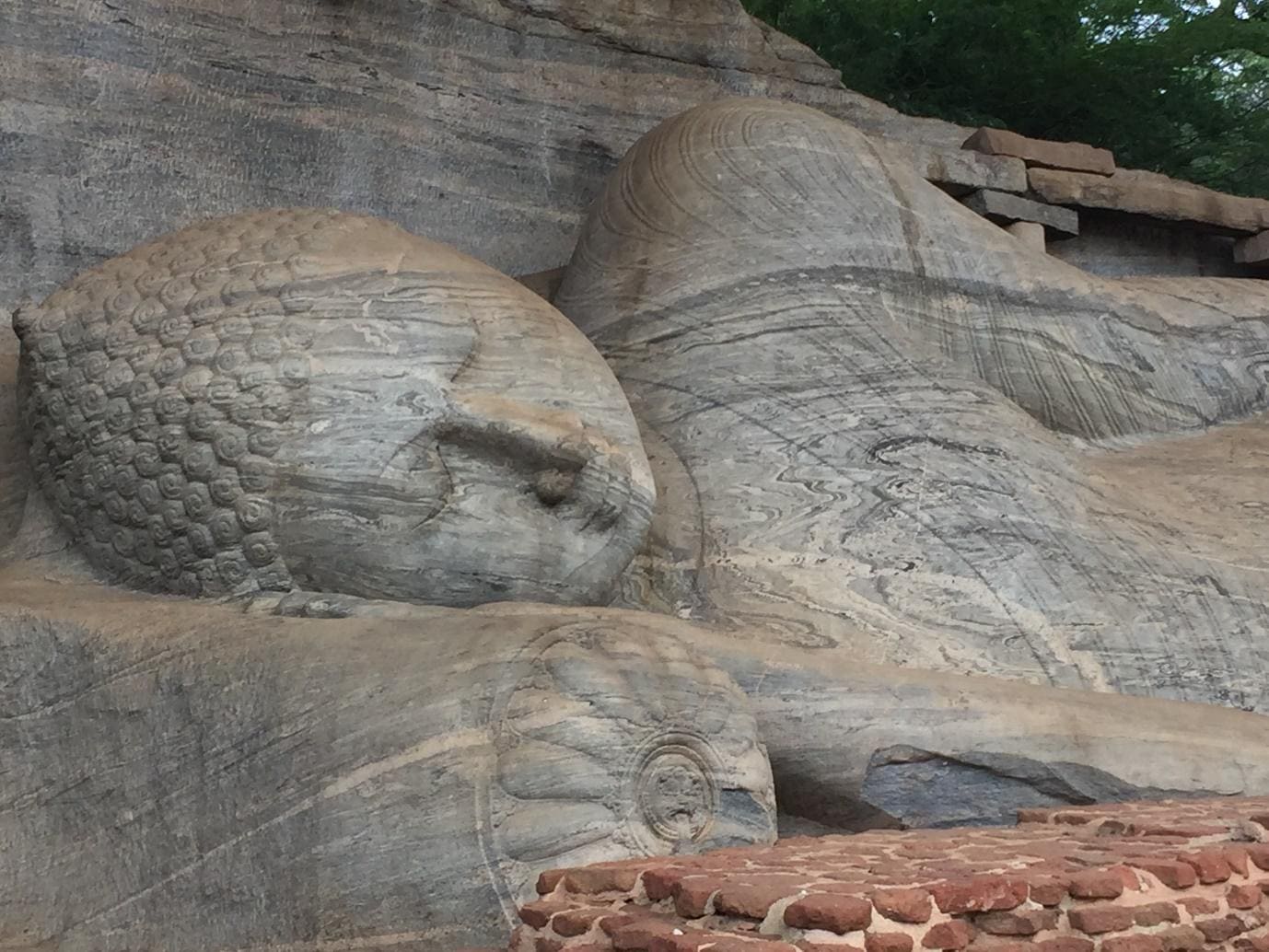 So the Cultural Triangle had given us a wealth of experience from the vantage point of total comfort, the right pace and the assurance of intrigue in the day and perfectly judged escapism thereafter. It is amazing to reflect upon human vision and endeavour in far-flung corners of the globe, where travel moves slowly to reach miraculously well-hidden sights which have served as epicentres of inspiration, power or culture. With the reassurance of the ETG minibus as base camp and our sort of travelling circus, how could our boys do anything but revel in the total otherness of Sri Lanka? Our trip was a perfect marriage of culture, wildlife and a dose of beach at the end. And, quite simply, an unforgettable, howling success.
CURIOUS ABOUT A FAMILY HOLIDAY IN THE CULTURAL TRIANGLE?
Take a look at our Sri Lanka holiday ideas for inspiration.
Alternatively, for tailored holiday advice, give us a call on 020 7924 7133 .

We don't believe in standing still. Watching the world go by through a window. Hearing it through the stories of others.
You want to be in it, out there. Asking questions and finding answers. Finding yourself in worlds unknown. Finding the path less trodden. Meeting people with a different story to tell.
Just ask why, what, how, who? We'll never stop helping you find the answers.
Our travellers come home with stories to tell, memories to keep and new ways of seeing their lives around them. That's what happens when you truly connect with a destination.
FREE YOUR CURIOUS SIDE WITH EXPERIENCE TRAVEL GROUP

FREE YOUR CURIOUS SIDE WITH EXPERIENCE TRAVEL GROUP