As one of the most romantic destinations in the world, there are too many honeymoon hotels in Sri Lanka to easily fit into one Sri Lanka holiday.  At Experience Travel Group we would always look to talk in detail about your trip and ensure that what we put together is right for both of you. After all, we would want this holiday to set the tone for your future family holidays with us!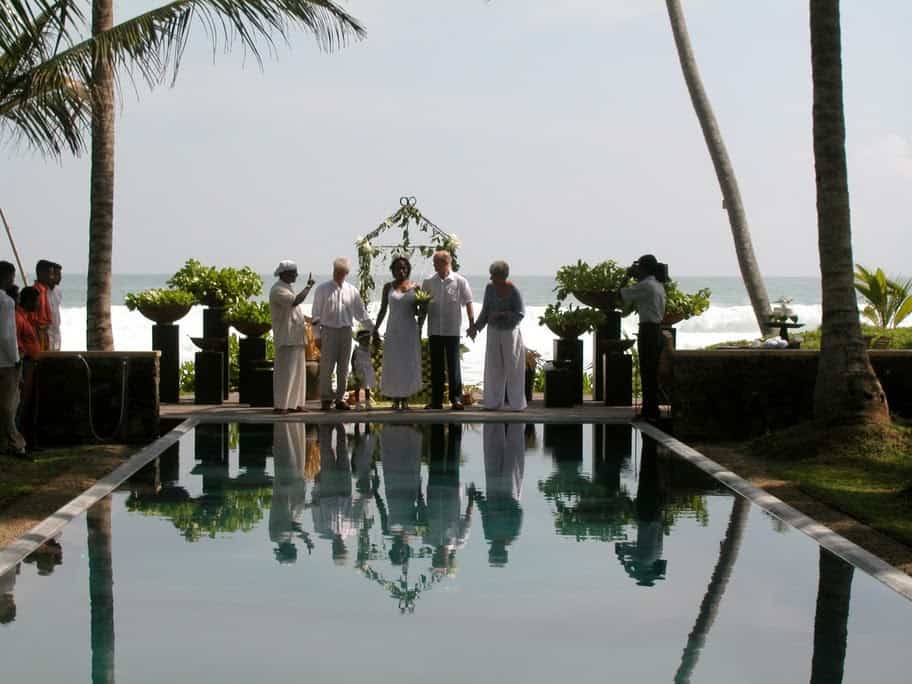 Not all of these places are right for everyone, and nor could they all be squashed easily into one holiday. However, here are my top 5 Sri Lanka honeymoon locations in no particular order:
1: A luxury camping safari in Yala National Park.
It doesn't get too much better than this – sipping a cocktail by the side of a lake after a long days safari drive – spotting elephants, leopards, all manner of water birds and much more. Early to bed, wake with the dawn and then off again on safari before returning to your own fantastic jungle breakfast!
2: The Mudhouse – open-air, spacious and community focussed
I'm biased I admit – I was there at the inception of the Mudhouse and my wife and I stayed very soon after our own wedding in Sri Lanka in 2004 – just before we returned to live in the UK. Still, The Guardian Newspaper can't be biased and they named it one of the 100 most romantic destinations in the world! So far from the cares and stresses of everyday life – The Mudhouse beats to the rhythm of a slower drum.
Re-creating the nostalgia the colonial planters felt for the homeland in a fairly nostalgic way is an interesting starting point for a hotel – but one that works absolutely. Simply wonderful and the staff will include a magnificent picnic lunch at a nearby viewpoint and set it all up for you to enjoy together and alone with the view. Wonderful.
4: Sisindu C, Koggala – a private villa
For the ultimate privacy why not consider ending your Sri Lanka holiday with a stay in a private villa. Found right on the beach, just 10km from Galle, Sisindu C is the perfect place for couples looking for space and seclusion. With stunning sea views, a private garden and pool and a full staff catering to your whims, what more could you want?
You can also find out about other fantastic villas in Sri Lanka and crucially what you should consider when looking for a villa.
5: Amangalla, Galle Fort – luxury within a Unesco world heritage site
Amangalla has all the hallmarks of an Aman property – superlative service, amazing finish and a brilliant location. Located on the site of the old 'Oriental Hotel', this building oozes romance and history in the heart of the old Dutch Fort on the seafront in Galle. There is so much to see and do here and a blissful escape from it all too.