At 65,000 km2 and surrounded by the Indian Ocean it goes without saying that Sri Lanka has a vast number of beaches. But then, just one hour away by plane you have The Maldives – 1,192 tiny islands formed by garlands of small sandy coral islands dotted around 26 atolls with picture-perfect white-sand beaches and lagoons. You've got a dilemma: which one should you choose? Here, we weigh up some of the pros and cons and discover that it really depends on what you want from your relaxation time.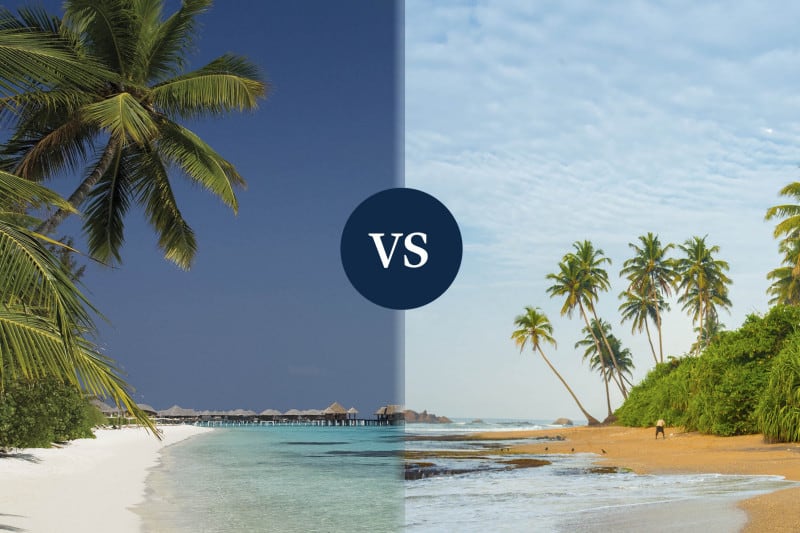 ---
It's one of our most frequently asked questions when discussing holidays in either country. There is actually no set right or wrong answer, but this should help you to make an informed decision.
1. Which one is more beautiful?
Sri Lanka's Wild and Rugged Beaches
Sri Lankan beaches are, by and large, beautifully wild, and rugged. They're characterised by huge sweeping stretches of sand fringed by statuesque palm-trees swaying in the wind.
The Idyllic Charm of the Maldives
The Maldives on the other hand, has white-sand beaches and each small island is surrounded by crystal-clear water typically with a lagoon and sometimes with its own coral reef. The Maldives' beauty lies in its idyllic and secluded nature, where you can enjoy uninterrupted views of the Indian Ocean.
Freedom to Explore: Sri Lanka's Diversity
One of the most unique aspects of The Maldives is how each resort commands a small island to itself. Unlike the Maldives, Sri Lanka provides the freedom to venture beyond the confines of a resort. Explore a diverse array of beautiful scenery, immersing yourself in the charm of this tropical paradise. Even the capital island of Male is only 8sqm, while resort islands are smaller, offering a more expansive and economical experience.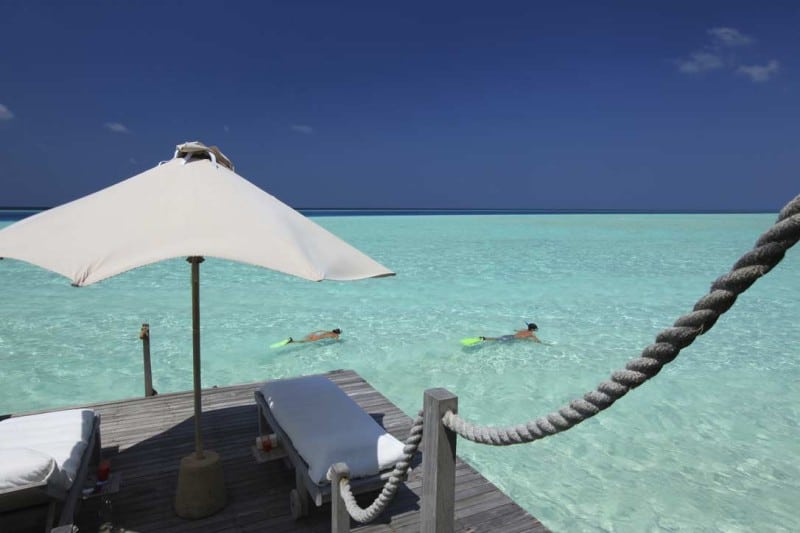 2. I love swimming in the sea. Can I swim in both Sri Lanka and the Maldives?
The Maldives – A Swimmer's Paradise
The Maldives is a swimmer's paradise, many resorts have their own private beaches or direct access to the beach. Sometimes the lagoons will surround the entire island so you can swim right around it. Most will have at least one quiet side with no waves.
Sri Lanka – Diverse Beach Experiences
Sri Lankan beaches are quite different and vary from place to place. You can swim at beaches like Unawatuna, Mawella and on much of the East Coast in the European summer months. But at other beaches and times of year you need to be wary of tides, currents, and weather. Several parts of Sri Lanka are brilliant for surfing, such as Arugam Bay and Hiriketya (the latter has smaller waves near the cost ideal for learning). If swimming in the sea is important to you, you'll need to seek out the right beach at the right time of year in Sri Lanka. But in The Maldives, you can take your pick.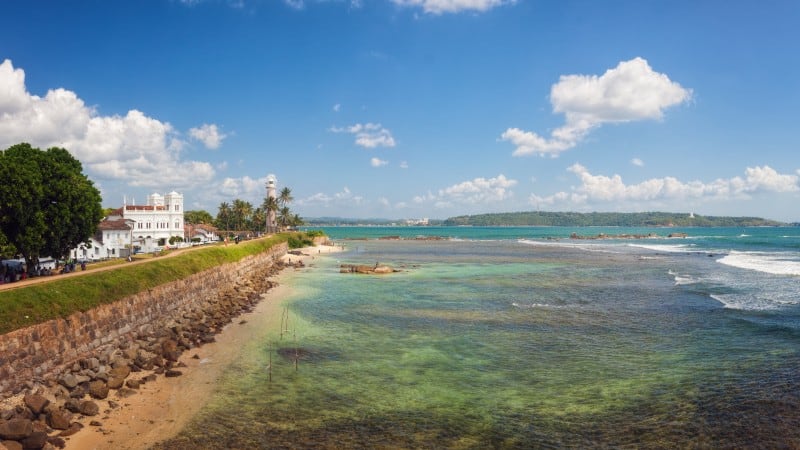 ---
3. I love 'doing' stuff while I'm on holiday. Won't I get bored in the Maldives?
Cultural Exploration and Water Adventures
Culturally, it's not on par with Sri Lanka for the most part but even the most active members of our team swear that they never get bored in The Maldives. The ocean is a big draw of course and many activities are based in or on it! Most Maldives resorts have a dive or water sports centre usually equipped with Hobie Cats, paddleboards, kayaks, and snorkelling gear to use off the beach. They all offer a range of boat trips further afield be it for dolphin-watching, fishing, or diving. Most good resorts also have educational projects and coral regeneration programmes that guests can and should get involved in. Beyond the water – most resorts have a good range of gym equipment and sports facilities; some bigger islands even have facilities like tennis courts.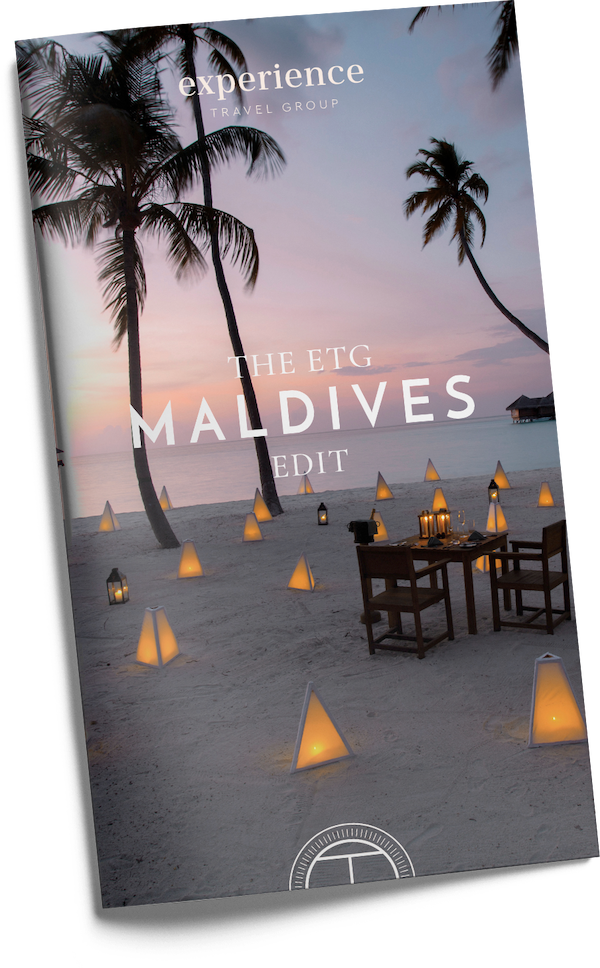 The Maldives Edit
With SO many Maldivian resorts to choose from - many of which, let's be honest, look pretty similar online - it can be tricky to tell which is the right one for you. So our experts created this guide to their top ten hotels and experiences across the country. Whether you're looking for wildlife encounters or the ultimate luxury, this where you'll find the best of the best.
DOWNLOAD NOW
Beyond the Resorts: Exploring Local Life
Most resorts offer day trips to neighbouring locally inhabited islands where you can get a feel for day-to-day life outside a resort. Visiting one is a fantastic way to get a taste of Maldivian life, food and culture and really worth trying.
Sri Lankan beaches are much better places to base yourself if you like to be able to go out for dinner, enjoy a drink in a lively town, take an excursion to somewhere completely remote, visit a local village or cycle around a paddy rice field. Water sports, snorkelling and diving are possible in Sri Lanka, but they're a bonus rather than a guarantee and certainly not the reason for going; we'd certainly advise not trying to fit a square into a circle.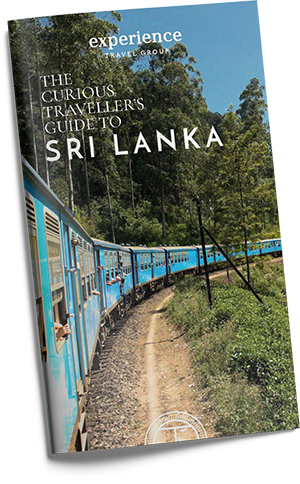 CURIOUS TRAVELLER'S GUIDE TO SRI LANKA
Wondering when to visit Sri Lanka? Our Curious Traveller's Guide to Sri Lanka will give you a more detailed breakdown of the best time of year to book a holiday, as well as tips on the best beaches, unmissable sites, and much more.
DOWNLOAD NOW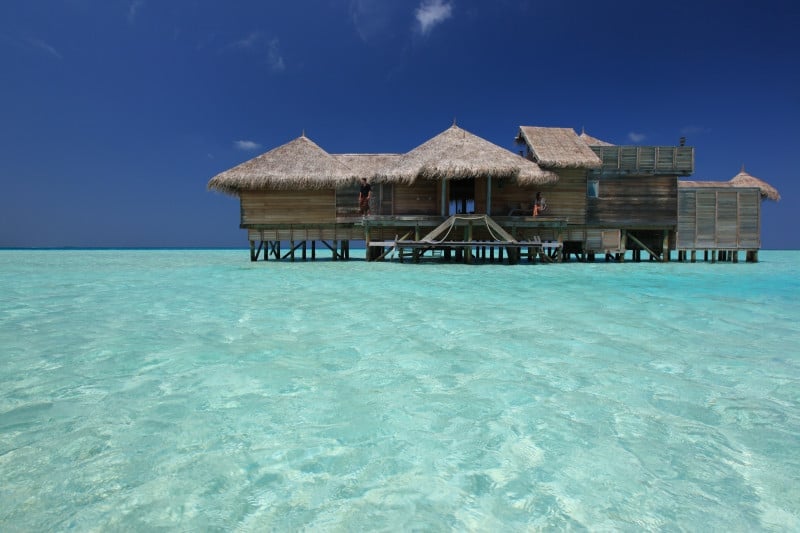 4. How much does it cost
A beach stay in Sri Lanka is definitely going to work out cheaper than one in The Maldives. Apart from the fact that many people combine time at the beach in Sri Lanka with a longer tour of the island so the beach bit is simply an add-on to an existing itinerary, if you go to The Maldives you need to factor in the extra cost of a seaplane or a speedboat to get from your international flight's arrival point on Male to the island where your resort is located.
Food and drinks in The Maldives are expensive because everything has to be imported. That doesn't mean it's not good value (or that prices don't vary between resorts). But when comparing like for like, a Sri Lankan hotel of comparable standard and on the same board basis as a Maldivian one, will always be significantly more economical. In fact, as a very rough guide, a 5* hotel in The Maldives will be double the cost of a 5* hotel in Sri Lanka, although it can also be much, much more! Plus of course, there are often alternatives to eating in your hotel in Sri Lanka, whereas in The Maldives you are a captive audience for the resort's restaurants.
5. How easy is it to get there?
Getting to The Maldives can be a bit of a faff, and it's even more of a hassle if you are coming from Sri Lanka. Is it really worth it for just 3-4 nights or is the balance between effort and reward only really achieved by a stay of 5 nights or more? If you are going to switch countries for your downtime on the beach it's really important to consider this.
If you are already in Sri Lanka then it's just so easy to find a lovely place in which to relax. Bear in mind that, after doing a 'tour', sometimes you are just so ready to get to a beach to have some chill time that it makes sense to pick Sri Lanka just for this reason alone.
6. I can't decide!
Ultimately, the scenery is different but wonderful in both. The Maldives is best for picture-postcard lagoons that you can swim in but Sri Lanka is better for people who don't like to be too confined and is typically more economical.
For the ultimate combo, why not do both?
---
I would say going to either destination makes for an incredible experience. My best piece of advice is, don't force one into a bracket that it's just not set up for. For example, you might not be able to go snorkelling from many beaches in Sri Lanka, but then it might be turtle season and you can see the babies hatch…magical. You might not be able to go out to a local eatery in The Maldives, but savouring some fine dining in a restaurant that juts out over a turquoise lagoon could more than make up for that in your eyes.
Absorbing the local sights and sounds of a Sri Lankan fishing village a short walk along the sand might be your idea of the perfect excursion; on the other hand, seeking out the magical colours of a Maldivian coral reef and spotting a whale shark sitting just off the island could be closer to your ideal beach holiday. It's all about enjoying each destination for what they both are and what they can give.
What are your thoughts on the 'Sri Lanka vs Maldives beach' debate?
---
For personalised suggestions for your beach stay, call us on 020 7924 7133 or request a call back. For more inspiration on a beach stay in Sri Lanka, see our guide to the best ones. For Maldives private island suggestions, take a look at our insider article.
---